Vettel admits he 'took too much risk' as his Nurburgring return falls flat after Lap 11 spin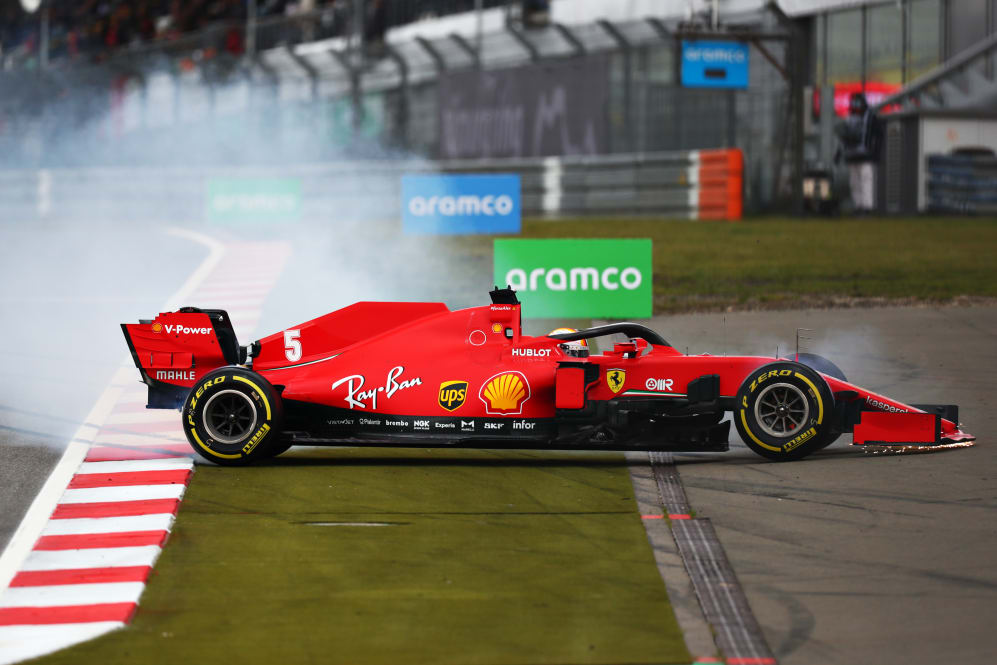 Sebastian Vettel's return to the Nurburgring was not a fulfilling one, as the Ferrari driver admitted he took "too much risk" and lost the car when chasing Antonio Giovinazzi, ultimately ending his hopes of scoring points at the circuit where he won last time F1 raced here in 2013.
Vettel was in a good position in 11th on the grid as the best-placed driver with free tyre choice, and on medium tyres, had the opportunity to go deeper than anyone else in front of him, with the top 10 all starting on the soft.
READ MORE: Who were the Winners and Losers of the 2020 Eifel Grand Prix?
But in trying to re-pass Alfa Romeo's Giovinazzi after losing ground to him at the start, he abandoned a move down the inside on the approach to Turn 1 and jinked left but in doing so, lost control of the car and spun, losing ground and damaging his tyres.
"Obviously I was trying to make progress and taking a lot of risk," said Vettel. "Looking back obviously took too much risk and I think I lost the car when I was crossing in the wake. Certainly that was not the intention and destroyed my chance to do better."
The spin forced a move onto the hard tyres and he thereafter spent most of his afternoon trapped in traffic, unable to make progress and crossing the line 11th as his team mate Charles Leclerc finished a solid seventh.
"It wasn't the easiest of races," added Vettel. "I was stuck in traffic, by my own fault and therefore it was difficult to make a lot of progress. I think we probably have a lot more pace than where I finished, but today it wasn't a good race for me.
READ MORE: Eifel GP Facts & Stats: Hamilton makes history – and Mercedes equal Ford record
"With the Safety Car at the end we thought there was a chance for points, we fought with [Kevin] Magnussen and I also tried to pass Giovinazzi. In the end we just weren't able to pick up the last point. It was a very difficult day."