Vettel: 'Maybe I was too chicken' in damp Hungary practice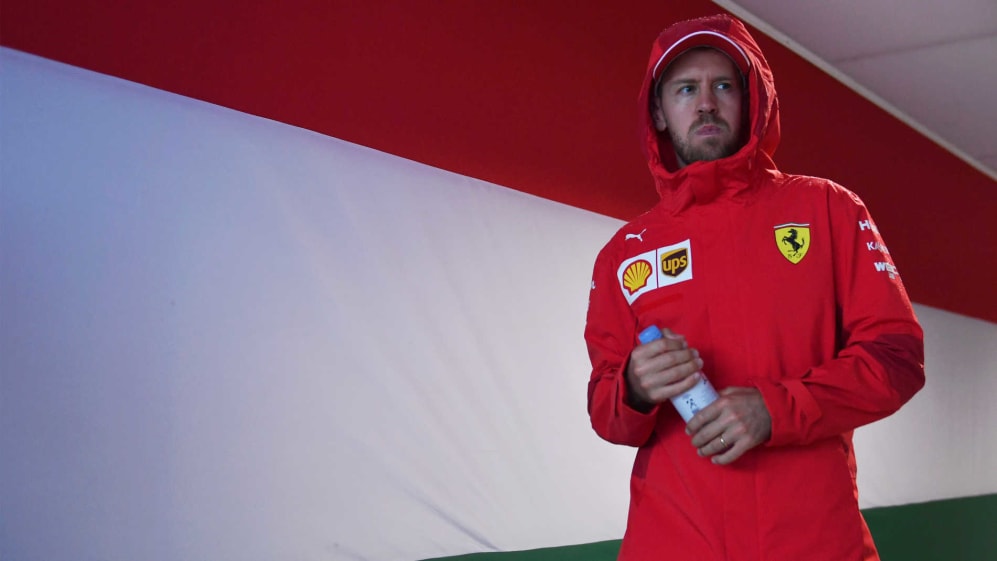 Sebastian Vettel seemed to have mastered the rain at his home race last time out, but when it came to the wet FP2 session in Hungary on Friday, Vettel said he probably tackled it with timidity.
Red Bull topped second practice at the Hungaroring, with Mercedes close behind… and Ferrari lying in P7 and P14, Vettel four-tenths behind team mate Charles Leclerc.
The general consensus was that the session was unrepresentative, but few expected Vettel to be quite so low in the pecking order. So why had he not laid down a faster lap in the damp conditions?
READ MORE: Friday Pace Analysis – Hungarian Grand Prix
"Maybe I was too chicken", said Vettel. "You know you have a long session ahead of you, so I wasn't quite sure how much it was raining, because there were quite a few big drops, but the track was absolutely fine.
"It was the first run, we were also on the hard tyres so a bit slow to come up to [temperature]. The red flag [after Alex Albon's crash] didn't help, but all in all it was okay. I had plenty of margin; I think in these conditions it's more important I get the answer for the car than the ultimate lap time."
We need to work a lot for tomorrow to try and find a solution, and then hopefully we'll be closer to the top
Team mate Leclerc was far more downbeat – not regarding his own ability to tackle the rain – but about his Ferrari SF90's balance. The Monegasque driver crashed out of the German Grand Prix, but that didn't affect him as much as Ferrari's pace in Hungary.
"I was not so down after Germany even though it was a mistake from my side," he said. "[But] overall it has not been a very good day today. We've been struggling a lot with the balance. We need to work a lot for tomorrow to try and find a solution, and then hopefully we'll be closer to the top.
"On my side I'm not very happy at the moment with balance of the car, so I need to work quite a lot on that. I think [in the] wet I was in a better shape. Overall I think we are struggling a bit with the downforce level we have - it is a track where we need a lot of downforce. We knew it would be a difficult track for us, so we need to work and try to improve for tomorrow."
So Ferrari haven't shown their true colours just yet, and we'll have to wait until Saturday to see where they really stand, but there's little doubt from championship leader Lewis Hamilton, nor FP2 pacesetter Pierre Gasly, that the Scuderia's final showing will be far from paltry...