Vettel says he had to 'take a lot of risk' as spin leaves him outside the points at Zandvoort
Aston Martin came away from Zandvoort empty-handed, with both Sebastian Vettel and Lance Stroll having struggled to make in-roads after starting and finishing outside the top 10 – with Vettel compounding the team's woes by spinning wildly midway through the race.
Having started the race 12th, Stroll then spent the majority of his Dutch Grand Prix staring at the rear wing of George Russell's Williams, struggling to pass the Briton as he eventually came home 12th.
Meanwhile, after being blocked by the Haas drivers in Q1, Vettel at least made progress from 17th on the grid to finish 13th, but might have finished higher had he not spun at the banked Turn 3 on Lap 37 of 72 while fighting the Alfa Romeo of F1 returnee Robert Kubica, and giving the oncoming Mercedes of Valtteri Bottas a scare.
READ MORE: Verstappen sends home fans wild with victory over Hamilton amid party atmosphere at the Dutch GP
"It was one of those days which shows that if you start further back it is really hard to recover," said Vettel, "especially on a track where overtaking is so tricky. I had to take a lot of risks when overtaking, but if you qualify out of position it is difficult to come back.
"I tried to pass people. It's not easy and I took a lot of risk, but obviously the spin, or the half-spin, didn't pay off! I think we had decent pace but we were just stuck and couldn't really go anywhere.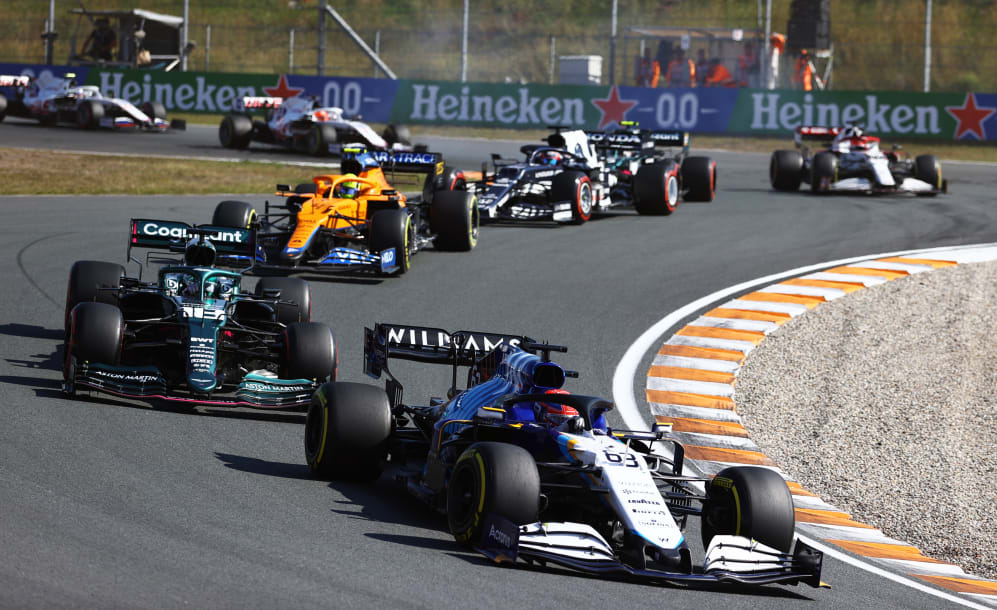 "When I did have some clean air, in the final part of the race, the pace was very competitive and I found a good rhythm," added Vettel, who like team mate Stroll opted to start on softs, but went for a two-stop strategy as Stroll one-stopped. "From where we started, we had to try to do something different with the strategy and I was happy with our approach."
Stroll had been caught out by red flags in qualifying. And the Canadian lamented that hindrance on race day, at a Zandvoort track that he called "more of a Saturday" circuit.
READ MORE: 6 Winners and 6 Losers from the Dutch GP – Who had the crowd on their feet at Zandvoort?
"We can see from the race just how important qualifying is and unfortunately we were compromised yesterday, so we had it all to do today," said Stroll. "I could only really follow George [Russell] for the majority of the race in a train of cars. Without a significant tyre delta, it is almost impossible to overtake here.
"We'll look at the strategy and see maybe what we could have done differently," added Stroll. "It's much more of a Saturday kind of track, overtaking's almost impossible unless you have a big tyre delta, so not easy… For now, we will reset and focus on Monza."