Video
WATCH: Was this the key incident that caused the late tyre drama in Sunday's British GP?
Sunday's British Grand Prix saw one of the most dramatic finishes to a Formula 1 race for years as both leading cars suffered tyre issues in the final two laps.
Valtteri Bottas was forced to pit from second and dropped out of the points, while Lewis Hamilton somehow managed to limp around the final lap to win the race by a matter of seconds from Max Verstappen – who had just pitted for fresh tyres and was hunting him down all the way to the flag.
Watch and listen to Hamilton 'fight for survival' on last lap of British GP
McLaren's Carlos Sainz also suffered from the same problem, dropping him from fourth to 13th by the end of the race.
Three tyre deflations – all front lefts – on three cars in the space of two laps was extraordinary, and Pirelli announced after the race that they had immediately launched an investigation into the cause.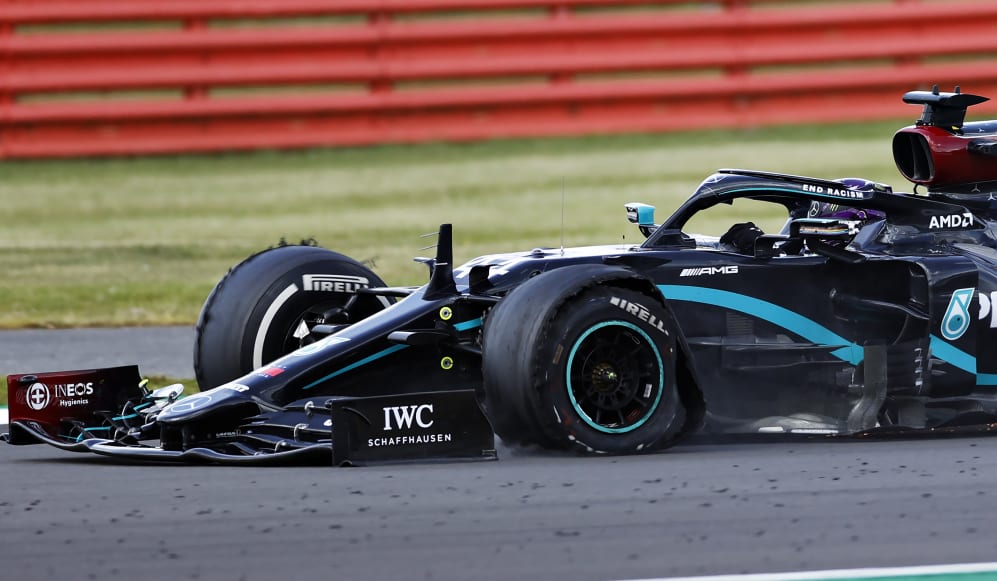 Mercedes boss Toto Wolff suggested that debris on the track might have triggered the spate of tyre problems.
"I think the left front [tyre] is the one that is the most hammered, and therefore more vulnerable also to debris," he said. "There were lots of pieces of carbon on the track after [Kimi] Raikkonen's off. We saw some part of the car, part of the front wing on track, so we will never know but I guess Pirelli's going to analyse that."
Red Bull also revealed that the tyres they took off Verstappen's car at his final stop were 'covered with about 50 cuts'.
So, was Raiikonen's front wing failure at Maggotts and Becketts four laps from the end of the race – which you can see in the video above – the cause of all the drama at Silverstone on Sunday?
Perhaps, but it might not be as simple as that, as Mark Hughes explains in the post-race Monday Morning Debrief here...