'We need a consistent situation' – Horner frustrated by track limits 'grey area' in Bahrain GP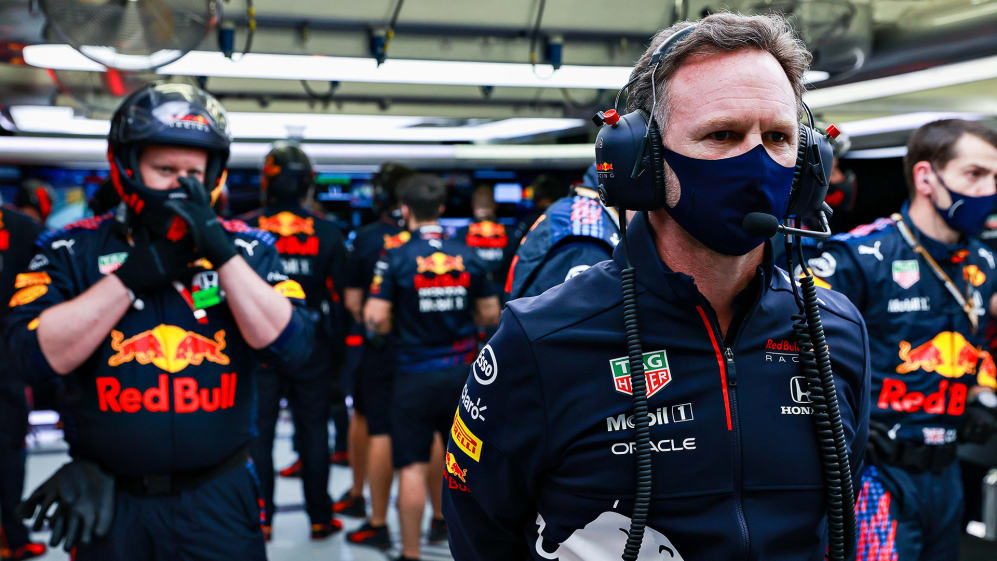 The crunch moment in a thrilling Bahrain Grand Prix season opener came when Red Bull's Max Verstappen sent a pass for the lead around the outside of Lewis Hamilton's Mercedes at Turn 4, three laps from the end, the Dutchman running too wide and having to hand back a lead that Hamilton would keep till the flag. But with drivers having been spotted taking liberties with track limits at Turn 4 throughout the race, Red Bull Team Principal Christian Horner was left frustrated by what he called a lack of a "consistent situation" at that corner.
Verstappen received a radio communication from Red Bull midway through the race telling him that other drivers, including Hamilton, had been running wide at the exit at Turn 4 and encouraging him to do the same.
Doing so gave the drivers an advantageous line that had been ruled illegal for practice and qualifying – but which in the race, according to revised Race Directors' Notes sent out on Friday, would "not be monitored with regard to setting a lap time, as the defining limits are the artificial grass and the gravel trap in that location".
READ MORE: 'It is what it is' – Verstappen philosophical about surrendering lead to Hamilton following off-track pass
The notes, however, also referred to Article 27.3 of the Sporting Regulations, which state: "Drivers must make every reasonable effort to use the track at all times and may not deliberately leave the track without a justifiable reason" – with Hamilton later instructed not to use the Turn 4 line or risk receiving a black and white driving standards flag.
But while Horner accepted that Verstappen had been right to hand the position back to Hamilton after running off track while trying to pass at Turn 4, the Red Bull boss questioned the policing of track limits at that corner, which he felt had given Hamilton and Mercedes a two-tenths per lap advantage every time they'd used the alternative line – with Hamilton eventually winning the Grand Prix by just 0.745s from Verstappen.
"It was frustrating," said Horner. "We could see as soon as Mercedes started to push they just used that part of the track. We questioned with Race Control that if that's the case, can we do it? In a nip and tuck battle, there's a two-tenths advantage using that part of the circuit. So [Mercedes] did it lap after lap, the Race Director then asked them to respect the limits otherwise they'd get a black and white flag.
READ MORE: Last laps were 'horrifying' says Hamilton after he fends off Verstappen to win Bahrain GP
"Obviously Max ran wide on the pass there, which had been made clear before the race that if someone got an advantage by going out there, they'd have to give it back. He did that immediately, the team instructed him to do it following Race Control instructing us.
"With these track limit things, they're always going to be contentious," added Horner. "But we do need to just have a consistent situation. You can't say it's okay to use it in the race, but you can't overtake out there; it should be black or white, it shouldn't be shaded grey."
After the Grand Prix, Race Director Michael Masi insisted the rules had been clear throughout, saying "nothing changed at all during the race [on track limits]".
Verstappen also questioned Red Bull in the aftermath of the race about why they hadn't let him maintain the lead he'd gained from his illegal pass on Hamilton and build up enough of a gap over the Mercedes to protect him from any penalties the stewards may have given him. But Horner felt that the team had made the right call to be "sporting".
READ MORE: How Mercedes' aggressive tactics helped them beat Red Bull in Bahrain – despite having a slower car
"I think it's very difficult," said Horner. "We had an instruction from the Race Director to give the place back immediately. Max was very sporting and did that. It was frustrating and Lewis had just enough to retain his position to the end of the race. There's no guarantee that we could have got the five seconds [advantage over Hamilton] if that had been the penalty. He did the right thing.
"It's obviously tough to lose a close race like that," Horner added. "But we have to take a lot of positives out of the weekend."