'We should have been fighting for the win' says Sainz after inheriting Hungarian GP podium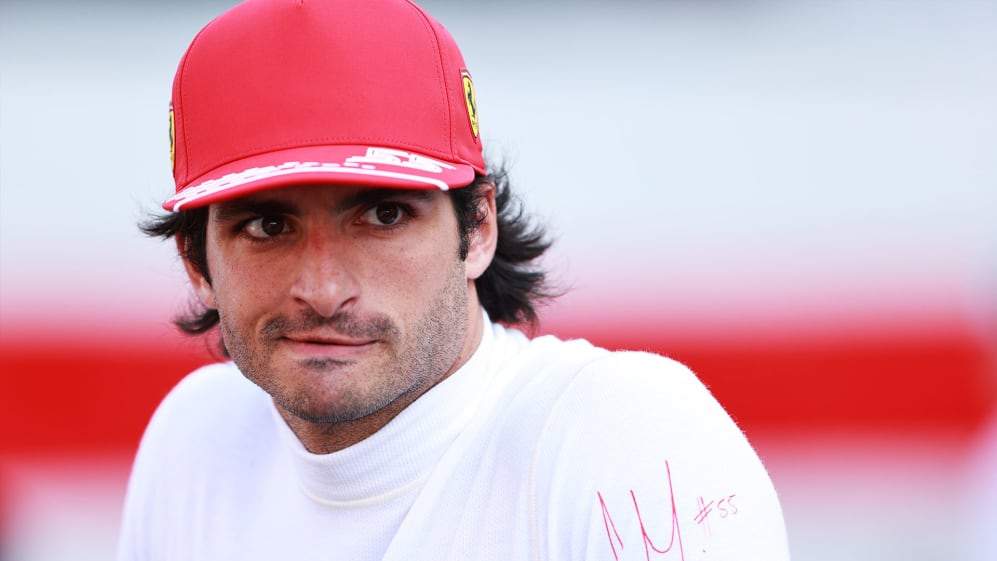 Carlos Sainz took the fourth career podium of his career at the Hungarian Grand Prix, finishing P4 before inheriting third after Sebastian Vettel's disqualification. But despite that, Sainz was left ruing what he felt could have been an opportunity to win the race.
After crashing out of Q2 on Saturday, Sainz had started the Hungaroring race P15, but was up to P4 when the race was red flagged after a chaotic Lap 1.
Although Sainz then lost positions to Nicholas Latifi and Yuki Tsunoda when the majority of the field pitted for slicks ahead of the Lap 4 race restart, Sainz managed to overcut his way back to P3, holding that position until he was passed by Lewis Hamilton with three laps to go.
READ MORE: The red flag restart shaped the race – but was the call not to pit REALLY what cost Hamilton the win in Hungary?
Sainz would ultimately home fourth, before inheriting P3 after Vettel's disqualification for a fuel infringement. But on a day when Alpine's Esteban Ocon secured his maiden F1 victory, Sainz couldn't help feeling that a chance for his own first win had gone begging.
"I think today it just wasn't meant to be," said Sainz, speaking ahead of the announcement of Vettel's penalty. "I think the start was great, I put myself in a very strong position after that, then we had the bad luck of the traffic in the pit lane, which made us lose a lot of time behind Tsunoda and Latifi.
"We had a very strong stint on the medium, we put ourselves back in contention with that strong stint, with that overcut and then the stint on the hard, we struggled on the hard this weekend for some reason.
"I had to push a lot on it to try and defend from Hamilton at the beginning of the hard [stint]. Then the hard degraded, then I had to do a lot of fuel saving at the end when fighting with Lewis and Fernando [Alonso], and the lapped car there with Daniel Ricciardo didn't help for staying in the podium [places].
READ MORE: 'He came from nowhere' – Leclerc frustrated by Stroll as he likens Turn 1 crash to 'bowling game'
"But it's how it goes," he added. "If you would have told me yesterday that I would finish P4 and I would be fighting for a podium, I would have taken it, but at the same time today, after seeing Esteban and Sebastian in front of me get the podium and the win, I felt like we should have been in the fight for that win."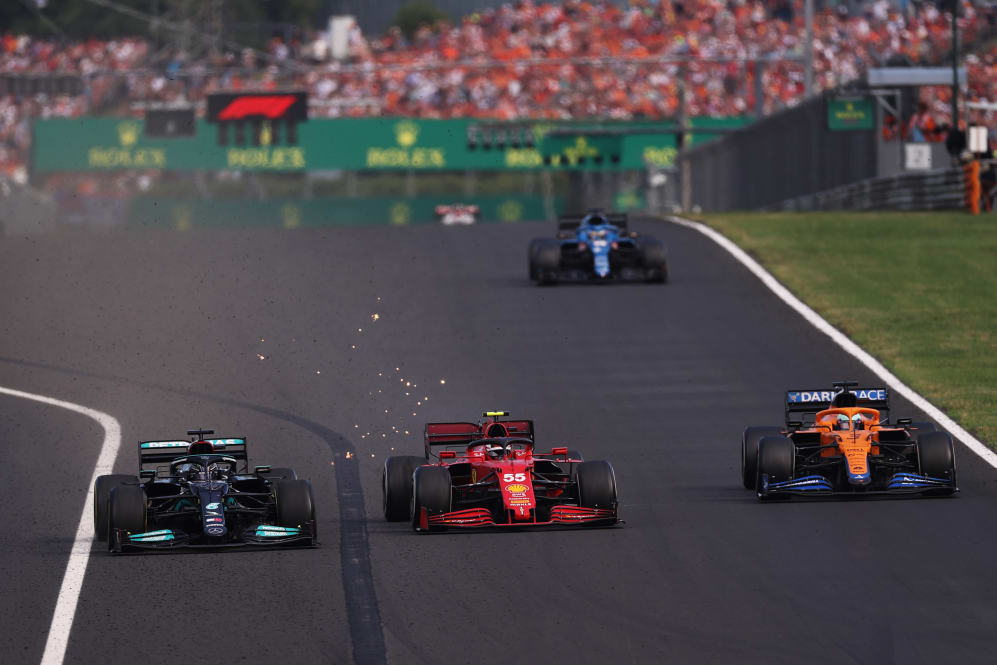 Sainz, meanwhile, went on to defend his vocal refusal to pit when asked to by Ferrari on Lap 22 of 70 – with his tactics ultimately proved right, as he was able to overcut past Tsunoda, who stopped on Lap 22, and Latifi, who stopped on Lap 23, by pitting on Lap 32 instead.
"I think it's a natural progression of my learning process and understanding with the team," said Sainz, whose team mate Charles Leclerc was forced to retire after getting caught up in the Lap 1 chaos. "I think at that point, neither the team or I expected to be so fast on the overcut that I did to these two drivers, and I was just very keen on transmitting to them, by doing an extra lap, that I was going to be very quick if I got a bit of clean air.
READ MORE: Aston Martin set to appeal Vettel disqualification from Hungarian Grand Prix
"By taking that extra lap, I think we did the right call, the team agreed with me, and in the end we did, I think, the right call and we overcut the two guys by doing very good pace.
"So, happy that we keep learning together and this is the kind of thing that just with more races with the team, we're just going to become stronger, and it's going to be easier to perform at a higher level, once we keep knowing each other better."