Feature
What the teams said – Qualifying in Belgium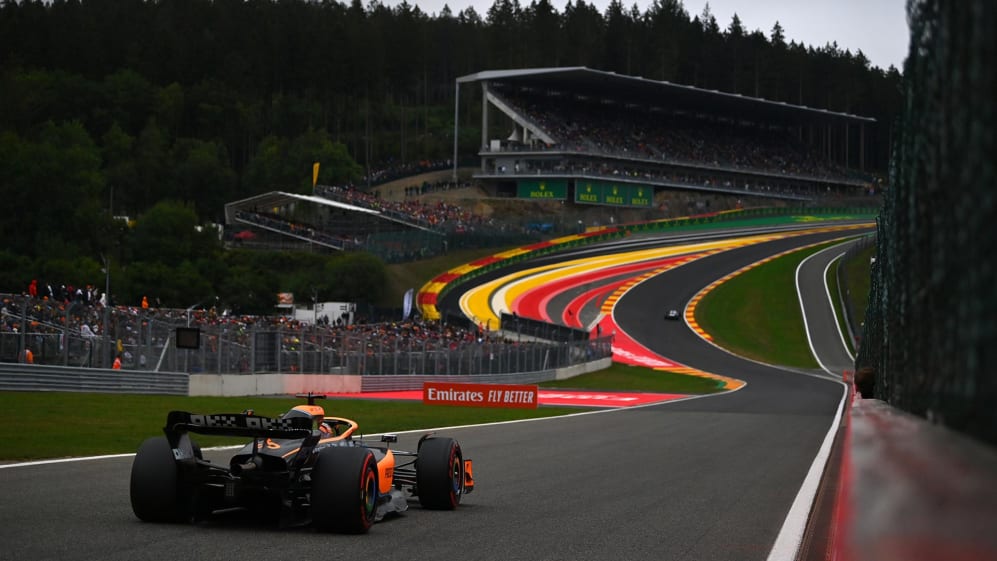 Ferrari
Leclerc had a messy day, with a big spin into the barriers in FP3 fortunately only costing him a front wing. His main objective in qualifying was to provide a tow for his team mate but it was easier said than done. He'll start just behind Verstappen when the grid penalties are applied. As for Sainz, he has pole, but wasn't too happy with his last lap in qualifying. A cleaner day all round and the Spaniard might just grab a second ever F1 victory – if he can hold off the charging Bulls.
READ MORE: Pole-sitter Sainz wary of Verstappen pace as Leclerc says Red Bull were 'way too fast' in Spa qualifying
Charles Leclerc, 4th, 1:44.553
"It wasn't the most exciting qualifying on my side, given the penalty we will take tomorrow. There was a bit of potential to improve the driving or the car's set-up - however, our target was not to find that last tenth today.
"Our competitors have been very fast since the start of the weekend, and looking at the gap we had to them today shows us that it will not be an easy race.
"I don't have a clear objective for tomorrow; what I want is to maximize the result. Our race pace was quite good yesterday so hopefully, with a strong first stint and a lot of overtakes, we can come back quickly and fight at the front."
Carlos Sainz, 2nd, 1:44.297
"We had a good qualifying and I'm happy to be starting on pole here in Spa. It was today's goal and we achieved it with perfect team work together with Charles. Now we need to focus on ourselves and make sure to keep our competitors behind us tomorrow.
"Defending from them won't be easy, especially at the start, as their performance has been very strong this weekend. I'm ready for a race in which we will fight with everything we have to bring home another win. In terms of race pace, I think we should be competitive."
Laurent Mekies, Sporting Director
"It was a very intense and complex qualifying. We had very strong opponents this afternoon, especially Verstappen. But at the end of the day neither Max nor Charles were able to fight for a place on the front row because they both have a PU penalty so we could do our proper qualifying work only with Carlos.
"It was very tight and it took quite a bit of teamwork - with Charles and Carlos towing each other - to be able to extract the last thousands of a second to get Carlos on P1 for tomorrow. They did a super job together and the team supported them well with a perfect execution.
"With Charles the priority was to beat the other cars that also had PU penalties today, and ultimately we decided at the last moment to run him on a new set of soft tyres in Q3 to secure the highest position possible. It still leaves him with a very healthy new tyre allocation for tomorrow to battle strongly through the field.
"It will be an intense race for Carlos, who will have to use all his skills to defend first position. I'm sure that we will have the chance to bring home lots of points."
Red Bull
Verstappen picked up where he left off yesterday, comfortably the star performer. He knew he was taking grid penalties for tomorrow's Grand Prix but his first lap in Q3 was still good enough to top the timing sheets, so good that he didn't need a second run. He is looking a dangerous prospect, even from a P15 starting slot. Perez couldn't match his team mate and a scrappy final lap in Q3 saw him miss out on pole, but starting second here with a potential tow through Eau Rouge isn't too bad a deal as he hunts a second win of the season.
READ MORE: Verstappen aims to 'survive Lap 1' and take podium as dominant qualifying win turns to P15 on grid
Max Verstappen, 1st, 1:43.665
"It was an amazing qualifying; the car has been on it all weekend and it's been very enjoyable to drive. We fine-tuned a few things overnight and it seemed to work out. I'm very happy with my lap and it's great to be here, it's a great track with amazing fans around, I hope they had a good day. Starting from the back tomorrow meant that I had to be careful with the tyres I was using throughout the session today. With a car like this it will be a shame not to be on the podium tomorrow, that's what we are targeting."
Sergio Perez, 3rd, 1:44.462
"It was a good but not fantastic qualifying. My first lap in Q3 wasn't great and then that session was slightly disturbed due to other issues, like a little damage to my floor, but being P2 for the race tomorrow, is still decent. We improved very well from yesterday considering we lost a lot of track time in FP2 and I think there is still room to improve in the race. We can fight for the win from the front row tomorrow, we expect to go for it, it's about getting a good start, a clean lap one and going from there. Being on pole doesn't benefit you too much here, being close to Carlos in Eau Rogue can get me the lead so I will try to do that. It's important we race our own race tomorrow."
Christian Horner, Team Principal
"It was an unbelievable Qualifying from Max today, the lap time was so good he didn't need to do the second run. He has been absolutely on fire this weekend. It's a hard fight from P15 and there are always risks associated with that but we are in for a fantastic race tomorrow with Max and Charles fighting their way through the field. Checo also had a brilliant qualifying, he is perfectly poised to take on Carlos at the front. History has shown us with Sebastian a few years ago, Daniel Riccardio and even Max that at the start, with that run up the hill, the tow is very powerful with the DRS closed. We discussed ahead of time and agreed that tactically P2 may be a better place to start. Yes P1 is traditionally the best place to start but here its all to play for. There is going to be a lot to keep on top of tomorrow."
Alpine
Alpine looked strong all weekend, so it was no surprise when both cars made it to Q3. Ocon is another driver facing a grid drop, which was a shame as he was arguably the pick of the two team mates. He selflessly tried to tow Alonso in Q3, although the two got their timing a little wrong. Nonetheless, both out-qualified the Mercedes cars, which is a decent show of strength.
FACTS AND STATS: A best Spa start for Alonso for 15 years, as Verstappen looks to the history books
Esteban Ocon, 5th, 1:45.180
"It's been a good day for the team and I'm very happy with today's result. Everything seemed to click this afternoon and the team did a fantastic job with the car and made all the right calls today, so a very well done to them. Fifth place is my equal-best qualifying result of the season, so it's a bit of a pity to have the grid penalty for tomorrow's race but we've got the package to still get a decent result tomorrow. Fernando will start in third, and I will give it my all to make my way up the grid and bring home some deserved points for the team. I can't wait to go racing and give the Belgian fans a good Grand Prix, they deserve it!"
Fernando Alonso, 6th, 1:45.368
"I am happy with our performance today and it's a positive result for the team with both cars qualifying inside the top six positions. We gave each other the tow during the session, and it worked really well. It will be exciting tomorrow and, like in Canada, it's another opportunity to attack inside the top three at the start. Tomorrow, I want a clean race to capitalise on this position. We'll be wary of those behind us, as there are some fast cars starting towards the back of the grid. We'll be aiming to be in the top five or six positions by the chequered flag."
Alan Permane, Sporting Director
"We're very happy with today's performance in Qualifying with Esteban fifth, Fernando sixth and, importantly, ahead of our rivals. What pleases me most is the teamwork by everyone today, including both drivers who did a great job in executing our plan. Esteban does have a power unit penalty for tomorrow, which means he starts close to the back of the grid, but, with others doing the same, Fernando will start in third place and has an excellent chance for a good result. There are faster cars behind us – Max [Verstappen] and Charles [Leclerc] – but we'll remain focused on our race and remain vigilant to beat those with who we are really competing on track. We'll be doing everything we can to maximise our points haul in tomorrow's race. That's our objective and I believe scoring with both cars is possible."
Mercedes
The Mercedes drivers were confused by their lack of pace yesterday, but they couldn't find enough of a solution overnight to jump up the pecking order. Both drivers made it to Q3 which at one stage looked unlikely, and thanks to the volume of grid penalties, actually have pretty good starting slots. But they lost out to both Alpine cars on merit, and will have to get past Alonso if they want to mix it in the fight for the win tomorrow.
Lewis Hamilton, 7th, 1:45.503
"Everyone's working hard for improvements and we came here very optimistic that we're going to close the gap, so to be 1.8 seconds behind is a real kick in the teeth but it is what it is. This is a car that we continue to struggle with, and I definitely won't miss it at the end of the year. The other two teams ahead of us are in another league and we can't keep relying on them to fall off. We have to regroup and make sure next year's car is where we need it to be, and we'll do the best we can with what we have for the rest of the season. We were a little too draggy and the aero balance through the corners wasn't stable so it's very hard to work around that but we'll try our best for tomorrow. Knowing how hard everyone is working, I'm gutted for the team because we're giving it our all but it's the fundamentals of this car - sometimes it's good, sometimes it's really bad."
George Russell, 8th, 1:45.776
"It's difficult to comprehend how we were on pole in the last race but 1.8 seconds off today, and we aren't just losing time to Max, we were six tenths behind the Alpines. When the temperatures are cold, we struggle and as we also saw in Imola this year, we find it difficult to get the tyres working. I'm confident we'll have a lot more pace tomorrow compared to the Alpines, McLarens and the Williams too, but we will still be 0.5s/1.0s behind Red Bull and Ferrari. We need to look overnight to try and understand our pace but it's good to get qualifying out of the way, it has been a weak point for us, and I'm sure we'll be faster tomorrow. Mercedes qualifying P7 and P8 is not where we want to be, and we know that's not where the car is, so we've got work to do tomorrow to get a good result."
Toto Wolff, Head of Mercedes-Benz Motorsport
"That was a very disappointing qualifying result, no matter that penalties for other cars tomorrow will push us up the grid. Four weeks ago in Hungary, we were on pole, albeit with some slightly unusual circumstances that played in our favour; today, we were 1.8 seconds off pole position. Nobody in the team thinks that kind of deficit is acceptable, and even now after 14 races, we don't understand how to consistently get performance out of this car. We seem to have high drag on the straights and haven't given either driver a balance this weekend to give them confidence. Hopefully tomorrow we will have better race pace than we showed today, but we know that no matter our finishing positions, we have a lot of work ahead of us."
Andrew Shovlin, Trackside Engineering Director
"We were hoping to close the gap to the front here which is clearly not what we have achieved but this year has thrown plenty of setbacks at us, we just need to learn what we can from it and try to move forward. The car has been really difficult to get into a good working window here; we're having to make a lot of compromises in how we're running it in terms of balance and stiffnesses. That's part of the problem but we've also failed to do a decent lap on new tyres all weekend which is probably a separate issue that we need to investigate and understand. We will move up the grid a little for tomorrow as three of the cars ahead have penalties, but it will be all about race pace – if we don't have that, then we're in for a tough race. As always, we'll be fighting hard to get every point that we can and maximise every opportunity in the race tomorrow."
Williams
Albon was the only driver yet to make Q3 this season, but he put that right at Spa. He made the top 10 and wound up ninth, which becomes a very credible P6 grid slot. The Williams has been rapid through the first sector all weekend, and he will be no pushover in the race. Latifi couldn't match his team mate, falling at the first time of asking.
READ MORE: Albon hoping 'slippery' Williams can help fight for points after first Q3 appearance of 2022 in Spa
Nicholas Latifi, 17th, 1:46.401
"I felt like we were making progress through FP3 and things were feeling much better. Despite the result, I feel the car had the potential to reach Q2, so it's disappointing from my side and for the team.
"Unfortunately, the last lap was the worst lap of the weekend for me. I got caught out by the unpredictability of the car and tyres. There were a lot of big mistakes on the lap, so it ended up being scrappy. It's frustrating to not put it on the board in the session that mattered.
"We'll be starting a bit higher up the grid with a number of cars taking penalties so it could create some opportunities."
Alex Albon, 9th, 1:45.837
"It felt really good out there. We've been quietly confident all weekend; we were looking for Q2, so Q3 is a bit unexpected but we're very happy – this is a great result for us. The car was feeling strong, we're still learning our package and we made some changes from FP3 which helped the car for qualifying.
"We know our car likes low downforce and, when track conditions are in a place that suits us, we can extract a good lap time out of the car. We were P9 on pure pace. Everyone seemed to have clear runs today and we were only a couple of tenths behind Mercedes, so it shows that in certain situations we can really maximise what we have.
"With the penalties we are starting sixth and so we have to try to hold on and maybe even overtake at the start. We've got a car that, on paper, should be hard to overtake as we are quick on the straights, but it's also not a track like Monaco where it's easy to keep people behind, so it'll be elbows out tomorrow."
Dave Robson, Head of Vehicle Performance
"We had a decent day today and made some good progress with the car. We made some aggressive changes overnight and these were a little bit too far in FP3, which led us to lose some of the pace we showed yesterday.
"However, some good engineering ahead of qualifying allowed us to find a good balance in qualifying. The tyres were tricky today in the cool conditions and we had to adapt our approach a little ahead of the delayed qualifying session, but this worked reasonably well, and we were able to get both cars into a decent window.
"Nicky lost some time at T1 of his final lap in Q1 but otherwise completed a good lap and was unfortunate not to progress to Q2. Alex did a very good job to progress to Q3 and once there we opted to lead the pack and use the free air. He left nothing on the table and it was right to go for a full attack lap.
"Both cars will inherit some grid positions once the penalties are applied and whilst this will help the race start, it does mean that we will need to play a fairly defensive strategy tomorrow."
McLaren
Ricciardo only came out for one run in Q2 as he was trying to save tyres. Despite a tow from his team mate, he couldn't make it to Q3 but still ends up with a fairly decent starting slot thanks to the rejigged grid. As for Norris, he looked quick all weekend. P10 isn't a fair reflection of his pace, given he only ran once in Q3 knowing he had grid penalties to come.
READ MORE: Horner, Perez and Vettel back Ricciardo to 'find his mojo again' after McLaren separation
Lando Norris, 10th, 1:46.178
"I think I'm reasonably happy with today and we got the maximum we could actually achieve. Of course, we weren't going for outright position, and maybe we could have got P7 if we had used a set of new tyres, which would have been a little bit nicer, but we had to make sure we were in the best place strategy-wise for tomorrow. We're still not where we want to be on pure pace, so hopefully tomorrow we can change a couple of things and try to move forwards and get into the points. It's going to be a long race, but you never know. Overall, we're in a good place so we'll try our best."
Daniel Ricciardo, 11th, 1:45.767
It's a little bit disappointing to be so close to Q3 and there were a couple of little things which cost us, but it is what it is. I think we did relatively well. This morning, we had to change specification of wing, so that was not as planned, but I still think we did quite well with that considered.
"For tomorrow, I'm not really sure how it will play out. Obviously, we will gain some positions due to penalties so we will start seventh, so that's good. I think Albon is certainly a target, even if he's been quick all weekend, and then there are some quicker guys coming back through, but I think that we should try to hold on as long as we can. I think if we put in a good first stint and try to distance ourselves, that buys us a bit of time later in the race.
"Overall, relatively pleased with the performance of the car. Just another one where we missed that little bit. So, we'll keep at it and look forward to going racing tomorrow. It's been a busy week, so, I'm just looking forward to watching the lights go out and getting on with the 44 laps!"
Andreas Seidl, Team Principal
"After qualifying today and once all the grid penalties are applied, we'll be starting the race in P7 with Daniel and P18 for Lando. Unfortunately, we didn't manage to get into Q3 with Daniel. On Lando's side we decided not to use the set of new soft tyres in Q3, knowing about the penalty and to save them for the race tomorrow. Given the circumstances we have made certain choices for today's qualifying which will hopefully benefit us in tomorrow's Belgian Grand Prix. Our full focus is now on that. The aim is to fight for points with both cars. The mixed-up grid will hopefully give us a very exciting race which we can look forward to."
AlphaTauri
Tsunoda locked up on his final run in Q1 which cost him a chance to move forward. Gasly did make Q2, but couldn't scrape into the top 10. He was left frustrated despite putting in what he thought at the time was a very decent lap. Fortunately, he is another to progress forward once those grid penalties are applied.
Pierre Gasly, 12th, 1:45.827
"It was a good Quali today, I'm really happy about my lap and how the car performed. The balance was great, and I felt like we maximised the package. We're still not showing our full potential, so we've got some work to do as a team to make it into the top 10, but today I think we managed to get the best out of the car. We start P8 tomorrow, thanks to the penalties of some drivers, so we'll have to make the most of that opportunity come the race. There's going to be some fast cars behind us trying to move forward, so it's going to be a hard race, but we'll try our best to hold our position and to stay in the points."
Yuki Tsunoda, 19th, 1:46.692
"It's been a really disappointing day. I've felt quite happy in the car so far this weekend and I think we were competitive enough to comfortably get through to Q2 and even be in with a chance of Q3. Unfortunately, that didn't happen today – I had a big snap and then, further in the lap, I went off. There are opportunities to pass here in Spa so hopefully we can try and make our way forward."
Jody Egginton, Technical Director
"Following Friday running, we had a good picture of the areas we needed to focus on today. The analysis and subsequent set up changes made overnight pretty much delivered according to expectation, meaning both cars took a step forward in terms of balance for FP3. We included a longer run with both drivers in FP3 in order to try and gather some of the data we were missing following yesterday's rain shower towards the end of FP2. Qualifying was, as expected, very tight in the midfield, but a strong first run in Q1 by Pierre provided a good basis to build on, which he subsequently did, with the car being well balanced and making Q2 without any fuss. Pierre's first stint in Q2 on a used tyre was very strong and he built on this for his second outing on new tyres putting in a very clean lap, but unfortunately, we were missing the last 0.15s to make Q3, in what was a very tight session. On the other side of the garage, Yuki struggled a little more in Qualifying and a couple of front tyre lock ups during his second run meant he was not able to put his best lap together and was unfortunately eliminated in Q1. This is frustrating for Yuki and the team, as he has had a solid weekend so far and for sure more was possible. As normal, focus now shifts to preparations for the race, and with the probability of making a pass here being much higher than the season average, there is plenty still to play for in terms of trying to get into the points with Pierre and also getting Yuki moving forward tomorrow."
Alfa Romeo
Bottas was the only driver without a 'back of the grid' mandate on his penalties. As such, he knew he would start P14 regardless, so came out to set a lap time to qualify before calling it a day. That ended a proud record of always making Q2 that stretched back to 2015. Zhou is another with penalties, so didn't compete overly hard in Q2.
Valtteri Bottas, 20th, 1:47.866
"We knew I'd be starting in P14, no matter what, so I was able to take one for the team and go out to give my teammate the tow. He was still fighting for a grid place, so it made sense to help him and it seemed to work. As we knew qualifying would have no meaning for us, we put all our focus on the race; I hope our preparations will pay off: so far I can say that the car felt ok in race trim. Of course, we didn't really see its full potential today, given the circumstances, but I'm confident we can come back from 14th and score some points."
Zhou Guanyu, 13th, 1:46.085
"I think we can be happy with where we are, also taking into consideration how we did this morning: I even think something more was possible, as I did a few small mistakes in the last flying lap and had a massive lock-up in Turn 1. It was tricky out there, we struggled a bit with the cooler weather conditions and with the balance, but we gave everything we had. Valtteri gave me his slipstream, it was not planned but it was nice of him as it helped me getting into Q2. Overall, I am quite satisfied with how we did today, although obviously I am starting from the back tomorrow due to penalties. Everything could happen on this track, so hopefully we can put up a good performance and gain some positions to get back into the points."
Frédéric Vasseur, Team Principal
"Today's qualifying was a bit unusual, with so many penalties affecting tomorrow's grid, but we did a good job as a team and we set ourselves up in a good position for tomorrow. We knew from this morning that Valtteri would start 14th no matter where he qualified, so we focused on teamwork and maximising our result: Valtteri gave a strong tow to Zhou, who made it to Q2 easily and was then able to set the 13th best time. He, too, has a penalty, so he will start 19th. Still, the car looks good and we'll be ready to fight our way through the field with both cars. Our aim remains a top 10 finish: tomorrow's race should be quite exciting and there shouldn't be a shortage of opportunities to take – we'll need to be ready to make the most of them."
Aston Martin
Aston Martin looked quick in the mixed conditions yesterday and continued that form into FP3. But come qualifying, they fell back through the pecking order. Vettel missed out on Q2 by just two thousandths of a second, while Stroll did make Q2 but could go no further. Both do progress back up the field thanks to penalties though.
Sebastian Vettel, 16th, 1:46.344
"I know I could have gone faster today; I did not drive a perfect final lap. I struggled a little to string it together this afternoon – I just did not have quite as much trust in the car as I did in FP3. And that led to the car sliding around – it was not too bad but it has a large impact, especially around a longer lap such as this. We will gain some starting positions tomorrow due to the grid penalties applied to other drivers – we will not keep everyone behind us, but it gives us more of a chance. It is a new day tomorrow and we have the chance to score points."
Lance Stroll, 14th, 1:46.611
"It was tricky out there today. There was a general lack of grip, but we need to look at why we lost time as qualifying progressed. We had hoped to be better than 14th. However, we normally race better than we qualify, and we will gain a few extra positions due to the grid penalties given to some of the cars in front of us, so I am confident that we are in a solid position to score some points tomorrow."
Mike Krack, Team Principal
"Sebastian missed out on getting through to Q2 by just 0.002 of a second, having lost time in Turn One. Lance lost time in Turn One in Q1 as well, but he got through to Q2 nonetheless, in which session he was then 14th-quickest. Obviously we would have preferred to have posted qualifying laps quicker than we did, but the larger than normal number of penalties incurred by drivers ahead of us leave us in P9 and P10 on tomorrow's grid. Our aim tomorrow will therefore be to try to hold on to points-scoring positions for both drivers."
Haas
Steiner was hoping to get one car into Q2, but unfortunately for Haas, it was Schumacher who progressed despite having grid penalties to come. It was still a decent lap by the German, considering he missed most of FP3 with a sensor issue. Lacking top-end speed, it could be a tricky day for Haas tomorrow.
Kevin Magnussen, 18th, 1:46.557
"It was a bad lap and I made a couple of mistakes. It seemed like everyone found a lot of lap time unfortunately, so that second lap was where it needed to be. I don't know if we had the pace to be that far up anyway, but a lot of people have penalties tomorrow, so we'll gain a few positions back and then hopefully our pace is better in the race. It's Spa, so there are always opportunities it seems and I'm looking forward to it as always."
Mick Schumacher, 15th, 1:47.718
"It went better than we hoped. We thought that we would be out in Q1 so it's a positive surprise. We know that tomorrow is going to be a tough race and we're going to be starting further back than we wanted, but on this track it should be quite easy to overtake so we'll try our best and give it a shot. We've not had as much running as we wanted, especially today, so we'll put together what we know and hopefully it will be alright for tomorrow. My hopes are still high that we can move forward, Spa is always full of action, so I'm sure we're going to get loads of it tomorrow."
Guenther Steiner, Team Principal
"Following on from Friday I think we gained some momentum in FP3. Yesterday I didn't think we would get there but the performance of the car was there, and we were on a good run. Kevin, on his second outing in Q1, locked up in Turn 8 and wasn't too fast in Turn 12 or Turn 13 so he went out. Mick made it out of Q1 which was very good considering he didn't get a quali sim lap in FP3. In his Q2 run, he locked up at Turn 1 and that was it, so on one side I can say I'm surprised that we got this far but I'm obviously disappointed with having the performance and then not delivering. Kevin will start P12 tomorrow so there's still a chance for points because we seem to have made a good step forward with the car from Friday. With all the changes, Mick will unfortunately start last and it's difficult to catch-up from there but we should never say never – it's a long day tomorrow."