Feature
What the teams said – Qualifying in Canada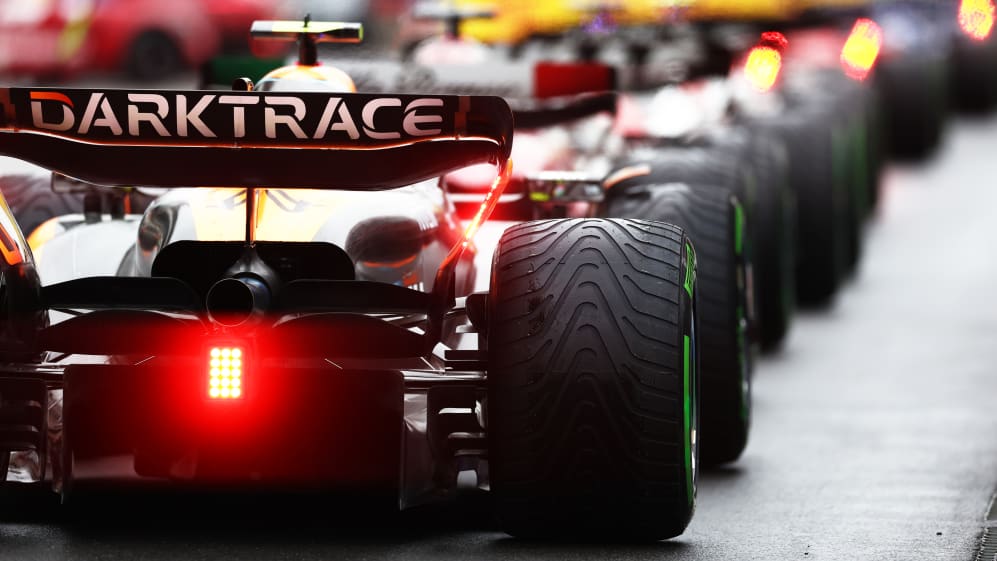 Red Bull
Verstappen made serene progress on Saturday, not putting a foot wrong in practice or qualifying to wind up taking yet another pole position. His margin over the rest was sizeable, he made the right calls at the right time and is in a great position going into tomorrow. But his team mate couldn't challenge him in qualifying. Perez stayed out on intermediate tyres too long in Q2 as the track dried, swapped to slicks as the rain came down, swapped back to inters and missed the window to set a competitive lap time.
READ MORE: Verstappen charges to pole for Canadian GP as Hulkenberg grabs surprise P2 in wet and wild qualifying session
Max Verstappen, 1st, 1:25.858
"We made the right calls at the right time today. It was very important to get the communication right with the Team, to really keep on top of things as the weather was changing by the minute, we were clear with what we wanted to do. It was good that I could really push the car, despite the conditions on track. I like this track and in the wet it's even more challenging. It's difficult to say what's going to happen tomorrow, I felt quite good on the long runs this morning so hopefully we will have good pace. It's a long race, a lot of things can happen so we just need to be on top of things."
Sergio Perez, 12th, 1:20.959
"Getting the tyres in the right window was the main issue today. It was looking well until we got caught out with the conditions, it was raining and then when it started drying up we went onto the slick tyre, probably about half a lap too late. We couldn't get track position and then once the temperature was in the tyres it started raining harder and it was just too late. Once we were on the inter it was just too wet to get the lap time. Yesterday was a positive day and today in the wet we had figured out a lot going into qualifying, which was really encouraging. We could have been a lot higher but in these conditions, it was a bit of a lottery with tyres and it was tricky out there. The aim tomorrow, of course, will be to come through the field and get a strong result. Anything can happen in the race, we will keep our heads down, work hard overnight and try to minimise the damage."
Christian Horner, Team Principal
"Max was outstanding today, in every condition he was consistently quickest and on top of his game, it was an incredible job by him today. Unfortunately for Checo, he just didn't get that first lap in on the slick tyre when the circuit was in the window, then he came back onto the inter because it was too wet for the slicks, so it was frustrating for him. However, unlike Monaco, this is a track that you can overtake at, the forecast is saying it'll be a dry race, he's a great racer and he's got a fast car so I'd be disappointed if we weren't much further up the order tomorrow. It's a mixed up grid so it should be an exciting race."
Haas
After Hulkenberg's difficult Friday, he repaid his mechanics – who were up late repairing his car overnight – in fine style. Making it all the way to Q3 with great tyre calls at the right time, he nailed his second flying lap and crossed the line fractions ahead of the red flags coming out to grab a brilliant P2 on the grid. Magnussen didn't manage to match that, and starts further down the order.
READ MORE: Hulkenberg loses front-row start in Canada as he lands three-place grid drop for red flag breach
Nico Hulkenberg, 5th, 1:27.102
"Obviously the ending of the day is not quite as good as it was earlier, that's obviously a pity and it's a shame not to be staring on the front row. We have to face the consequences with that. I think in terms of our race tomorrow it doesn't really change anything – the approach is the same and it won't impact or harm the outcome. We'll prepare as usual and race hard tomorrow."
Kevin Magnussen, 13th, 1:21.678
"We were in the pits still when the track was dry – something you want to maximize, but then we were out of Q2. We'd been looking good in the conditions, but we need to see where we could have done better. We really looked like we had a good chance in this qualifying – we were really pumped after FP3."
Guenther Steiner, Team Principal
"The penalty tonight shouldn't take anything away from the team and what we did – we're second in our minds. Yes, there was a mistake, there was too much speed, but we've also to consider there was never, ever, anybody put in any danger because Nico was always on his own. Obviously it's against the rules, but it was a mistake, it didn't create any danger, we got the penalty – we have to take it. We'll go back and try to do the best we can tomorrow. One day maybe lady luck will come to us. Elsewhere, Kevin got a little bit unlucky not to get out of Q2, he had traffic on his fast laps. Nico, prior to receiving the penalty, he had been in the right place at the right time in Q3 and brought home second on the screens. We obviously need to see what our race pace looks like tomorrow but hopefully we can bring some points home."
Aston Martin
It was a mixed bag for Aston Martin in qualifying. Alonso was on solid form from word go, and was on a hot lap when the red flags came out in Q3 that arguably denied him second on the grid. But Stroll wasn't able to extract the best from his AMR23 in the tricky conditions. A big spin in Q2 cost him time, and he didn't have the confidence to run the slick tyres when the track was drying. By the time he made the switch, it was too late.
Fernando Alonso, 2nd, 1:27.286
"We will take third place on the grid after a very complex Qualifying session. We were a little bit unlucky with the red flags during Q1 and Q3 just before we could complete a faster lap that might have put us on the front row. There is an opportunity tomorrow and hopefully we can recover second place early in the race and put pressure on Max [Verstappen] in front. It's always a challenging circuit with very low grip in the dry and wet conditions and the weather is always unpredictable. The new AMR23 upgrades seem to be working well and delivering what we were expecting, but we will keep evaluating them and try to optimise our setup around this new package."
Lance Stroll, 16th, 1:21.484
"It was a tough Qualifying session for us today. The challenging weather conditions meant that being on the right tyre at the right time was really important, and we didn't quite get that right. The pace of the Aston Martin has looked good across the weekend though – I've been happy with how it's felt and how the upgrades are performing. There should be some opportunities to progress tomorrow with several cars starting out of position, so I'm looking forward to my home race and putting on a good show for the fans."
Mike Krack, Team Principal
"It wasn't the easiest Qualifying session to navigate with the wet weather giving constantly changing track conditions. Both the red flags impacted some of Fernando's best laps in Q1 and then in Q3, just as he was about to set a time that could have placed him second on the grid. All things considered, third place is a good outcome from such an unpredictable session. Lance progressed to Q2 but, as he recovered from a spin, he was out of sync with the rest of the field. It meant he missed the best of the track conditions and was never on the right tyres and the right time. There is quite a mixed-up grid for the race, but we have a competitive car so there is everything to play for as we target scoring solid points with both cars tomorrow."
Mercedes
Mercedes were struggling to get their tyres up to temperature in the wet conditions. They only got both cars into Q3 by the finest of margins after staying out on inters far too long, but once into the top 10 shootout, both Hamilton and Russell put in solid opening efforts before the red flags denied them a second lap. Nonetheless, fourth and fifth are slots they would probably have taken at the start of the day.
Lewis Hamilton, 3rd, 1:27.627
"That was a good result for us today. The conditions were very difficult out there as we tried to get temperature into the tyres. It was very tricky keeping it on track and delivering when it counted. I think P4 was probably the best we could have done though so overall, I'm really happy with it. We will take it and hopefully we can move forward tomorrow.
"I hope we can compete with Fernando (Alonso) and if so, I think a podium is on the cards. It would be good to have a battle with him. Our race pace is often better than our single lap pace and hopefully that's the case tomorrow."
George Russell, 4th, 1:27.893
"We did a great job to get both cars into Q3 today. I enjoyed the session as the track was changing every lap and you were driving on instincts. We didn't quite get it together in Q3 but P5 has exceeded our expectations coming into qualifying. As a team, we were performing better as the track was drying and when the rain came in Q3, we struggled again. That's the challenge of these conditions though, it makes it exciting, and I'm pleased we kept it on the circuit.
"I believe we can fight for a podium from P5 tomorrow. We saw what we did from P12 in Barcelona, so we are satisfied with today; it's our best qualifying result since Australia. Fernando is going to be our main target and we're looking forward to the race."
Toto Wolff, Head of Mercedes-Benz Motorsport
"Today was a good result for the Team. The margins were very small between most of the field, and you could see that in Q2 with Perez and Leclerc being knocked out. I think we can therefore be satisfied with getting two cars through to Q3. You could see the improvements on the second lap in Q3 from Verstappen and Hulkenberg, which did make a difference. Overall though, I think we had good speed considering this is a circuit that isn't a strong track for us and that it was raining. Realistically, we will be aiming for the podium with both cars tomorrow. We will give everything to challenge for more, but we will see on Sunday."
Andrew Shovlin, Trackside Engineering Director
"That was a really tricky session, but both the Team and drivers did a great job to come away with P4 and P5. The conditions were constantly changing so making sure you were on the right tyre at the right time wasn't easy; we were also seeing degradation on the intermediates so getting through the first session on a single set wasn't straightforward.
"In the second session there was a narrow window in which some cars were managing to get the slicks to work. That meant we had a nervous few minutes with Lewis hovering around the cut. Luckily, our forecast was correct and the weather worsened, so no one could improve. The laps in Q3 were good; with hindsight going earlier and getting a second push would have been optimum given the timing of the red flag and weather. Nevertheless, we can't be too unhappy with both cars in the top-five at the end of a very difficult sessions.
"We're looking forward to the race tomorrow and aiming to get both cars on the podium. It's normally good fun here and quite likely we'll see a range of strategies, so it should be an interesting Grand Prix."
Alpine
Gasly cut a very angry figure at the end of qualifying. He had to take avoiding action on his final flying run in Q1, running wide to avoid a slow-moving Sainz. That ruined his lap and meant he exited at the first time of asking. Ocon did at least make it through, although he was also left fairly annoyed after being baulked by Stroll.
READ MORE: Sainz handed three-place grid penalty for impeding Gasly in Montreal qualifying
Esteban Ocon, 6th, 1:27.945
"Starting sixth on the grid tomorrow is a very good result for us considering the conditions and the challenging weekend we've had so far. Credit to the team, superbly managing all the sessions in Qualifying as it was not easy today. Our focus now turns to tomorrow, fully knowing that we haven't done many laps this weekend to prepare, in the wet or the dry. That said, I am confident in the car and in the team and we hope to come away with some good points at the end of the race. Last but not least, a shoutout to the crowd who stuck around in big numbers despite the heavy rain today. We saw you and felt your support around the track and hope to put on a good show for you tomorrow."
Pierre Gasly, 15th, 1:22.886
"I'm very disappointed with the outcome of today's Qualifying and we can count ourselves unfortunate to be starting so far down on the grid. I was on for a good lap time in Q1, safe to easily progress to Q2, and then I was blocked in a dangerous manner in the braking zone for the final corner. The incident compromised both that lap and the next lap and it left us out in Q1. It's very frustrating as there was a big opportunity today with the mixed conditions and we were not able to show our potential. We have an uphill task in the race from near the back of the grid but, as ever, I'll be giving it my all to progress towards the points with the aim of coming away with something."
Alan Permane, Sporting Director
"It's been another mixed Qualifying outcome for us today with Esteban reaching Q3, ending in sixth place, while Pierre was very unlucky to not go further than Q1 in seventeenth place. For Pierre, he was on a quick lap, on for around sixth place in the session, before meeting traffic in the final corner. That meant his quickest lap was compromised and it left him out in Q1. Esteban did another good job to reach Q3 for the fourth race in a row, especially under the changing conditions. It's never easy to manage when you have a drying track and then a threat of rain but the team did a great job to have Esteban on track with the right tyres at the right time. He's in a good position to score strong points tomorrow. Of course, it's frustrating for Pierre but all is not lost and we'll give it our best in the race to have both cars inside the points."
McLaren
McLaren managed to get both cars into Q3 for the second straight race. Norris was relishing the conditions and looking competitive, but he set his lap time earlier than others and tumbled down the order as a result. His second flying lap was scuppered by his team mate, Piastri losing the rear of his MCL60 and crashing into the barriers to end his involvement in qualifying.
Lando Norris, 7th, 1:28.046
"A tough day with tricky conditions, it was a shame we didn't finish slightly higher up. We didn't get the chance to complete my second lap, which would have pushed us up the grid. Q1, Q2, everything was very good, I was very happy. We did a good job to react to the conditions and fit the Soft tyre. Q3 ended up being just one lap and that was it. I think after two or three laps, I could have been P2 or P3 but with one lap, we weren't quite able to do the same as the others."
Oscar Piastri, 8th, 1:31.349
"P9 and not the way I wanted to end qualifying. I don't know how much more there would have been there, in terms of performance, but you never want to end qualifying that way and give the team more work, I certainly appreciate the work they'll put in overnight to get us ready for tomorrow. Otherwise, I think we had a strong qualifying overall, making good decisions at the right time. It's just a shame it ended like that. I'm feeling confident for tomorrow and hopefully we can stay in the points."
Andrea Stella, Team Principal
"A solid qualifying session in conditions that were changing rapidly and therefore very tricky. We progressed safely through Q1 and Q2 with good calls by the team and our drivers. In Q3 unfortunately, Oscar was caught out by an oversteer at the point where the tarmac changes and lost the car. That led to a red flag and, as the rain intensified, effectively froze the classification after one lap in Q3. While we think we could have placed our cars high up on the grid in these conditions, all in all we welcome a result with two cars in Q3, it's a strong position to start tomorrow and gives us a good chance of scoring some points."
Ferrari
It was a difficult day in Montreal for the Scuderia. Sainz crashed in the rainy FP3, wiping off the front of his car in a scrappy session that also saw him noted for impeding. The team managed to rebuild his car in time for qualifying, and although he made Q3, he did so via another moment of impeding, this time of Gasly in Q1. The stewards took a dim view and handed him a grid drop as a result. Leclerc didn't make Q3, having asked the team to swap him to softs in Q2 before they asked him to stay out on inters. Like Perez, by the time he switched, he'd missed the window. He does at least move up one place thanks to his team mate's penalty.
READ MORE: 'We are just making our lives so much more difficult' – Leclerc calls on Ferrari to 'improve now' after Montreal Q2 exit
Charles Leclerc, 10th, 1:20.615
"I was frustrated after qualifying because I love my team and felt we could all have done a better job today. We have been working so hard and made a good step with the car for this weekend, so it was disappointing not to go through to Q3. We will pull together and work as a team to improve.
"I will give everything in the race to make up as many positions as possible and bring home a solid result for us."
Carlos Sainz, 11th, 1:29.294
"It was a very tough qualifying. After the incident in FP3 the guys did an amazing job to rebuild the car and I managed to get my confidence back bit by bit in Q1 and Q2, putting some decent laps together.
"I was looking forward to pushing hard in Q3, but unfortunately the red flag and later the heavy rain meant we couldn't improve our time and missed out on a better result. My starting position is not ideal but tomorrow we'll try our best to make up some places."
Fred Vasseur, Team Principal
"Even if the conditions were the same for everyone, for various reasons, qualifying really didn't go our way today. In Q2, there wasn't much time to decide on tyre choice and we opted to establish a time on Intermediates before switching to Softs. On the slicks, there was time for just one run before the rain returned and only Carlos managed to improve.
"In Q3, once again, Carlos could only do one flying lap before the red flag and after that the heavy rain meant it was impossible to improve. From what we saw Friday in free practice and given how evenly matched everyone is, I am confident that, in the race, we can move up the order and bring home a good result."
Williams
Williams had a great qualifying, nailing their strategy calls all the way through. They sent both drivers out early in Q1 to set banker laps, and although the track improved which sent Sargeant out, Albon did make Q2. Once there he was the first to gamble on the soft tyres, and wound up topping the session as the others scrambled to follow suit. His bravado wasn't rewarded in Q3 – he lost his first lap time to track limits after running wide, before the red flags came out and ended any chance of the Thai driver qualifying up the order.
Logan Sargeant, 18th, 1:23.337
"FP3 felt really good with the car in a decent place in full wet conditions. As the track was drying in Qualifying, I felt like the rears never came to me in that second set in particular. The last lap I did felt semi-decent but was nowhere near quick enough. It felt like I never got the tyre in the right window with lots of overheating and the grip never came. We'll see what happens tomorrow. We don't know what the weather's going to be like, but we'll do our best to go forward."
Alex Albon, 9th, No time set in Q3
"I'm happy. Firstly, we had good pace. In Q1 we were P6 and feeling good. In Q2, we didn't need to take the risk with the slick tyres, but we made the call. I was actually quite surprised when I saw everyone roll out on Inters! But it was great to get through and to top the times. Q3 was a tricky one because it suddenly got much wetter and it became much harder to get the tyres in the window. I struggled a bit with that as it felt like the tyres were cooling down quite a lot on the straights when the rain picked up. I made a mistake when I lost tyre temperature going into the last corner, which I'm disappointed about and that was it really. Mixed emotions but looking at the weekend so far it's a great qualifying result and shows as a team that we are getting there."
Dave Robson, Head of Vehicle Performance
"Today was a challenge due to the variable weather conditions. However, in FP3 we were able to have a first look at the new full wet tyre, which is run without blankets. This worked quite well, and we collected some useful data. Qualifying was dominated by the varying rain level, but we mostly dealt with it well. The car was performing quite well in all conditions, but it is still difficult to put a lap together and to successfully manage the traffic and the tyre temperatures.
"Logan had good pace and in only his second day in an F1 car in the wet, he looked strong but ultimately struggled to get a full lap in with the tyres in a good window.
"Alex – helped by the upgraded car – was comfortable throughout and did exceptionally well to set a lap in Q2 on the slicks before the rain returned. Unfortunately, he lost time at the final chicane on his only lap before the heavy rain fell. Without this, he may have been close to both McLaren's, but to make real progress in Q3 we needed to be able to complete a 2nd push lap, which we were unable to do.
"It is frustrating to have completed Q2 so successfully and then fallen a bit short in Q3. However, with a new car, and in tricky conditions, we have put ourselves in a good position to race tomorrow."
Alfa Romeo
Zhou had a very difficult Q1, coming out of the pits and immediately losing power. He pulled over and the red flags came out, but then he managed to get going and limped to the pits. The team fixed the issue and sent him back out, but he couldn't escape Q1. Bottas had been in great form throughout practice, but he couldn't quite hook a lap together with the changing conditions at the end of Q2.
Valtteri Bottas, 14th, 1:21.821
"I still believe the top ten could have been achievable today, especially looking at our lap times in FP3. Unfortunately, we have been a bit unlucky with these changeable conditions. Of course, I would've preferred to be out there fighting in Q3, but tomorrow is a new day, and we have a chance to recover from today. All through the weekend so far, our car felt like it could get in the top ten, our pace is there, especially in the dry. We'll look into our performance overnight and get ready to climb up the grid tomorrow."
Zhou Guanyu, 20th, 1:23.342
"Qualifying has been quite frustrating for me; somehow, I lost the drive and found myself with no power. I had a lot of anti-stall, and at first I couldn't even communicate with the team. I still somehow managed to bring the car back to the garage, and after a while, I went out again. Overall, it hasn't been a clean session from my side: I was lacking grip, sliding quite a lot. We are yet to figure out what has actually happened, but we will make sure to investigate it to get it resolved properly. Still, nothing is lost: hopefully, we'll figure it out ahead of tomorrow, and try to get back in the higher part of the grid."
Alessandro Alunni Bravi, Team Representative
There is no denying that today has been a disappointing qualifying session for us: we have clearly seen during FP3 that we had a chance not just to make it into Q2, but as well to move up even further, but today has not been our day: Zhou had an issue right at the start of Q1, which was then solved, allowing him to still take part in the session. Valtteri, on the other hand, made it into Q2 but struggled to get the most out of the slick tyres in the changeable conditions. All of our efforts will now go into investigating what happened today, and figuring out why we couldn't get the best out of the car. Still, tomorrow is a new day: despite the starting positions not being ideal for neither of our drivers, we have seen plenty of times in the past how anything can happen in this race. We must focus on tomorrow and choose another aggressive strategy that can allow us to exploit any opportunity this circuit can offer."
AlphaTauri
Not to be for AlphaTauri, with Tsunoda having a very eventful day. He spun twice in FP3, before twice getting in hot water with the stewards for impeding other cars in Q1. In the end he exited early, as did his team mate at a track he doesn't know. They might have a difficult day of it tomorrow to climb back through the field.
Nyck de Vries, 17th, 1:23.137
"The biggest challenge today was the changing conditions. The track was drying towards the end of Q1, so we weren't sure whether we wanted to box for a second set of intermediate tyres. In the end we did, and it came down to two laps. I had to back out on my penultimate lap because of traffic management in the last sector. This was the same battle for everyone so it's not an excuse. You want to push to the limit, but I think today I undershot it. We didn't have that much dry running to prepare for tomorrow, so it's hard to know where we are, but we'll do our best and I hope we can move forward from where we're starting."
Yuki Tsunoda, 19th, 1:22.746
"Looking at the pace we showed in FP3, it's a shame we didn't make it out of Q1 today. At the same time, we have been struggling with pace from the beginning of the weekend, so we will need to look into this. I thought my final lap in Q1 was good, and I'm happy with it, but we lack overall pace. Tomorrow is a new day in dry conditions so I'm optimistic. I'll try to overtake as many cars as possible and target points."
Jody Egginton, Technical Director
"Qualifying has not met our expectations today, especially given the car seemed to appear quite well-balanced during FP3, so we need to review the data to understand why we struggled so much. Yuki got very close to making the cut for Q2, but the car balance was not quite where it needed to be. This cost us lap time in what was a close battle with Hulkenberg and Stroll. Nyck struggled with similar issues, so we are left with neither car making it out of Q1 today. Tomorrow isn't going to be easy, but we now focus on race strategy, making sure we are prepared to take any opportunities which come our way to get our cars as far forward as possible."
Pirelli
Mario Isola, Motorsport Director
"Yesterday's weather forecast predicted rain for today and it proved to be accurate. It meant we could see both the Intermediate and the new Full Wet tyres in action, after we had got a taste of the latter towards the end of the Monaco Grand Prix. As for the Intermediates, we saw that their operating window is still very wide, given the competitive times set with them in Q1 when the track was practically dry. The Full Wet, which in this new specification does not require preheating, worked as expected without any evidence of temperature management issues right from the start of their use.
"Dry track conditions are expected tomorrow, but clearly all the rain that has fallen so far has effectively led to a degree of reset in terms of the track surface conditions. As for strategy, this could make a two stop race look even more competitive, starting with the Mediums and then switching to Softs for the next two stints. A one stop, starting on Hard and switching to Medium, could be the choice for those starting from the second half of the grid, as it would allow them to have greater flexibility to deal with any eventualities, especially on this track where the Safety Car has often been called on to do plenty of laps."
HIGHLIGHTS: Watch the action from qualifying in Montreal as Verstappen takes pole ahead of Hulkenberg