Feature
What the teams said – Qualifying in Sao Paulo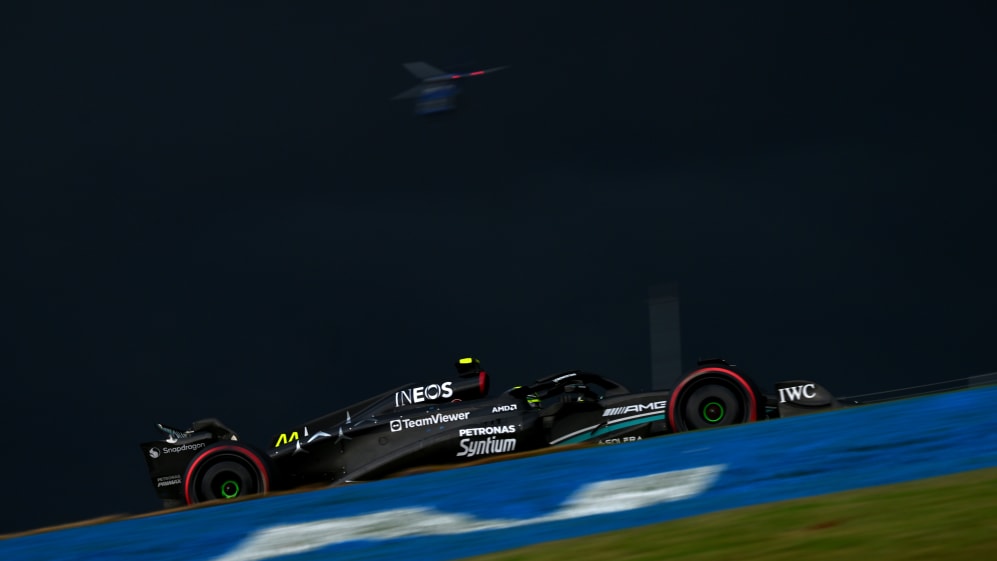 Red Bull
Red Bull kept their true pace under wraps by just running the hard tyre in practice. So, when qualifying began, it was eye opening to see that the Bulls were not necessarily the quickest car out there, Verstappen beaten by the likes of Norris in Q2. But with the weather approaching, the team sensibly sent Verstappen out early and he just about nailed his lap in the windy conditions moments before the storm arrived to grab pole. Perez was further back on the track and a victim of the yellow flags that came out late for Piastri, although the weather by then had put paid to any chance of him setting a competitive lap time.
READ MORE: Verstappen pleased to take Sao Paulo GP pole despite 'terrible' lap as Perez rues compromised Q3
Max Verstappen, 1st, 1:10.727
"Although today was quite tough with the weather, it was great to end up on pole. In Q1 and Q2, the gaps were small in between cars and we ended up using quite a few of our tyre sets. When we lined up to go out for Q3, you could see the sky was black. As we went out, the first sector was alright but the rain started coming in; the wind picked up and changed direction in the middle section which made it difficult to drive but the Team told me just to keep pushing. I have never experienced something that has had such a big influence on car balance, but ultimately it was still a great result and sets us up well for Sunday. For the Sprint race tomorrow, we will try and do the best we can as I think it will be close in the Sprint Shootout."
Sergio Perez, 9th, 1:12.321
"It was very unfortunate today, I think we had the pace to qualify in the first two rows at least. We were on for P3, P2 maybe, my lap was very close to Max's until the last corner but we had Piastri spin at the end of the lap and I had to back off. I also think we went out a little too late, the rain picked us up and the track temperate was cooling quickly. There are so many ifs but it is just the start of the weekend and there is still a long way to go, the positive is we seem to have very strong pace. I am looking forward to tomorrow now to see what we can do on Sprint day, I think we have some good opportunities to race from here."
Christian Horner, Team Principal
"A qualifying dominated by ominous weather and halted due to the treacherous rain it delivered. Ultimately, Max performed well through the session and in the varying conditions. He had one lap to deliver as we watched the clouds rolling in over the horizon, securing pole before the session was abruptly brought to a close. Checo was unlucky in his lap, falling victim to the yellow flag brought on by the Piastri incident. Unfortunately the weather set in before he had time to lay down another lap time but there is a wealth of opportunity at this track so plenty to come on Sunday."
Ferrari
Ferrari were one of the only teams to run the softs in practice, finishing 1-2 in FP1. As such, there was plenty of confidence that they'd be in the mix come qualifying. The Scuderia got both cars through to Q3 with relative ease, although Sainz had to use an extra set of tyres to do so. But once there, Leclerc was out early enough to profit from the slightly better conditions, while Sainz had significantly worse weather for his only flying run.
Charles Leclerc, 2nd, 1:11.021
"It was a good qualifying. Q1 was smooth, we only used one set of Softs and put in a solid lap with a car that felt great, after we had made quite a few changes to the setup after FP1. In Q2, we pretty much just put a lap on the board. Then came a strange experience. In Q3, the wind change was really sudden, there was no grip from sector two onwards. I didn't know what to expect in terms of balance once I entered a corner, but I kept it tidy so P2 is not bad considering."
Carlos Sainz, 8th, 1:11.989
"I am very disappointed as I was feeling good in the car, but we missed a good opportunity. The storm arrived very quickly, the wind picked up a lot and it caught me out during the lap. I tried to keep it together but it was extremely tricky and the lap was not good.
"We were one of the last cars in the queue in the pit lane and every second counts in these situations. It is what it is and now it's time to focus on tomorrow."
Fred Vasseur, Team Principal
"Qualifying was very close up to Q3, when the rain played its part, but again today we saw that we are competitive over a flying lap. The position of our garage in pit lane worked against us in Q3 as we found a whole queue of cars ahead of us and that made life more difficult for our drivers when it came to managing tyre temperature.
"Everyone only got one run in, but Charles did very well to manage his car and secure a front row start. The fact he did not think he'd done a good lap as he crossed the finish line says a lot about how difficult it was to drive in these conditions. Carlos' lap was not quite as good and so he will start from eighth. Tomorrow we will be focussing on the Sprint which will be our first opportunity to see how the car behaves in race trim, which is where we have suffered most in recent races."
Aston Martin
Stroll seemed to like this track from the off, and was right on the pace of his team mate if not in front throughout qualifying. The team read the conditions perfectly in Q3, and sent their cars out to queue in the pit lane. As such they were on the track when it was at its best, and although they couldn't grab a shock pole, a second row lock out is still a pretty handy result for Sunday's Grand Prix.
READ MORE: Stroll targets podium finish in Brazil after P3 in qualifying as Alonso insists Aston Martin 'know what they're doing'
Fernando Alonso, 4th, 1:11.387
"We needed that qualifying result today. We have experimented a little in the last few races and we were seeking a good result for both cars here in Brazil. I think we proved this weekend that we have understood a few things about our car in recent races. I hope we have a clean weekend starting with a good Sprint tomorrow. We have a very good position to start the race from on Sunday, so we are looking forward to that. Hopefully that is the last of the rain, and we will go again tomorrow in the Sprint."
Lance Stroll, 3rd, 1:11.344
"It was a good result today – the car felt pretty good throughout the whole session so I'm very satisfied. With both cars starting from the second row, we will be aiming for a podium on Sunday but I think that the race will be tricky. All the teams are very close and it is difficult to know exactly where we stand. We were fortunate when the rain came but we also made the right calls – both Fernando and I were able to get our Q3 laps in early before the rain started to fall. The points are awarded on Sunday, so let's see what we can do from a good starting position."
Tom McCullough, Performance Director
"A very well-executed day by the entire team brings us a strong qualifying result – and full credit to Lance and Fernando. We have been competitive from the off and found a good balance with the car during the only practice session this morning. On this relatively short track, the margins are really tight across the whole grid, so it was important that we delivered strong laps across Q1, Q2 and Q3 and got the timing right. You have to be opportunistic, too, and, with rain approaching, both drivers knew that the first lap in Q3 would be the one that counted. Today's result leaves us well placed to race well on Sunday when we will be targeting a good return of points with both cars."
Mercedes
Russell looked back to his old self after a couple of events where he has lagged behind Hamilton somewhat. Those two both made the top 10 shootout, although they had to use plenty of tyres to do so. Crossing the line behind the Aston Martin pair and Verstappen, fifth and sixth initially looked like poor runs but it soon became apparent that the gusting winds were wrecking lap times left, right and centre.
Lewis Hamilton, 5th, 1:11.469
"P5 is never going to feel that great. I did the best I could though and hopefully we will have a better race on Sunday. The car was showing signs of decent performance, but we did seem to be a couple of tenths off the guys right at the very front. We made a few changes ahead of qualifying and it did seem to make the car a little nicer to drive. In general though, it wasn't particularly fast. Having said that, the conditions and circumstances at the end of Q3 have maybe put us slightly further back than our true pace would have showed. It is difficult to say with any confidence though. Over the rest of the weekend, I think we've got a bit of a battle on our hands. Overheating with brakes and managing tyres will be important but if we can use our strategy to progress forward, then we will do that."
George Russell, 6th, 1:11.590
"The weather today was absolutely crazy! I've never seen it change so drastically as that during Q3. I was really disappointed with my final push lap. I was sliding around and had no grip. I didn't see that much rain on my visor, but I was one second off and I wanted to pit for new tyres as I was confident that I would be last. We ended up P6 though which, whilst the lap was disappointing and frustrating, it's not a bad place to start. The team did a great job, and the car has been performing well here. We also know race pace is more important than single lap pace here. We will still be aiming to get on the podium. Aston Martin have been quick today, and will start ahead of us, but I hope our long run pace is better than theirs. I expect there to be multiple pitstops during the race on Sunday, so it's all to play for. Let's see how we perform over the rest of the weekend."
Andrew Shovlin, Trackside Engineering Director
"We had a useful FP1 with plenty of focus on the long run. That is very important here and the car seemed to be working well although as always, it's tough on the tyres here when the track is hot. Qualifying was tight but that's normal with how competitive the entire grid is these days. Even so, we'd managed to get both cars through to Q3 with two new sets of soft tyres still available for each. It looked like we were in the hunt for the top three spots.
"For what turned out to be our final run, we left the garage early and queued at the end of the pitlane. It was clearly right to be at the front of the pack, but we'd lost too much tyre temperature whilst waiting for the green light. We therefore didn't have good grip opening the lap; that was particularly costly given that the circuit had started to get damp from the rain. It was frustrating to end up P5 and P6, but if we can get through the Aston Martins in the early stages of Sunday then we'll be in the fight for a podium. Before that though, we've got Saturday's standalone sprint format to get on top of and there are some useful points available. We will be working hard to maximise that opportunity."
McLaren
Not to be for McLaren yet again. They were very cloak and dagger in FP1, refusing to set a lap time on either the softs or mediums, but it soon became apparent at the start of qualifying that both drivers were quick here. The team just weren't quick enough to send them out at the start of Q3 though when the sky was going blacker and blacker by the second. Norris at least finished his lap to grab seventh – which was the slowest of the finishers at that point. Piastri couldn't do likewise, sliding off the track as the rain began to fall, spinning across the grass and very lucky not to wind up in the barriers.
Lando Norris, 7th, 1:11.987
"Not at all the result we wanted. We showed strong pace in the dry, but we just didn't do a good enough job of getting on track at the right time with the rain coming in. A real shame, it's pretty disappointing for the team as it's a big opportunity missed today. A tough start to the weekend but we'll do our best tomorrow in the Sprint to score positive points."
Oscar Piastri, 10th, No time set in Q3
"P10 in qualifying this afternoon. Q3 was obviously not very good for us, especially with the session ended early because of the weather. I'm not sure what really happened with the grip, but we just struggled a lot, which is a shame as we had good pace. Things were looking alright until that point but anyway, we will try again tomorrow and see what we can do in the Sprint."
Andrea Stella, Team Principal
"We had a strong qualifying session from a car performance point of view, which saw us be very competitive in Q1 and Q2. Unfortunately, when it came to Q3, everything was decided in the couple of minutes at the start of the session as the conditions got rapidly worse. We weren't at the front of the group of cars, and actually the position and the time on track became the decisive factor. This meant we couldn't capitalise on the good performance on a day in which we could certainly have been at the front of the grid. Anyhow, we take the positive of a competitive car and the learning for the team on a missed opportunity. We still have Sprint Shootout Qualifying tomorrow, and the Sprint, before a Grand Prix in which it's possible to overtake and recover, that's the plan for Sunday."
Haas
Despite conditions in Q3 doing much the same as last year, Haas couldn't pull off a second shock result in Brazil qualifying. By the time the rain arrived, their drivers both had their feet up in the garage, having exited in Q2. Nonetheless, Hulkenberg in particular was pleasantly surprised by his P11 grid slot, and it is a sign that those upgrades are taking them in the right direction.
Nico Hulkenberg, 11th, 1:10.547
"Being honest, the morning was difficult to read because a lot of people didn't run the soft compound, so it wasn't the real picture. I think before this weekend if you had told me we'd get P11, I would've taken it. It was a clean session, with clean laps, and there was nothing left to give."
Kevin Magnussen, 14th, 1:10.723
"It went well. We had good pace on that second run in Q2, but I got traffic from one of the Ferraris which is unfortunate. Having said that, I don't know if I would've been fast enough for Q3, but at least I would've put in a better lap. Overall, I'm happy and we'll try again tomorrow to see what we can do."
Guenther Steiner, Team Principal
"It hasn't been a bad day for the team today. Finishing 11th and 14th in qualifying is the most I think we can do at the moment, but it's put us in a good position for Sunday. Hopefully, with a little bit of luck we can score points. Unfortunately, we had to change Nico's engine after FP1, but it seems to be working and the team in the garage did a great job to get it done very quickly so we were ready for qualifying."
Alpine
Alpine couldn't quite extract the pace they needed to make Q3 as the track cooled rapidly at the end of the second part of qualifying. That change hampered a few teams with tyre warm up, including Alpine. In truth it had been a messy day for the team, with Gasly struggling with a long brake pedal in practice, and Ocon having a screw stuck to his tyre as well.
F1 EXPLAINS: Racing lines, drinks and number one drivers – Your questions answered
Esteban Ocon, 12th, 1:10.562
"It's really great to be back driving here in Brazil and at such an iconic track in Interlagos. It's been a busy day with only one Practice session ahead of Qualifying, and it certainly felt like a quick turnaround. After going through Q1, we had a tough last run in Q2, just missing out in twelfth place. I do feel like we maximised everything today and that's all we had and I'm sure there will be opportunities in the race on Sunday. Now, our focus turns to Saturday and the Sprint where more points are up for grabs. We must take the learnings from today and apply them for the rest of the weekend. I'm sure there is more to come from us."
Pierre Gasly, 13th, 1:10.567
"It's always disappointing to be out in Q2 but there is plenty still up for grabs this weekend. I lost some time on my second push lap in Q2, mainly due to an upshift issue, so that is something we need to investigate. It would have been close to reach Q3 so we will certainly assess what we can improve next time. In general, I would say we are lacking a little bit of pace here but we do have our eyes on Saturday and Sunday to score points, so I'm certainly looking forward to that. Tomorrow is the final Sprint of the year. We will aim to fix some small details ahead of the Shootout and then give it our all to come away with points in the Sprint Race."
Williams
Sargeant had a tricky practice session, rear suspension damage leaving him driving with his wheels in the air at times. Once fixed, he couldn't extract too much pace from the car and exited qualifying in Q1. Albon had looked rapid on the softs and made Q2 – but then lost his fastest lap time to track limit infringements, and ran out of time for another go.
Alex Albon, 15th, 1:10.840
"My Q1 lap was very good but I think as a team, we know we're struggling, as it's so easy to overheat the tyres. Corner after corner there's no way for the tyres to rest, so as soon as you do one corner quickly, you lose it on the next as a result of overheating.
"There's a lot to learn and Sunday is going to be a big management race with the tyres not enjoying this kind of circuit. We've saved a set of Softs, so hopefully that will help us tomorrow."
Logan Sargeant, 19th, 1:11.035
"I felt like I was driving well and we had the car in a pretty good place today. I had the pace in Qualifying but I made a little mistake in turn 10 on the last lap, which cost us Q2. I'm disappointed but there are positives to take out of today.
"We haven't been the quickest as a team here, so it's not easy - those small mistakes put you straight out - but we'll work to do better tomorrow."
Dave Robson, Head of Vehicle Performance
"Interlagos showed all its trickiness today with low grip in FP1 and a constant threat of rain during Qualifying, which eventually saw a very heavy shower start during Q3. The track grip will evolve quickly if there is no more rain during Saturday and Sunday, which makes it difficult to judge the correct setup to take into Parc Ferme.
"All teams are of course in the same position and it will be very interesting to see how the remainder of the event plays out. We struggled in FP1, both drivers feeling that the track offered very low grip and that the middle sector exposed many of the weaknesses inherent in FW45. Fortunately, we were able to make some improvements to the car before Qualifying and we did a decent job of the tyre preparation and traffic management, allowing us to compete in Q1.
"Logan drove well throughout Q1 but a small mistake on his final lap proved costly. Alex completed an excellent lap at the end of Q1 to qualify easily for Q2. He pushed extremely hard on this final Q2 lap but exceeded the track limits at T4. We didn't have the pace to qualify for Q3 today, but Alex has out-qualified our closest Championship rivals, which sets us up for a productive Grand Prix on Sunday.
"Logan is also in the mix with our key competitors and, having shown strong race pace at recent events, is well placed to have a fruitful race. Our attention now turns to the self-contained sprint that takes place tomorrow. Although the car is in Parc Ferme, there are still opportunities to optimise the car via the electronic setup and tyre preparation."
AlphaTauri
Ricciardo couldn't repeat his qualifying prowess from Mexico, as he exited at the first time of asking alongside his team mate. But having modified the car after a tricky practice session, the Aussie was at least happy that he'd moved his ATR04 in the right direction for the rest of the weekend. Tsunoda cut a more frustrated figure, feeling he'd been impeded exiting the pits which cost him position on his out-lap.
FACTS AND STATS: Tsunoda on the wrong side of the smallest Q1 margin in 17 years
Daniel Ricciardo, 17th, 1:10.843
"It's frustrating because we were definitely faster than what we showed, and there was the potential for Q2, and maybe even Q3, but we didn't get it right on the last lap. I didn't get the tyres in the right spot for the start of the lap, so I came too hot into Turn 1, and we lost a chunk of time in the first Sector. From then on, the lap started to spiral a little. On the other hand, I'm happy with the improvements I found in the car compared to the morning. I'll have a look tonight at how we can extract the performance for the remainder of the weekend."
Yuki Tsunoda, 16th, 1:10.837
"I feel like we didn't maximise our package today. I didn't have clean air on the last lap, which affected my lap time. Our pace hasn't been on it today, so we'll have to look through what happened and see how we can improve. It's not an easy weekend because we can't massively change the setup of the car anymore, so it's about extracting the performance from the car for tomorrow and Sunday. We'll do our best to improve as much as possible."
Jonathan Eddolls, Chief Race Engineer
"We didn't have the most successful Friday in this final Sprint of the season here in Brazil. We explored various setup options during Free Practice 1, focusing mainly on the hard and medium compounds, intending to save the soft tyres for qualifying. We had no major issues or limitations with the car, just the usual low grip to start the session with on a green track. We felt the car was reasonably competitive. It was clear the gaps were tight, as is always the case in Interlagos, so during qualifying, we completed three runs on new soft tyres with Yuki and two runs with Daniel. After the delay to the start of Q1, the rain was very close but missed the track to the north and had no impact. Although we improved on each of the runs, we didn't have enough pace to make it through to Q2 today, which was frustrating considering the gap was less than one-tenth. We knew we wouldn't be quite as competitive as we were in Mexico, but we were expecting more than we achieved today. We'll go through the data, try to understand what happened, and make any changes to the car within Parc Ferme to improve it for the Sprint Shootout tomorrow."
Alfa Romeo
After getting both cars into Q3 last weekend, Brazil presented a bit of a slump in form for Alfa Romeo. With both cars tumbling down the order in Q1, the team opted not to send them out again and thus sealed their fate. They had already used two sets of the red tyres each, and perhaps with high degradation expected here on Sunday, Alfa Romeo wanted to preserve fresh rubber for the race and sacrifice grid position accordingly.
Valtteri Bottas, 18th, 1:10.955
"We haven't been able to make it past Q1 today, which is quite unfortunate, as we think our pace could have allowed us to get into a better fight. Unfortunately, margins are so small that any minor difference can have a huge impact in terms of position – and we saw that today, when we missed the cut for less than two tenths. Starting from the second-to-last row on Sunday surely isn't ideal; we have some work to ahead of tomorrow, but we have seen before how unpredictable races can get here: with a decent start and an aggressive strategy, we could still have a chance to charge through the field."
Zhou Guanyu, 20th, 1:11.275
"Unfortunately, we struggled more than usual today: it'll be crucial to do our homework overnight to find more performance ahead of tomorrow's Sprint and, most importantly, Sunday's race. We gave everything but we never felt we had the speed to gain more time and make the cut for Q2. Hopefully, we can make an improvement tomorrow already, although it will be sort of a standalone day. Starting from the back on Sunday will be challenging, but if we make the right calls, we may still be able to get in the mix."
Alessandro Alunni Bravi, Team Representative
"We saw from the morning that qualifying would be a difficult session. The gap between the top 15 cars was less than a second, and you could calculate the difference between making it through Q1 and falling out in an order of thousandths of a second. We tried to improve our setup between FP1 and Qualifying, increasing the downforce levels to take into account the possibility of changing conditions during the event. Of course, 18th and 20th is a disappointing result and we will need to improve for the rest of the weekend: starting tomorrow, in the shootout and sprint, we need to unlock some more performance and improve our positions. In the end, the margins are so small: we saw teams that were very competitive in Mexico last week fall out alongside us in Q1, which shows how easy it is for performance to swing. We need to work hard: there's not a single area to improve, we need to improve under every aspect to fight for the points."
Pirelli
Simone Berra, Chief Engineer
"The Friday of a Sprint weekend is always very frenetic with all the teams having just one hour to prepare for the rest of the programme, trying to fine tune the set-up and, at the same time, evaluate the three compounds available to them. On top of that, the Sprint format means the teams try to use their sets differently to usual, aiming for the most efficient use possible. Clearly, for Interlagos, we and the teams have a lot of data from previous years to call on, which will be useful in the coming hours, given that information acquired in FP1 is rather limited. From what we have seen, the C2 does not seem favourite for race use, because it has shown far from negligible degradation, triggered by the low level of grip leading to the cars sliding a lot.
"The weather changed for the worse between free practice and qualifying, with temperatures dropping pretty suddenly, the wind increasing in intensity and the threat of rain looming more and more, eventually producing the storm that led to qualifying ending early. This made life difficult for the drivers, who had to deal with very changeable track conditions, while the wind was changing direction and speed to complicate matters still further.
"The forecast is for better weather tomorrow with no rain. Last year in the Sprint here, 18 of the 20 drivers used the Soft and it's likely we can expect a similar scenario tomorrow, given that the temperatures should still be cooler than in this morning's free practice."
HIGHLIGHTS: Enjoy the best action from Sao Paulo qualifying as Verstappen takes pole before storm hits