Feature
What the teams said – Qualifying in Singapore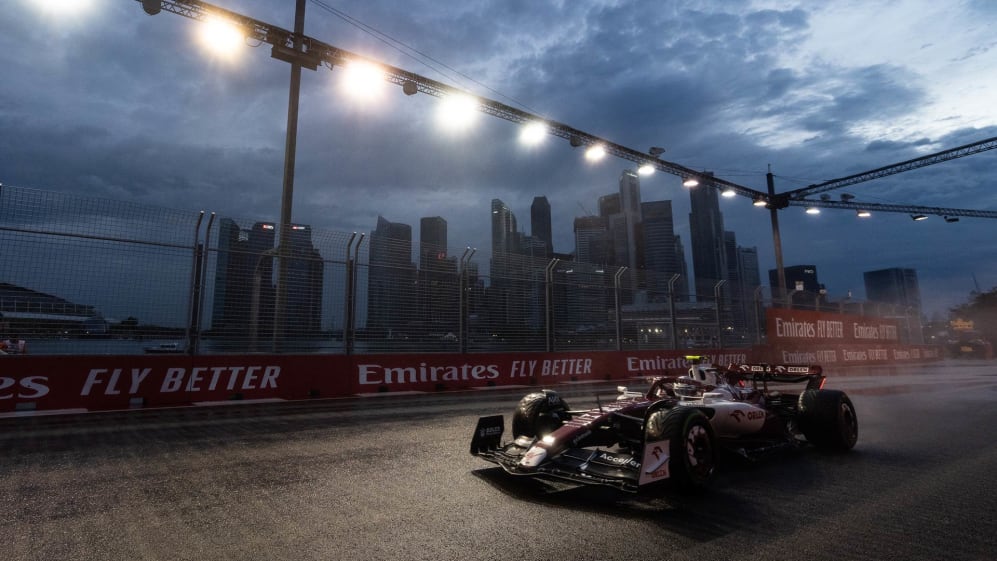 Ferrari
Leclerc had topped the timing sheets in FP3 and was the arguable favourite heading into qualifying. He always looked in with a shout of pole but knew he'd need his best to beat a suddenly flying Hamilton. In the end, his rival's tyres fell away and that meant the Ferrari man's last lap was good enough despite admitting to a small mistake. Sainz couldn't quite match that but still starts in a very good position with which to take the fight to Red Bull and keep the championship alive.
READ MORE: 'I'm here to win' – Pole-sitter Leclerc eager to banish 'frustrating' Singapore memories on Sunday
Charles Leclerc, 1st, 1:49.412
"With track conditions changing throughout, it was a tricky but exciting qualifying. We were very quick on the Intermediates in Q1 and Q2, then had to start again from zero on the slicks in Q3. There were some damp spots of tarmac here and there and you really had to adapt to the track evolution.
"The feeling in the car has been great all weekend and I look forward to racing here again tomorrow."
Carlos Sainz, 4th, 1:49.583
"It was a challenging qualifying today, one of the toughest of the season due to the conditions and the amount of traffic at a street circuit like this.
"I think we did a decent session overall, but it's frustrating to see that a tenth and a half cost us four positions, especially after reviewing my fastest lap, which was looking very good for pole until a snap at turn 16.
"We'll look into it and check what we could have done better, but now we need to focus on tomorrow. We can still get a very good result from here and we know how long and eventful these Singapore races can get. I'm ready to fight for everything."
Laurent Mekies Racing Director
"Our car was very quick today, as were our drivers, which is a very important factor on such a unique track as this one, especially in what has so far been a difficult weekend for everyone with rain and extremely changeable track conditions. For the team and drivers to make the right decisions together in Qualifying was particularly tricky because of the really treacherous track conditions.
"We were aiming to get both cars onto the front row, but overall this is an important result for the team, thanks to clear thinking between the drivers and those on the pit wall, which is good for everyone and gives the drivers confidence when approaching what will be a very long race.
"There are several question marks about tomorrow's race because, like all the teams, we have not done much work on race pace, so we will be less well prepared than usual. In fact, we had to improvise a bit in qualifying, but, here especially, that's all part of the game. Charles and Carlos did a very good job of finding the right pace in many different conditions and tonight we will work together, looking at all possible scenarios.
"I also think that today we did not see the best our rivals can do, so for tomorrow, not only must we execute our race perfectly, we also have to find a pace during the Grand Prix that will put us in the fight for the win."
Red Bull
Verstappen had looked electric in the wet conditions and knew he needed to be at his best come qualifying to take the fight to an extremely quick looking Ferrari. He was doing just that until Q3, when he seemed to struggle on the soft compound. Nonetheless, he persevered and was about to be rewarded with a decent grid slot – until the team called him back to the pits, worried about his fuel consumption. As for Perez, he had been there or thereabouts until his very last flying lap when he left it all on the line to grab a brilliant second.
Max Verstappen, 8th, 1:51.395
"We couldn't finish the push lap today because we wouldn't have had enough fuel in the car, it was a mistake that we didn't see coming throughout the session. We were a little surprised by the additional lap at the end, we didn't expect to have to do that. I was on for a good lap when I aborted before starting the last lap, it might have been pole. In hindsight we should have finished the penultimate lap, instead I had to abort two laps, but hindsight is a great thing. We'll see what we can do tomorrow but I think it will be a frustrating race, starting eighth around here is similar to Monaco, there aren't many overtaking opportunities and it's really hard to pass."
Sergio Perez, 2nd, 1:49.434
"I think we have done a solid job today, the Team made great calls and we managed to get an excellent result in the end. I am a bit disappointed to be so close to Charles on such a long lap because it makes you think I could have done better in so many places but at the same time it was so tricky out there with the conditions. It was our worst Friday of the season yesterday; we didn't have any mileage and we had issues with set-up too, so we didn't have a read on things, but we went back over things and have come out strong. I will try everything I possibly can to win tomorrow, I think the start will be very important so I will try everything but if that doesn't work, I have 61 laps more, then it is a long race ahead, let's see what happens."
Christian Horner, Team Principal
"It was a qualifying of highs and lows. Firstly, Checo has done an amazing job, this is his first ever front row here and he can race well from there. He had good race pace so hopefully he'll have a good start and that puts us in a great position. As for Max, the track was ramping up and we assumed 5 laps would be the maximum we could do but as we came up to the flying lap, fuel was too close to the limit. Rather than start from the pit lane, we elected to abort the lap which was a frustrating call for Max and for the whole team. It relegates him to 8th but that is obviously better than starting from the pit lane. This makes life a lot harder but what we have seen with the cars this season is that you can overtake, you cannot take anything for granted, there is a lot to play for and we are confident we can turn it around tomorrow."
Mercedes
Mercedes were struggling in the wet FP3 session, so did well to turn their fortunes around for qualifying. Hamilton was always up at the sharp end at a track he tends to go well at, but Russell wasn't too far back which made it surprising when he fell by the wayside in Q2 after just struggling for grip. Roll on Q3 and Hamilton was in with a genuine shout of pole, the first driver to really make the slick tyres sing. But he ran out of rubber on his final flying lap and had to make do with third on the grid.
Lewis Hamilton, 3rd, 1:49.466
"I was pushing so hard and it was incredibly close. It was really difficult to get to a position where we could be fighting for first place and I just didn't have enough grip on the last lap. Coming here, we didn't know how close we could be this weekend. We knew we'd be stronger than in Monza, but we didn't know exactly how much. Nonetheless, I am grateful to be on the second row tomorrow. And I'm thankful to the team for continuing to push. We just keep our head down and hope for a positive day tomorrow."
George Russell, 11th, 1:54.012
"I was struggling with a brake-related issue, pushing me into the corners. The grip felt good, I just couldn't get around any corners. I kept understeering off, which is such a shame. I don't think we'd have been any better in Q3, because of that problem. We've seen some indications in the data and I hope we can resolve it until tomorrow. Obviously, it's disappointing for myself and the whole team as the car was looking strong here. Lewis was really fast, but unfortunately, I couldn't make it work. It's still an encouraging weekend for us all in all, but obviously, we're here to score points and ultimately this is a qualifying track. Fortunately, the degradation is looking high and it could be a two stop race tomorrow."
Toto Wolff, Head of Mercedes-Benz Motorsport
"Lewis came close today, being only five hundredths off. Unfortunately, he had a small lock up in Turn 16 and that cost him momentum through the rest of the lap. Even so, he almost took pole, it was a great effort. George had braking issues with his car so, unfortunately, he didn't have the right equipment to fight for a top position and we need to find out what the cause is. We were hoping that this weekend would go well because our simulations had predicted it and that reflects our growing understanding of the car; generally, it seems that we are heading in the right direction, especially for next year. Hopefully tomorrow, we can fight for the win, but we also need to keep our expectations in check and maximise the opportunities we have in the race."
Andrew Shovlin, Trackside Engineering Director
"It was a session that got our hopes up at times, but in the end frustrating to see Lewis miss out on pole by just 0.05s having been quick all evening and George knocked out in the second session, after struggling with a brake issue from the start. We didn't have a strong final practice and were finding it hard to get the tyres in the window but the changes we made going into qualifying seemed to put us in a decent place and our intermediate pace was strong. The way the track dries here is unusual, the humid conditions and lack of wind make it a rather slow process and that meant it was difficult to predict when we'd get the transition to dry. The longer run on slicks at the end seemed to give a good balance between having the tyres in the right window and time to learn where the grip was; the lap was looking very good but he grabbed a brake at T16 which was enough to be the difference between pole and third place. It's still a reasonable position to start from and we have a bit more long run work under our belts than the two cars ahead. So we'll continue to fighting hard for that first win of the season."
Alpine
Ocon struggled with his brakes as he surprisingly exited in Q1, despite having been 'best of the rest' in both of Friday's practice sessions. He'll have it all to do from P18 on the grid, but Alonso is right in the mix having grabbed a brilliant fifth. He was even on provisional pole at one stage, excelling in the drying conditions but in the end could be content with a very strong result.
READ MORE: Alonso delighted with P5 after 'unbelievably difficult' qualifying in Singapore but Ocon downbeat after Q1 exit
Esteban Ocon, 18th, 1:56.337
"It was a difficult Qualifying on my side of the garage today and I'm disappointed to be out in Q1, especially as we have had strong pace all weekend. I sensed an issue with the brakes, which hampered our session today. The positive is the car is strong and the aim now is to use that pace to make our way into the points positions tomorrow. Overtaking is tough here but as always we'll be pushing hard to secure a good team result."
Fernando Alonso, 5th, 1:49.966
"To qualify in the top five was a great result today and I feel like we maximised the tricky conditions. The track was changing all the time and so you had to guess what the grip was going to be going into the next corner. I had confidence in the car, which is needed at a street circuit like this and that helped me understand the conditions and know when we needed to switch to dry tyres. I hope for a straightforward race tomorrow, but let's see what will happen with the weather. We are only two places away from the podium positions, so if we stay focused and have a clean start then we'll be in a strong position."
Alan Permane, Sporting Director
"We have mixed feelings after today's Qualifying with Fernando in fifth and Esteban in eighteenth. Fernando executed a textbook session, and he did a fantastic job in every area to build up to a solid result. I think even more was possible but he gave it his all and he's put himself in a great position for tomorrow's race. Esteban reported a brake problem on his final push lap as the track was beginning to dry, so we'll investigate what happened there. It's always a challenge when a Qualifying session goes from a damp to a dry track, so credit to the entire team today for a very well managed session. Tomorrow we'll be aiming for good points from Fernando and, while we know it will be hard for Esteban as overtaking is difficult here, we'll do everything we can to put him in to points contention."
McLaren
Norris was running the upgraded package and Ricciardo was not, but even so, the Aussie just never looked comfortable here and exited at the first time of asking. That left Norris to fly the flag for the team and he made it all the way to Q3, although he couldn't quite pip the Alpine of Alonso. With limited data available from the wet FP3 session, Norris won't be as prepared with the upgrades as he'd like heading into the race, but at least has a good slot from which to fight.
Lando Norris, 6th, 1:50.584
"A good qualifying, if very tough. It was probably the toughest conditions of the whole season. There are just such fine limits between it going wrong and it going right. I think I took a good, but the correct amount of risk, and it paid off with a P6, which is better than we were expecting. Tough, challenging, but very happy with how today has turned out. A good position for tomorrow and hopefully we can turn it into some good points."
Daniel Ricciardo, 17th, 1:56.226
"It's obviously disappointing to be out in Q1 but to be honest it's more frustrating that it didn't feel like the same car as we had this morning. I know the track is a bit drier now but the slight change in conditions basically made us much less competitive. That's where it's really so hard to get a read on it. This morning I was quite comfortable with the car, all things considered, and even my first lap in Q1, I felt better than I did at the end when the track started to dry. That's obviously somewhere we miss out, when the track does improve, and we can't really run with it. So that's really costly and I'm more disappointed in that fact than I am about the overall position. There were no big mistakes or anything like that, it was simply that we couldn't go quick enough through the corners and make the most of it. We'll see what happens tomorrow though with strategy and the weather and move on from there."
James Key, Technical Director
"Challenging conditions today in Singapore. The wet start in FP3 was a missed opportunity to take the next steps with the new aerodynamic package being used by Lando, and further refine Daniel's set-up. We were at least able to get a look at full Wet and Intermediate performance.
"Qualifying was something of a rollercoaster. Conditions weren't particularly intuitive, with the track appearing dry but wet in some patches and offering a very fine line between the Inter and the Soft tyre. The team were very patient and disciplined in their approach, didn't rush and assessed the situation carefully. It allowed us to use the tyre allocation well and get into a decent position in Q3 with Lando. He did an excellent lap, and it's good to see the updates we've brought here seem to be having a positive impact. Sadly, Daniel couldn't quite make it out of Q1 in that initial, congested period when it was difficult to get the tyres into the right window. He was capable of progressing further and I'm sure he'll fight his way up tomorrow."
AlphaTauri
AlphaTauri put their fiery woes behind them in style to get both cars into the top 10 shootout for the first time in nine races. Seventh and 10th are great starting slots and for Gasly especially, shows that he is continuing to build from Monza where he finally made the top 10 after four races of Q2 exits. They are only one point behind Haas in the standings so the first priority is to make sure they turn good grid slots into top 10 finishing positions to try and grab P7 in the constructors'.
Pierre Gasly, 7th, 1:51.211
"It was a lot of fun out there today. It was really tricky in every session with these conditions, sliding around everywhere, but I must say I'm super happy with P7. If you look at how our weekend was going so far, we didn't look so good, but thanks to the rain this evening our day got a lot better. We know how important your starting position is here in Singapore, so being in P7 is really positive, with Lando and Fernando just ahead of us, so we'll see what we can do from there. I think we have a big opportunity tomorrow to score points with both cars, so we need to utilise this to help in our Championship battle, and we've seen today that we can do well in these difficult conditions so I'm hoping for some more rain."
Yuki Tsunoda, 10th, 1:51.983
"I'm pleased we're starting tomorrow in the top 10, I think it was a really good recovery from FP3, and we thought it would be really difficult to get to Q3, so I'm happy with today. I always knew Qualifying was going to be tough here physically, for both me and the team, and the conditions made it even harder, but everyone did a really great job and it's positive to have both cars up there in Quali. It's a bit of a shame that I started Q3 on the Inters, as I think with another lap on the slicks I could've continued to improve, but that all comes down to experience and I'll learn from this. We now look to the race, it seems to be a bit cooler again tomorrow, so hopefully that'll help and we're able to put it all together and finish with both cars in the points."
Jody Egginton, Technical Director
"Today has been reasonably successful. The car worked quite well on the wet tyre early in FP3 and then the Inters later on. Then in Quali, we decided to swap to the softest compound quite early and that worked out quite well for us and we managed to get two reasonably balanced cars through Quali, fighting all the way to Q3 with both drivers. Pierre extracted pretty much the most that was available from the package today. With Yuki we wanted to have a little look with him at the start of Q3 on the Interns, which cost him a lap on the dry tyre and ultimately, I think if we'd had that extra lap at the end he might've been able to improve a bit more, but that's how it sometimes works in these difficult sessions. In terms of what we expect in the race, our pace in the dry on Friday was not as good as we anticipated, but we've improved the car since then, so for us it would be no problem if the conditions are mixed. If this was the case, we would have to navigate across the three tyre types, which could mix things up a bit and hopefully come out in our favour. We've got both cars starting in strong positions and the aim is points tomorrow."
Haas
Both Haas drivers made mistakes on their opening runs in Q1, leaving them without lap times as the track improved. They delivered with last-gasp efforts to make Q2, but Schumacher couldn't repeat the trick and wound up 13th. Magnussen, though, did make the top 10 with a great lap, having looked fairly comfortable here from word go. He's chasing a first points finish since Silverstone tomorrow.
Kevin Magnussen, 9th, 1:51.573
"It's been looking positive all weekend but not this positive. P9 was a bit more than we were expecting but it's great because qualifying in Singapore is very important. I'm super happy that we got a good result here and the team did an amazing job. My new race engineer, Mark Slade, did a fantastic job coming back after some time not running a car as a race engineer, and he was flawless. At the end, in Q3, I told the team that I didn't know what we should do and to make a decision, and they made absolutely the right ones. It was great just to be able to put all responsibility on them and they pulled it off."
Mick Schumacher, 13th, 1:54.370
"I think overall we really felt a big step forward compared to yesterday and we had a good feeling in FP3. For qualifying, unfortunately it dried out a bit more than I was hoping for. On that last lap I overcooked the tyres going into the second sector so maybe some tools that I used just weren't right for the conditions, so the rears were moving around a lot and I didn't make the time up that I wanted to. I'm happy about the feeling and the improvement and the work the team and I have done. If it's raining tomorrow there are definitely chances because our car is strong in the wet, so let's do the rain dance and hope there are some droplets coming."
Guenther Steiner, Team Principal
"It's a very happy day today. The team performed their best under very difficult circumstances with the wet track, and every decision was almost perfect. Everybody did a good job – the engineers, mechanics, strategists, and the drivers obviously – it was a very good day. This puts us in a good spot tomorrow to get points as it's a difficult track to overtake on, and if you start there, you've got a chance. Obviously, the AlphaTauris are close to us as well – one is in front and the other is behind – but it's possible to get some points tomorrow with both cars."
Aston Martin
The Aston Martin drivers both made Q2 and decided to be brave and were the first to bolt on the soft tyres. It was to no avail – Stroll ran wide into the damp section of track which cost him tyre temperature, and then Vettel did likewise on his final flying lap. The risk didn't pay off, but at least they tried and they aren't out of the reckoning for points from those starting grid slots.
Sebastian Vettel, 14th, 1:54.380
"I think with hindsight it is easy to say that we made the switch to dry tyres too early, but it was a very close call. We discussed it and made the decision together and maybe I should have trusted my instincts a bit more. When I was on the soft tyres in the final moments of Q2, I had to really attack on the dry parts of the lap. I had a lock-up early on in the lap, but I think the final sector of the lap was still too wet anyway. For tomorrow, it would be helpful to have some more rain to mix things up again, but I think we have quite good race pace so we will try our best to challenge for points-paying positions."
Lance Stroll, 12th, 1:54.211
"The switch to slicks in Q2 was a gamble today, but it looked like it was going to be the right call. However, I locked up into Turn 16, where it was still wet, after being a second up on my previous best. I still think it was the right thing to do. It is always challenging in these conditions, where you are having to judge how much grip will be at the corner before you arrive there, especially with parts of the circuit having a different surface to other sections. We have good pace to be able to challenge for points tomorrow and I am confident that we will be in the mix for the top 10."
Mike Krack, Team Principal
"After torrential rain earlier this afternoon, the track surface was still damp in places when qualifying kicked off at 9.00pm. On Intermediates, we were 11th and 13th in Q1, then, at the end of Q2, having discussed the matter with our drivers, we fitted Soft [ie, dry] tyres to both cars. Unfortunately, Sebastian went straight on at Turn Seven on his fast lap, thereby qualifying 14th, and Lance narrowly failed to get through to Q3, ending up 12th. Tomorrow we will be looking to fight for points."
Alfa Romeo
Not to be for Bottas, who had looked strong in the dry yesterday but couldn't extract the same pace once the rain fell. Zhou did at least make Q2 but could go no further, despite being the third car after the Aston Martin pair to gamble and try the slick tyres. He was lying 15th anyway so didn't lose out, but just couldn't find the grid needed to ensure that gamble paid off.
FACTS AND STATS: Leclerc clocks most poles for a Ferrari driver in a season since 2001
Valtteri Bottas, 16th, 1:56.083
"We looked good in the dry, so to go out in Q1 is disappointing. Conditions were quite tricky, the track was constantly changing with patches of dry and wet, but in the end we were quite unlucky with the timing: I was among the first to take the flag and, on the last lap, my tyres started to go. We had planned to do the whole of Q1 on one set of inters and it was hard to tell whether we should stop: when we realised what was happening, it was too late to pit, so we couldn't improve when the track was at its best. Starting 16th is going to be a challenge, especially as this is the second hardest track on which to overtake: but you never know – this is Singapore, everything can happen and I believe in miracles!"
Zhou Guanyu, 15th, 1:55.518
"Overall, I can be quite happy with how things have gone so far during the weekend, considering it is my first time in Singapore; even though I feel like we could've done a bit more in qualifying, I have enjoyed driving here so far. I was quite happy with Q1, while, on the contrary, Q2 has been a little frustrating from my side. On my first flying lap I had to slow down because of a yellow flag, and I set my lap time on the second push lap. Then we decided to take a gamble and switch to the slicks to try to get into Q3, but unfortunately there was no grip, and I couldn't improve anymore. I think with the inters we could have had a chance to get into the top ten today. Let's see how the weather will be tomorrow, we seem to have a good car in dry conditions and, besides that, everything can happen here. We kept the momentum from Monza to Singapore even though the tracks have a completely different layout, and I'm happy for that."
Frédéric Vasseur, Team Principal
"This result is not what we were expecting based on the good performance we showed on Friday but, in the end, we were not able to extract the same pace in today's conditions. The wet track didn't really suit us, and there was also some bad luck for us: Valtteri seemed to have the pace to make it through Q1, but his tyres lost performance just as the track got to its best. Zhou delivered a really good Q1 effort, but eventually 15th was probably as good as we could have hoped tonight. Making up ground won't be the easiest: this is not a track on which you can overtake easily, so we'll need to work even harder. We know our dry pace was not bad, so we can still hope to attack tomorrow; should it be wet, then anything can happen and we'll need to make every opportunity count."
Williams
Not to be for Williams, who saw both drivers drop out in Q1. Albon still performed admirably on his return to action, out-qualifying his team mate to the tune of half a second. But from the back row of the grid, they'll need a chaotic race if they want to progress forward tomorrow.
Nicholas Latifi, 20th, 1:57.532
"We're struggling with pace so far this weekend in both the dry and wet conditions. Coming into this weekend we knew that it was going to be difficult for us as a team with the track being one of the least suited to our package. We were hoping the rain was going to make a bit of a difference today as it has in the past. Unfortunately, we weren't getting the correct feelings and responses in the car that we know we need to have to be competitive in the wet. Taking the time sheets away it's still an exciting track to drive in both conditions. We'll see what tomorrow brings and look to capitalise on any opportunities."
Alex Albon, 19th, 1:56.985
"It was a tricky qualifying session today. The wet normally calms things down, however this track is so hot and the tyres are so hot, so it's difficult to manage the tyres. We were quite hard on our tyres and struggled with overheating, as well as with downforce, and when the track is drying out on wet tyres, it's tough not to slide everywhere. Definitely a frustrating qualifying, however I think our long run pace in FP2 was actually pretty reasonable, so we'll figure out a way to get into that pace again for the race. I'm feeling as ready as I can be for tomorrow so let's see what we can do."
Dave Robson, Head of Vehicle Performance
"We don't get too much wet running in Singapore, but today we had 2 very different wet sessions. Although the heavy rain stopped quite early, the track didn't dry enough for slicks for a long-time, making the management of the intermediate tyres tricky. We were reasonably happy in FP3 but in the drier conditions of Q1 we struggled more. Both cars made pit stops for new inters and this was probably the right choice for us, but we couldn't complete 2 laps on the new sets without overheating the tyres. We hoped that the conditions might give us an opportunity this evening, but we were unable to find a suitable differentiator today.
"The weather could still be an issue tomorrow and we have a good set of tyres available to cover most eventualities. The race is always long and gruelling at Marina Bay and so there is a lot yet to play for this weekend and that will be our main focus tonight."
Pirelli
"If it stays dry, the best strategy for the Singapore Grand Prix should be a one-stopper. This could involve starting on the P Zero Yellow medium tyres and running them until between laps 22 and 28, before going onto the P Zero White hard until the flag. An alternative would be to run the P Zero Red soft for between 18 and 24 laps after the start, before switching to hard. There are a number of well-known external factors that often influence strategy in Singapore: every race held at Marina Bay has featured at least one safety car, while today also showed how the weather poses a question mark for tomorrow. There's still a chance of heavy rain showers, which are much more difficult to predict than at other races in the championship."
HIGHLIGHTS: Watch as Leclerc takes pole in a thrilling Singapore qualifying session