Feature
What the teams said - Race day in Mexico City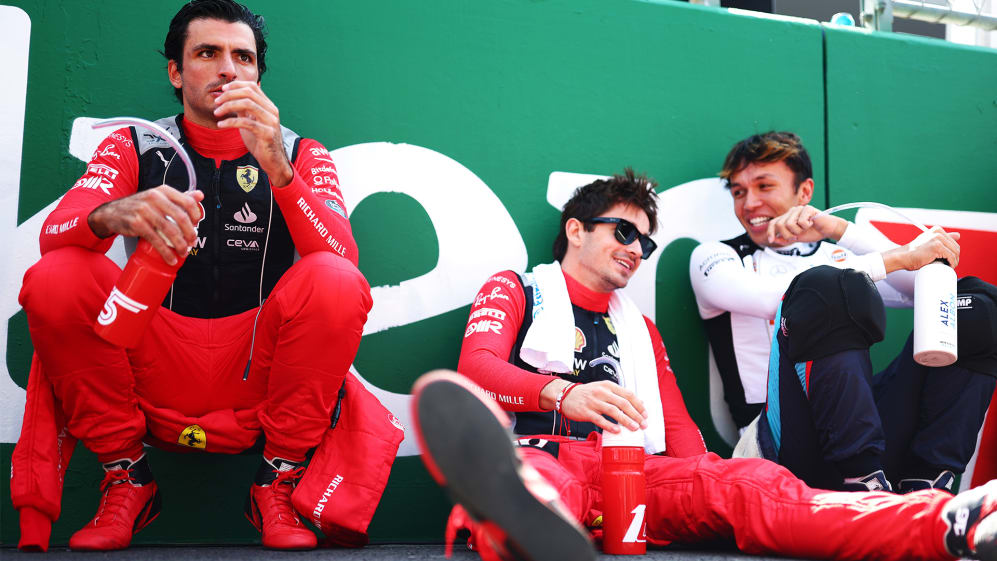 Red Bull
Verstappen and Perez both made incredible starts. Verstappen found himself on the inside into Turn 1, Perez the outside with pole-sitter Leclerc in the middle. Three into one just didn't go, Perez turning in and colliding with Leclerc. That launched him into the air and out of the race with suspension damage. Verstappen wasn't affected, and from there he was able to comfortably build his lead. It looked like the team were going to two-stop him, but the red flag put paid to that strategy and whether it would have been the quickest way to the flag remains a mystery. He wound up a comfortable winner, for a record-extending 16th win in the year.
READ MORE: 'I paid a high price' – Perez admits he 'took a risk' in race-ending incident after hoping to win in Mexico
Max Verstappen, 1st
"The pace of the car was very good today, we were planning to do a different strategy to everyone else but unfortunately we couldn't show that with the red flag. Nevertheless, we were very strong on the hard tyres at the end. To win 16 races in a season is something I never thought would be possible, this season has been unbelievable. I understand from Checo's side why he went for it at the beginning, it would have been incredible for him to be on the podium at his home race here in Mexico. Thankfully the crowd stayed, and they've been amazing all weekend, I've felt so welcome here as I always do. For now, my head is already on to the next race, let's see what we can do in Brazil."
Sergio Perez, DNF
"I had a tremendous start, probably my best of the year, the gap was there and if you don't go for it what's the point in being here. I went for it and to be honest I wasn't expecting Charles to brake as late as he did and simply, there was not room for three cars. I wanted this victory badly and I knew it was risky but if it had worked, I would have ended up in the lead. At your home grand prix, after being on the podium twice you want to give it your all and I went totally for it, I really wanted the win today and I massively tried to get that. I go home really sad because of the result but proud of myself and my Team that we left it all out there, this is just racing, and this is how the sport goes sometimes."
Christian Horner, Team Principal
"A race of contrasting fortunes. Another amazing race by Max today, total and utter dominance, but for Checo, an absolutely gutting home race. He had a rocket ship launch of a start and had so much momentum going into that first corner. You can't blame him for going for it to try and take the lead at his home race. but ultimately, three does not go into one and it was a crushing blow to see him out. Dietrich Mateschitz always used to say, "no risk, no fun" and we gave it our all from the very beginning. Both cars started incredibly well. Our starts haven't been our strongest this year, there has been a variance to them. The control guys did a great job today. Great starts with Checo and Max in the first run and then obviously the restart and Max getting that that blinder as well."
Mercedes
The two Mercedes cars kept out of trouble at the start, and then started to build from there with the car clearly having good pace. Hamilton managed to undercut the Ferrari of Sainz in the first pit stops, and was chasing down Leclerc when the red flag came. Mercedes put both their cars onto the mediums for the final stint, and Hamilton managed his tyres to perfection to pick off Leclerc in a very brave move and pick up the bonus point late on. Russell lost out to Norris as his tyres didn't last the distance, and had Ricciardo within a second for the last few laps, enduring a hairy finish to just about hold on to P6.
Lewis Hamilton, 2nd
"It's a great result considering we started from P6 and amazing day for the team. We pushed hard and I'm proud of the whole team for all their work. It's been a difficult couple of weeks for us so it's great to finally bounce back. The car felt much better today, and the pace was strong. Today was about the balance of the car and managing the tyres and we managed to do that well. We dug really deep this weekend to improve the set-up and get it right and the result today shows the hard work everyone in the team has put in to achieve that. Now I can't wait to get to Brazil and hopefully continue with the strong pace of the car."
George Russell, 6th
"I felt really good in the car today, the pace was there so definitely a positive from this weekend. I was right behind Carlos wanting to overtake when my brakes overheated. We were concerned about making it to the end, so I had to back off and that's where I lost all the temperature in the tyres and didn't manage to get them back into the right window. It was like driving on ice for the last 20 laps so I'm glad I managed to finish in P6. Another difficult weekend for us but the car was performing well. We just need to have some clean weekends and show consistency, but I'm confident we'll achieve that. I'm looking forward to Brazil and I hope that we will show some good pace there too and hopefully we will be in a position to fight for the podium."
Toto Wolff, Head of Mercedes-Benz Motorsport
"We had a strong car today so we're happy with the result and it gives us confidence. Once Lewis managed to get into free air, the lap times were good and great job that he managed to get fastest lap at the end of the race too. The pace was there and that's a positive for us building on the last two races. Tyre management at this track is so marginal, a few degrees of track temperature and they're out of the window and the other way around. George unfortunately totally ran out of tyres, so it was tough for him to defend. Still, a strong result for him today and he fought well to keep the position from Daniel in the final lap. We don't know yet how we will perform in Brazil next week. We will keep both feet on the ground, do our best job there and hopefully we're in position to fight at the front."
Andrew Shovlin, Trackside Engineering Director
"A great drive by Lewis to take second place from sixth on the grid. We've had a tough run of races recently and it's really encouraging to see the pace in the car, especially on a weekend where we have found it really difficult to get it into the window. George was disappointed to lose the place to Lando in the final stages, but he was clearly much quicker than Carlos on the restart and whilst it's easy with hindsight to say we should have backed him off and preserved the tyres, we'd rather be a team that's looking forward in races than one that is looking behind. We've not had an easy weekend here, it's been difficult, very difficult to keep the tyres in the right window and we were very disappointed with how qualifying went. However, to leave here having matched Ferrari on points given our grid positions is encouraging. The car was working well, we were managing brakes and we'll fix that for next year but the pace was strong. We can improve on this weekend and we'll be working hard preparing for the sprint race next weekend in Brazil."
Ferrari
Leclerc got squeezed off the line by the quicker Bulls and wound up in a sandwich into Turn 1. He collided with Perez, which damaged his front wing – although fortunately the loose end-plate did fall off after a handful of laps. He was quick despite that damage, but not quick enough to keep Hamilton at bay later on. As for Sainz, he also lost out to the first Mercedes but managed to keep Russell at bay and pull away at the end for a comfortable fourth.
Charles Leclerc, 3rd
"It was a tricky one. I was caught between the two Red Bulls at the start and unfortunately Checo (Perez) and I touched, which led to me picking up some damage on the car and to Checo retiring.
"Later on, we struggled a bit on the Hards after the restart. Lewis (Hamilton) was really strong on the Mediums and had very little degradation, getting ahead of us. It's not where we wanted to finish, but we maximised our result."
Carlos Sainz, 4th
"It was a long and tough race today, having to manage tyres and temperatures constantly. Looking at the pace today I think the result is the maximum we could have achieved.
"Both the starts were quite chaotic, but we kept it together and stuck with our preferred strategy of doing one stop, which we had opted for before the red flag. In the end we scored some good points for the team and now we focus on the upcoming Sao Paulo race with the Sprint format."
Fred Vasseur, Team Principal
"When you start on the front row, a P3 and a P4 finish is not the result you aim for, but, given how the race was run, I think we almost did the best we could with our car today. We knew the start would be tricky because of the long run to the first corner, in which the slipstream can have a big effect and for sure our start today was not ideal.
"In the first stint we were on the pace, but then, like many others, we struggled at the restart with the Hard tyre. And this is what cost Charles the position to Lewis, who was on Mediums, but for us it would have been really on the limit to get to the end on that tyre, if we had taken the opportunity to fit it again when the race was stopped.
"We need to keep working to reduce the performance difference between our qualifying and race pace, given that, especially on the Hards, we struggled too much compared to our rivals who were able to manage the tyres better than us."
McLaren
Norris knew he was up against it from the back of the grid, so opted for a soft tyre start. That gained him some places, and he was equally quick on the hard tyre after an early pit stop. So much so he made his way into the top 10. He had a bad restart, wheelspin undoing some of that good work as he dropped back to P14 – before going on an overtaking rampage late on. The team let him by his team mate and he rewarded them with an incredible fifth. As for Piastri, he had good pace in the early stages but struggled more in the final stint. Two lots of contact with Tsunoda didn't help, but he still scored good points.
Lando Norris, 5th
"A very good race. Our pace was excellent from start to finish. The different strategy worked perfectly. A great day for us, probably one of our best Sundays in terms of race pace, overtaking and race management. We moved on from yesterday and made the most of it. I'm very happy with the team and how I drove today."
Oscar Piastri, 8th
"A tough Sunday. I had a fair few battles out there, which made life interesting but definitely not the most straightforward of days. The pace was reasonable and then, after the Red Flag, life was a lot more tough. After the battling, I definitely struggled a bit more with the tyres and picked up some damage, which didn't help. Good to bring home some more important points, but a few bits to look at for Brazil."
Andrea Stella, Team Principal
"It was definitely an interesting and entertaining Mexico City Grand Prix. We have been able to consolidate the good points finish with Oscar, who drove a very strong race with some robust racing moments, top-class defending and good race management after sustaining damage with a significant loss of aerodynamic load. On Lando's side, not only was it one of his best races, but also one of the best races I have been part of. His first stint, from P17 on the grid, was excellent, overtaking with great pace. We pitted him under the Safety Car believing this would put him in a very strong position, and then he lost out with the Red Flag. When we further lost out at the restart down to P14, we thought points were gone today, but Lando managed to overtake all cars up to a P5 finish in 30 laps. This is one we'll remember for a long time.  
"Well done to the team at the factory, our colleagues of HPP and the team here at the Autodromo Hermanos Rodriguez for not being discouraged after a difficult Saturday. Today's results show the strength-in-depth and the resilience of McLaren. We're heading to Brazil encouraged, looking for a competitive weekend in Sao Paulo."
AlphaTauri
Ricciardo was right in the mix all race long, holding onto fourth in the early stages and then running fifth on merit. The red flag did him no favours, as he had to stick with the hard tyres for the last stint and lost out late on to Norris. He did run out of laps to pass Russell though, and fighting with a Mercedes is no mean feat. Plus, his points lift AlphaTauri from P10 up to eighth in the constructors'. As for Tsunoda, he fought back through the field after his grid penalty. The red flag actually helped him and he was in the top 10, pressurising Piastri. But those two made contact twice in two laps, with Tsunoda spinning off and those extra points going begging.
FACTS AND STATS: AlphaTauri's best result of the year and another Verstappen record
Daniel Ricciardo, 7th
"There's a lot of emotions, and I'm definitely feeling better than good. Two starts on this track hold your breath because it's such a long run until Turn 1, and anything can happen. The first start, we went into Turn 1 fourth and came out of it fourth as well, so I was happy. For the second start, I knew the Red Flag would hurt our race, but I'm happy to hear that Kevin (Magnussen) wasn't injured after the big crash he had. Restarting on the hard compound, with others opting for the medium tyre, and only losing one position, was close to the best scenario, and we did well. We tried to settle into our rhythm, where I had a little fight with Norris but then let him go. We thought if he could catch George (Russell), he'd bring him closer to us, and he did. On the last lap, we got close but didn't quite make it. Regardless, to be fighting with a Mercedes at the end is exciting. Overall, it was a good weekend during which we scored six important points. Now let's keep the ball rolling."
Yuki Tsunoda, 12th
"Congratulations to the team and Daniel on the points. The car pace was as good as we expected, so it's such a shame about the incident with Piastri. I'm happy with my stint on the hard compound, without which I wouldn't have been P8. It was strong, and it showed the car was good. It's hard to follow others, so later on, I felt the tyres were starting to struggle, and I wanted to overtake as soon as possible. Huge apologies for the incident that led me to fall to the back of the pack. This track suited our car well, and because of the slow-speed corners in Brazil, I hope we have the same potential and chances. I hope we can fight for the top 10 at the remaining races."
Jonathan Eddolls, Chief Race Engineer
"Overall, mixed emotions for the team. Starting with Daniel, he had an absolutely amazing drive this afternoon. He managed the tyres very well and did all we asked of him. The Red Flag didn't come at the best time for him because all he had left was used tyre sets, but he put up a strong fight until the end. He did all he could to keep the cars behind, and if there would've been another lap, he would've gotten Russell, who was struggling on the medium tyres. It's great to see and show that the car's performance has been there. Obviously, it was more challenging for Yuki, starting towards the back of the grid, but he was making good progress. We had the Safety Car that came midway through the race. We took a bit of a gamble to stay out because we thought there would be a Red Flag, and it happened. Because of the Power Unit penalty, we had a surplus of new tyres, so he was in a perfect position to turn the day around, restarting on the hard compound. Unfortunately, he was a little eager in trying to pass Piastri. We were faster than them and would've gotten them by the end of the race, but Oscar and Yuki got together, and Yuki spun off.
"It's fantastic for the team and everyone that the car is performing well. The teamwork has been very good this weekend, so it was nice to be rewarded with more points. A little bittersweet with the missed opportunity as well. With today's result, we're equal on points with Alfa Romeo, but ahead of them in the championship, and clearly, closing the gap to Williams ahead. The car is looking fast, and the updates are working, so we look ahead to close that gap over the coming races."
Williams
Losing a lap time in Q2 cost Albon a few grid slots, but he more than made up for that error in the Grand Prix. He started on the hard tyre and unlike Ocon on the same compound, actually made up places at the start. From there he climbed forward into the points and built enough of a margin not to get dragged back into the fight with Alpine and Haas for the final point. Sargeant had a more up and down race. He pulled off some good overtakes, but also made a few mistakes before retiring late on with a fuel pump issue.
Alex Albon, 9th
"It was a great race, which surprised me, as we didn't have that much race pace. The track was a little bit too hot for us so required a lot of tyre management, which I expected. We had very good starts where we gained some good positions and also had a good strategy, but the red flag ruined that a little bit, so we had to reset before the restart.
"We made up the places lost during the Safety Car, and I think regardless of Qualifying yesterday, P9 was the best result we could've done today, so I'm happy."
Logan Sargeant, DNF
"It was another strong Sunday from my side. The pace was once again good, and I had some good moves. I had a poor second restart which cost me from being in the top 10. However, we were managing an issue throughout the race and came up one lap short from a reliability standpoint.
"We had a fuel pump issue that meant we had to retire. We had the correct amount of fuel in the car but couldn't get the fuel into the engine. We did our best to manage it and the team helped guide me through it. Disappointing to not finish after giving everything I had after 71 laps but there are plenty of positives to take away and I'm happy with myself."
Dave Robson, Head of Vehicle Performance
"As we expected, this was a fascinating and tough race. All cars were managing to some degree, and we were able to run at good pace with only minor management required. Both drivers pushed hard throughout, and each executed their own strategy very well, managing long stints on the tyres.
"Unfortunately, we had to retire Logan on the final lap. We had been nursing a fuel pump issue for much of the race but on the final lap we were unable to scavenge the fuel from the tank to the fuel rail and so to avoid damaging the PU, we retired his car. This was a real shame for Logan as he had raced really well and got himself into a strong position. Overall, he backed up his race in Austin with another excellent and attacking drive today.
"Alex too drove very well and maximised everything from the car. With perfect hindsight, we'd have stayed out under the Safety Car and waited for the red flag, however, the opportunity to get a cheap pit stop and guarantee track position over most of our rivals was too good to miss. Fortunately, Alex had an excellent launch at the restart and immediately got himself into a points-scoring position. It has been an interesting and topsy-turvy weekend. We didn't expect to be strong here and at times we surprised ourselves.
"After a difficult Qualifying session, we raced extremely well with the whole team coming together brilliantly to deliver two strong race cars. We limited the damage in the Championship fight and now we turn our attention to Brazil and the final Sprint event of the 2023 season."
Alpine
Gasly had the better start of the two Alpine drivers and was in the top 10 in the early stages. It didn't look like the timing of the Safety Car or the red flag helped him though, and ultimately cost him the chance to fight for points. As for Ocon, he started on the hards and thus hadn't pitted when the race was red flagged. Swapping to the mediums, he had great pace and managed to harry and hustle Hulkenberg for lap after lap before finally getting the Haas driver and grabbing the final point on offer.
Esteban Ocon, 10th
"A tricky weekend has ended on a positive note with a hard-fought top ten finish here in Mexico. On the post-race radio, I said 'never give up' and today was about that. Well done to the team on a well-managed race where there was a lot happening from start to finish. We did not have a great start to begin, losing a few places and I found myself running last for a while. It was a tough first half of the race and we took a risk on strategy and it paid off. The race restart was mega, where I gained a few places in the first couple of corners. From then on, we raced well and maximised our potential today with a tenth-place finish and a well-deserved point."
Pierre Gasly, 11th
"It was a tough afternoon for us today and it's always disappointing to miss out on scoring points. I think we maximised everything that we had in our hands but, unfortunately, the timing of the Safety Car and Red Flag really cost us as we were well in the fight for at least ninth place after a good start and a decent first stint. I'm glad Kevin [Magnussen] is OK as that looked like a heavy impact for that incident. There are things we need to improve as, clearly, we were lacking in a few areas today. I'm looking forward to rounding off the triple header in Brazil next weekend. It's a Sprint, so more points up for grabs, and it's a place where I hold fond memories from my podium in 2019. I'm ready for it and targeting a much better performance."
Bruno Famin, Interim Team Principal
"It's been a challenging weekend for the team in Mexico City as we come away with one point, which is probably in line with what we could have achieved. It has highlighted some key areas for us to improve as it was evident we found it tough to race and overtake cars in front. Operationally, it's been a good weekend and the whole team has shown togetherness and solid teamwork across the board. Next week we have the final Sprint of the season and we target a much-improved performance from both cars."
Haas
Magnussen had the biggest crash of the race, with an unusual incident that pitched him into the barriers with little notice. That brought out first the Safety Car, then the red flags and after a trip to the Medical Centre for checks, he was deemed okay. Hulkenberg found himself running in the points when everything shook out after the restart, making up a couple of places and then clinging onto P10 for multiple laps under huge pressure. Once he lost that P10 thanks to aging tyres, he fell back through the order.
WATCH: Heavy Magnussen crash brings out red flags during Mexico City GP
Nico Hulkenberg, 13th
"The tyres just dropped away, doing 37 laps was always going to be a long stretch, and on the medium tyre it wasn't possible for us. Unfortunately, we'd already used the hard compound as we were on a one-stop strategy and we didn't know the red flag was coming. The timing of the red flag was not ideal, and it hurt my race – but more importantly, Kevin is okay. I was hanging in there and annoying other people, I'm sure they got frustrated seeing my rear wing for so long, so that gave me some pleasure."
Kevin Magnussen, DNF
"I crashed after having a rear left suspension failure. It happened in a bad place and I hit the wall, so I got a knock on my hands and they hurt a little bit, but they're fine. We have to investigate a bit more what exactly happened as it just gave up. Before that, it was going okay, I was stuck in traffic for a long time and cooked my tyres, but I don't know if whatever caused the failure had an impact for a while beforehand."
Guenther Steiner, Team Principal
"With Kevin, he had a suspension failure, so we need to dig into why that happened, but it seems to be heat related – we need to check. It was a tough day again, but it's not all negative. Nico was in a good position to get points, but then with the red flag, which we caused ourselves, we couldn't keep the tyres in the last stint. Our car can't keep life in the tyres as other cars. We could fight for almost the whole distance, but almost isn't good enough. Otherwise, it seems like the whole team performed well and Nico drove fantastically to try and get something."
Alfa Romeo
After starting two cars in the top 10, there were high hopes of points for Alfa but it wasn't to be. A poor getaway cost Bottas initially, and dropped him down the order. Zhou pitted first, and then the red flag meant he lost the chance for his undercut to play out. With no more fresh tyres, both drivers had to stay on their used hard rubber, which made the restart equally difficult. Bottas then ran wide in the stadium section, tipping Stroll into a spin as he returned to the track. The stewards had a look and gave him a post-race time penalty.
Valtteri Bottas, 15th
"Today has been a tough one of the team overall, and luck wasn't on our side either: the Safety Car came out just one lap after we pitted, which meant we lost a lot of ground as everyone else got to change tyres during the subsequent red flag. The race restart was fine, at first, but then I got stuck in a train for pretty much the remaining laps, eventually ending up in a collision with Lance [Stroll] towards the end. Of course, it is disappointing to walk away with no points in the bag, especially as we had enjoyed quite a strong weekend until today. It has not been our day, but we still have three races to recover our position in the championship, starting from Brazil next week: we have been quite strong there in the past, so hopefully we can turn our luck around and get back into the fight."
Zhou Guanyu, 14th
"It was a frustrating day – our race was pretty much destroyed by the red flag. I was one of the first to stop and change to hard tyres, but at the restart I was the one whose used hard tyres had the most laps in: everyone else had either new mediums or new hards, and that was game over for us. I had a good restart, but it was impossible to hold the position: the difference in grip was too much and I was a sitting duck for the rest of the race. It's a shame as we had done a good job this weekend, and to leave with nothing is really disappointing."
Alessandro Alunni Bravi, Team Representative
"Races like today's are difficult to process, especially taking into consideration the strong qualifying performance we showed yesterday. We started in a good position for a double-points finish, and then lost ground throughout the race, eventually ending up outside the top ten. On top of that, Valtteri unfortunately suffered a brake temperature issue after the restart, when a tear-off got stuck into his left rear brake duct, which didn't allow him to properly get into the mix. Our qualifying pace improved this weekend, but our race pace is the area in which we need to make progress ahead of the next races, so to keep up the fight for our seasonal target. Although we have slipped back to ninth place in the standings, tied on points with AlphaTauri, no hope is lost: with three races to go, all of us trackside, our drivers, and the team back home in Hinwil, are determined to give out all our best until the end to make a further leap forward and get back where we need to be."
Aston Martin
Stroll opted for a pit lane start to change some of his set up, with Alonso also starting down the order. The Spaniard couldn't make much headway, and had to stick with old hard tyres for the restart after the red flag which didn't help him. He retired with damage sustained from running over some debris. As for Stroll, he saw an opportunity to pass Bottas late on when the Finn ran wide, but those two collided and Stroll came back to the pits with car damage to make it a double DNF.
Fernando Alonso, DNF
"It was a difficult race and weekend for us. It seems we picked up some damage from debris on Lap 1 after the Turn One incidents and we seemed to lose performance. We tried to fix this during the red flag, but it got worse after the restart and so we had to eventually retire the car. It's not been an easy triple header so far, but you learn more from the difficulties than you do during the successes. We have three more races left of this season at very different tracks, so we will go again in Brazil."
Lance Stroll, DNF
"We had a slightly better car after making some set-up changes overnight, but we still don't have the pace that we need to compete at the front of the grid. I had to retire due to contact with [Valtteri] Bottas between Turns 13 and 14. Our focus now shifts to Brazil and trying to maximise the final Sprint weekend of the year. I know everyone trackside and at the Campus is pushing hard to keep improving, and that's all we can do right now."
Mike Krack, Team Principal
"We have not been competitive this weekend and we did not give Lance and Fernando the car they needed to compete for points. We made changes to Lance's car ahead of the race because our focus is on big-picture learning for 2024. Nobody in the team is happy with our current form, but we are a strong unit and will continue to all work together to push for improvements. It is fair to say the circuit characteristics did not play to our strengths today, but we will work hard to be more competitive at Interlagos [Brazil] next weekend."
Pirelli
Mario Isola, Motorsport Director
"As always, since Formula 1 returned to Mexico, the atmosphere at this race was amazing, despite the premature retirement of crowd favourite Sergio Perez. On the tyre front, we saw how track evolution and higher temperatures led to the C4 emerging as the most effective compound overall. That was particularly evident after the restart when those who went for the aggressive choice of fitting the Medium, were able to make the most of it when they could attack with it, without the lap times dropping off towards the end, as we saw with Hamilton and Norris for example. Verstappen's superiority meant he could choose what he wanted to do in terms of stops and the Safety Car meant he made his second pit stop without losing position, given that his rivals were just making their scheduled stops. As is often the case with a driver on top form, luck seems to want to help him out still further."
HIGHLIGHTS: Catch the action from an exciting Mexico City GP as Verstappen takes record-breaking victory