Feature
What the teams said – Race day in Miami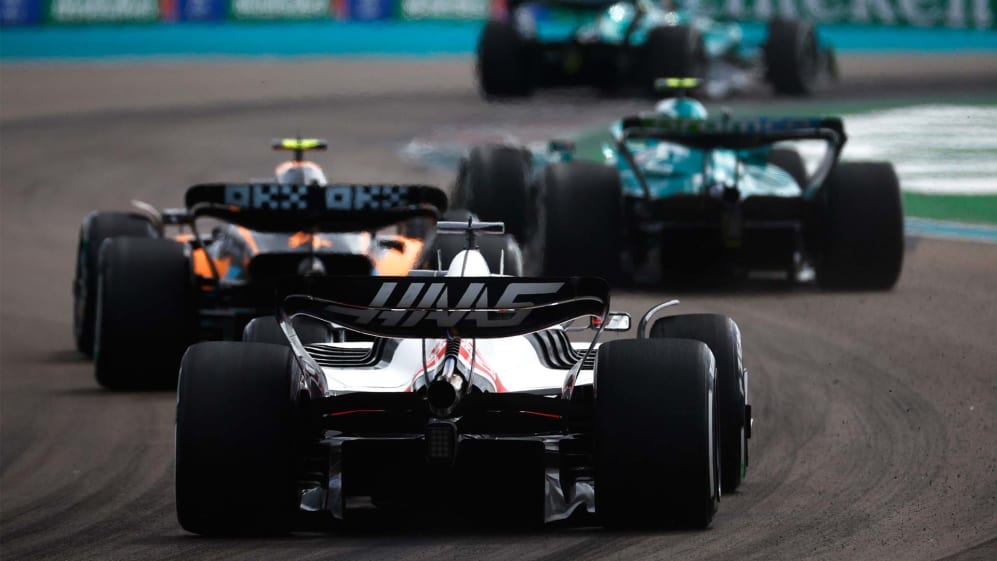 Red Bull
Verstappen got past Sainz off the line with a brilliant bit of late braking into Turn 1, and from there bided his time behind Leclerc. Once his rival's tyres started to fade he pounced, overtaking and streaking off into he distance. The late Safety Car put him under more pressure than he might have expected, but despite several attempts from the Ferrari, Verstappen held firm for his third win of the season. As for Perez, he might have hoped for more but a reliability issue cost him time and also horsepower. Without that, he might have been fighting for second.
READ MORE: Verstappen wins inaugural Miami Grand Prix over Leclerc after late Safety Car drama
Max Verstappen, 1st
"It feels amazing to win in Miami, the whole atmosphere this weekend has been incredible and to win in the US is always a nice feeling. It was a physically tough race; I think I must have lost around 3kgs! We had a really good pace on the minimum tire, that for sure helped to make my race. Once we had the pitstop I was just managing my time to Charles, I think we were very closely matched on the hard tire. Then the safety car came out which made it more entertaining for the fans, I had to push hard today but we made it work. I'm super pleased for the Team, we didn't have a great start to the weekend so we've come far, a big thank you to everyone."
Sergio Perez, 4th
"It is a big disappointment today but at least we managed to finish with the points we have. We were putting the pressure on Carlos and then we had a problem with the power. It was caused by a sensor failure and meant we lost a lot of power, which limited our ability to attack. I was a second from Carlos and then the engine dropped and I lost around 30 seconds in two laps and then the issue effected me throughout the race. We had the pace to be up there on the podium and I pushed as much as I could in the position we were in. It was difficult to look after the tyres too, it was so hard in the corners and I was losing a lot of grip towards the end of the race. I went for it after the safety car restart but there was no grip at all and I just couldn't get past Carlos. We are working really hard on reliability and we will keep pushing as a Team, it is unfortunate, but I am pleased we managed to finish today. In Barcelona I want to be back battling at the top."
Christian Horner, Team Principal
"It was a real tactical race today and we threw everything we had at it, we were quite lucky that Ferrari didn't pit under the safety car, Max was under so much pressure from Charles Leclerc but he kept focus and didn't make any mistakes and was gradually able to break the DRS, which was very powerful today and manage the victory from there. Checo was really unlucky today, he had a sensor issue early on and lost about 30 horsepower, and he gave it a real go when we pitted him and gave him the tyre advantage and without that issue he may even have finished second. We've got some interesting races coming up, the car is running well, we have some development coming in the summer and we need to lose some weight, but we're pleased with what we've come away with this weekend."
Ferrari
Leclerc led off the line and looked in control in the early part of the race. But he couldn't extract the same sort of pace from his medium tyres as Verstappen, and came under pressure from the Dutchman once DRS was enabled. From there, second looked assured until the Safety Car, with Leclerc's hard tyres much more to his liking when the caution ended. He was able to attack Verstappen across a number of laps, but didn't have the straight line speed to retake the lead. As for Sainz, he lost out to Verstappen at the start but after that drove a defensive masterclass to keep Perez on fresh tyres behind.
Charles Leclerc, 2nd
"All in all, we had a good weekend here in Miami, so of course I am disappointed to miss out on first place. While we had good pace on the Hard tyres, it was more tricky for us on the Mediums which our competitors were just faster on today, so we couldn't close the gap in the first stint. I thought we'd have a shot at taking back the lead after the Safety Car, but it just wasn't enough today.
"I thought the atmosphere was amazing this weekend and there was a really great show around the race and I look forward to coming back!"
Carlos Sainz, 3rd
"After a couple of eventful GPs, it's good to be back on the podium and to have both cars up there for the team. In general, it was a solid race but also a very tough one. The neck is still not 100% and half way through the race it became a limitation.
"Defending from Checo (Perez) who was on new Mediums after the restart was also very tough and the slightest mistake would have meant losing P3. I managed to fend him off well and the podium was the reward.
"I think I needed a race like this to reset a bit and build on it for the upcoming races. Up next is my home GP and we'll make sure we get there in the very best. Miami has been a unique weekend. Thanks to all the fans out there for their support!"
Mattia Binotto, Team Principal
"We can't be completely happy with today's race because, although the F1-75 was competitive, our rivals were a few tenths per lap quicker than us. If you consider how many points we are taking home from here, we can't be too disappointed, given that we are leading both championships, but it's clear we now need to respond. We are keen to get the job done and there are still a lot of races to go.
"I want to congratulate both our drivers for the way they raced today. After a splendid pole yesterday, Charles left nothing on the table in his efforts to win while, from qualifying onwards, Carlos made up for Friday's setback and this afternoon, he produced a solid performance, especially in the way he fended off Perez in style in the closing stages.
"Finally, I want to thank the American fans for their enthusiastic welcome and my congratulations to F1 and the Grand Prix organisers for putting on an incredible show, both on and off the track."
Mercedes
Neither driver had a good start – Russell on the hard tyres dropped like a stone, while Hamilton was tapped from behind by Alonso. But from there both got their heads down and started to carve out what looked like good results. Hamilton was on the same strategy as most of the field and stayed out late on when the Safety Car was called, while Russell picked up a free pit stop having worked his way forwards with a long first stint. As a result, he had fresher tyres when the Safety Car came in and was able to get past his team mate to keep his record of top five finishes going. Hamilton can consider himself once again unlucky with the timing of the Safety Car.
READ MORE: Russell pleased to rescue weekend with 'total fluke' strategy in 'brutal' Miami Grand Prix
Lewis Hamilton, 6th
"We got good points as a team today, so we'll take them and move on. I was unfortunate with the safety car and I'm waiting for a change in fortune but until then, I'll just keep working as hard as I can. George did a great job in that first stint on the Hard tyre, in hindsight the Hard tyre was probably the better race tyre for today but George did well to recover from his position and we got fifth and sixth which is good points for the team. I was a bit of a sitting duck in our move but George did great, was very fair and on old tyres, there wasn't much I could do. Even running in our positions, it's still racing, it just changes your perspective. I thought the track was great, I don't think the chicane is ideal but that's the only weak point on this circuit."
George Russell, 5th
"It's mixed feelings to be honest because obviously based on where we were yesterday, today was a good result but if you'd told me after Friday we'd finish P5 and P6 and that far behind P1, I'd have been pretty disappointed. We have a fast race car in there, we just don't have the key to unlock this performance. And we don't really understand why that is so there's work to do. Towards the end of the race today, when you're battling with your teammate, you've got to show respect, a bit more room than normal. The move was a bit tricky, I went a bit wide, but it's so dirty offline around this circuit. Obviously it was clear I went off the track and had to do it all over again. I enjoyed it and I think there's good respect between us. But Lewis was unlucky today, when you are on 20 lap old Hard tyres there's not a lot you can do really. It was brutal race out there - so hot, sweating, my eyes were stinging, I had sweat pouring into my eyes, so I need to find a way to get around that."
Toto Wolff, Head of Mercedes-Benz Motorsport
"We maximised our points today - with George's starting position, we could afford to roll the dice on a long stint on the Hard and it worked out for him with the safety car, while it was unfortunate for Lewis. We were third-quickest on the road, this is where we are, we don't sometimes show it in qualifying but in the races, we're generally better. We had a good Friday but didn't quite understand why that was. We will be looking at all the data we've generated this weekend, working through the sessions on Friday to better understand the strong performance, and take those learnings back to Europe."
Andrew Shovlin, Trackside Engineering Director
"We maximised the result that was possible today and both drivers did a good job. Lewis was unlucky with the safety car but both did well to get ahead of Valtteri. The car showed signs of promise on Friday on low and high fuel so it's disappointing to see that the gap to the front was no smaller today. However, there may be something to learn from that running so we'll pick through the data to see if we can see understand what may have changed. It was encouraging to see that pit stops and reliability were strong as good operations have helped us keep the points gap to the leaders to a minimum so far this season. However, we're under no illusion that we must close that lap time gap down in the next few weeks if we are to present any kind of challenge to Red Bull or Ferrari."
Alfa Romeo
Bottas was running fifth early on before being picked off by Hamilton. He lost out to Russell due to strategy, the Mercedes man benefitting from the Safety Car timing, but seventh is still a positive result as he continues to pick up points in every race he's finished. Speaking of, his team mate was the first retiree out there, Zhou called into the pits with a mechanical issue early on in the race.
FACTS AND STATS: Verstappen does US double as Russell maintains top-5 run
Valtteri Bottas, 7th
"I am happy with our performance, it was a strong race although, in the end, we were penalised by the timing of the Safety Car. I was managing the gap over Lewis [Hamilton] and P5 would have been possible, but once the race was neutralised, the gap was gone and George [Russell] was on fresh tyres behind us, so keeping this place would have been difficult. I was trying to brake late to defend my position, overshot the braking point slightly and sadly the nature of the track here means that if you go off the line a little and into the dirt, you're off and you hit the wall. I was lucky nothing broke on the car and I could continue. Still, we bring home some good points which will be super important for the championship, and we showed we can fight on a par with everyone in the midfield. It's all very close and the way we keep developing will be important to stay ahead in this fight."
Zhou Guanyu, DNF
"It's a shame to be forced to retire when we were making good inroads: I feel we had all it took to achieve a positive result today. We are still investigating what the issue was, all we know is that it was a water leak but we'll need to identify the causes and address them. It's frustrating, of course, but it's part of racing. My short race wasn't bad, I was three places up from where I started when I retired and I felt the car was really good. Now my focus is all on the next race: I want to turn things around and be where we deserve to be, but to do so we need to put everything together across the weekend."
Frédéric Vasseur, Team Principal
"It shows how much progress we have made this year that we're actually a bit disappointed with P7 – which is a really good result in itself. We were really strong out there today and we ran most of the race comfortably in P5, just behind the two Red Bulls and Ferraris: the timing of the Safety Car really affected us, nullifying Valtteri's advantage over the two Mercedeses. Still, bringing home six points is a positive result and another gain for our championship standings, but we know we can improve even more. It was disappointing to lose Zhou early in the race with a water leak, as we feel he would have also been in the battle for some points: we will need to address the issue that stopped him and make sure we come back stronger on this point, too. The direction we are headed, however, is clear and it's positive. We know we can be competitive every weekend and we aim to keep fighting to achieve more success in the next rounds."
Alpine
Ocon started down the back of the field after missing qualifying, opting for the hard compound tyre which was a decision that paid dividends. He found himself in the top 10 when the Safety Car came out, benefitted from a free pit stop and was able to pick up a few points. As for Alonso, he tagged Hamilton at the start, made contact with Gasly in an opportunistic move down the inside into Turn 1 – for which he was handed a time penalty – and spent much of his afternoon involved in side by side battles with a variety of cars. He crossed the line eighth, the penalty dropping him to ninth. Further bad news was to come - a post-race time penalty for leaving the track dropped him out of the points altogether.
Esteban Ocon, 8th
"What a race! A big thank you to the team for all the hard work overnight putting back together what was a pretty broken car after that big shunt in practice on Saturday. They are the real stars this weekend. For me, it feels great to come away with points after starting from the back of the grid and I'm definitely leaving happy after such a tough day yesterday. The car and the strategy were great, it was a well-managed race and we're capping off an exhilarating first race weekend in Miami in style. Now we need to keep that momentum as we head back to Europe for the next round."
Fernando Alonso, 11th
"I'm happy to be back in the points today. In the race I made some good moves at the start and gained some positions. We were a bit unlucky with the timing of the Safety Car and some others were quite fortunate. We were probably in the fight for seventh or eighth without it. I then made a mistake when I tried to overtake Pierre [Gasly], which was my fault and I apologise. Overall, I think our race pace seemed to be good. It was also very hot and humid, so it was quite challenging physically for us. We'll take the points today as I think we deserved it."
Laurent Rossi, CEO Alpine
"We're satisfied with today's race as it's been a decent recovery effort to save our weekend. We come away from Miami by returning to the points with both cars, which was important after tasting disappointment in Imola. Credit to Esteban for driving a strong race to go from the back of the grid to eighth place. This would have not been possible without his car crew's exceptional work in preparing a new chassis after yesterday's incident. To score points is a just reward for everyone's efforts. Fernando too drove a solid race, especially at the start to move himself into points scoring contention. In the end, with the five second time penalty, it's ninth place, which we'll certainly take after yesterday's qualifying. Miami has proved to be an excellent event both on track and off it, so congratulations to everyone at the team for their hard work this weekend. We must build on our points haul and we now look forward to Barcelona where we return to more familiar grounds. We're hungry to restart a points-scoring streak over the next string of races."
Williams
Albon was one driver who miraculously made his way through the field without any contact, and was in the right place at the right time to pick up the spoils as his rivals crashed around him. He came home in the points again to add to his tally, but his team mate wasn't so fortunate. Latifi had started on the hard compound but had already pitted before the Safety Car was called, so the Canadain wasn't able to benefit.
Nicholas Latifi, 14th
"It was a very difficult afternoon out there. On the one hand it is very positive for the team to score the points with Alex, especially after where we started from today, but on our side we had too many issues.
"It was difficult and we were having to manage some issues early on which were holding us back, including struggling with the tyres and lacking pace and we need to investigate those."
Alex Albon, 9th
"Today we found the pace that I knew we had all weekend. We had a tough Qualifying yesterday which meant we were slightly out of position with a well-performing car, so overtaking was possible and we made good progress. We had a little bit of fortune with some of the cars ahead of us getting caught up in incidents, but the important thing is that we were in a position to make the most of those opportunities when they came.
"The team did a great job today, especially with the strategy, and so leaving Miami with more points is really special."
Dave Robson, Head of Vehicle Performance
"It was a race of attrition and patience today and Alex managed the opportunity very well and showed good pace throughout the race, which allowed him to undercut Ricciardo.
"The Safety Car was unfortunately timed for us, but Alex kept his cool and was still able to beat both Aston Martin's, but frustratingly lost out to Ocon. Nonetheless, he drove well and deserved his second point-scoring finish of the season.
"Nicholas had the more difficult strategy, starting on hard tyres and aiming to run long. The pace of that tyre at the start of the race was poor for all those that tried it and this set his strategy back. Once on the medium tyre his pace was good despite having to manage a higher than expected fuel consumption. He also managed the race well and finished a credible 14th place, ahead of both Haas cars.
"Our inaugural trip to Miami has been a rollercoaster of a weekend, but we recovered well after a disappointing qualifying session to push the pack hard today and finish in the top 10."
McLaren
Ricciardo was in the thick of the action for much of the race, running the longest first stint of anyone on the mediums. But he got caught in a DRS train late on and was then penalised for gaining an advantage by going off track. Norris at least was running in the points early on but a slow pit stop dropped him down the order. He was attempting to pass a slow-running Gasly towards the end of the race, but the Frenchman seemingly didn't see him and the resulting contact punctured Norris' rear tyre, which pitched him into the barriers and out of the race. Not McLaren's day.
MUST-SEE: Dramatic Gasly and Norris contact brings out Safety Car in Miami GP
Lando Norris, DNF
"A tough day. Obviously, it didn't end anywhere near like we wanted it to. I think the collision with Pierre was a bit of a racing incident. I guess I maybe could have left a bit more space, but so could he and we just ended up coming together. We luckily didn't end up losing out too much. Maybe one or two points, but one or two points is always a nice thing to have. So a bit of a shame but it happens and we'll make sure we bounce back and do better next time."
Daniel Ricciardo, 13th
"It felt like an eventful race. There were some battles and also moments of fun but it felt like we were defending more than attacking. We were trying our best to hold on. I think in the Medium stint we were able to go long at the beginning, but I'm not sure if we were that quick. It felt like we were able to at least keep the tyre going. But then with the Hard I just struggled, really struggled to get that going. Towards the end of the race when everything gripped-up, we just couldn't run with the quicker cars. So, battling hard, and thought I got close to the points there, but it just wasn't quite enough today. We'll keep at it. I think this circuit certainly played to a few of our weaknesses. Lots of long corners, lots of long straights, so we've got to work on that, and then hopefully Barcelona will suit us a bit more, so I'm looking forward to that."
Andreas Seidl, Team Principal
"It was a disappointing Sunday for the team. We expected it to be a challenging race, as the track and conditions really did not suit our car – but unfortunately, we lost any opportunity to fight for even minor points after Lando's collision with Pierre Gasly. On Daniel's side, from his starting position in the rear half of the grid, and with the pace in the car, it wasn't possible to get back into the top ten – though he gave it everything he could. The result today does not reflect the huge effort put in by the entire team here at the track and back at the MTC, together with that of our colleagues at Mercedes HPP. My thanks to them all fighting it through in the Miami heat.
"Independent of our result, it's been a sensational first Miami Grand Prix. It's been a big race for us, with enthusiastic support from our many guests, sponsors, partners and fans. The huge crowd generated an incredible atmosphere – but now we head home to analyse, reset and look forward to a European double-header in Barcelona and Monaco. Our clear aim is to strike back at the first opportunity."
Aston Martin
Another team to rue their luck in Miami was Aston Martin. It went wrong even before the race had begun, a fuel irregularity meaning both cars had to start from the pits. On the hard tyre, they started to make progress, running on the fringes of the top 10 before getting a free pit stop behind the Safety Car. But from there, Vettel was tipped into a spin by Schumacher, the resulting damage causing him to retire. As for Stroll, he had contact with the other Haas of Magnussen who was attempting to overtake using the run-off area, costing him the chance of points. But Alonso's post-race penalty lifted the Canadian to P10.
Sebastian Vettel, DNF
"It is a shame for this weekend to end in the way that it did and we should have done better. We had a fuel temperature issue before the race which meant that we started from the pit lane. For the majority of the race I was stuck in traffic, it was quite difficult to overtake, and the DRS was not that effective. When the Safety Car was deployed, we moved into the top 10, but Mick [Schumacher] and I had contact, which cost both of us points."
Lance Stroll, 10th
"Overall a frustrating afternoon. It was a shame to start from the pit lane but once the race was underway we showed some reasonable pace today. It was quite difficult to overtake off-line, but we made good decisions and put ourselves in a position to finish inside the top 10 by pitting under the Safety Car. I think points could have been on the table, but a bad restart and contact with Kevin [Magnussen] prevented that."
Mike Krack, Team Principal
"Today was a frustrating day. First, we had a fuel temperature issue that delayed the release of our cars from the garage, resulting in both our drivers starting the race from the pit lane. They made good progress on Hard tyres early on, and we were able to bring them in for Mediums during the Safety Car deployment triggered by [Lando] Norris's lap-41 shunt. Sebastian was then running in 11 th place on new Mediums, just behind [Esteban] Ocon on older Softs and [Mick] Schumacher on older Hards. On his fresh Mediums, Sebastian duly leveraged that tyre advantage to displace them both, and was then lying in ninth place, looking good for some valuable world championship points. Sadly, it all ended for Seb through no fault of his own, as a result of a coming-together with an over-ambitious Schumacher. Equally, in the closing stages, Lance fell foul of [Kevin] Magnussen, who earned a penalty for causing a collision, as a result of which Lance ended up 11 th . In summary, the 2022 Miami Grand Prix was a disappointing race for us, but it is a great addition to the Formula One calendar and we hope that the spectators here all had an enjoyable day."
AlphaTauri
Gasly had a brilliant start, picking off Hamilton and running sixth. While he dropped backwards as the race panned out, he looked on for points until Alonso made contact with his sidepod. Carrying damage and running slowly, the Frenchman then made contact with Norris who he seemingly didn't see trying to overtake which ended both of their races. As for Tsunoda, he dropped backwards on the medium compound tyre and was the first to pit, plummeting through the field before getting caught up in a DRS train.
Pierre Gasly, DNF
"It's a big shame today, the race was going well until the contact with Alonso, where we suffered damage on the car. Unfortunately, it was impossible to stay on track after that, as the car was too damaged, and then on the way back to the box Norris and I touched. There are some positives to take away from today still, we had a strong start and the pace of the car was quite good, but we're obviously disappointed with today's result."
Yuki Tsunoda, 12th
"I'm really disappointed with today. On the first lap I struggled with pace and was overtaken by a few cars, then I wasn't able to recover from there for the rest of the race. We were happy with the way that we'd built up our confidence in the car from FP1, so it's frustrating to have performed so poorly today."
Jody Egginton, Technical Director
"Today's race result is disappointing after such a strong Qualifying. Pierre battled strongly in the midfield against the Alpines, but unfortunately was hit by Alonso during a passing manoeuvre, costing him to lose places to both the Alpine and Stroll. Soon after, he had contact with Norris which caused more damage to his car, meaning we had no choice but to retire him from the race. Yuki struggled in the first stint, so we gambled on an early stop but the pace and car balance in his second stint was also inconsistent, meaning it was difficult to make sufficient progress. We need to go through all the data to understand the reasons behind these issues. Yuki managed to show some better pace in his final stint on the soft tyre, but by this point we were running out of laps to move forward further, and he finished out of the points. We have a lot of work ahead of us before we arrive in Barcelona. We need to understand the various factors behind today's performance, so we can move forward with our package and get back to scoring points."
Haas
Both drivers made great starts and were running on the fringes of the points. They had an entertaining battle amongst themselves too, keeping their passes clean. But it all unravelled at the end, Schumacher trying a move on Vettel but getting it all wrong and punting his mentor into a spin, before Magnussen tried to get past Stroll and ran out of road to do so, instead colliding with the other Aston and damaging his front wing. Magnussen limped back to the pits, while his team mate propped up the field.
Mick Schumacher, 15th
"The car was really good so I'm gutted that we didn't get to stay in position – I think it was our best race so far this year. We're all racers, we're all trying, and it was always going to be tough to keep new tyres behind us and it was very unfortunate to end the race in that way. We were on the road to getting points, but we'll have to wait some more."
Kevin Magnussen, DNF
"It was the hardest race I've ever done, it was unbelievably hot. I had to do that last stint with damage to the front wing but even with that damage we got ourselves into a position to fight for P10. We were catching Alonso and he had a time penalty, but it is what it is – we tried everything we could and didn't get points, onto the next one."
Guenther Steiner, Team Principal
"Clearly not the day we wanted – especially this being one of our home events. The pace in the car was there and it was demonstrated by both drivers, but once again we got unlucky with some events on track. It's disappointing to look like you were going to come away with points and then not – Mick's incident with Sebastian took care of that unfortunately. We then had to retire Kevin's car on the second to last lap with damage he'd sustained earlier while he was fighting to get back into the top 10. We learn lessons in races like this and we have to apply those lessons moving forward to better ourselves."
Pirelli
Mario Isola, Motorsport Director
"A strong performance from the tyres here, which meant that the race gravitated towards a one-stop strategy, whereas we had previously anticipated a two-stopper. This was also thanks to the fact that temperatures were notably cooler today compared to previous days. The teams were able to stretch their first stints, probably in the expectation of a safety car or other opportunity, but in the end that only came towards the end of the race, after nearly everybody had stopped. A few drivers tried to take advantage of that by changing tyres, with three drivers running all three compounds during the race. However, Verstappen and Leclerc fought hard for the race win and fastest lap even on used hard tyres in the closing stages. It was an exciting finish to an eagerly-anticipated grand prix: we hope that all the podium finishers enjoyed their special Pirelli American Football helmets!"
HIGHLIGHTS: Relive the action from an enthralling first ever Miami Grand Prix