Feature
What the teams said – Race day in the Netherlands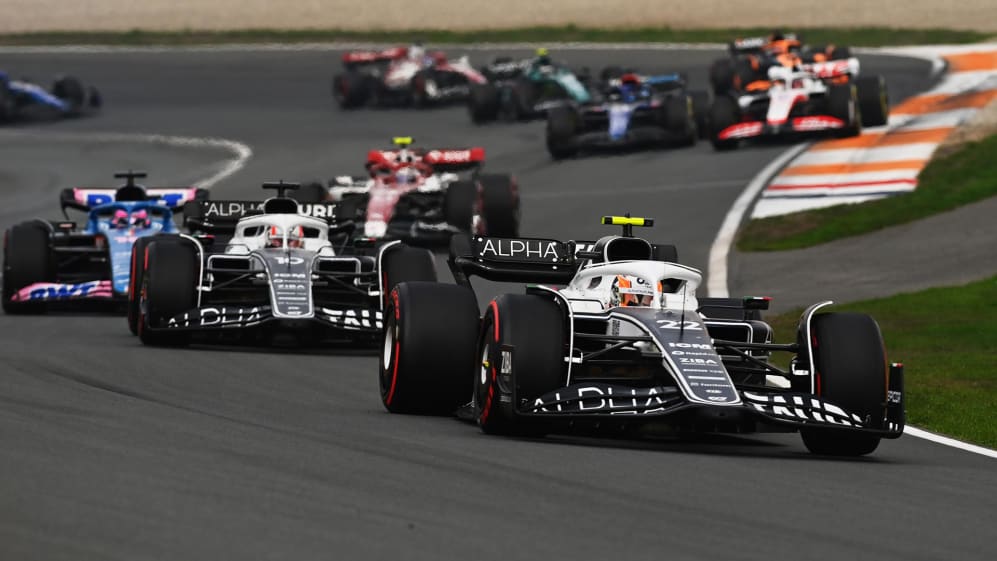 Red Bull
Verstappen led from pole, only losing P1 through the pit stop period. Needing a second stop, it looked like he'd fall behind both Mercedes cars and have to overtake them on track. But then came a VSC and then a Safety Car, the team made the right calls and the Dutchman overtook Hamilton at the restart for the lead and a fourth win on the trot. Perez was in the thick of the action, but only had medium tyres left to swap to under the last Safety Car, and as such didn't have the right compound to fight his way up the order.
READ MORE: Verstappen says Dutch GP win was 'extra rewarding' after overcoming Safety Car drama and Mercedes threat
Max Verstappen, 1st
"Today was quite eventful and not a straightforward race at all, we had to make the right calls and it all worked out well in the end. Mercedes were very quick on the harder compound which we didn't expect, so it made it more difficult for us as we were less compatible with the hards. We managed everything quite well and we made the right calls on the strategy so well done to the Team here and back at the factory. It's always special to win your home grand prix but this year I had to work even harder for it. It's incredible to win again in front of this crowd, we've had unbelievable support here and I'm proud to be Dutch."
Sergio Perez, 5th
"Obviously this is a great day for the Team but it wasn't the best day at the office for me. I struggled with tyre degradation in the first and second stints and I never quite got the balance where I wanted it to be. It was a hectic race with incidents in the pit lane but I was lucky that my front wing wasn't damaged when I drove over the wheel gun. Despite the difficulty I had, we managed to save some good points. There's lots to take away from today and plenty to understand from our side so that we can come back strong in Monza."
Christian Horner, Team Principal
"This was a huge race with an incredible amount of anticipation and pressure. It was also a tough race strategically. First with the virtual safety car and then of course the full safety car. To pit Max in the lead with 12 laps to go, putting him behind two Mercedes, is a big call, but it was the right one, we would prefer to be on the better tyre. However, what you see here is only 10% of the Team, it's what goes on behind the scenes that really makes this possible. The Team is operating at an extremely high level and it's all the support and effort that you don't see back in Milton Keynes that makes a victory like this possible. All in all, it was a fantastic Team performance, both drivers were in the zone from the moment they arrived at the track. Checo was unfortunately jumped at the restart by Carlos and I think in hindsight we should have overruled his preference for medium tyre, but he had a strong race. We are in a great position and we are happy, although nothing is done until it is done. We operate one race at a time and we don't allow ourselves to think too far ahead. It's Monza next week, we are looking forward to it and hopefully can carry this form into that race."
Mercedes
Mercedes opted for a one-stop strategy for both drivers, and in doing so threw a very large cat amongst the brave trackside pigeons. It looked like it was going to pan out with their drivers having track position late on, until a VSC gave Verstappen a cheap pit stop. But when he stopped again under the even later Safety Car, Hamilton led from Russell and the Dutchman. The team then let the youngster pit, which left Hamilton exposed at the restart on older medium tyres to a freshly-shod Red Bull. He fell down the order and did well to hold onto P4 after looking in with a shout of the win, while Russell passed his team mate to grab a brilliant second.
READ MORE: 'I was hopeful we were going to get a 1-2' says Hamilton, as he apologises for angry Dutch GP radio outbursts
Lewis Hamilton, 4th "Today we were really challenged with the VSCs and Safety Cars. I think the strategy and the car had been so good up until that point, the pit stops were fantastic, the best I think we've had all year and it was really geeing me up. Especially after such an up and down year, we've not had a win since Saudi Arabia last year. So, it was finally there, within our grasp but of course then the safety car really didn't help. But the guys were really, really on it, we were all on it and I really was hopeful that we were going to get a 1-2 together as a team. But given how it played out after the final safety car and dropping back, I was just on the edge of breaking point with emotions and my apologies to the team because I don't even remember what I said over radio, I just lost it for a second. But I think they know that there is just so much passion and I want to look at today as a glass half full - we came here struggling from the last race and we were fighting against the Red Bulls today, we were quicker than most at many points. Without the safety car I think we'd have been challenging them for the win at the end on the one-stop which I don't think the others could do. So many great things to take from this weekend - the car was finally working. If this can be the same in the future races, we're going to be continuing to breathe down their necks and we're going to get that win."
George Russell, 2nd "It's been an incredible reception here, a really special feeling for all of us drivers to come racing in Zandvoort and in Holland. As a team we showed incredible pace today, I know the team result wasn't quite what we hoped for, but this gives us a lot of confidence and a lot of faith going forwards. It's incredible to see three different teams on the podium and we as Mercedes are slowly getting closer to that top step, so let's keep on pushing. Not an easy decision for the team to make with the final safety car - when you're in front with track position, you've got a shot to go for the win which is what we did. But this is what we as Mercedes are here to do, we're here to win. And the 2000 people back in the UK, at Brackley and Brixworth, are all working to get us that win, so today we took a decision to give us the best chance of that. Our qualifying performance yesterday probably cost us most this weekend because if we were on the second row, I think we'd have been fighting even more for the win. But from race one in Bahrain, being a second off, to this weekend and having the fastest race car is incredibly impressive and everyone in the team should be very proud."
Toto Wolff, Head of Mercedes-Benz Motorsport "Zandvoort was a good track for us and both drivers performed to the maximum today with a strong car. We had some tough decisions to take with the safety car towards the end. With Lewis ahead, you can do two things: you can either pit him, lose track position against Verstappen and leave George out - screwed. You can pit both, but you are settling for P2 and P3 and we agreed as a team this morning to fight for the win, so it was worth the risk. I feel for Lewis, it's highly emotional, you are that close, bracing for the win and then you are being eaten up. It's clear that every emotion comes out but as I always say, we are the dustbin for the driver in the car. Lewis and I were just speaking and there are definitely more positives to take from this weekend, second and fourth, it's annoying but we had a good race car here and that's most important. You have got to take risks where we are. I'm confident we'll get the win this season and we are going to try the maximum, we are a bit closer today and it is good fun in any case."
Andrew Shovlin, Trackside Engineering Director "Our plan all along was to try and make a one stop strategy work if Red Bull and Ferrari went for the two stop as expected, as that would have given us the best chance of fighting for the win today. Unfortunately, the VSC caused by the Alpha Tauri scuppered that as Max would no longer drop behind us, so we took the opportunity to fit the Medium to both cars. We were then looking good to get both on the podium when the final safety car gave us the conundrum of taking track position on the relatively fresh Mediums, or fitting a used Soft from qualifying. Clearly the Medium struggled so that dropped Lewis back to fourth but it was great to see George up there on the podium having driven a very strong race. We always go away and review where we could have improved so we will do that as always, but more importantly, this weekend has been an altogether more positive picture than the one from a few days ago in Spa. The car was strong throughout the weekend and that's by far the most important point. We're still trying to get our first win of the year but we are getting closer and closer to making that a reality, so will keep working hard to achieve that."
Ferrari
Leclerc couldn't take the fight to Verstappen in the first stint, with the team putting him on the same strategy as the Dutchman. He lost out to the Mercedes pair on their original one-stop strategy, but was able to at least pick off Hamilton for the final podium spot. As for Sainz, he had an eventful day. Contact with Hamilton at the start, a slow first pit stop and then a five-second penalty for an unsafe release all combined to drop him to eighth. He also had an entertaining tussle with Perez late on, and nearly got caught out overtaking an Alpine under yellow flags. Quite the day for just four points.
READ MORE: Sainz calls his Dutch GP a 'mess' after pit stop trouble and penalty drop him to P8
Charles Leclerc, 3rd "We're not particularly happy with P3 today after having started second, but we were just not fast enough. The first stint was really good on the Soft compound. I was quite confident, but on the Mediums things became more tricky, especially with Mercedes being so strong on the Hards.
"We were unlucky with the Virtual Safety Car, but I don't think it would have changed much for us. Our competitors seem to have improved their pace, especially in the race, and this is something we will be focusing on going forward.
"We're off to Monza next. Although, on paper, it doesn't look like it will be the strongest race for us, we're always extremely motivated going there. It's our home race and I can't wait to see our tifosi again."
Carlos Sainz, 8th "Today we had a very tough race and things just didn't go our way. The set-up we went for didn't work as expected and after picking up some damage at the start with Hamilton we lacked a bit of pace overall.
"Obviously, the late call for the first pit stop cost us a lot of race time and afterwards I got the penalty for an unsafe release, even though there was nothing else I could have done in that situation as I was trying to avoid hitting a McLaren mechanic in front of me. A tough one, but we'll now focus on the next race at home in Monza."
Mattia Binotto, Team Principal "We cannot be satisfied with our race today. After performing well in qualifying, the car did not have the pace to win and unfortunately, that's not the first time in recent races. We have to analyse everything in great detail, because the difference in performance between qualifying and the race demonstrates that we did not manage to exploit all the potential in the car.
"Now we go to Monza where we can expect a warm welcome from our tifosi. We know we can always count on their support and it will be great to finally see the grandstands at the Autodromo packed out, after the limitation on spectator numbers last year because of Covid. We will do our utmost to make our supporters proud of us, even if we already know it won't be an easy race, given the performance level of our competitors."
Alpine
Ocon had the best start of the field, climbing from 12th to ninth on the first lap. But he lost out to his team mate in the first round of stops, with Alonso looking the most likely to challenge Norris. They switched around again during the VSC period, only to switch again under the Safety Car. In the end, Alonso came home seventh, which became sixth when Sainz's penalty was applied. Ocon made it two cars in the points for the fifth race in a row.
Esteban Ocon, 9th
"I'm pleased to score points today and it was a nice recovery after disappointment in Qualifying on Saturday. We have also outscored McLaren again, which is positive in our fight in the Constructors' Championship. On my side, I had a mega start, made up a few places in the early part of the race, which put us in position to score points. There's always more you can do, so we'll assess the things we can improve for next time to come away with even more. Another race is just around the corner and I'm already looking forward to Monza, a track that I love, and one that will likely suit our car better. We will push on!"
Fernando Alonso, 6th
"It was a good race for us today finishing sixth and scoring more points in the standings. We lost a few places obviously at the start, but we made some ground back and stopped very early for the Hard tyre. The pace of the car was good, and we continued to make progress. The only moment of the race where I felt we could relax a little bit was when we fitted the Softs and everything seemed set for us, but then the Safety Car came out and changed everything. We had to fight hard until the last lap with those behind us on fresher tyres and it was like a Qualifying session until the chequered flag. It's a good result again for the team and my tenth points finish in a row, so let's keep this up next weekend in Italy!"
Otmar Szafnauer, Team Principal
"We're very pleased to extend our advantage in fourth place in the Constructors' Championship by scoring ten points in Zandvoort today. It was always going to be a tough task to progress both of our cars from twelfth and thirteenth on the grid into the points, but we've achieved just that after a very strong race across the board. Our strategy was decisive, using our knowledge from Friday Practice about the Hard tyre, which allowed both cars to be in a position to score good points. Fernando drove another great race, holding off Lando [Norris] at the end, with Esteban too doing a fantastic job to finish in ninth place and bring home valuable points. We will look ahead to Monza next weekend where we aim to conclude this triple header with another double points finish and, I can see no reason why that is not a possibility after two competitive weekends in Spa and here in the Netherlands. A great job by everyone at the team."
McLaren
Norris looked good for a best of the rest P7 for most of the afternoon, until the late melee with Safety Car and Virtual Safety Car periods rather wrecked his one-stop strategy. He pitted at the same time as rival Alonso under the VSC, but then a second stop under the actual Safety Car cost him a position to the Spaniard. As for Ricciardo, he was stuck in a DRS train behind Vettel for much of the race and just couldn't make any progress.
REACTION: What the Piastri contract tussle means for him, Alpine, McLaren – and the rest of the driver market
Lando Norris, 7th "Tough race, but I think it was a good one. We gave it our all. I think we had decent pace. It's just tough battling with both Alpines, they can play a lot more with the strategy and hold me up. That was tough, so I'm happy with how we did. P6 would have been the best we could have achieved anyway, so one position out. We did lose some points to Alpine but they're getting more out of their car than us at the moment. Despite that I'm happy with everything else. We'll keep pushing and try to be ahead again next time."
Daniel Ricciardo, 17th "It was always going to be a tricky Sunday because of where we started and the nature of the track. The first few laps were not too bad. I think we made some places here and there but starting that far back its hard to make a big impression, you need a big difference to make some moves and overtakes. In clear air, it felt like I had a little bit of pace to use – but it didn't always seem to last long. So, obviously another challenging weekend. We look ahead to Monza, and I'll try to bring back last year's magic."
Andreas Seidl, Team Principal "Strong race for Lando this afternoon, finishing P7. The Safety Car at the end of the race was a little unfortunate for him, and he had to make another stop to defend against cars doing the same. That cost us a position to Fernando [Alonso] who had fresher tyres and could go to the end. On Daniel's side, it was always a difficult task from P17 to make up positions on this track and unfortunately no opportunities came his way to make any progress.
"The team worked very hard this weekend: here at the track; back home at the MTC, and our colleagues at Mercedes HPP. Our strategists had complex calls to make today, but they were good calls and the strategy team and pit-crew worked well to determine and implement them. Two races down in this triple-header and we go again in five days at Monza. We look forward to that – but well done to Zandvoort and the Dutch fans for putting on a great event with a truly sensational atmosphere."
Aston Martin
Stroll started where he finished, miraculously keeping out of all the chaos to score a valuable point for the team. It was his fifth P10 of the year, having yet to finish higher, and kept Aston Martin's hopes of chasing down AlphaTauri in the constructors' alive. As for Vettel, he did make some progress after a brave call to stop very early on, but not enough to ever look like challenging for the points.
Sebastian Vettel, 14th
"We did not have great race pace – but probably could have earned a better result if we had not started so far back. We stopped early to try and undercut the cars ahead. That strategy would have worked, but that first pitstop was really slow – I lost a lot of time to Zhou [Guanyu], Pierre [Gasly], Alex [Albon], Mick [Schumacher] and I was very close to Daniel [Ricciardo]. I enjoyed my battle with Mick – but this race was not a highlight for either of us. Then I got a five-second penalty for ignoring blue flags when I was being passed by Lewis [Hamilton], but it did not really make much difference to my race. A tough day where making progress was always going to be difficult – but it is what it is."
Lance Stroll, 10th
"Overall, it has been a positive weekend in terms of performance, but we were a little bit unlucky today with how things played out and how that affected our strategy. The timing of the Safety Car gave the Alpines and [Lando] Norris the advantage: without that we could have been fighting for seventh. Our pace was strong all weekend, I felt really confident in the car, and we were more competitive. That is really encouraging for the coming races. It has been a great push by the team back at the factory to make our car quicker, so hopefully this is the start of a strong run through to the end of the season."
Mike Krack, Team Principal
"Lance drove very well to score a hard-earned point this afternoon, managing his tyres throughout a tricky Soft-Medium-Hard-Soft three-stop race. The timing of the Safety Car did not help Lance's race, but a point is a point. Sebastian moved up from his P19 grid slot to a P14 finish, and he was never likely to be able to make better progress than that on a circuit such as this one on which overtaking is difficult. From here we go on to Monza, one of the great circuits, but before we leave Zandvoort I would like to pay tribute to the organisers, who managed the race weekend very well, and the Dutch fans, whose enthusiasm made for a fantastic carnival atmosphere."
AlphaTauri
Tsunoda's DNF proved influential. He pitted, only to pull over citing a loose wheel. The team told him he was safe to continue, so he limped back to the pits for a lengthy stop where the crew seemed to be fiddling with his wheel and seat belt. He exited the pits, only to immediately pull over, which caused the VSC. As for Gasly, he tried his best but came home just outside the points yet again. He hasn't scored since Baku now.
Pierre Gasly, 11th
"Finishing P11 is never a great feeling, we tried our best to make it into the points, but I don't think we quite had the pace to make it possible today. Ultimately, we're lacking a little bit of performance compared to the other cars around us, we lost some time in the first stint and struggled on the Mediums in traffic. I think there are still some positives to take away from this weekend though, we knew this was going to be a track we would struggle on but the pace on the Hards this afternoon looked competitive. We're now heading to Monza for the last of the European races, where I hope we'll be able to come back stronger."
Yuki Tsunoda, DNF
"It's been a disappointing day, as heading into the race our pace looked quite good and we were hoping to finish in the points. We dropped back a few places at the start of the race but were slowly making our way forward again and were positive we could finish in the top 10. Unfortunately, after I stopped for the Hards, I felt there was an issue with the car, the team could not see anything at that stage so they called me in to change the tyres. However, when I went back out I could still feel there was something wrong, which the team then confirmed by radio and we had to retire the car."
Claudio Balestri, Chief Engineer – Vehicle Performance
"Today the target was to score points and unfortunately, we didn't manage that. We started with both cars on Softs and we knew we needed to carefully manage the tyres. In the fight at the first lap we lost a few positions to Ocon and Stroll, so for most of the first stint we were in P11 with Yuki and P12 with Pierre. Pierre ran in traffic for 10 laps and therefore suffered more tyre degradation, meaning he also lost a position to Alonso, so after a few laps we called him in to fit the Mediums. We then did the same with Yuki for his second stint. In this middle part of the race, with both cars on Mediums, we were not able to keep the pace of the two Alpines in front. We could see the Hard compound was very competitive on the other cars around us and for this reason we decide to stop Gasly and fit the Hards, whilst we let Yuki continue on the Mediums for a longer second stint. Having seen that the compound was working well, we decided to also pit Yuki for them. After the pit stop he reported something strange at the rear of the car, we called him in again to change the tyres and immediately after we had a car failure. This is currently under investigation within the team. At the end of the race, when the Safety Car was deployed, due to Bottas stopping on track at the end of the main straight, we decided to stay out to unlap Pierre and then we pitted the lap after, fitting Options. When the Safety Car came in, Pierre was in P11, just behind Stroll both on the same tyre but the Aston Martin was very fast in the last corner and we could not get past him to enter into the points. Now we need to switch our thoughts to the preparation for next race in Monza."
Williams
Albon ran a very long first stint on the medium compound tyre, pitting just before the Mercedes pair. That had launched him up the order but the late chaos neutralised the strategy advantage and he had to make do with coming home 12th. Latifi couldn't extract as much pace from his car and wound up propping up the field.
FACTS AND STATS: A career first for Verstappen with four wins on the bounce
Nicholas Latifi, 18th "It was just a race to forget really. We've been struggling with pace the whole weekend and it's quite confusing to me as to why.
"Due to the issue in qualifying we didn't really get the chance to see where we would have been on pace, so one to learn from."
Alex Albon, 12th "I think coming into today, we didn't have high expectations, so think we've proven we're not too far away from the points.
"We didn't expect much from the high downforce circuit, so it's positive and I think going forward we won't be so scared of these types of circuits and can focus on fighting for points. I was happy with the car, despite just lacking a bit of lap time."
"There's still a little bit to find, but we can work on this and look at what we can do, as right now we're fine tuning the package and know its limitations. It's not points but it's a good job."
Dave Robson, Head of Vehicle Performance "I think we can be pretty pleased with the way that we executed the race today. There were a huge range of valid strategies, with all three compounds offering potentially useful trades in the overcast conditions.
"The Safety Car periods mixed things up a little and gave teams the opportunity to change from their base strategies. Ultimately, we couldn't score any points and the Safety Car didn't help our cause today as it allowed Gasly a free tyre change. However, we were able to beat the Alfa Romeo and Haas cars as well as a McLaren and an Aston Martin.
"It was a shame to finish behind Pierre for the second weekend in a row, but he had good pace and qualified four places ahead of Alex. Hopefully we can turn the tables on him next weekend!"
Haas
Schumacher didn't get a good start, dropping straight outside the top 10. He at least stayed on track though, unlike his team mate, Magnussen running wide and through the gravel. He clonked the barrier for good measure but was able to continue. But there wasn't much more doing for the pair, who found themselves in DRS trains for the rest of the race.
Kevin Magnussen, 15th
"When you hit the wall in the race it's not good, but it was my mistake. I tried too hard, lost the rear, went off and hit the wall, came back and I was able to continue. I tried my best to come back but I spent a long time trying to just get back up to the field but managed to make up a few positions and finish P15. It was a bit of a wasted weekend, so I hope we do better next time."
Mick Schumacher, 13th
"We didn't have the greatest of pit stops – I think we had a problem with the front jack not coming down, so I think that brought us out of contention for points this weekend. Nonetheless, it was great being here and I had a lot of fun even though I was at the wrong end of the field, battling with Sebastian is always great. These things happen, we're now looking ahead at scoring points in the new few races to come."
Guenther Steiner, Team Principal
"It wasn't the race we wanted to have today. Kevin lost a lot of positions on Lap 2 when he went off. Mick was fighting in the points-paying positions but on his pit stop we had an issue with the front jack which didn't come down, so we need to look into what it was. Catching up from there is difficult – we lost too many positions, overtaking is very difficult here and, in the end, we made it up to P13 and P15. Having been P18 and P19 at some stage, we didn't give up, but it was difficult to catch-up because you have to apply different strategies and we couldn't get back into the points."
Alfa Romeo
Bottas didn't have much pace this weekend and was running down the field when he lost his power unit down the main straight, grinding to a halt and bringing out the Safety Car. Zhou likewise didn't have the speed to really get too involved out there, although he had an entertaining fight with Ricciardo and managed to keep the McLaren man at bay until the flag.
Valtteri Bottas, DNF
"It's always disappointing to end a race ahead of time. I felt the car's pace was better than yesterday's, we had kept progressing, even though it would have still been challenging to score points. The battle in the midfield was quite good and there was plenty of action, but then we had a technical issue and our race was over. I am waiting for confirmation, but I think it was a power unit issue: there was no sign prior to that, everything was feeling ok and I suddenly lost power. I could see some flames in the back, so now we'll have to see what we find there."
Zhou Guanyu, 16th
"It's been quite a tough race today, particularly towards the end as we got slowed down a lot by all the blue flags. The late safety car also did not play in our favour, as there wasn't much time left and we put on used softs which didn't make it easy to charge up. It's been a challenging weekend overall for the team, we've been clearly lacking something compared to the rest of the midfield, so we will have to work hard in these few days: we need to make sure to improve ahead of Monza next week and for the rest of the season, to try and get back to where we were, performance-wise, during the first races of the year."
Frédéric Vasseur, Team Principal
"It's been a tough day at the end of a difficult weekend. We had been struggling to find pace but made some good improvements as we approached the race: unfortunately, we lost Valtteri for a suspected power unit issue, and Zhou's race was compromised by a penalty for speeding in the pit-lane. With the midfield as close as it is, anything but a perfect race means you're missing out on the points and this is exactly what happened. It's been disappointing, but we have Monza next week and hopefully we will be able to put this one behind us and do well in front of that crowd. It's a home race for us and our title partners and we want to have a good one to get back on track."
Pirelli
Mario Isola, Motorsport Director
"We saw an exciting and emotional race, ultimately influenced by two variables that can happen at a tricky circuit like Zandvoort: different strategies thanks to the contained degradation of the soft and the strong performance of the hard compound. There was also a virtual safety car and then a safety car, which kept the action unpredictable all the way to the flag, with plenty of overtaking thanks to the latest regulations as well. We saw a sea of orange in the grandstands, and I'd like to add another colour to the panorama of the Dutch Grand Prix: white, which is the colour of our hard tyre. That hard tyre was one of the stars of the show, thanks to very low degradation along with plenty of speed. The track evolution over the course of the weekend ensured that it came into its own on race day, with many teams adapting their strategies to make use of it. All three compounds played an important role over Zandvoort's rollercoaster lap, with three drivers from three different teams on the podium."