'Why am I so unlucky?' – Leclerc left devastated by formation lap failure in Brazil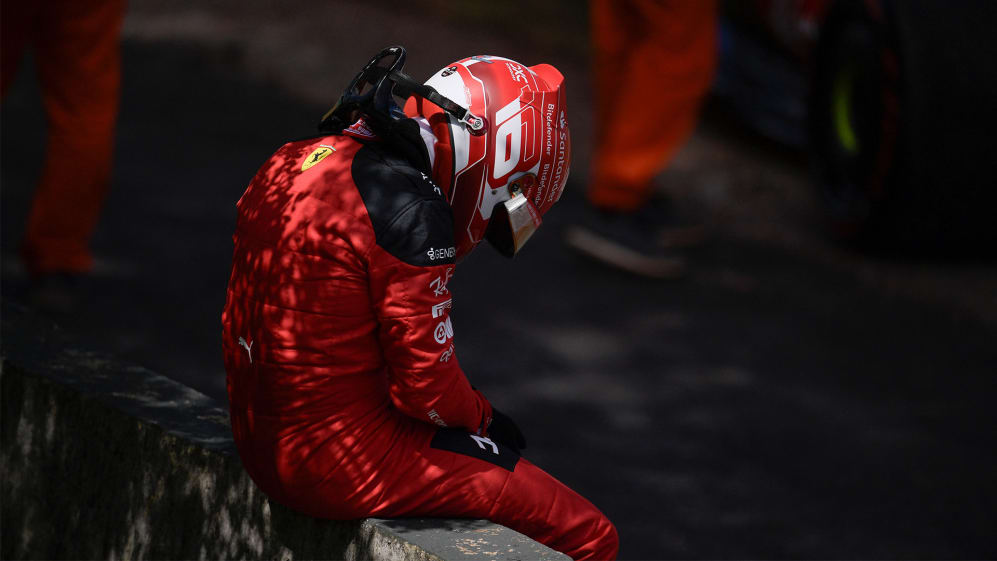 It wasn't to be for Charles Leclerc in Brazil, the Ferrari driver suffering a mechanical failure on the formation lap that ultimately took him out of the race.
Initially, as he spun off into the barriers when following eventual race-winner Max Verstappen around Interlagos, it looked like Leclerc might recover back to the pits and be able to start the race – but he soon parked up down an escape road with an engine issue to go with his broken front wing and wounded pride.
READ MORE: 'Close to perfect weekend' for Norris as he grabs fifth podium in six races
It's been a desperate season for Ferrari, who had hoped to challenge Red Bull for the title, as they did in the early stages of last year. Instead, they have a handful of poles and just the one race win to their name for 2023, and that was achieved by Leclerc's team mate in Singapore.
For the Monegasque, this latest failure was another blow in what has been an incredibly tough season. Starting from second on the grid and one of the few front runners still to have some fresh soft tyres in his locker, he had hoped to have a strong race. Instead, it all unravelled before the lights had even gone out.
"I turned into Turn 6, everything was fine and then as you can see, I basically lose the wheel because there is no power steering anymore, the steering wheel feels extremely stiff, then I go straight," he said afterwards.
"Then the engine stopped for safety reasons, which made the rear wheels lock, which made me spin. Then I touched the wall, I started to start the car again, I did 20 metres then exactly the same thing happened. So that's it."
READ MORE: Hamilton calls Sao Paulo GP 'one to forget' as Russell labels it Mercedes' 'slowest weekend' of the year after DNF
Leclerc's anguish was clear to see, the Monegasque driver holding his head in his hands in the cockpit. "Why the **** am I so unlucky, why the **** am I so unlucky?" he repeated down the radio to his race engineer, before climbing out of his cockpit and sitting on the wall, head bowed.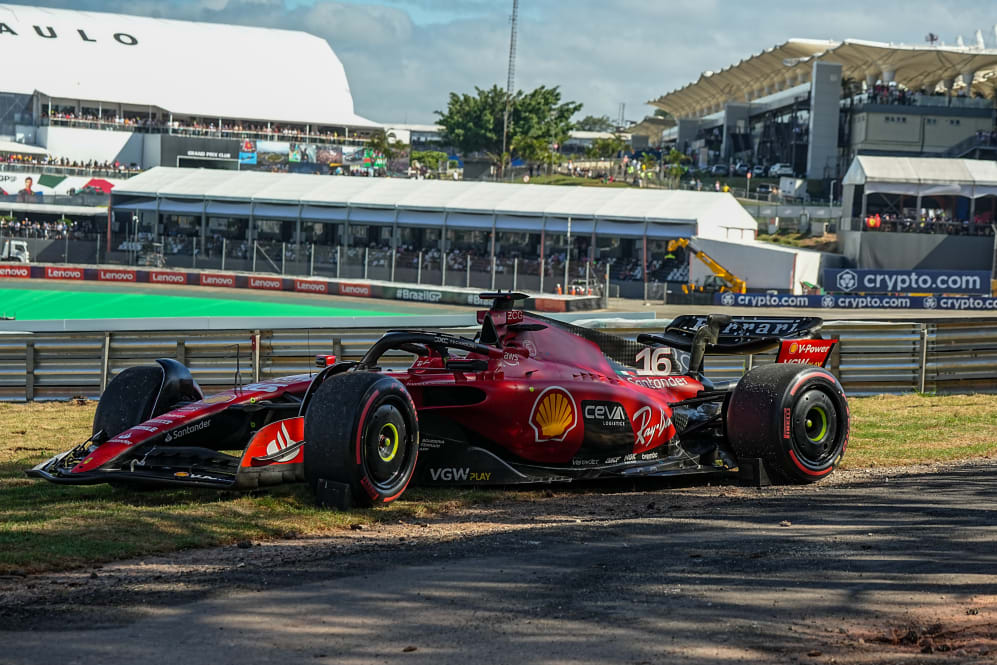 "I don't know, I don't know, I don't know what to do anymore," he said when he spoke to the media while the race was still continuing.
"It's been a season to forget, there's been quite a few races where I felt I was on it and then for some reason or other, it wasn't the result I wanted on Sunday and today is part of them, so of course, the frustration is big today.
"It's like this now, I need to get over it and focus on the last two races which are still important. I cannot wait [for] it to be next year."
In the fight for second in the constructors', Carlos Sainz did at least out-score Mercedes in the race by coming home sixth ahead of Lewis Hamilton in eighth, which means Ferrari trail the Silver Arrows by 20 points going into the final two races of the season.
READ MORE: 'I thought the podium was gone' – Alonso on his thrilling final-lap battle with Perez