Feature
Why Miami's staggering build-up has whetted the drivers' appetites ahead of its first ever Grand Prix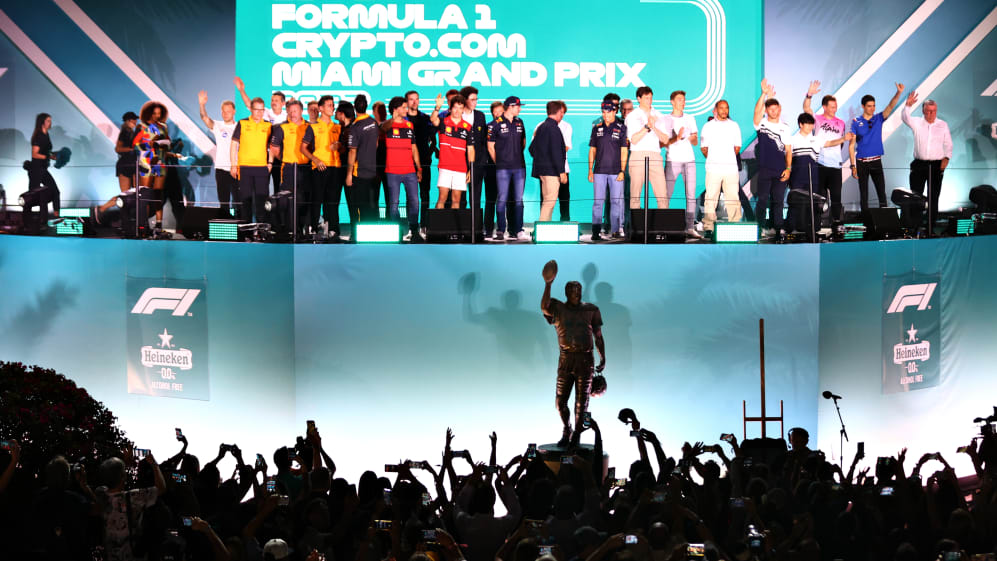 "I'll stick to driving on the track," joked Lewis Hamilton after he sent a golfing drive wayward into the water on the Miami Beach Golf Club's 10th Tee. The seven-time world champion – whose swing was pretty impressive considering he's not manoeuvred a club for years – had teamed up with NFL legend Tom Brady for a charity golf challenge, ahead of the inaugural Miami Grand Prix in Miami Gardens.
This was just one of a multitude of off-track activities that were taking place in the build-up to F1's newest race – which already has the feeling of the kind of big sporting occasions the United States do so well. Reigning world champion Max Verstappen and his Red Bull team mate Sergio Perez found themselves at the Miami Marlins baseball ground learning to pitch the perfect ball. Ferrari's Charles Leclerc had a go too, the Ferrari driver telling me that while he found catching with the glove a challenge, he was handy at the throwing element.
GALLERY: Meeting legends, courtside tickets and baseball – here's what the drivers have been getting up to in Miami
Daniel Ricciardo spent an afternoon thrashing about on a jet-ski, before having dinner with Yuki Tsunoda that evening. The Japanese driver loves his food, and is thus in his element in Miami, renowned for its food scene that has Cuban, Mexican and Caribbean inspiration, and said the crab he had with Ricciardo was among the best he's ever eaten.
Carlos Sainz was out on the golf course, as was his old team mate Lando Norris, the latter upping the stakes by playing with two-time Major winner Dustin Johnson, plus his McLaren boss Zak Brown. Esteban Ocon had a kick around at David Beckham's Inter Miami ground, while Max Verstappen joined Tsunoda to thrash around a swap with some unique vehicles.
It's no wonder they were all in such good form when they gathered in the green room ahead of Wednesday night's opening party, headlined by Norwegian DJ Kygo. The Miami Grand Prix is more than just a race, it's an event. Sure, the drivers can't fully enjoy all that the Sunshine State city can offer, but in coming early to acclimatise to the time zone, they can train in warm conditions, engage with elite athletes, try new sports and get some quality downtime during an intense season.
Anyone who is anyone will want a ticket to the Miami Grand Prix, which didn't take long to sell out. The list of celebrities is so long, perhaps only Monaco has rivalled it – and even then, this cast might be the most impressive F1 has ever seen. Tennis sensations Serena and Venus Williams are expected to make an appearance, along with basketball legend Michael Jordan, Hollywood stars Dwayne 'The Rock' Johnson and Ryan Reynolds, TV host James Corden and Beckham himself.
FORM GUIDE: Who's in the best shape as F1 heads to Miami for the first time?
But at the heart of this festival of entertainment is the showpiece Grand Prix, on a track that has got everyone excited. I chatted to Pierre Gasly after his track walk in the blazing Miami heat, and he was buzzing about the layout. He clocked an impressive 150 laps – nearly three Grand Prix distances around this street track that has a permanent feel – in the simulator, and that has sufficiently whetted his appetite to get out there in F1 machinery.
The 19-turn 5.421km circuit is a teaser, combining slow, medium and high-speed corners in a way that will make set-up a challenge. Just how much downforce will the teams want to strip off the car? What level of wing will they feel comfortable running? There are three straights, including a lengthy 1.28km stretch at the back, and three DRS zones. Turns 11 and 17 are tight left-handers that should offer good opportunities to overtake, but from what he's seen on his walk, Gasly reckons there are other options to get alongside.
READ MORE: A brand new circuit, Ferrari's fightback and more – 5 storylines we're excited for ahead of the 2022 Miami Grand Prix
I'm not sure I can remember a Grand Prix that was so anticipated. The excitement for the venue – which straddles the Miami Dolphins' Hard Rock Stadium and has some cool features, including a beach club and pretend mini marina – the track layout and the city as a whole, plus the fact it's the first of two races Stateside this year, is infectious.
It's a cracking stage for what has all the hallmarks of being a cracking race.