Wolff says he has successor in mind after 'blood, sweat and tears' of seventh title
Mercedes may have secured their seventh straight constructors' title at the Emilia Romagna Grand Prix. But Team Principal Toto Wolff used the momentous moment as a chance to reflect on his future, as he told the media after the race that he'd already identified the person who he wants to one day to replace him at the head of the team...
With Mercedes having required just 11 points to claim their seventh consecutive constructors' title at Imola, Lewis Hamilton and Valtteri Bottas' one-two more than assured that, with a delighted Wolff lauding the "blood, sweat and tears" that had contributed to the team's success after the race.
READ MORE: Hamilton wins wild race in Imola as Mercedes clinch seventh-straight constructors' title
"It feels just great," said Wolff, who celebrated the achievement by donning a Niki Lauda cap, in tribute to Mercedes' late Non-Executive Chairman. "This afternoon is just a culmination of everything, lots of blood, sweat and tears behind closed doors. A lot of sacrifice that's not always so visible.
"But what stands out is the camaraderie that we have in the team over all these years, the right values I guess. And when I think about our achievements, supported in Germany and everyone in Brackley and Brixworth, I just have a smile on my face."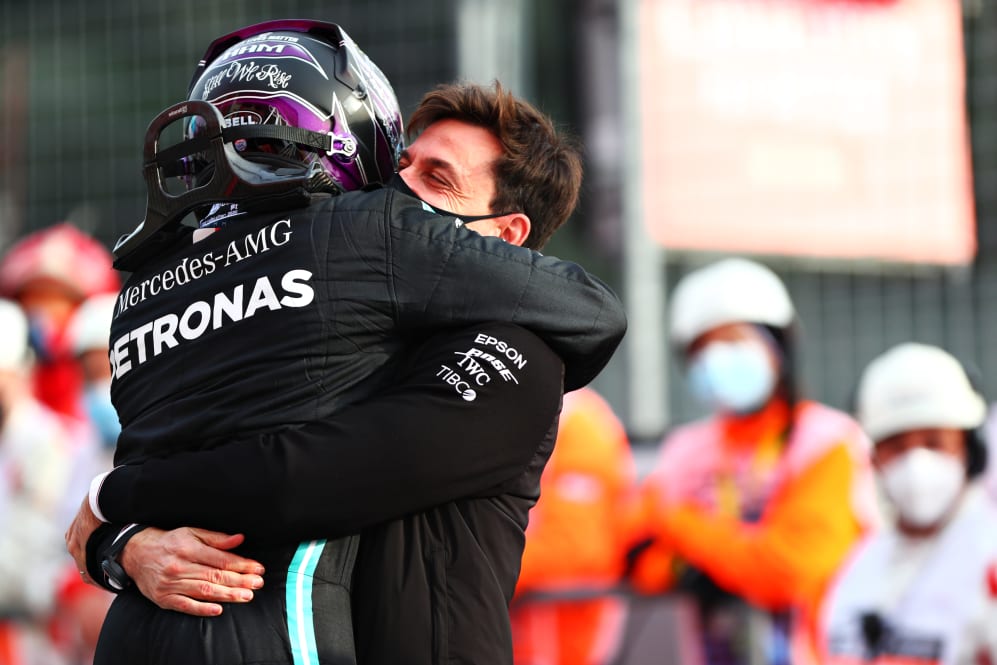 Wolff's future has been the subject of fevered speculation throughout 2020, with Wolff himself having hinted that his time as Team Principal at Mercedes may be drawing to a close. And in the wake of Mercedes surpassing Ferrari's record of six consecutive constructors' titles, Wolff said that he was already beginning to look to "the next chapter" of his career, which will involve identifying and grooming a successor for his role as he looks to - at some point - take on another role within the organisation.
READ MORE: 'The only way was to do something different' – Hamilton explains how he turned poor start into another win
"I believe everybody has a certain shelf life in a role," said Wolff. "I haven't come to the end of mine, I think I can still contribute, but I need to think about the future also, going forward, and bringing somebody up, developing him doing this role, is a fantastic challenge for me, that will be one of the next chapters. But you will see me around for a while.
"I guess my situation is a little bit different because I'm a co-owner of the team with Mercedes-Benz," he added, "so I'm never going to abandon it because it's just what I love to do. What's better than to be part of a sports team, to be part of such a fantastic gang of people?"
Asked, meanwhile, whether he had a potential successor in mind, Wolff teased: "I have – but I can't tell you who."
Meanwhile, with Red Bull's Max Verstappen having failed to score at Imola, Wolff was also assured that a Mercedes driver would claim the drivers' title this year too, a feat which will see Mercedes extend their record of double world championships to seven – with Emilia Romagna Grand Prix winner Hamilton a nailed-on favourite to take his own seventh title, as he leads Bottas by 85 points with just four races left to run.