Wolff says line-up of 'alpha males' Bottas and Hamilton is still the right combination for Mercedes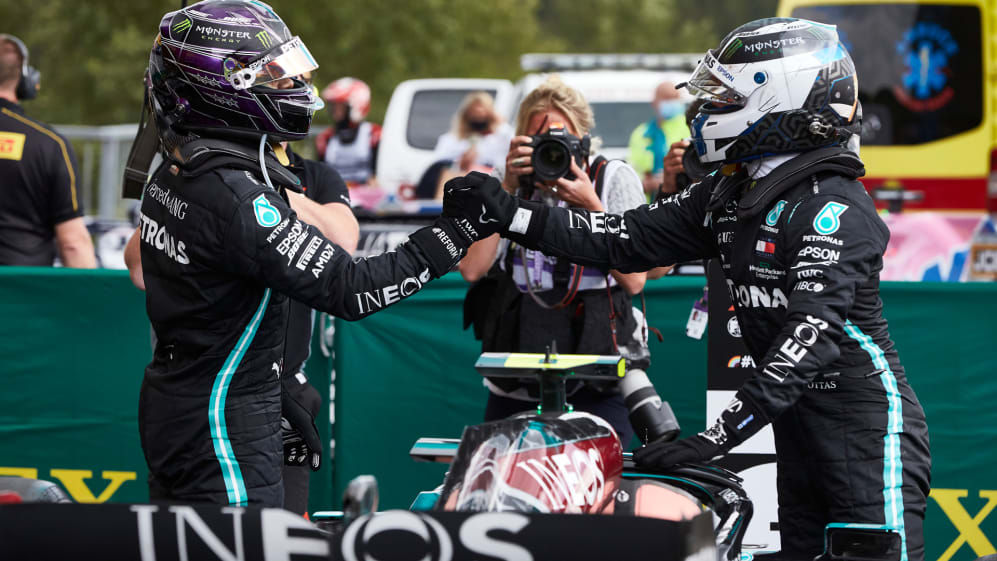 Mercedes boss Toto Wolff has insisted that the team's line-up of "alpha males" Valtteri Bottas and Lewis Hamilton is still the right combination for the Silver Arrows, despite the fact Bottas was unable to take the fight for the drivers' title into the final run of races in the 2020 season.
Hamilton won the Turkish Grand Prix to take a record equalling seventh title, while Bottas – who was the only driver at that point still capable of denying Hamilton the championship – spun several times and eventually finished down in 14th.
After the race, Wolff was asked if he would rather have a driver in the other car who could push the seven-time champ harder in the title battle, as happened when Nico Rosberg – who beat Hamilton to the 2016 championship – was at the team.
READ MORE: Hamilton contract likely to be sorted towards the end of 2020, says Wolff
"I think if you have a dynamic between two drivers that is where the talking happens on track, I think you can have two alpha males [in the team]," Wolff said. "And Valtteri has shown some really good performances this year but then dropped away towards the end.
"I like Valtteri and Lewis. The combination works well. When Lewis has a bad day, then Valtteri pulls it off, then the other way around: Valtteri had a really bad day today and then Lewis wins the race. I think as a combination, it really works well."
And as for the race at Istanbul Park where Bottas spun six times in one of his worst finishes in recent memory, Wolff described it as a "perfect storm".
READ MORE: 'It's the thing that people don't see' – Pete Bonnington on how 'rock star' Hamilton keeps improving
"I think he suffered from what many other drivers suffered out there, that simply, the tyres were not in the right temperature window," Wolff explained. "And once you're in that kind of spiral, it's very difficult to set yourself back in a good position and I think, today, everything came together for him – the perfect storm."
Mercedes head to Bahrain with both titles in the bag while Bottas will hope to end his season on a high as he's now more than 100 points behind Hamilton in the standings – and just 27 ahead of Max Verstappen in third place.