Wolff: Vettel/Leclerc relationship has 'potential for rivalry and escalation'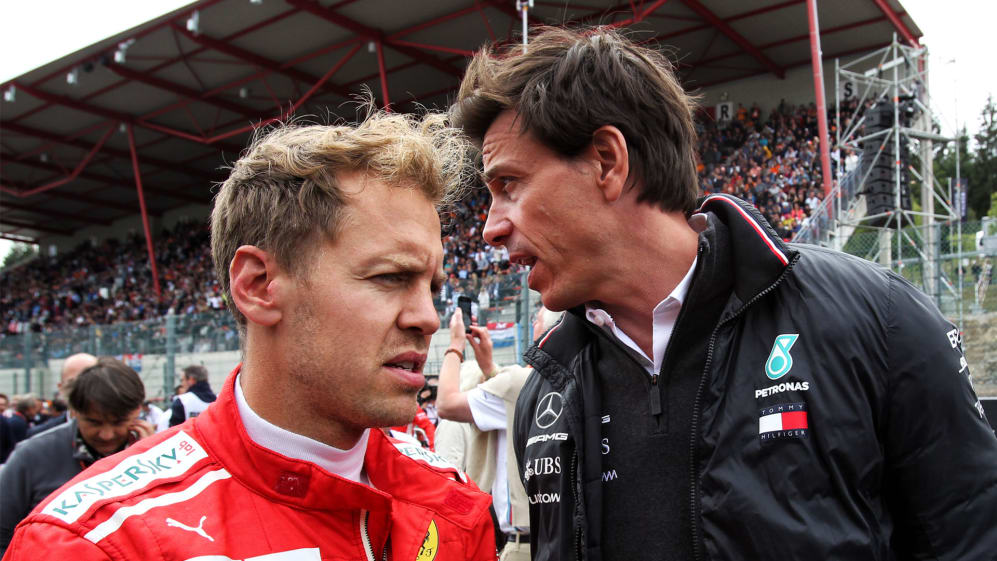 Mercedes Team Principal Toto Wolff has issued a stark warning to rivals Ferrari in the wake of Sebastian Vettel's Singapore Grand Prix victory, claiming that the relationship between Vettel and Charles Leclerc had the potential to turn toxic if not managed correctly.
Vettel benefitted from being pitted earlier than race leader and polesitter Leclerc in Singapore, allowing him to undercut the Monegasque when he pitted himself a lap later. That led to Leclerc complaining angrily over team radio about what he perceived as Vettel's preferential treatment, as the German held on to score his first victory of 2019.
READ MORE: Binotto explains how Red Bull inadvertently cost Leclerc Singapore victory
And off the back of the Italian Grand Prix where it was Vettel who was angered after Leclerc appeared to renege on an agreement to provide him with a tow in qualifying, it seemed that the relationship between the two drivers was in danger of turning frosty – especially now that Ferrari have begun to win races…
Two alphas competing for position has the potential for rivalry and escalation – we've been there...
"I think always two alphas competing for position has the potential for rivalry and escalation within the team," said Wolff, who had to manage his own difficult driver situation when Lewis Hamilton and Nico Rosberg were paired up at Mercedes at the start of the V6-hybrid era.
"We've been there and I think today as a team, we are very strong, with a clear philosophy. On the positives, they keep taking points away from each other, which is an advantage."
Mercedes find themselves on the back foot following three Ferrari victories in succession, the last coming at a track where the Scuderia were expected to struggle. And while Mercedes have never been beaten at the upcoming Russian Grand Prix since its inauguration in 2014, Wolff was taking nothing for granted given the recent run of form.
READ MORE: Ferrari hungrier than us, says Hamilton as he urges Mercedes to 'step it up'
"Sochi has been a strong circuit for us in recent years but those trends don't mean anything once we are on the ground," Wolff said ahead of the action in Russia. "We expect the weekend ahead to be another challenging one for us.
"The last seven races have shown us that we are in the midst of a fierce battle – and we need to be at our best in every area to claim the top step of the podium."
Although they now haven't won a race since Hungary back at the start of August, Mercedes at least enjoy a still-healthy 133-point lead over Ferrari heading into the Russian Grand Prix weekend, having dropped just 17 points to their rivals in the last three races despite Ferrari's victories.
READ MORE: These were the two key factors behind Ferrari's surprise Singapore form