Zhou 'proud' of Alfa Romeo after first top-10 finish since Montreal in Italian Grand Prix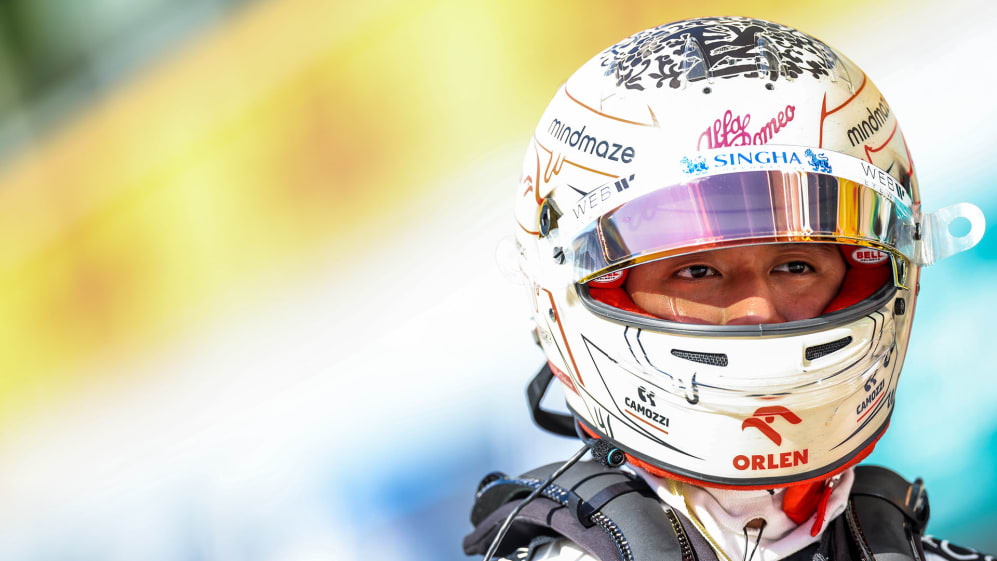 Zhou Guanyu took the chequered flag at last weekend's Italian Grand Prix in 10th place, with the rookie driver left praising his team's ability to turn their form around – from a tough outing at Zandvoort to a points finish in Monza.
Zhou started the race on Sunday in ninth place and made a steady start before being overtaken by the charging Carlos Sainz on Lap 8, dropping him to 10th. After his first stop – when he put on a set of the hard tyres – Zhou was left to battle Nyck de Vries for P10, before Daniel Ricciardo's DNF promoted him into the points.
Speaking after the race, Zhou was thrilled to give Alfa Romeo their first points since Montreal and was full of praise for his team's ability to turn their form around in a week.
READ MORE: Ferrari 'made a step ahead' at Monza, says Binotto after Sainz recovery and Leclerc podium
"It felt like it's been such a long time from my side and also for the team because it's been pretty up and down. The first part of the season, we had a lot of DNFs and the second part we weren't competitive enough to be in the points.
"So, today was a good result… a home race for Alfa Romeo. So, very happy and proud with the job we were able to do in the short term to turn it around from Zandvoort to here."
Looking forward to the upcoming races in Singapore and Japan, Zhou says it's important for Alfa Romeo to understand what they did so well in Monza and what they did not get right at Zandvoort, before predicting a "super tough" end to the season.
READ MORE: 6 Winners and Losers from the Italian Grand Prix – Who starred at Monza?
"I mean, you know, we have to analyse what was wrong [in Zandvoort] and what was good this weekend and try to be ready for the next double header, which is Singapore and Japan," said Zhou.
"I'm really looking forward to these two races, a bit more closer to home, so I will have a lot of support there, and I am excited for what is coming. But again, it will be a super tough finish to the end."
Team mate Valtteri Bottas finished the race in P13, having suffered damage to his front wing at the start of the Grand Prix, but the Finn was still pleased with the performance of the C42 on Sunday.
MONDAY MORNING DEBRIEF: The 3 key factors that enabled Verstappen to win the Italian Grand Prix
"I had contact from behind and then I hit the car ahead and I lost the front wing end plate," Bottas explained. "At that moment, that triggered an anti-stall in the engine which I couldn't recover until exit of Turn 2. So, that's why I was pretty much last after Turn 1 and 2.
"I think even with the damage, [the pace] wasn't that bad, so it's good to see that we had one car in the points today and myself not that far off, so that's at least quite a bit better than the last few events, and hopefully it will be the same case at Singapore."