Feature
10 crucial moments that decided the 2018 world championship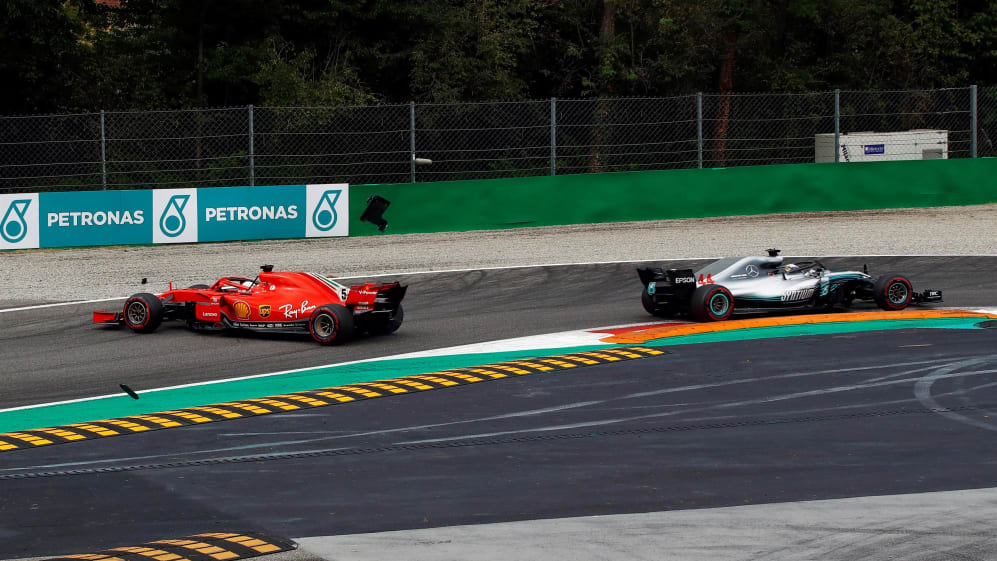 The 2018 championship was one that swung back and forth, back and forth repeatedly, as Lewis Hamilton and Sebastian Vettel fought tooth and nail to see which of them would be crowned a five-time world champion first. And after Hamilton finally won out at the Mexican Grand Prix, we choose the 10 key points that ended up tipping the balance in the Mercedes driver's favour...
1. Lewis limits the damage in Bahrain
It's hard now to think of a time when Vettel was dishing out the pain to Hamilton on a regular basis. But at the start of 2018, it was the Ferrari star who was very much in the driving seat after securing back-to-back wins at the opening races in Australia and Bahrain – the first time he'd done that since his dominant 2011 title season.
After a Mercedes software glitch helped Vettel to finish ahead of pole-sitter Hamilton in Melbourne, the Briton was again on the back foot in Bahrain. He qualified fourth to Vettel's pole before a gearbox-replacement penalty dropped him down to ninth on the grid. Hamilton played it cool when the lights went out, though, methodically and strategically working his way up the order – although he did allow himself a bit of fun with a triple overtake on Fernando Alonso, Esteban Ocon and Nico Hulkenberg – and ending up third.
Not the fairytale start to the year that Hamilton might have wanted – but as the Mercedes man so ably demonstrated in Bahrain, you don't need to crush all of your opposition all of the time to be crowned champion come the end of the year. Sometimes it's better to know that victory is out of reach and make the best of a bad situation – and that was something Hamilton would repeatedly do far better than Vettel throughout 2018.
Championship standings
1 Vettel – 50 points
2 Hamilton – 33 points
2. Vettel and Verstappen clash in China
As in any championship, there were some bit-part players who had their role in Hamilton's success. In China, that came in the form of Max Verstappen, whose hot-headed start to the year at one point led to him threatening to dish out head butts to overly-critical journalists...
To get back to China, though, it was as he was attempting to overtake Sebastian Vettel for third place going into Shanghai's hairpin that Verstappen got it all wrong, clumsily clattering his Red Bull into the side of Vettel's Ferrari.
Both continued, Verstappen finishing fifth, Vettel eighth, while Hamilton could only claim fourth behind eventual winner Daniel Ricciardo, on a day when both Mercedes and Ferrari were out-witted in the pits by Red Bull. But critically, with neither Hamilton nor Vettel having the pace to take victory, it was the British driver who was able to out-score his German rival on the Sunday.
Championship standings
1 Vettel – 54 points
2 Hamilton – 45 points
3. Vettel lock-up leaves him fourth in Baku as Hamilton scores first win of the year
So Vettel had won two races and been the innocent victim in the third so far in 2018. But then came Baku, and the first glimpse of an impetuous streak to the German that would ultimately play a big part in him losing the title.
Once the Safety Car that had been brought out for the clash between the two Red Bull drivers (and kept out after Romain Grosjean's embarrassing crash while following it) Vettel immediately went after Valtteri Bottas' lead at the restart. But instead of a silky passing move at Turn 1, Vettel overcooked it, locked up his front-left tyre and dropped to fourth, where he'd eventually finish.
Vettel attempted his move with four laps to go – and while everyone loves a trier, a bit of that Hamilton patience would have seen Vettel inherit the lead the next time around, when Bottas' tyre exploded after the Finn had run over some debris. He wasn't to know that, of course, but to add salt to the wounds, the flat spot Vettel earned himself in the process allowed Sergio Perez to pass him for the final podium place (once Bottas had retired), while Hamilton won the race. And as we'll see, it wasn't the last time in 2018 that Vettel leaked points through his desire to get past his rivals as quickly as possible…
Championship standings
1 Hamilton – 70 points
2 Vettel – 66 points
4. Brilliant damage limitation sees Hamilton finish second to sublime Vettel in Great Britain
Hamilton and Vettel arrived at Silverstone tied on three wins apiece and separated by just one point in the drivers' standings. What we saw from Vettel in Great Britain was a reminder of why he's a four-time world champion. What we saw from Hamilton was a confirmation of why he's now a five-time one.
Vettel was incisive off the line from P2 on the grid, grabbing the lead as pole-sitter Hamilton's slower start left him vulnerable to the late-braking Kimi Raikkonen. The Finn tobogganed into the back of Hamilton, spinning him around and leaving him to rejoin in 18th.
From there, Hamilton recovered brilliantly to finish second to an equally-brilliant Vettel at the flag. There'd been no histrionics from Hamilton, no bemoaning his misfortune. He simply got his head down and went about picking off the cars in front of him coldly and clinically. Sure, the backmarkers he passed would no doubt have loved to have a Mercedes W09 to help them get back up to the front. But it truly took a driver of Hamilton's calibre to go from being spun to the back of the pack on lap one to just 2.2s off the race victory by the end.
Championship standings
1 Vettel – 171 points
2 Hamilton – 163 points
5. Hamilton takes stunning recovery win as Vettel crashes out in Germany
Talk about a race of contrasting fortunes. Initially it had looked like bad fortune would be on Hamilton's side in Germany, after a hydraulics issue ruled him out of qualifying after Q1. He lined up 14th on the grid while Vettel led away from pole. We were then treated to a fine first 50 laps from Vettel as he assuredly controlled the race, looking set to take his first ever home victory at Hockenheim.
But then the rain started falling, and in grim, greasy conditions on lap 51 of 67, the unthinkable happened. Vettel, still circulating on slick tyres, left his braking dangerously late for the Sachskurve corner. His tyres locked up, and he was helpless to stop his car slithering off the track, across the gravel and into the wall. What the fans saw next was a flurry of fists as Vettel pounded the steering wheel of his SF71H. What viewers at home heard next was the small, emotional voice of Sebastian Vettel uttering some choice Anglo-Saxon…
As if that wasn't bad enough, the ensuing Safety Car for the incident ultimately allowed Hamilton to grab the lead when both Bottas and Raikkonen pitted – while Hamilton, critically, avoided a penalty after engineer Pete Bonnington called him into the pits then changed his mind, leaving Hamilton to bounce awkwardly across the grass and back onto the track. But after Mercedes called off Bottas' attack on Hamilton, the stage was set for the Briton to take a phenomenal victory in front of the Silver Arrows' top brass.
Championship standings
1 Hamilton – 188 points
2 Vettel – 171 points
6. Hamilton defies Ferrari pace advantage in Hungary
The script said that Hungary should have been fought out between Ferrari and Red Bull, with Mercedes trailing behind as 'worst of the first'. And that's how it may well have played out had Hamilton's brilliance in the wet in qualifying not seen him snatch an unlikely pole position.
Up until then, Mercedes had looked to be in deep doo-doo in dry conditions, both Hamilton and Bottas spinning their cars in Free Practice 3, their W09s looking borderline undriveable. But no-one could touch Hamilton in qualifying, the Briton driving with poise and confidence in the wet to out-pace the Ferraris by half a second.
From there, Hamilton's job in the sunny race on Sunday was surprisingly easy. He led off the line as Bottas covered him from any attack from the Ferraris, before enjoying a pleasantly dull afternoon out in front as the rest squabbled behind, Hamilton's Mercedes miraculously transformed into a peach of an F1 racer.
Vettel might have stolen wins at Hamilton-favourite tracks like Silverstone and Montreal in 2018, but with the German finishing second in Hungary – and just a week after his ignominious defeat on home soil – Hamilton had delivered the one-two punch back as F1 entered the summer break.
Championship standings
1 Hamilton – 213 points
2 Vettel – 189 points
7. Vettel tangles with eventual race-winner Hamilton in Italy
As you can see from the points above and below, a championship is a living, breathing thing, constantly in flux, altered by micro moments. But if you could isolate just one sliver of the 2018 title race that would come to define it, one which truly turned the weathervane in Lewis Hamilton's favour, lap one of the Italian Grand Prix would arguably be it.
As in Hungary, everything had looked set for Ferrari to bury Mercedes. Vettel had come back rejuvenated from his summer hols and trounced Hamilton in Spa, leaving Mercedes flabbergasted as to where their pace had gone. Then Ferrari locked out the front row in Monza, and it seemed that the story of the final half of the 2018 season was set to be Vettel running away to his fifth crown.
But as the race got underway, Vettel defended too aggressively from the fast-starting Hamilton into the second chicane. His Ferrari was spun around and he was forced to spend his afternoon picking through traffic rather than getting the hammer down in clean air – similar to the net effect of his lap one crash in France with Valtteri Bottas.
Vettel would finish the race in fourth, while Hamilton won out in a brilliant duel with Raikkonen to deny the tifosi a Ferrari victory once again in Monza. As he stood and endured the Italian fans' operatic booing, Hamilton must have been wondering where that win had come from. Little did he know that he wasn't going to be off the top step for the next three races…
Championship standings
1 Hamilton – 256 points
2 Vettel – 226 points
8. 'Stardust' pole lap helps Hamilton to victory in Singapore
Much of Lewis Hamilton's 2018 has been marked by an eerie near-perfection, in contrast to Sebastian Vettel, who has ranged from the sublime to the scrappy – and it was the latter trait that we saw in the first day's running in Singapore. Vettel, pushing the boundaries in Free Practice 2 on Friday, clanged the rear of his Ferrari against the wall at Turn 21, relegating him to the pits and ruining his long-run simulations. A minor mistake, yes, but it was exactly the type of error the German didn't need as he sought to arrest Hamilton's ballooning championship lead.
It set the tone for the rest of Vettel's weekend, too – a step behind Hamilton all the way. First, there was Hamilton's 'stardust' pole lap. Vettel felt he had the pace in his car to have bettered Hamilton's time. But while Hamilton strung his lap together, Vettel, well, didn't.
It was the same story in the race, Hamilton on easy street at the front of the field, Vettel left to scrap with Max Verstappen, the Dutchman trumping Vettel after the pit stops to claim second place. Another race, another 10 points eked out between Hamilton and Vettel in the title fight.
Championship standings
1 Hamilton – 281 points
2 Vettel – 241 points
9. Team orders gift Hamilton win in Russia
It was notable in Monza how little Kimi Raikkonen had seemed to want to help his team mate. That was hardly surprising, given that he found out over the weekend that he was set to be replaced by Charles Leclerc at Ferrari for 2019.
Resistant Finns weren't the problem for Mercedes, however, as Hamilton found out to his delight in Russia. As he was in Austria this season (before mechanical gremlins ruled him out of the race), Valtteri Bottas looked on punchy form in Sochi, nicking pole off Hamilton as the Mercedes cars dominated qualifying.
In the race, Bottas took the lead, while Hamilton had to overcome a rude baulking from Vettel down the pit straight before going on to pull off a delicious move around the outside of his title rival in Turn 3.
Then, with Mercedes running one and two, the inevitable call came from the Mercedes pit wall. Bottas was moved aside, allowing Hamilton to go on and record his 70th career victory as Vettel finished third. Hamilton was under no illusion that Bottas had been the better Mercedes driver on the day. But his team had made the crucial call, and – with Bottas well out of the title race – had inched their man closer to the crown.
Championship standings
1 Hamilton – 306 points
2 Vettel – 256 points
10. Hamilton dominates in Japan as Vettel loses out in Verstappen clash
"If you no longer go for a gap that exists, then you're no longer a racing driver." Perhaps it was Ayrton Senna's immortal words that were ringing in Sebastian Vettel's head when he went for an opportunistic dive down the inside of Max Verstappen at Suzuka's Spoon corner on lap eight of the Japanese Grand Prix.
Now, we could debate till we're blue in the face and the cows have come home about whether the move was on or not. But the real questions are: did Vettel absolutely have to go for the overtake at that point (this was on lap eight of the Grand Prix, don't forget, and Vettel knew that Verstappen had yet to serve a five-second penalty)? And would Lewis Hamilton have done the same thing?
Either way, the outcome was the same as in France, as in Italy, as in Austin – Vettel left having to fight back as Hamilton sailed on imperiously in front of him, putting together another piece of the puzzle that would give him that well-deserved fifth world title two races later. Japan was the last time Hamilton would stand on the top step before he was crowned champion. And while a third and fourth place in the USA and Mexico might have been a slightly lukewarm way for Hamilton to get his title bid over the line, it proved the critical point that the Mercedes man seems to understand so well – that wins alone do not a championship make.
And while Vettel added five victories to his tally in 2018, the German maintains his record of having never won a race after starting from outside the top three. And that, perhaps more than any other statistic you could pull out, is perhaps the best explanation as to why Lewis Hamilton, and not Sebastian Vettel, is a five-time world champion in 2018.
Championship standings
1 Hamilton – 331 points
2 Vettel – 264 points