'100% it's going to be enjoyable' – Alonso relishing prospect of Spa qualifying after ending second practice P4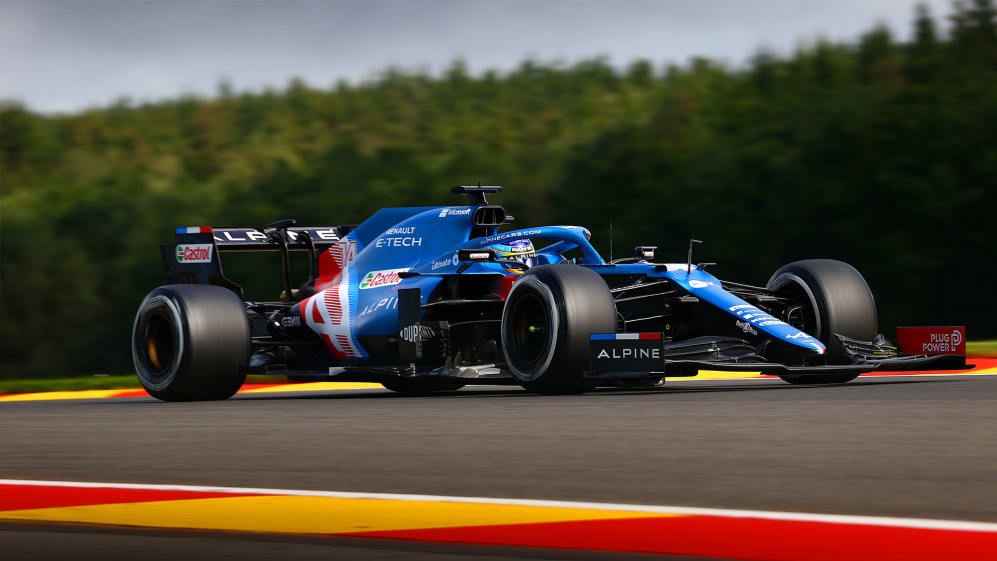 It's three years since Fernando Alonso last drove a Formula 1 car at Spa-Francorchamps. And the Spaniard admitted that he was loving being back at the iconic Belgian track in 2021, especially after setting the fourth fastest time in Free Practice 2 for Alpine.
With team mate Esteban Ocon and Alonso having ended FP1 in P9 and P10 respectively, Alonso then upped the ante in FP2, going fourth fastest, just 0.481s off Max Verstappen's leading time for Red Bull, leaving the two-time champion buoyant about Alpine's prospects this weekend.
"Today was a good day for us, the car felt fast," said Alonso, who announced at the start of the weekend that he would remain with Alpine for 2022. "It was not easy to drive, I have to say, we kept changing things on the car because we still have to fine-tune a little bit the set-up.
READ MORE: Alpine boss says keeping Alonso for 2022 was not a sure thing at start of season
"But it seems the timed lap is coming quite nicely and we are fast, so that's a good sign and let's see. I think the weather is going to be the biggest thing this weekend. So far it has been dry, but we cannot be 100% sure for Saturday and Sunday."
Asked if he was enjoying being back at the Belgian track in an F1 car for the first time since racing here with McLaren in 2018, meanwhile, Alonso replied: "Yes definitely. Spa gives you so much in terms of driving experience, with all types of corners, up and down, elevation changes, so high adrenaline laps for sure, even in practice. I imagine tomorrow, qualifying laps when the car is light, 100% it's going to be enjoyable."
READ MORE: 'The car wasn't quite underneath me today' says Hamilton as Mercedes search for gains at Spa
It was Ocon who arrived in Spa as F1's most recent winner, after his victory last time out at the Hungarian Grand Prix. But despite blotting his copybook with a wild spin in FP2 before finishing the session in P7, Ocon was happy overall with how his own day had gone.
"We looked competitive today, both cars in the top 10 easily, purple Sector 1 for me, so it's been pretty interesting as a day overall," said Ocon.
"Of course, pushing the limits, I went a little bit over them, but no damage so that was the most important," added Ocon of his spin. "We have a bit more to come for tomorrow. I don't think we put everything together today, neither for me, neither for Fernando, so that's good news. It means we're competitive and that we can find a little bit more for tomorrow.
FP2: Verstappen tops second practice, before triggering red flag with late shunt at Spa
"The aim is still going to be to get into Q3," concluded Ocon, who qualified sixth to team mate Daniel Ricciardo's fourth here in 2020. "Last year we got a really good result in quali. Of course if the car is handling the same – we hope it will be – then let's see where we end up."