Feature
5 of our favourite moments from Netflix's Drive To Survive Season 4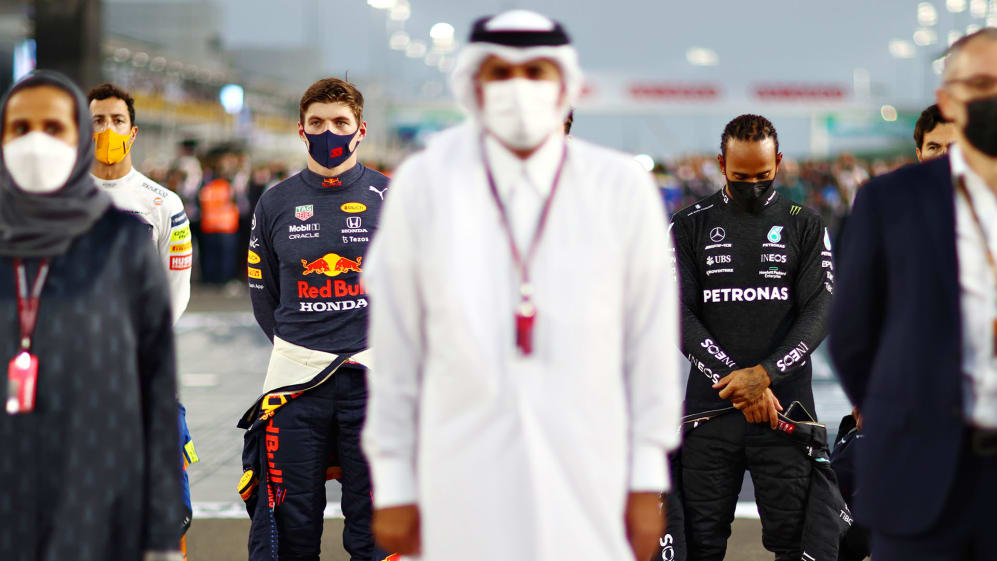 Netflix's Formula 1: Drive To Survive is back for a fourth season – and it really is the gift that keeps on giving. Ahead of its 10-episode release next week, here are five of our favourite moments…
1. Wolff vs Horner
One of the most intriguing threads in an absorbing 2021 campaign was the title fight off track, where Red Bull chief Christian Horner and Mercedes boss Toto Wolff were the main protagonists – and they feature heavily in the latest edition of the hit F1 documentary series.
WATCH: Enjoy the gripping trailer for Drive To Survive Season 4
The crew spend a lot of time with Horner away from the track, while he's out running in the Oxfordshire countryside, riding horses with wife Geri Halliwell and clay pigeon shooting.
Horner is punchy throughout. Of Wolff, he says: "He inherited something that was already well-oiled. He hasn't had to build anything. He operates the team differently to me. He's more motivated by the financials, rather than the competition."
Wolff gives as good as he gets, joking with Horner "don't be too grumpy" after Mercedes beat their rivals at a race.
READ MORE: Intense rivalry with Red Bull chief Horner 'just what the doctor ordered' says Mercedes boss Wolff
As Red Bull start the season stronger, we watch over Wolff's shoulder as he talks to senior team personnel on a video call. He remains calm throughout, giving a glimpse into his leadership style. He admits some of the directions the team have taken are wrong but tells them they shouldn't fear Red Bull.
2. Ricciardo's anguish and ecstasy
Daniel Ricciardo has been a centrepiece in Drive To Survive since its very first series – and that remains the case in season four, as the documentary series charts his painful start to life at McLaren.
The British team – like many of their rivals – gave Netflix impressive access throughout the year, and the result were some intimate moments which show the agony Ricciardo goes through as he tries to settle in.
READ MORE: Ricciardo calls Monza 2021 win 'biggest moment of my career'
After getting knocked out in Q1 in Portugal, Ricciardo asks what the fine is if he doesn't do post-session media. As he sits on the floor and sinks his head in his hands, he says "it's embarrassing."
We later see him in Los Angeles, where he spent the summer break. He described 2021 as the "toughest" of his career and admitted he's not "a good loser" because losing fills him with stress. Ricciardo has been very open across the previous three seasons of DTS, and that doesn't change in this edition, even when times are tough – as we see him fight the biggest battle of all, which is with himself.
The break, as we know, did him good. In the third race back, he clinches victory at Monza, his first for McLaren, and the pendulum starts to swing the other way, from stomach-churning pain to outright ecstasy.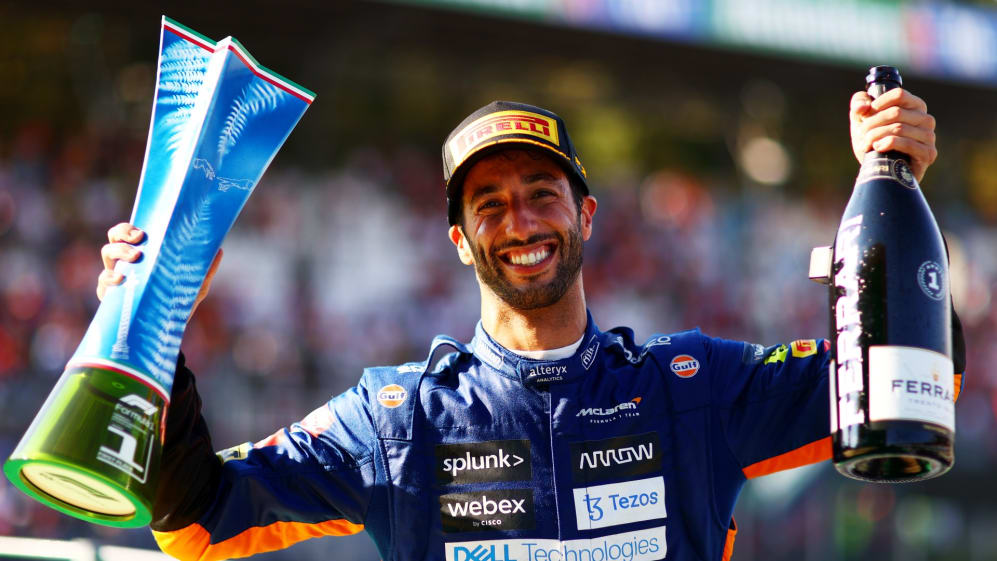 3. Rising star Russell takes centre stage
After featuring for less than a minute in last year's series, Russell jokes that he hopes for more airtime in season four. And he can have no complaints this time around as he takes a leading role this season. The documentary charts his impressive campaign with Williams and his battle with Valtteri Bottas for the second seat at Mercedes for 2022.
It covers off the crash between the duo at Imola – and how Mercedes handled that behind the scenes. We also see an awkward press conference when they were paired together but don't have any news to report on their futures.
READ MORE: Russell not thinking about 2022 title bid with Mercedes despite promising pre-season showing
There's plenty of behind-the-scenes time with Wolff, too, including a discussion about the pros and cons of keeping Bottas and bringing on Russell while on a private jet, and a phone call he takes on the way to Silverstone with strategy guru James Vowles – who tells the boss that the championship fight has become so close, he needs to have a difficult conversation with Bottas and tell the Finn he will need to abide by team orders.
Episode eight closes with some fly-on-the-wall filming, capturing a chat between Wolff and Russell. Wolff says to the Mercedes junior: "The bad news is you're racing against Lewis Hamilton, the good news is you're doing it in a Mercedes." The two hug, Russell thanks his mentor and they head off into the hospitality for dinner.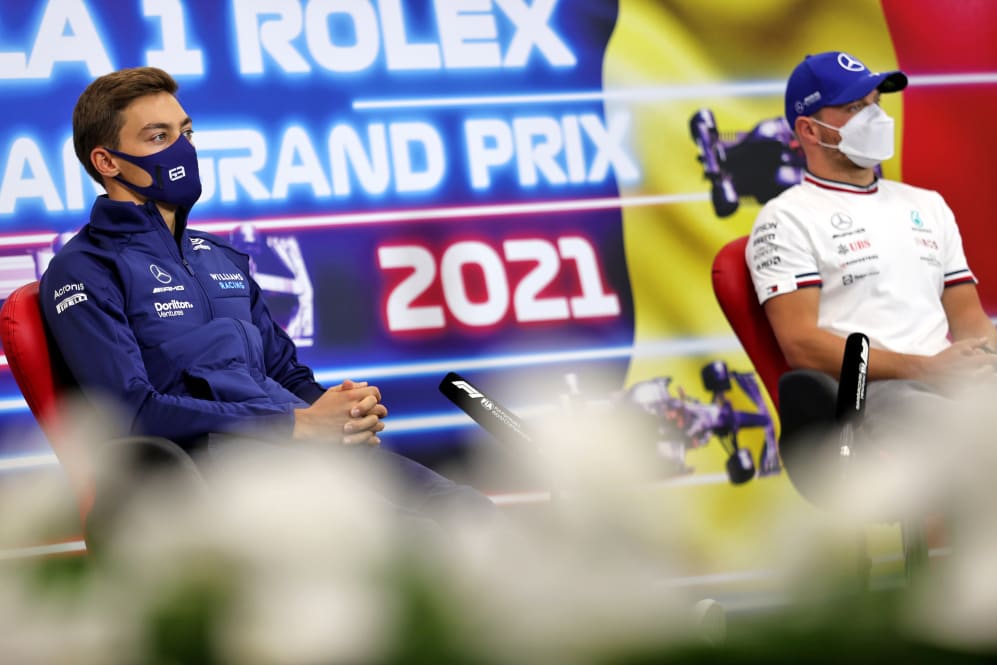 4. Hamilton and Verstappen do battle
The enthralling battle between title protagonists Lewis Hamilton and Max Verstappen comes to life in episode three, which focuses on the Monaco Grand Prix and the swing in momentum after Max Verstappen clinches his first victory on the streets of the Principality.
As Red Bull go on a run of five successive wins, we cut to shots of Hamilton examining the Red Bull up close in the pit lane. He then heads back to the Mercedes garage and talks through the differences between the Red Bull and his Silver Arrow with boss Toto Wolff.
READ MORE: Verstappen signs bumper new deal with Red Bull until end of 2028
We also get an insight into how Hamilton copes with arguably the toughest championship campaign he's ever faced. The Briton admits that his mistake in Baku, when he locked up and ran on at Turn 1 at the restart, "f***** him up", and he opens up about the anxiety he has felt through his fear of getting Covid again.
And on his view of banging wheels with Verstappen at Silverstone, Hamilton says "if you don't for a gap, you may as well stop racing", which is very similar to a famous phrase used by his hero Ayrton Senna.
5. Tsunoda makes a name for himself
We learned in 2021 that there is no one quite like Yuki Tsunoda, the pocket rocket who blitzed through his junior career to get to reach F1 with just two years of international single-seater experience under his belt.
The Japanese racer had a difficult rookie campaign, which was characterised by a large damage bill for AlphaTauri, a few real high points that showed genuine potential and some fruity language on the radio.
READ MORE: The rise of Japanese racing sensation Yuki Tsunoda – as told by the man himself and the key figures in his career
In episode eight, the Netflix crew spend a fair bit of time with Tsunoda, where we learn of his disdain for laundry (judging by an overflowing washing basket and clothes all over the floor in his apartment), his love of food and his dislike of training – which he says he only does because he knows he has to!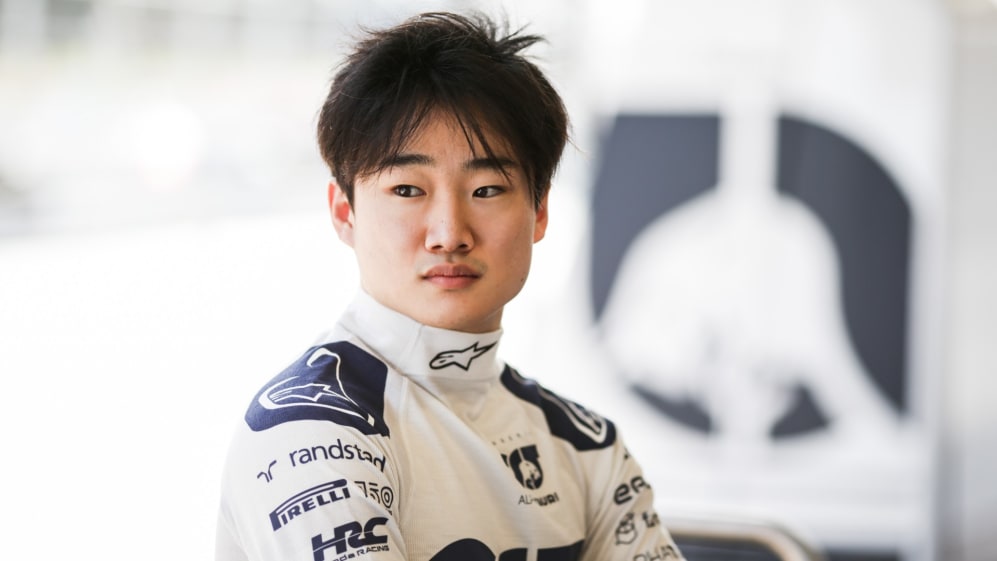 While boss Franz Tost has defended Tsunoda throughout, we see moments in the documentary where his frustration is clear. "What is he doing?" exclaims Tost when Tsunoda crashes in practice in Imola. We later see him looking at telemetry with the engineers and pointing out that he's braking too late into Turn 1 at Paul Ricard, which led to him crashing again. But it's clear from the footage that he is a popular member of the team and that they want him to succeed.
Formula 1: Drive To Survive Season 4 launches globally on Netflix on March 11.