Feature
5 things we learned from Friday practice at the Miami Grand Prix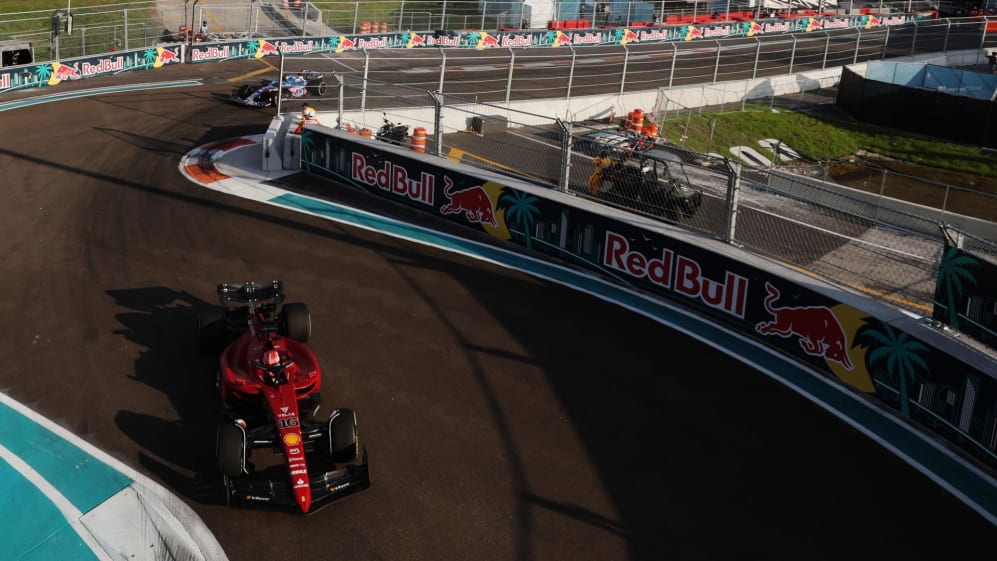 Mileage is so important for teams when they head to a new circuit, but that was at a premium for the frontrunners on Friday practice for the Miami Grand Prix, as they endured mixed fortunes. Here are five things we learned in Miami Gardens…
1. Potentially exciting times for Mercedes
There was plenty of activity outside Mercedes in Miami as photographers jostled to get snaps of an updated W13 that featured a new low-downforce rear wing, a revised front wing with eye-catching endplates and a revised beam wing.
The team were playing down their expectations for the suite of new parts, which have been in the pipeline for months, but their pace on track looked strong as George Russell topped the times in second practice.
READ MORE: 'We don't really understand it' says Russell after heading FP2 for Mercedes in Miami
The low downforce nature of the track will have reduced the porpoising that has afflicted them all season. And the hottest conditions of the year helped ease their pain getting the tyres up to temperature for a single lap.
Nonetheless, Russell and team mate Lewis Hamilton, who ended up fourth fastest in FP2, were unsure how much they have closed the gap to Red Bull and Ferrari.
Our data puts them third in both qualifying and race pace simulations, with both drivers achieving their ideal lap – made up of their best mini-sectors. However, it is believed the Silver Arrows were running low power modes and are in fact closer to the leading two teams.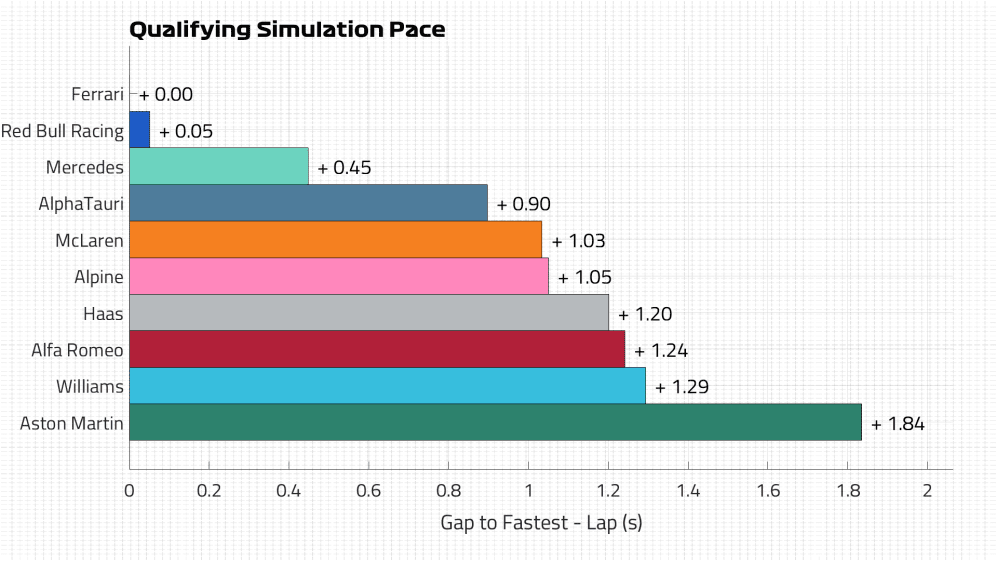 2. Mechanical gremlins hurt Red Bull again
Red Bull's highs of two victories in 2022, one of which formed a one-two, have been tapered by reliability issues, which yielded a double DNF in race one and another retirement for Max Verstappen in Australia – and gremlins struck again for the reigning world champion in Miami.
Verstappen managed just a handful of laps in FP1, spending most of the session in the garage as they looked to cure an overheating gearbox. The team ultimately changed it as a precaution for FP2, which cost him more session time, but when he headed out on track, a hydraulics issue saw him lose steering and that forced him back to the pits. He did not set a lap time.
READ MORE: Verstappen laments 'extremely painful' start to Miami GP weekend as Red Bull endure rocky Friday
There was better news on the other side of the garage, with Sergio Perez third fastest in FP2 – and of the laps that Verstappen did complete, he was up to speed and pushing towards the limit very quickly. Our data shows they are just a fraction off the best qualifying simulations and second overall in the race pace rankings behind Ferrari.
It's likely Red Bull will adjust their third practice programme to include more mileage for Verstappen so he can build up more confidence on a track he doesn't know, and try out the trio of tyre compounds.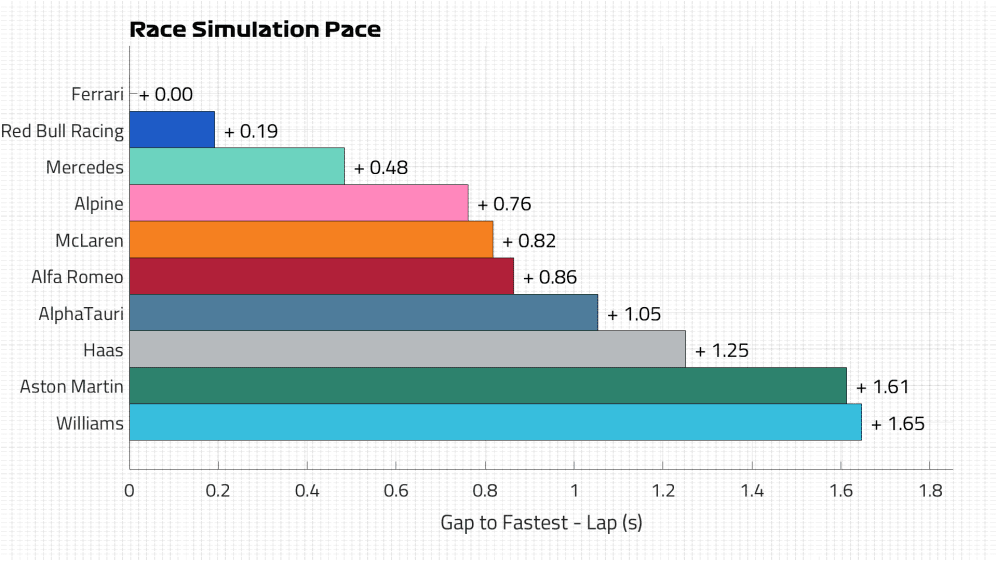 3. Mixed fortunes for Ferrari
On one hand, Ferrari should be pleased with the speed of the F1-75 in Miami, with Charles Leclerc second quickest in second practice. Had he put all of his best mini-sectors together, the championship leader would have been top of the pile.
But it was less good on the other side of the garage, as Carlos Sainz crashed early when running the softs in FP2 – having showed very strong pace on the medium tyres. There was quite a bit of damage, while the Spaniard was robbed of crucial mileage and a chance to do long runs.
READ MORE: Sainz backs himself after FP2 crash as Leclerc admits 'surprise' at Mercedes' Miami pace
Our data shows they are quickest in both qualifying and race simulations. Better still, it is believed they were running their engines on a very low power mode, so there should be plenty more to come.
Leclerc was pretty happy with the car but feels there's so much more they can do overnight to dial it in even more. Despite the crash, Sainz was upbeat, as not only does he know he has the pace around Miami but he's proved in the past that he can recover form after a series of frustrating results.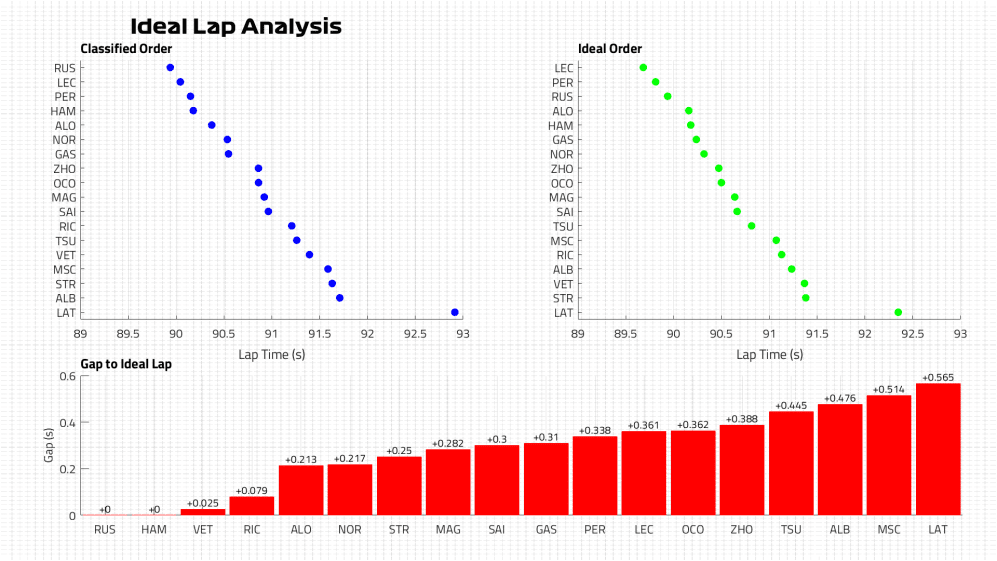 4. McLaren with more to come
Lando Norris and Daniel Ricciardo were in good spirits after Friday running, as while they weren't spectacular, they did find a direction late in the day that they feel will put them in a good position for the rest of the weekend.
Having struggled with their brakes in Bahrain testing, McLaren have diligently worked to understand their problems and then very quickly found a fix. Strong performance in Australia and then Imola proves they will be a potent midfield force this year.
READ MORE: What the teams said – Friday in Miami
They were fifth in both qualifying and race simulations, and struggled in the slow-speed corners, but it is anticipated they were running a different programme on Friday and will be in contention for strong points come Sunday.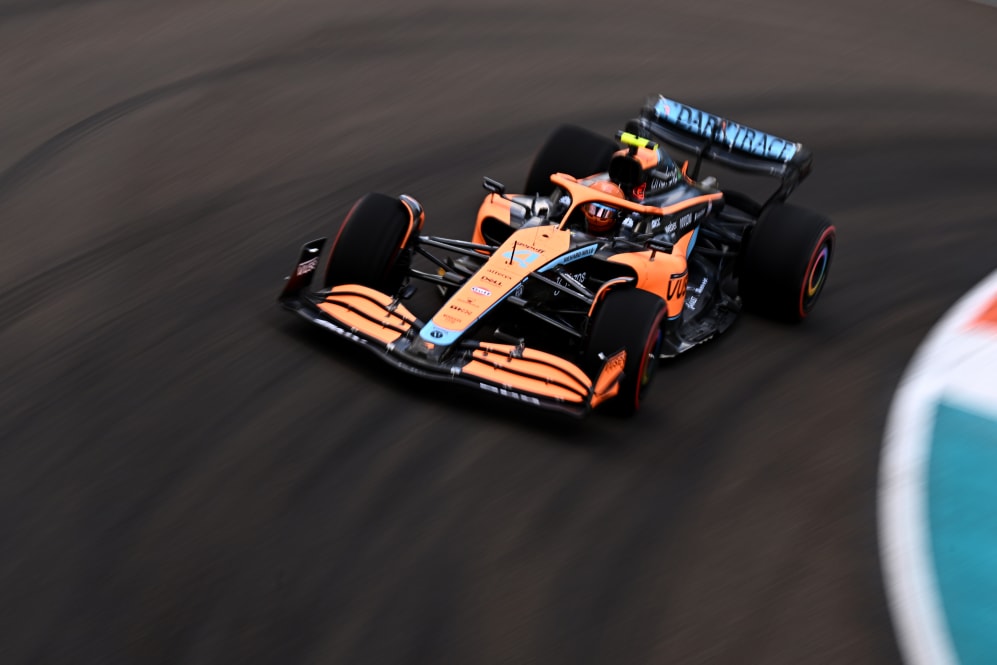 5. Alfa Romeo and Alpine look strong
There's a feeling inside Alfa Romeo that they should have scored significantly more points in the opening four races, but have been undone by bad luck, errors and unreliability. And there was more frustration on Friday in Miami as Valtteri Bottas lost the car in FP1 and spun rearwards into the barriers. He then spent FP2 watching from the sidelines while they fixed the car.
Our data shows they are eighth in the qualifying simulations and sixth in the race pace charts. But paddock insiders believe they are more competitive than that in both categories. Rookie Zhou Guanyu did a strong job throughout practice, gathering crucial long run data. The set-up direction the team made on his car for FP2 proved to be the right one, according to Bottas.
READ MORE: Bottas blames himself for 'really costly mistake' that ruled him out of FP2 running in Miami
They face strong competition from Alpine, who took a more aggressive approach to Friday practice – and it seems to have paid off, with both Fernando Alonso and Esteban Ocon excited by their relative competitiveness on low fuel.
It's been race pace where Alpine have found the going tough so far this year, the blue cars struggling to stop the tyres overheating after a series of laps – but there were encouraging signs in Miami, with our data suggesting there are fourth fastest in that ranking.
Watch the Miami GP Live on F1 TV Pro with exclusive onboard cameras, pre-race show and technical shows. Stream live ad free on your favourite device with F1 TV Pro. Subscribe now (only available in selected countries)