Feature
5 things we learned from Friday practice at the Saudi Arabian Grand Prix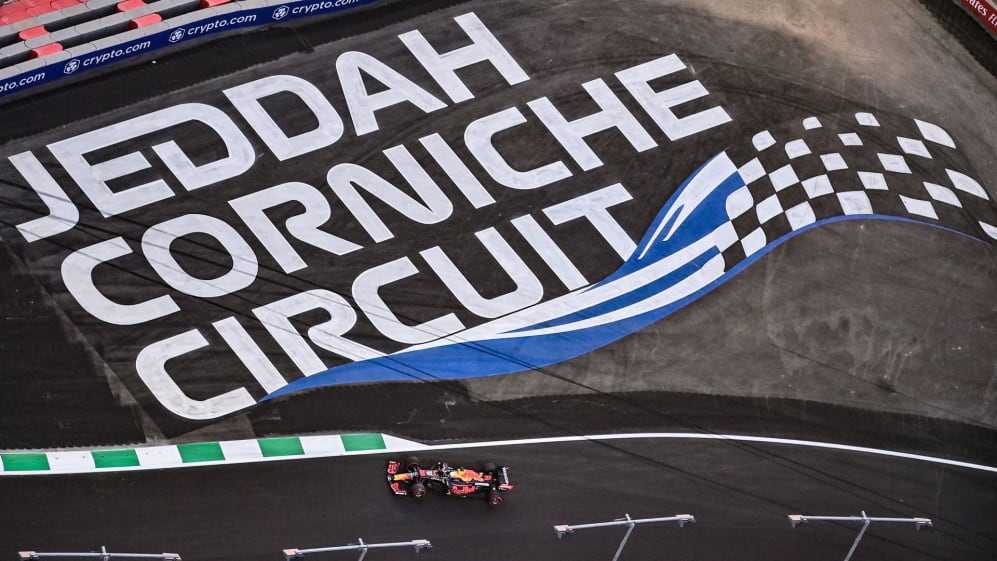 "It's quite hardcore, pretty full gas and close to the walls in high-speed." That's how Valtteri Bottas described the brand-new Jeddah Corniche Circuit – and the Finn wasn't the only one to be impressed, with all of the drivers enjoying the challenge. But who will be the ones to shine this weekend? Here are five things we learned from Friday practice…
1. Mercedes hold the early advantage
The simulations heading into the inaugural Saudi Arabian Grand Prix suggested the world's fastest street circuit would reward those with power – and thus the expectation was that Mercedes would be quickest.
And so it proved on Friday, as Lewis Hamilton headed a Silver Arrows one-two in second practice, the session which was most representative as it echoed the cooler conditions we'll see in qualifying and the race.
However, few expected Red Bull to be as rapid as they were, with Mercedes' one-lap speed actually 0.01s slower than their constructors' championship rivals based on our simulations.
READ MORE: Hamilton wary of Red Bull one-lap pace despite topping both Friday sessions at 'incredibly fast' Jeddah circuit
Mercedes' trackside chief Andrew Shovlin said the car was working well from the off in warmer conditions in FP1, but that it was "more of a challenge" in the second session concerning one-lap pace. However, he added: "We've got some ideas on how to tackle that and we'll be running our simulator in Brackley overnight exploring a few directions."
Their advantage over Red Bull stands at 0.58s in terms of long run pace, however, and while our data team have added the caveat that Red Bull's simulation was disrupted by the red flag caused by Charles Leclerc, the feeling inside the paddock is that the Mercedes have the stronger Sunday car.
"The long run pace seemed competitive; Lewis was a little happier than Valtteri, and we finished the day with quite different set-ups on the cars so there are some interesting comparisons to draw out of that data," added Shovlin. "It does seem like the car has good potential around this circuit but we've clearly got a bit of fine-tuning to do which will keep us busy overnight."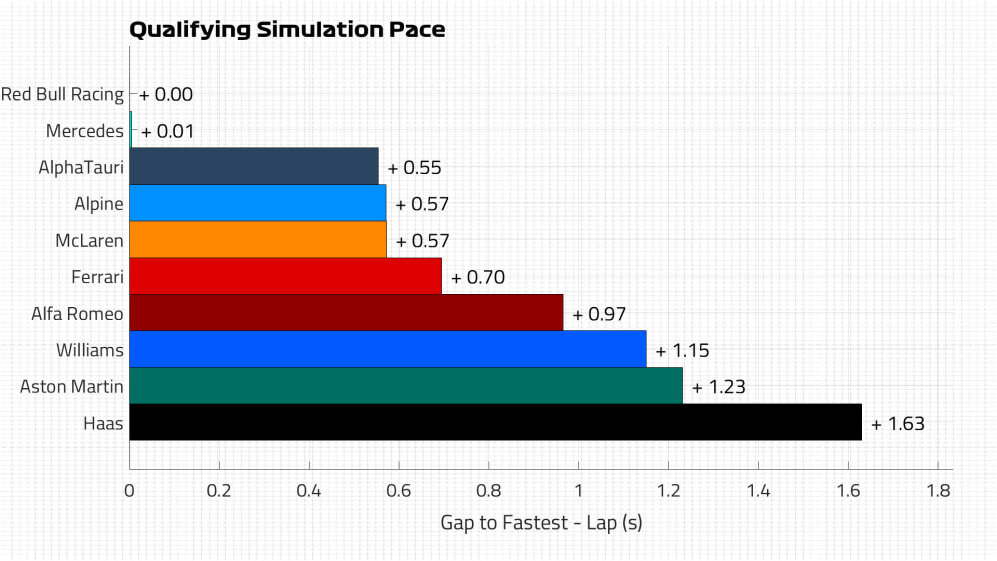 2. Red Bull closer than they anticipated
Red Bull feared this could be a difficult weekend for them, but they were pleasantly surprised that they were as close as they were on Friday.
Max Verstappen was up to speed very quickly, with 2008 runner-up Felipe Massa saying while we watched first practice that he was impressed at how much commitment the Dutchman showed early on at a new track. And had Verstappen got all his best mini-sectors together, there's nothing to choose between him and the two Mercedes cars over one-lap pace.
But why were they surprised? Well it seems the reality was slightly different to their simulations. "The circuit is a little bit tighter than the data suggested," said Red Bull boss Christian Horner. "The corners are a little bit tighter so it's not all the emphasis on horsepower that we thought it would be. That's encouraging. You could see there's a tenth or two between the cars, between the two drivers. On this type of circuit you can find that, so that's really encouraging for us."
READ MORE: Horner calls Red Bull's pace 'really encouraging' as they prepare for decisive battle in Jeddah
Sergio Perez was a little slower out of the blocks, but this isn't worrying Horner. "He's a slow starter but he gathers momentum and you can see he's building, building, building," he said. "And he's a wily old fox, he knows not to take huge risks too early on a street circuit. I think he's always gone well at circuits like Sochi and Azerbaijan and Monaco, I've got no doubt he's building those foundations."
If Red Bull can find something overnight and outfox Mercedes to pole, even if they are off on race pace, track position could well be key, with a number of drivers suggesting that overtaking could be a little tricky.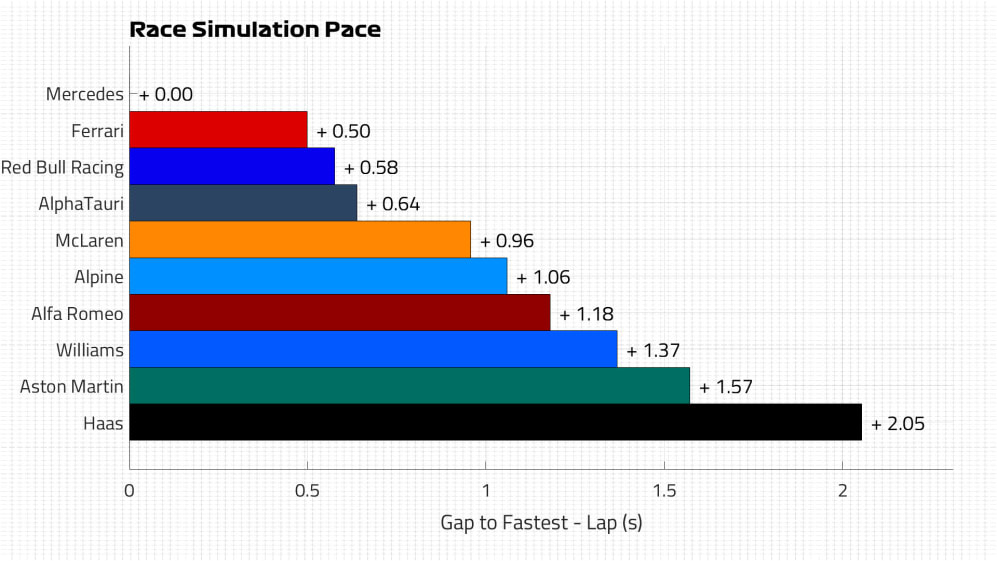 3. Ferrari fast in race trim but lacking over one lap
Ferrari arrived in Saudi Arabia with the momentum and a healthy 39.5-point lead over P3 rivals McLaren – and the feeling inside the team was that they should have a car that can be competitive once again.
They were put on the backfoot when Charles Leclerc crashed heavily in the closing stages of second practice, but fortunately he escaped unscathed and was cleared by the doctors. The team also said he will be able to run the same chassis and PU on Saturday, which means he will – for now – avoid any penalties.
READ MORE: Leclerc apologises to Ferrari for FP2 crash as Sainz eyes four-way battle in Saudi Arabia
It seems like there's work to do on one-lap pace, with Ferrari only sixth-best, but Carlos Sainz – on a run of 13 races in the points – wasn't too worried by the classification. He is feeling pretty confident about the weekend ahead and reckons it will be tight between the red cars, Alpine, AlphaTauri and McLaren.
In race trim, they look very good. In fact, according to our data, they are second best, 0.14s per lap quicker than AlphaTauri, and nearly half a second clear of McLaren.
4. AlphaTauri and Alpine hit ground running
Fernando Alonso hadn't realised he was only four tenths of a second off the ultimate pace in Friday practice when I mentioned it after the session. The double world champion prefers to play down Friday pace usually, but he couldn't deny that the car felt good around the 27-turn street circuit.
READ MORE: 'We've found a sweet spot' says Alonso as impressive Alpine form continues in Jeddah
Alpine have been unpredictable this year. Sometimes they turn up at a circuit and are quick out of the blocks before maintaining that through the weekend. Other times they are nowhere and at a loss to explain why. Right now, they are on a roll after a big 25-point score last time out in Qatar gave them a huge advantage in their fight with AlphaTauri for fifth in the constructors' championship – though executive director Marcin Budkowski said to me earlier that it could just as easily swing that way towards AlphaTauri this weekend.
And they are right to be wary of the little Italian team. Pierre Gasly has been one of the stars of this season, the Frenchman qualifying inside the top five in each of the last three races, and he is showing no signs of easing off the gas just yet.
He ended the day within one tenth of the leaders, with his team mate Yuki Tsunoda inside the top eight. Their overall single lap pace, according to our data, puts them fourth best, a fraction clear of Alpine – but it is in race trim that they really shine, that advantage rising to four tenths of a second. Providing they've got on top of the tyre issues that ruined their race in Qatar, AlphaTauri are still very much in the fight for P5.
READ MORE: Gasly thrilled with AlphaTauri's short-run performance as Tsunoda hails 'special' Jeddah track
5. Fast Jeddah track a hit with the drivers
Fast. Fast. Fast. That was the overriding review of the Jeddah Corniche Street track after the drivers got the chance to spend two hours throwing their machines around it.
The track was very dusty as F1 headed into town earlier in the week, but the organisers did a fantastic job to clean the surface ahead of practice. So when the drivers hit the track, they found a circuit that had a lot of grip.
That's all drivers ever want – and it meant they were able to find a rhythm quicker, with Hamilton saying the circuit was "beautiful to drive".
READ MORE: 'It's beautiful to drive' – The F1 drivers give their verdict after first day of running at brand-new Jeddah Corniche Circuit
The venue has Singapore and Baku vibes, with a hint of Macau thrown in. "It's different, very different to anything I've driven before really, to be honest," said Sainz. "The intensity that this track gives you and the thrill and the adrenaline is something that I haven't lived... since my Macau days."
READ MORE: What the teams said – Friday in Saudi Arabia
Qualifying should be an exhilarating affair. With so many blind corners, traffic could well be a problem – and that means getting a banker lap in early doors will be crucial. Come race day, the drivers will face a massive physical (courtesy of the heat and high-G corners) and mental (lots of corners in quick succession) challenge.
Add to that an intense title fight in both the drivers' and constructors' standings, plus mini battles all the way down the field, and this Sunday's race has all the ingredients for a feast of action.