Feature
5 things we learned from Friday practice for the Australian Grand Prix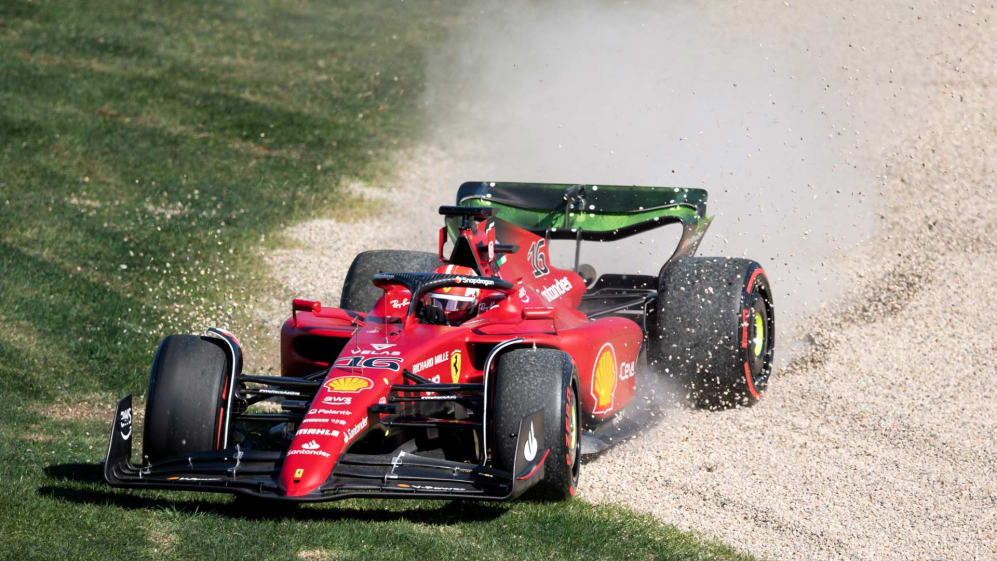 Ferrari edged out pre-weekend favourites Red Bull on the opening day of practice for the Australian Grand Prix. But a data dive suggests there is nothing to choose between the two teams that have dominated the campaign so far. Here are five things we learned at a revamped Albert Park in Melbourne.
1. Ferrari set impressive pace
Speaking ahead of the weekend, Ferrari's Charles Leclerc and Carlos Sainz said that while they expected to be in the mix, they felt the modifications to the track – which have seen a chicane removed, tweaks to five corners and a complete resurfacing – would not suit their car.
On Friday, it proved to be the case that the new high-speed section from Turns 6 through to the new Turns 9 and 10 is their weak point versus Red Bull, with the red cars slower on the straights and fast turns than Red Bull.
FP2: Leclerc leads Verstappen in second Australian GP practice session
However, they are fastest of all in the slow and medium-speed turns – and that's put them a fraction ahead in both qualifying and race pace according to our data.
There's work to do, though, with both drivers chasing more comfort in the car, Sainz admitting they are suffering from porpoising. And for qualifying, he said that much will depend on how everyone gets the best out of the soft tyre, with both Ferrari and Red Bull going faster on the second – and even third – runs on the C5 with cool down laps in between.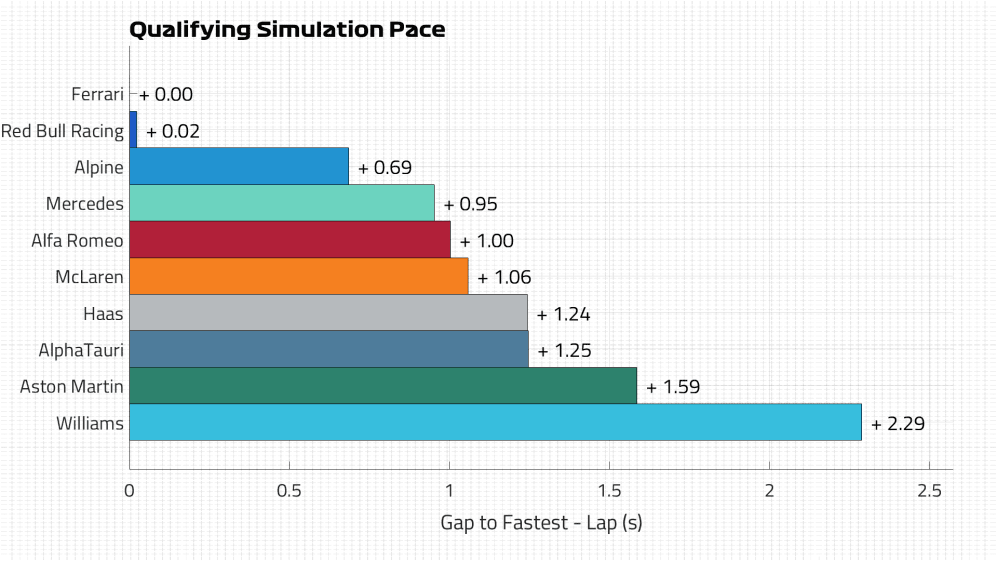 2. Red Bull chasing balance
Red Bull won't be too disappointed heading into Friday evening's data dive. The four-time world champions were edged out by Ferrari on the timesheets, but when times are reassessed for fuel, they know they are right in the hunt.
Max Verstappen would have matched Leclerc's time had he got all his best mini sectors together according to our data, but the Dutchman encountered traffic on one of his soft tyre runs and then made a mistake at the penultimate corner on another.
READ MORE: Verstappen shrugs off gap to Ferrari as he says Red Bull 'more or less' on their pace at Albert Park
The reigning world champion was also pleased with how the car felt on the higher fuel runs, the RB18 just 0.01s adrift of Ferrari in our race simulation rankings.
His team mate Sergio Perez was more frustrated, hinting the car felt better in FP1 than FP2 as they headed in the wrong direction with set-up – but he remained optimistic his team can find "a few tenths" that he feels would turn the weekend in their favour.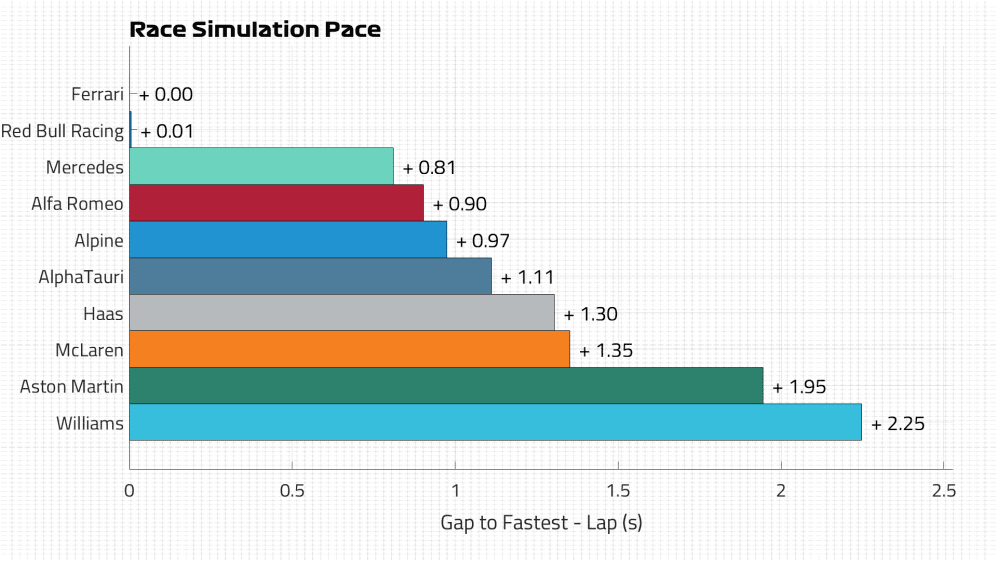 3. McLaren quicker than anticipated
Since their miserable experience with the front axle in Bahrain, McLaren have made steps forward and while they are small, further improvement in the understanding of their package has hauled them into contention not only for Q3 but also the fight for points on Sunday.
READ MORE: McLaren drivers hail 'best Friday' of the season after top 10 finishes in Melbourne
That's good news for local fans, who dream of a big result for their hero Daniel Ricciardo. He was coy about his expectations for this weekend, despite the orange cars showing a turn of pace that few expected. Over one lap, they appear to have the sixth fastest car, but had Lando Norris hooked up all of his best sectors, he would have been sixth quickest of all.
Race pace is less impressive, with McLaren the second slowest on the straights, but both drivers are feeling reasonably confident with the car – and there is the caveat that the British team rarely show their true colours on a Friday.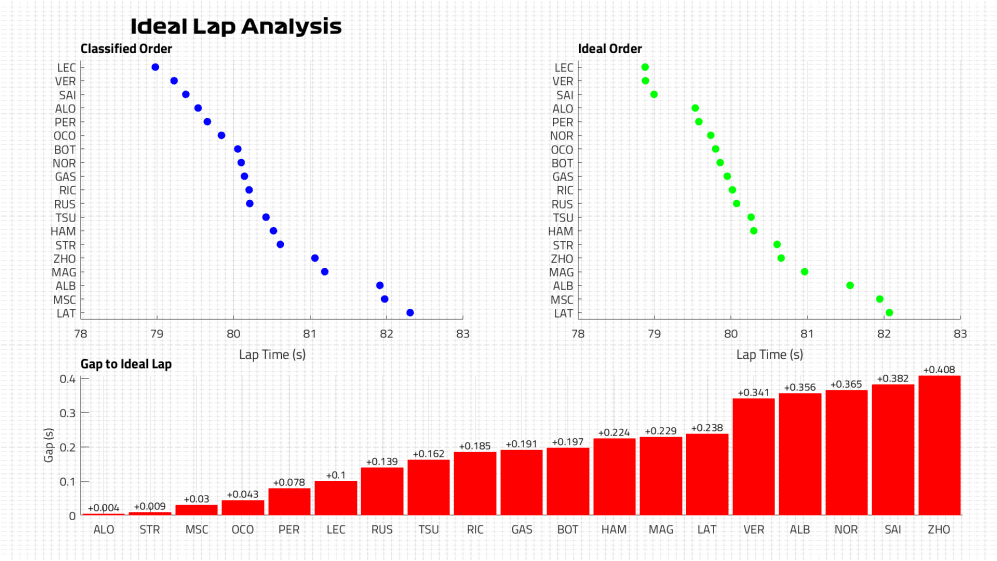 4. Alpine quick in fast middle sector
The struggles of Barcelona pre-season running seem a world away for Alpine right now. The Enstone-based team have scored 16 points from the opening two rounds to put them fourth in the constructors' standings.
And that encouraging pace continued into Melbourne, with the blue and pink cars – reverting to their permanent inverted livery for the rest of the season – particularly quick on the straights, which explains why they were so potent in the new high-speed middle sector.
READ MORE: Alpine drivers braced for tight battle for Q3 spots despite strong Friday in Melbourne
In qualifying trim, Alpine were third in the pecking order, 0.69s adrift of Ferrari and Red Bull but a quarter of a second clear of Mercedes. Our ideal lap data, which compiles a driver's best mini sectors, shows Fernando Alonso got pretty much everything out of the car – 0.004s off his ultimate best – with team mate Esteban Ocon only leaving 0.043s on the table. There could be more to come, too, with Sporting Director Alan Permane saying they have work to do in extracting the most from the soft tyre on the first timed lap in qualifying.
The race pace looks less good, as they drop down to fifth. That tallies with Alonso's assessment that they have some balance issues to solve on higher fuel.
5. Mercedes suffering once more
Mercedes' painful start to the 2022 campaign looks set to continue in Melbourne, with the reigning world champions nearly a second off the pace on low fuel as they struggle in the high-speed stuff.
Their race pace is marginally better, as they push above Alpine into third, but it's still 0.8s per lap slower than Ferrari and Red Bull, which means challenging for the podium looks like it will be a step too far.
READ MORE: 'Nothing you change on the car makes a difference' – Mercedes drivers frustrated after tough Friday in Australia
Lewis Hamilton was downbeat after practice, the Briton saying that "nothing you change on the car makes a difference at the moment", while his team mate George Russell admitted he's suffering the "most severe" porpoising he's experienced.
With no updates this weekend, it's perhaps no surprise Mercedes are no closer to the front of the pack – but they've shown impressive resilience in adversity so far this season, and there's little to suggest that won't continue here.