Feature
5 things we learned from Friday practice for the Portuguese Grand Prix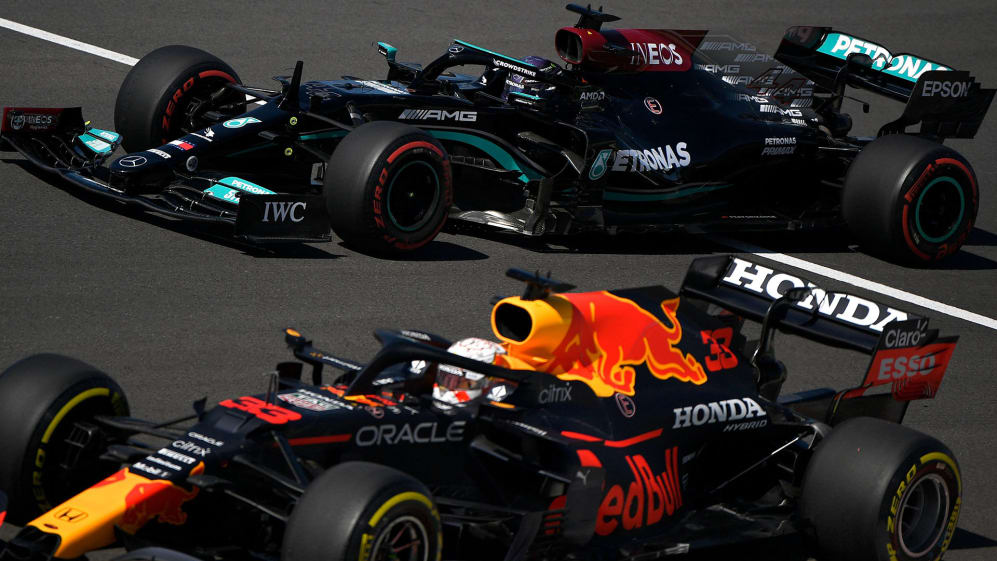 Mercedes found themselves at the top of the pile in both Friday practice sessions at Portimao, but that isn't the true picture, so say our data crunchers. Here are five things we learned after the first day of running in Portugal...
1. The RB16B looks a little tricky – but has raw pace
This wasn't the smoothest of days for Red Bull, with Max Verstappen encountering vibrations in first practice and then a brake-by-wire issue in FP2. The championship contender looked pretty handy in the first sector and reasonably strong in the second but then things got away from him in the final sector, which is where he lost time on both his attempts on a low fuel run on soft tyres in second practice.
Having said all that, he was still only 0.143s slower than the Mercedes pace – and when Red Bull's ultimate qualifying simulation pace was corrected for various things, such as fuel load and tyre age, our data shows Red Bull have the quickest car over one lap, albeit by just 0.05s.
READ MORE: Work to do for Red Bull on 'super slippery' Portimao says Verstappen – but Perez eyes pole
That tallies with the pattern that has emerged in the opening two races of the season, with the RB16B – which featured an upgraded floor in Portugal – being the quickest car in qualifying spec. But it also highlights that Red Bull's challenge this season is making the most of that package and translating that raw speed into a reward.
"The car felt alright but still some work to do for tomorrow, that's for sure," said Verstappen. "But overall, yeah, it's fine."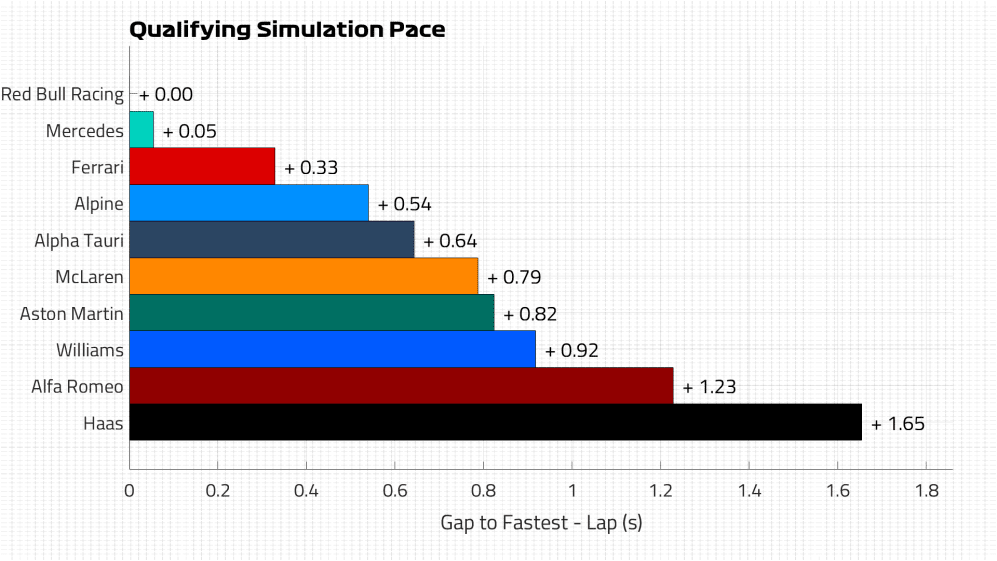 The Dutchman, who is just one point behind Lewis Hamilton in the championship fight, bemoaned the tricky Portimao surface that made it tricky for everyone to get comfortable with their cars.
"It's very tricky out there – and it's a shame," he said. "Because it's all about tyre prep, tyre temperature, and it shouldn't be like that, but it's the same for everyone." He added: "It seems like [we are close to Mercedes] but we still have work to do."
WATCH: Perez says Red Bull must analyse 'what went wrong' with soft tyres on Friday in Portimao
His team mate Sergio Perez had a similar read of the car's performance, but reckons if they can find solutions overnight, Red Bull are very much in the hunt for pole on Saturday. "We have pretty good pace, so definitely we should in the mix to fight for pole," he said.
Their race pace is looking even more impressive, the four-time world champions extending their advantage to 0.25s over chief rivals Mercedes in this metric. But can they get in a position to take advantage of that on Sunday, by mastering the slippery conditions in qualifying?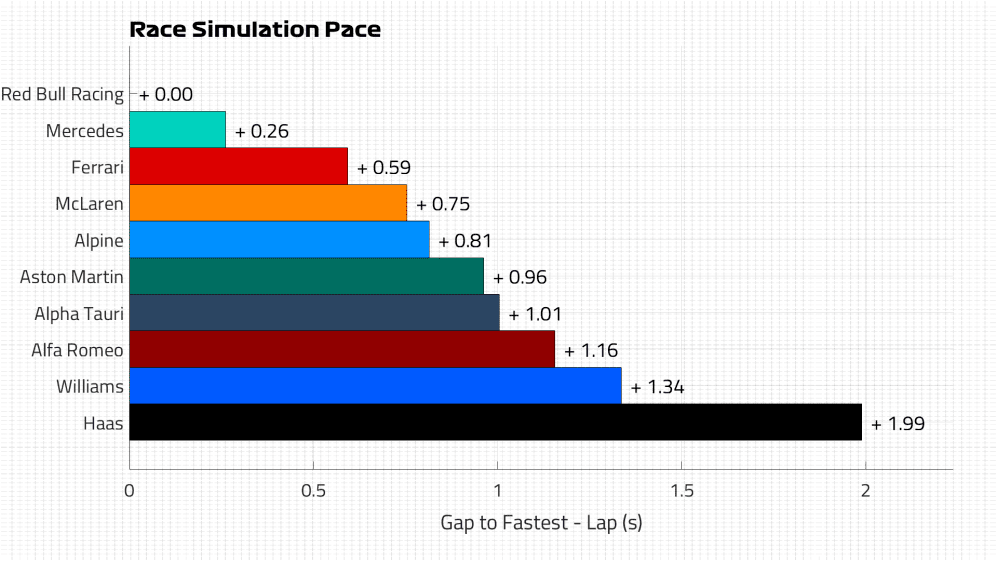 2. Damage hindered both Mercedes cars on Friday
It's unusual not to see Mercedes top one if not both of our qualifying and race simulation charts, but it's clear they have a real fight on their hands this year from the Honda-powered Red Bull team, who have made steps in both the chassis and engine departments.
Mercedes' trackside chief Andrew Shovlin said Valtteri Bottas seemed "quite comfortable" with the W12 from the start of the day, which enabled him to "get into some useful set-up investigations" but it wasn't such a smooth day for Hamilton. "Lewis struggled more with the rear end, and while he topped the timesheets, we've got some work to do to improve the balance for him tomorrow," added Shovlin.
READ MORE: Hamilton predicting 'exciting' fight for pole with little to choose between Mercedes and Red Bull
He also revealed that the team found some damage on both cars at the end of the day which "will have been costing some performance and will certainly explain some of Lewis' issues on the long run. But even with that corrected, we could do with finding a bit more pace".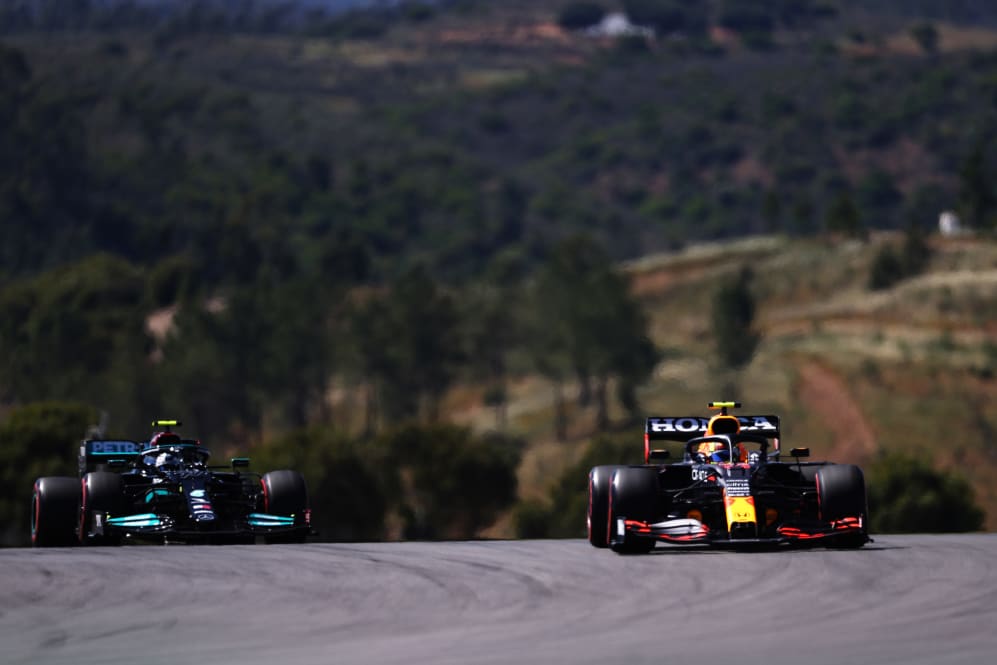 Their data tallies with ours, in that the single lap looks very close between them and Red Bull, but their numbers also suggest that Ferrari were, in Shovlin's words, "consistently around our pace". On the long runs, Shovlin believes they "all seem to overlay pretty closely, so hopefully that's a sign we'll be in for an exciting race on Sunday".
Hamilton admitted his quick lap in FP2 "wasn't perfect", with our ideal lap data – created by adding a driver's best mini sectors together – suggesting he left a staggering 0.835s on the table, a couple of tenths less than his team mate Valtteri Bottas. When corrected, our ideal lap table puts the two Mercedes on top of the pile, with Bottas leapfrogging Verstappen.
HIGHLIGHTS: See all the key moments from second practice for the Portuguese Grand Prix
Getting the best out of the car on this tricky surface, which caused problems last year following resurfacing, looks likely to define who will come out on top in round three of this year's title fight.
"The track has improved from last year, slightly more grip and definitely a step in the right direction," said Bottas. "Tomorrow it is going to be important to get the heat in the tyres in the right way – it's going to make a big difference. It will be close between us and Red Bull and could swing either way. Whoever finds more lap time overnight gets pole."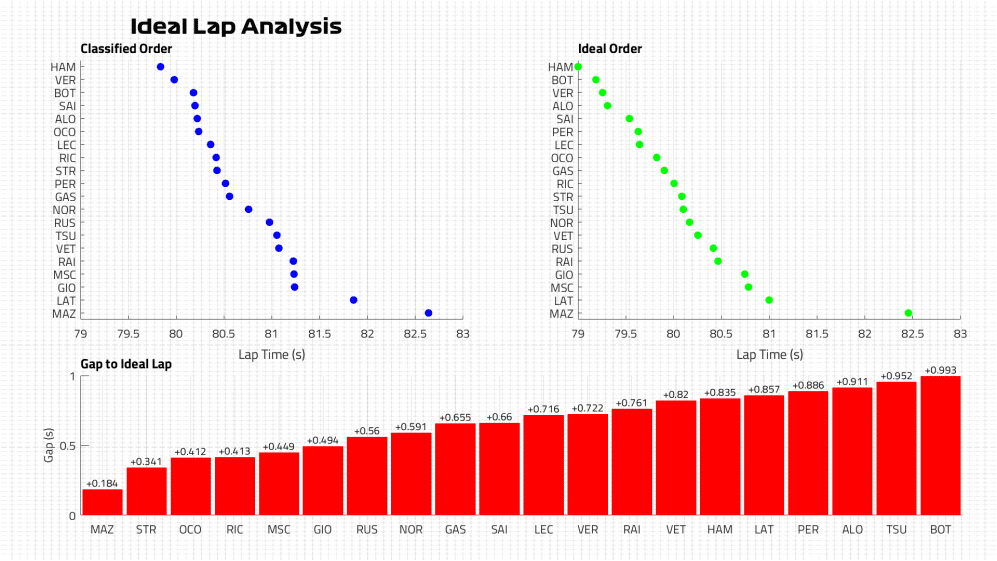 3. Ferrari head the midfield pack
McLaren may sit P3 in the constructors' championship, but it appears that chief rivals Ferrari have the upper hand around Portimao.
The Italian team, who brought a new floor to the last round in Imola, brought another updated floor to Portugal to run in Friday practice before taking it off the car for the rest of the weekend.
READ MORE: 'In my nature' to perform at low-grip Portimao says Sainz as he finishes opening day in P4
The numbers reflect very favourably in both short and long run metrics, with the Scuderia 0.33s off the pace in qualifying sims in P3 – and they retain that ranking in the race sims, albeit dropped back to 0.59s off the pace.
"The short runs were positive today, the long runs looked quite good too, though a bit less on my side, so I need to work a little bit on that," said Charles Leclerc. "I think this is the main weakness for me today, but it looked good on the other car with Carlos [Sainz] so I just need to fix it a little bit and it should be better tomorrow."
Sainz led the race briefly last year for McLaren and seems to excel in low-grip conditions. It's perhaps why he was a very impressive fourth in the classification in FP2 – but he was wary of getting too far ahead of himself.
"I do like low grip conditions," said Sainz. "It's always something that I guess is in my nature and I do like the hassle of having to find grip in places where there is not. But at the same time, we saw in Imola that on Friday we tend to be a bit stronger than maybe on Saturday, Sunday. Is that because of fuel, or engine, I'm not sure, then we see other teams taking bigger steps on Saturday – so I'm going to keep it on the cautious side and see how it goes tomorrow."
READ MORE: Russell targeting a minimum of Q2 and 'points on Sunday' after a promising Friday for Williams
4. Alpine react well to the tricky conditions
Neither Fernando Alonso nor Esteban Ocon were in the mood to get carried away on Friday, when we spoke after their very impressive showing in practice.
The Alpine squad entered the season hoping to challenge for P3, but instead found themselves towards the back of the midfield. Finishing fifth and sixth in practice is nonetheless an improvement, even if it is only Friday.
READ MORE: Alonso promises 'more to come tomorrow' after Alpine's surprise top-six times in FP2
"We were happy with the car today," said Alonso. "Obviously it's only Friday as you said, but we were comfortable from Lap 1, and we didn't touch the set-up much because everything felt reasonably okay. Then we tried to put some laps just for me to get used to the track, and to know a little bit more about the tyres.
"The positions will not be too different compared to Imola or Bahrain – I don't think there are any big changes in the order, it's just a different Friday, a different approaching maybe comparing teams but let's see, fingers crossed that we can keep the pace tomorrow."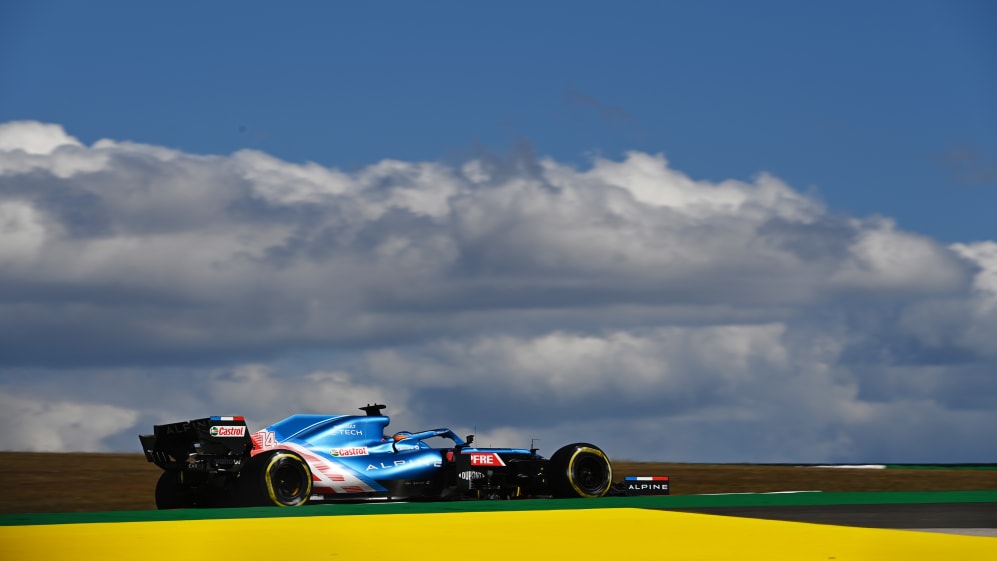 Ocon added: "I think it will be close tomorrow. It will be a tough battle with everybody, looking at how close the times are. I think this track is still a challenge for everybody. The grip has improved compared to last year, but it's still quite tricky out there, it's moving quite a lot, so it will be a fight. It was good enough for today, but tomorrow it will be tight."
Our data suggests getting both cars into the top 10 in qualifying is a real possibility, as they are fourth best in the low-fuel short run pecking order, 0.54s off the pace and around a tenth clear of AlphaTauri.
They drop behind McLaren in the race simulations, but only by 0.06s per lap, meaning it could be very close for those bottom four points-paying positions on Sunday.
READ MORE: What the teams said – Friday in Portugal
5. McLaren pace a bit of an unknown
Despite briefly leading the race in Portugal last year, this wasn't one of McLaren's strongest tracks – and so there was some trepidation that this could be a tricky round for them.
Lando Norris – who has finished in the top four in both the opening races – said he wasn't optimistic he will be able to make it into the top 10 this weekend, but Daniel Ricciardo felt differently and reckons it's wide open behind Mercedes and Ferrari.
On the raw data front, they may well have a fight on their hands to make it into Q3 with both cars, McLaren ending up sixth in the pecking order, just 0.03s quicker than Aston Martin and 0.13s ahead of Williams, who looked top-10 fast in Portugal until the wind picked up for FP2 and they went backwards.
READ MORE: Norris 'not confident of being in top 10' after tricky first day at Portimao
But McLaren's race fortunes look more promising, with simulations suggesting they have the fourth best package in this metric, 0.75s/lap slower than Red Bull, but only 0.16s adrift of Ferrari in third.
So even if qualifying is tricky, all is not lost for McLaren, especially given this is a circuit in which overtaking is certainly possible.