Feature
5 things we learned from Friday's on-track action at Monza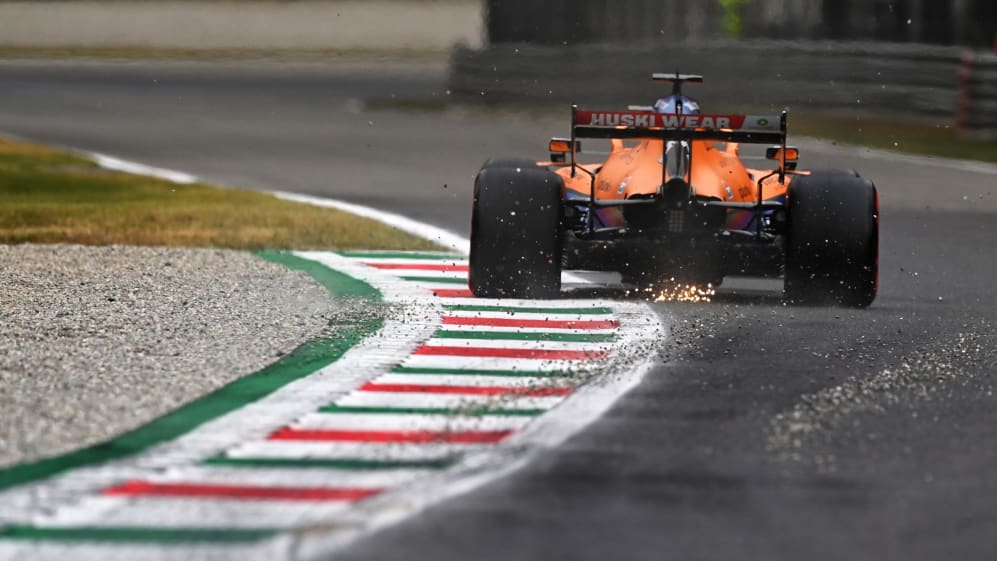 There was a roar of emotion from Valtteri Bottas as he crossed the line to take the Pirelli Speed King Award at Monza. The Finn was pumped, with his adrenaline running high after putting in one of the finest laps of his career to go fastest in what was a fascinating session that yielded exciting and thrills galore. Here are five things we learned from practice and qualifying…
1. Mercedes retain iron grip on the Temple of Speed
Monza has become something of Mercedes fortress in the hybrid turbo era – and while that grip has weakened in the last couple of years, they have retained an edge over Red Bull. And that is what matters in 2021 for the Silver Arrows with the title race finely balanced.
READ MORE: Bottas beats Hamilton in Monza qualifying to claim top grid slot for F1 Sprint
This is a power circuit, and though Honda and co have closed the gap to Mercedes, the world champions' power unit remains the class of the field in terms of the horses it pumps out. And thus it is little surprise that they had the fastest two cars in qualifying.
When I spoke to Lewis Hamilton after the session, he was somewhat surprised by how close Max Verstappen was after the first runs in Q3, considering he was a fair bit off in Q1 and Q2. But it mattered little as in the final runs, Bottas and Hamilton accelerated away and comfortably fended off a threat from anyone else.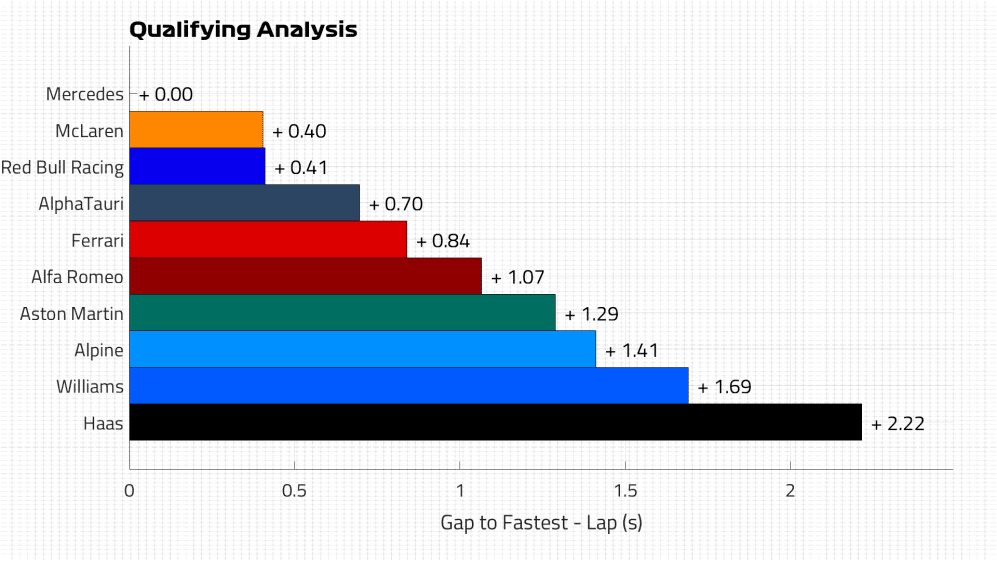 Our data shows they had an impressive 0.4s advantage, with fuel loads and tyre compounds taken into account, in qualifying over McLaren, with Red Bull a fraction behind. Where did they make those gains? Well half of it comes in the slow chicanes.
Such was their pace through the sessions, Mercedes were able to save some tyres, so they have plenty of options with regards fresh sets of the necessary compounds for both F1 Sprint and Sunday's Grand Prix.
READ MORE: Bottas takes P1 in qualifying, but is set to start Sunday's Italian GP from last after changing power unit
The only mark on their record is the engine change for Bottas, which was necessary because they found an issue and didn't have time to investigate. That means he'll start Sunday's race from the back. But for now, the Sprint is their focus – and they are looking in great shape.
2. Bottas has lost none of his mojo
To whom it may concern – Bottas is still one of the strongest drivers on the grid, as he proved with a stunning lap to take the fastest time in qualifying at Monza.
While his new gig at Alfa Romeo is exciting, he could have let his head drop a little when it became clear that staying at Mercedes – and retaining a shot at the title in the short term – was no longer possible.
But he didn't. He knuckled down, put the misery of a full engine change that guaranteed a back of the grid start on Sunday behind him, and outshone the championship's two main protagonists.
READ MORE: Hamilton praises departing team mate Bottas after conceding Monza qualifying to Finn
"The car has felt good all day, with our performance a little stronger than we perhaps expected, especially when you look at the gap to Red Bull," he said. "Hopefully it will be similar on the race pace for us." His focus will be to ensure that Verstappen is limited to a maximum of one point (for third place) in F1 Sprint.
Then it'll all be about fighting back on Sunday as best he can. With Mercedes' power advantage and a car that has been set up to fly on race day, Bottas can certainly rescue plenty of points.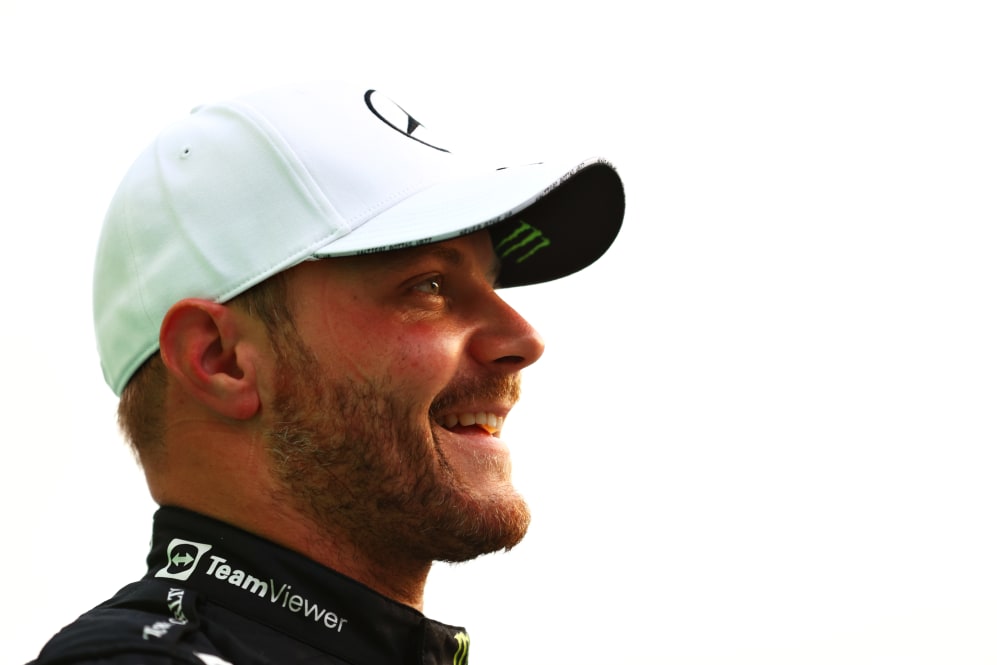 3. Red Bull struggling to whip up some Monza magic
Red Bull were cautious in their expectations for this weekend's Italian Grand Prix, the four-time world champions accepting of the fact they would be second-best in terms of pure performance, but the gap to Mercedes will have been much bigger than they had anticipated.
With Mercedes looking so strong and Sergio Perez struggling to match Verstappen's speed, Red Bull essentially sacrificed the Mexican's qualifying in a bid to maximise championship leader Verstappen's chances.
READ MORE: Verstappen says it would be 'unrealistic' to have hoped for more than P3 in Monza qualifying
Perez did exactly what was required, punching a hole in the air with a brilliant tow that ensured Verstappen outshone the very fast McLarens. Otherwise, he could have been down in fifth, and at risk of losing his championship advantage before race day had even rolled round.
Unfortunately, it meant Perez's session was compromised. Red Bull say he lost around half a second, and he'll start down in ninth. But he'll be expected to make up at least a handful of places on Saturday to set him up for an outside chance of a podium (helped with Bottas starting at the back).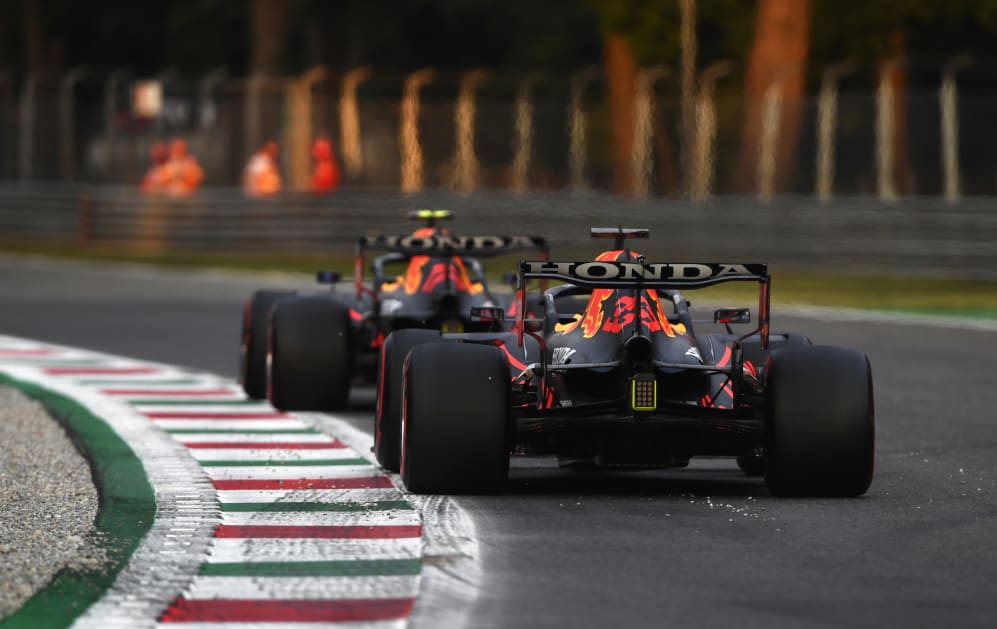 4. McLaren back on song in the podium hunt
The papaya cars were mighty around Monza on Friday, with Lando Norris and Daniel Ricciardo fighting for a spot in the top three, but not quite able to hook up their respective perfect laps to end up fourth and fifth.
Norris reckons he could have got third without a small mistake – and according to our data, he was right. Had he hooked up all his best mini sectors, he would have been third, ahead of Verstappen. And ultimately, it seems they had a car that could have locked out the second row.
READ MORE: Norris eyes Sprint fight with Verstappen after taking P4 in qualifying at Monza
Norris has been in the form of his life this season – and is in a fine position to steal a point in F1 Sprint. Ricciardo was frustrated because he too knew that P3 on the grid was possible. He's been giving himself an exceptionally hard time heading into this weekend, and P3 would have been the perfect tonic.
But when the adrenaline eases, he can take heart from a strong performance that continues the trend of having made a breakthrough at McLaren. And providing he keeps his nose clean on Saturday, with Bottas' engine penalty he has a chance to score his first podium for McLaren.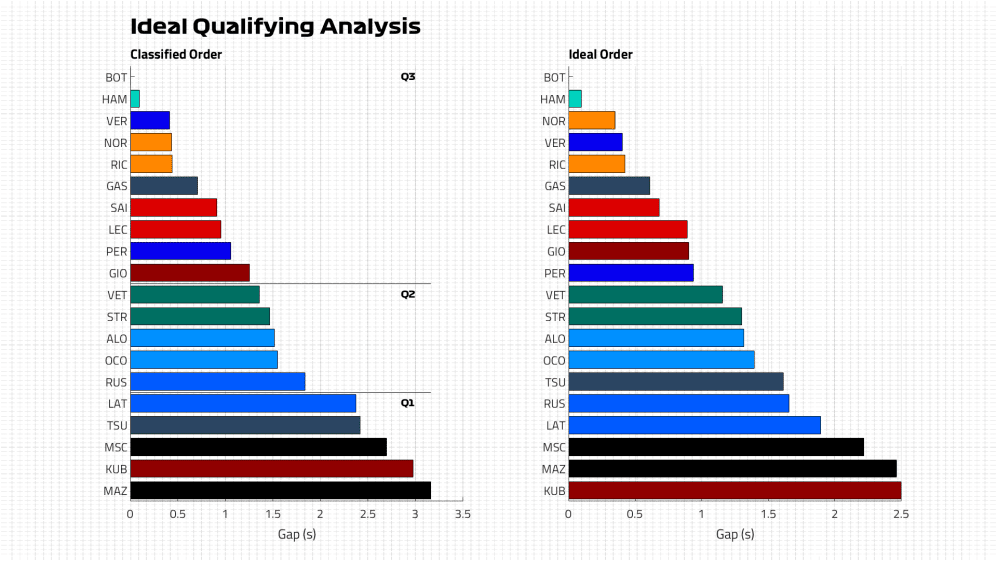 5. Ferrari likely to struggle to impress in front of the tifosi
Ferrari knew heading into their home race that life would be challenging, Monza's long straights not ideal for the SF21. But they minimised the damage to their main rivals for P3 McLaren by locking out the fourth row of the grid.
That's well below what an expectant tifosi would hope for, but in reality slightly better than they thought it would be. That Charles Leclerc still managed eighth, one place behind Carlos Sainz, despite an issue with the "electronic management of the engine braking" was a good effort.
READ MORE: Sainz hails Ferrari progress after double Q3 at Monza, as Leclerc frustrated by power unit issue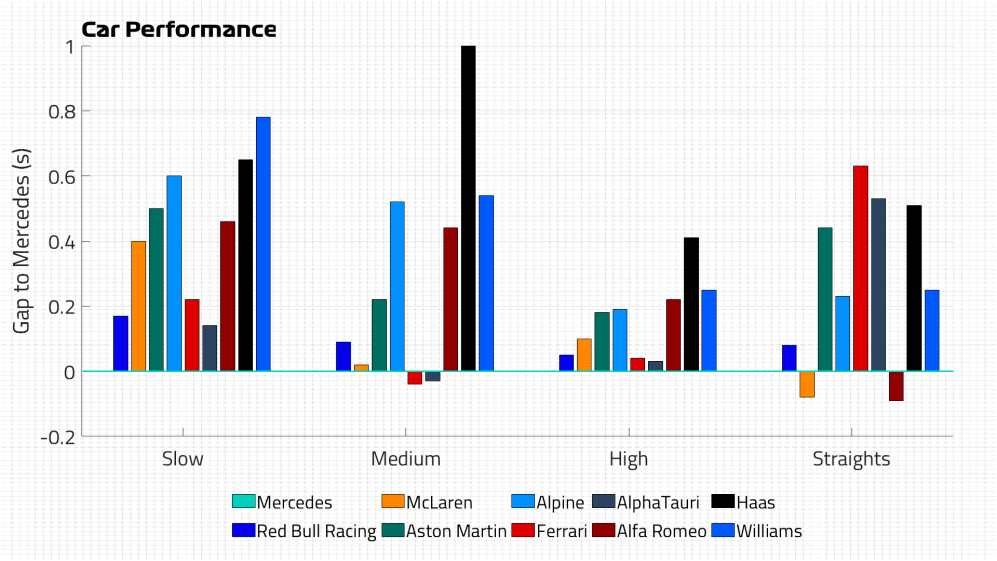 The red cars were the quickest through the medium corners – and fifth best in terms of qualifying speed, so with Perez and Yuki Tsunoda underperforming, they were able to finish slightly higher than the car deserved.
F1 SPRINT: What to expect on each day as the exciting format returns at Monza
There's a long weekend ahead, with one more practice, F1 Sprint – which will be an 18-lap fast-and-furious race on Saturday – and the Grand Prix. And AlphaTauri and Pierre Gasly, who took a shock win last year, will tell you that anything can happen at La Pista Magica.