Feature
A brilliant fightback drive and his first F2 win – five key moments on Mick Schumacher's road to F1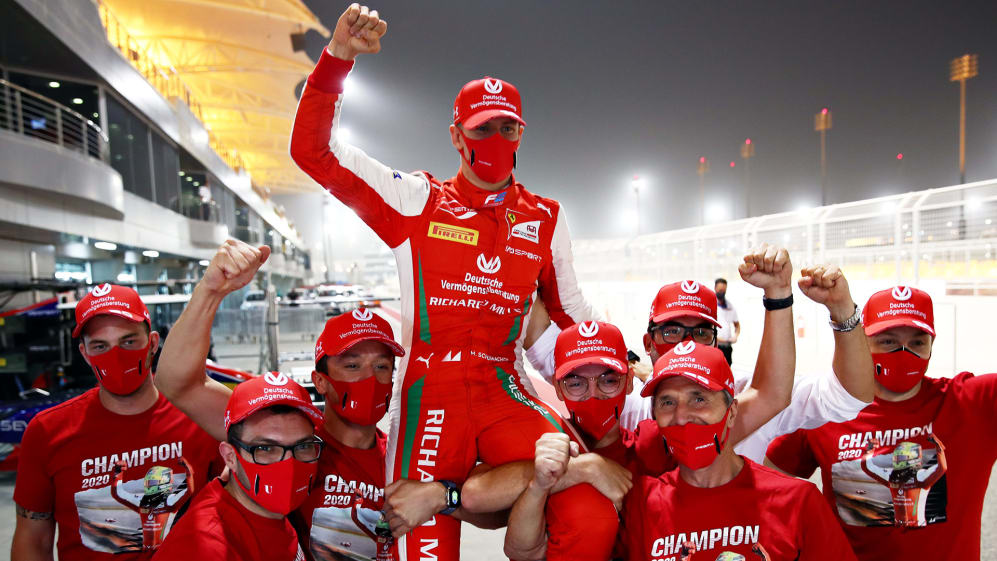 In one of the most hotly anticipated promotions in the history of Formula 2, 2020 champion Mick Schumacher will be an F1 driver with Haas for 2021, making the step up from the top tier of junior motorsport, to the very pinnacle with the American team.
His graduation returns the Schumacher name to F1 for the first time in eight years. He will join his F2 rival Nikita Mazepin at Haas, with the duo replacing Romain Grosjean and Kevin Magnussen. Here, we take a look at five pivotal moments on his journey from F2.
ANALYSIS: The inside line on how the Schumacher name returned to F1 - and what we should expect from Mick
1. His Formula 2 debut
No young driver has ever had more pressure placed on his shoulders than Schumacher did when he was first thrust into the limelight of an F1 weekend, after joining F2.
The German was greeted by a media frenzy on his debut in Sakhir, with reporters cramming into his PREMA garage, desperate to speak to him. And this was all before he'd even set foot in the car in a competitive scenario.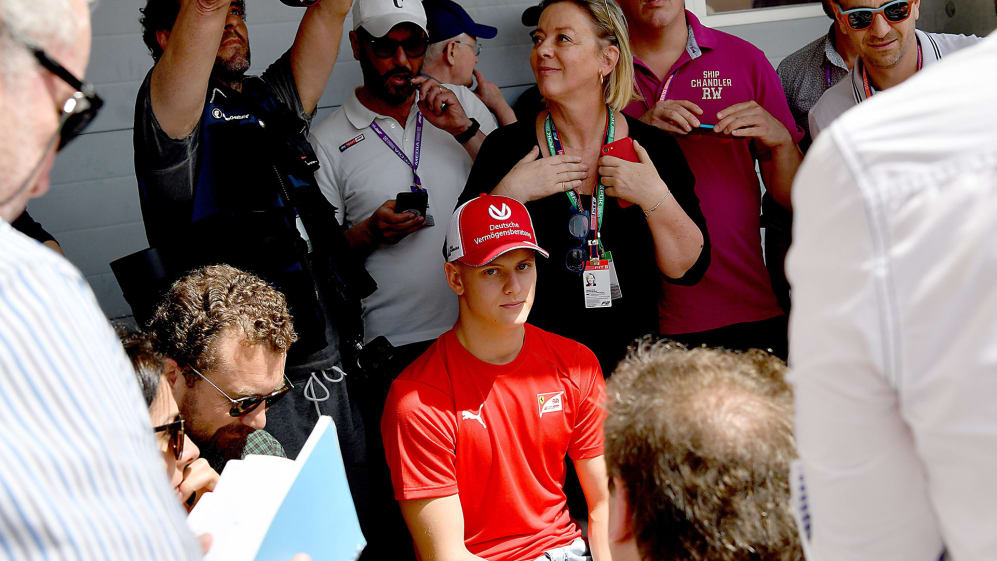 The German had topped the final day of pre-season testing, but inside of the camp expectations were tempered ahead of his debut. For all of his dominance in European Formula 3, the leap between categories was massive, not least of all because of the switch from Hankook tyres to Pirellis.
As expected, he certainly didn't pull up any trees on his maiden race weekend, but he didn't do badly either. A P8 finish in the Feature Race secured him his first points and reverse grid pole. That was a learning experience. The German was unable to hold off the more experienced racers around him and dropped back to sixth as Luca Ghiotto cruised to victory.
It was a steady start, and one that gave him the first inklings of what it would take to succeed in F2. For this reason, the significance of his debut cannot be underplayed.
READ MORE: Vettel happy to tell Mick Schumacher 'everything I know' ahead of young German's F1 debut
2. Charging through the field in Austria
Things got a little bit tougher in the rounds that followed Bahrain. The experience of the class of 2019 was significant. Schumacher's rivals included the likes of Nyck de Vries, Nicholas Latifi, Luca Ghiotto and Sergio Sette Camera, all of whom had at least two seasons of F2 racing under their belts, and they dominated the championship.
The 21-year-old took just one more points' finish in the next five rounds, including three retirements, but Spielberg proved to be somewhat of a turning point. His race weekend didn't initially get off to the best of starts, as he stalled on the starting grid and finished the Feature Race in 18th. That only seemed to inspire Schumacher, who roared through the field in the Sprint.
For the first time, Schumacher looked to have gotten to grips with the Pirellis. Despite furiously charging through the field, his tyres remained in a better state than those around him, enabling him to get within a whisker of the podium. Championship leader De Vries proved an overtake too far in third but given another lap and Schumacher may have had him.
It proved to be a glimpse of what was to come.
PODCAST: Mick Schumacher on living up to the family name
3. His first F2 victory
Schumacher's performance in Austria, and his first win two rounds later in Budapest, were thanks to two entirely different performances. His drive in Spielberg was a feat of pure power and pace, in a thrilling attacking display. His victory in Hungary was a defensive masterclass reminiscent of his father.
Starting from reverse grid pole in the Sprint, the Ferrari junior battled against cooling track temperatures – having seen them drop by six degrees – to retain grip in his tyres and fend off the experience of Nobuharu Matsushita for 28 laps.
The Carlin racer had numerous opportunities, but every time he thought he'd opened the door, the PREMA racer slammed it shut again. Hailed as an "amazing race," by the German, the Schumacher name was back on the top step of a Grand Prix weekend.
Finally, he was off the mark.
'I wanted to achieve something myself' – An emotional Mick Schumacher opens up after F2 title win
4. Getting over a tough start to 2020
After an on-and-off debut season, where he ended up finishing 13th, the pressure on Schumacher's shoulders was heavier than ever before. The German knew there was a seat waiting for him in F1, if he delivered as he was expected too. But, in the opening few rounds the expectation appeared to be weighing heavy on him.
The PREMA man was challenging for the win in the opening race, before a mistake very nearly left him in the barriers. For the next two rounds, he struggled with tyre management, and then came his infamous collision with teammate Robert Shwartzman in the Sprint Race at Silverstone. He was fast getting left behind by his rivals, both in the race for the title and for a seat in F1.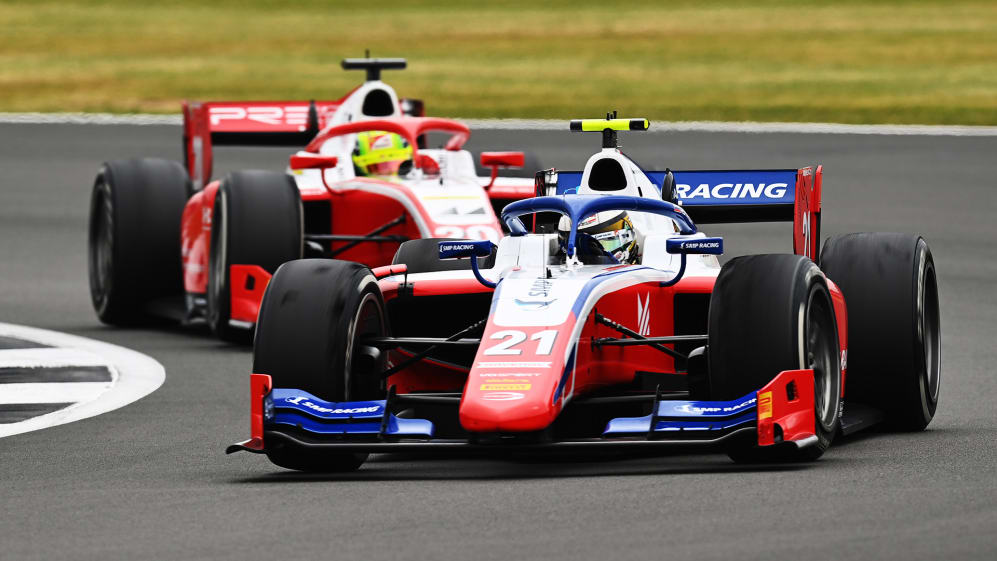 Schumacher was confident he could turn it around though – inspired by his success in European F3, when he took five wins and three podiums from the final nine races to beat Dan Ticktum to the title.
Taking six podiums in seven races between Silverstone and Monza, including a first win of the season. Ahead of Monza, he'd scored the most podiums in 2020 without a win. The German ridded himself of that unwanted tag in Italy, taking his first ever Feature Race win and moving within three points of first place.
That victory felt crucial.
READ MORE: Mick Schumacher on racing under another name, his F1 prospects and becoming a complete driver
5. Taking the Championship lead
Schumacher hauled himself into championship contention with five consecutives podiums, including the victory in Monza, but it was a fifth-place finish which handed him the title lead.
The German actually secured the lead on an afternoon when his future HAAS teammate Nikita Mazepin stole the plaudits, winning an incredible Feature Race in Mugello from 14th on the grid. Schumacher's P5 finish may not have come with the same type of acclaim, but it displayed the consistency that became a hallmark of his season.
WATCH: The moment Mick Schumacher became F2 champion after dramatic season finale
That consistency was built on a run of 15 successive points' finishes between rounds 4 and 12 and it's that very form which helped him to reverse a deficit of around 40 points. After taking the lead, Schumacher switched to a more conservative approach, but still managed to add another win and a 10th podium to his tally in Russia.
The victory in Sochi was undoubtedly the most complete performance of his F2 career and laid the foundations for his title win in the season finale. He looks increasingly ready to make the step up.