Feature
Alex Albon on his 2020 season and the fight to save his Red Bull seat
Being a Red Bull driver is not easy, as the past has shown. Driving alongside Max Verstappen, one of Formula 1's brightest talents, makes it even more challenging. But that is what Alex Albon has been faced with after being drafted in midway through last year – and he is the first to admit it has been testing…
"Obviously I would have wanted it to go better," says the Thai driver, as we chat in the Bahrain paddock ahead of the Sakhir Grand Prix. "I can definitely see there are areas I could have improved on or where I could have done something differently. It hasn't been the smoothest year for me, but as a person, I've developed a lot. I've become a lot stronger as a person. It feels like things are on the up. I just want that momentum to continue. It feels like it's starting."
READ MORE: Alex Albon's journey to F1 - How his 'darkest moment' forged an inner steel in the Red Bull racer
The first peak was Mugello, when he claimed his first podium in a frenetic Grand Prix. He couldn't generate any momentum from that, but then he made a breakthrough in Turkey – even if the result didn't show it.
A second podium followed in the first Bahrain race. There was more fortune, as Sergio Perez retired ahead, but Albon was there to pick up the pieces. On a weekend where he had refused to let a practice crash bother him.
"It was a good weekend," says Albon. "It started already from Turkey, I felt like things were on the up. Things felt good, and then we had a bit of an off in FP2. It was one of those annoying crashes, not one where you lose confidence, but one where you think it was a silly mistake.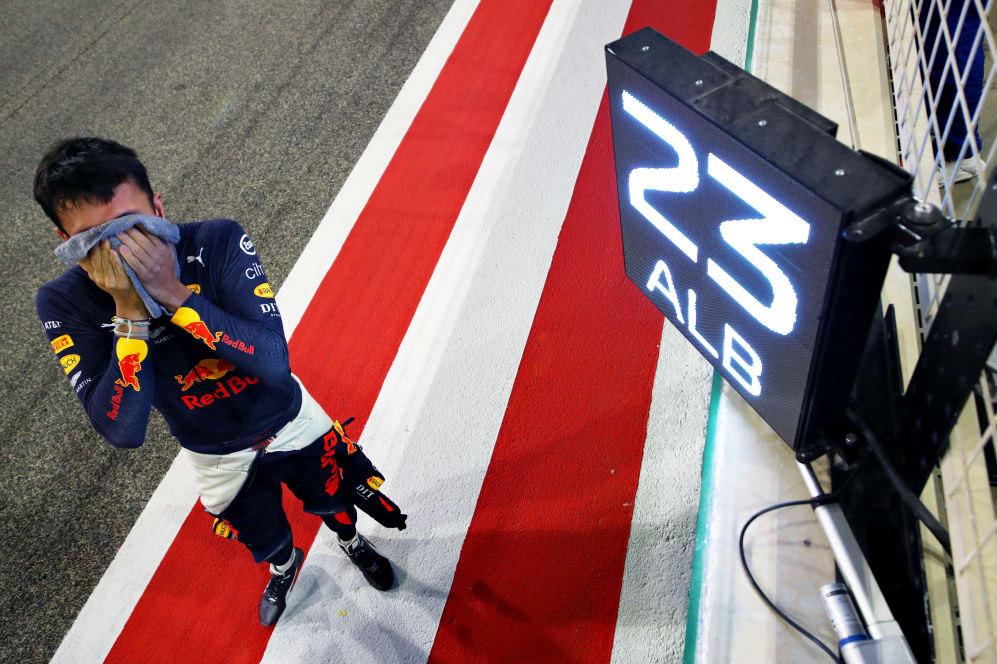 "The weird thing is, I've had these offs before. So in a weird way, it affects you less and less, so going into Saturday, it was more what do we need to do with the car or what do we need to do with the driving after the crash, rather than, 'oh no we crashed'."
The second race in Bahrain didn't go as well, as he struggled in qualifying and failed to make Q3. He rescued sixth on Sunday, but it came in a race where there was opportunity for so much more, with Racing Point scoring a double podium and Renault taking the other spot. This led to more criticism of Albon and questions over whether he deserved the seat at Red Bull in 2021 when Perez, who is without a seat for next year, won that race and is driving so well.
READ MORE: Alex Albon - Seizing his second chance
But whereas Albon may have let it affect him earlier this year, when it was clear his head dropped and his body language showed how hard he was taking the criticism, the 24-year-old agreed – and was defiant - when I suggested he was coping with the 'noise' much better off late, off the back of a upturn in form.
"Of course I see it a lot, it is everywhere," he says. There's no secret about that! But it's really just about understanding what is beneficial for me, in terms of, is any of it helpful for my performance? And it's easy to answer that. It's a big no. It's been different, because this year I've never really faced any criticism before in my racing career.
" And then of course you go through it – what is all this? What is going on? So then you focus on let's get on top of this, lets manage what I can control, and that's been pretty good for me, I've been able to side-line all of that stuff and focus on the racing. Results are what matter, it is a results game. And I know if I can perform well, it's a great way to shut up everyone else."
This was bullish stuff from Albon, and suggests that he's matured and grown as a driver under immense pressure. That's an impressive trait that he's developed and one most of those who have gone before him at Red Bull haven't been able to muster. How has he done it? Well, he's been blessed with unrivalled support from the team, with Red Bull boss Christian Horner and Motorsport Adviser Helmut Marko taking the 'arm around shoulder approach' – a new tactic from them, having traditionally been more ruthless.
"I've had a lot of support not just through my trainer and my family but the team," he says. "It's always been there from the beginning. Since I stepped into team at Spa [in 2019], I felt an overwhelming feeling of support from the mechanics and engineers, Christian and Dr Marko. It's never gone away, it's always been there, and that's made a big difference. You can go into the factory or the paddock everyday knowing the team are behind you."
READ MORE: It's a Red Bull seat or a year on the bench for Albon in 2021, says Horner
Albon trails team mate Verstappen by 93 points and five places in the drivers' championship. The chasm is clear, particularly in qualifying. Albon needs to be quicker. He needs to be better. And fast. But he knows that. He needs to find a way to tame a Red Bull that is pretty lairy.
Verstappen has significantly more experience – this is his sixth season in F1 and he had a full season and a bit of experience learning the ropes at Toro Rosso before making the jump to Red Bull, while Albon had just half a season before his promotion – and the Dutchman has simply coped better with the car – but he's found it tough at times, too.
"It's tricky, it's on a knife edge, but I think most cars that are quick are," says Albon of the RB16. "The Mercedes doesn't look unbelievably stable, you do see the guys wrestling a bit. It's just getting that feeling you're in control of the car. That's the extra bit you need to be on top of the car, and that is a work in progress. It's not easy, but it's getting a lot better."
The comparisons with Verstappen are natural as the first goal for a driver is to beat his team mate. Verstappen's supreme talent has made that very difficult for Albon, but he's doing everything he can to look at the positives or such a relationship.
"[Comparisons] happen, it's inevitable," he says. "It's two cars in a team, so you are only being compared to your team mate. I see Max as an unbelievably talented driver. He is extremely quick, which has its pro and cons. The pros being I'm up against someone who, in terms of personal development and looking where he gets lap time, there is no one better. On the other side, of course he's very quick so the statistics don't look great but I see it as a challenge, I see it as an area where I can improve as a driver."
TRENDING TOPICS: Hamilton's health, Perez's future & 4 more talking points ahead of the Abu Dhabi GP
Albon isn't at the level that Red Bull need him to be, at least consistently, yet but there have been enough signs to suggest that he's getting in there of late. Crucially, he's feeling more at home in the RB16 cockpit. "I'm getting that confidence to drive the car on the limit," he says. "But it is also just about understanding what you need to get the lap time, as sometimes, it's not that clear.
"It has been getting better. The more races we do with the car, the more we understand it. And it has come to a point now where we know the areas where the car is difficult and where it's strong. And now it's about focusing our resources in the right areas."
So how does he feel about his future? His response is straight and very matter-of-fact. "My dream is to be with Red Bull for a long time," he says. "I just need the results, it's as simple as that really. I'm here, I'm ready, we'll see how it goes."