Feature
Alex Albon's journey to F1: How his 'darkest moment' forged an inner steel in the Red Bull racer
The winter of 2019-2020 was a significant milestone in Red Bull driver Alex Albon's life.
The London-born Thai racer moved out of the family home in Buckinghamshire and into a plush pad in the Principality of Monaco, the playground of the rich and famous.
He's not the first – and certainly won't be the last – racing driver to do this of course, with Lewis Hamilton and Max Verstappen among the many who have joined local Charles Leclerc in Monte Carlo.
David Coulthard – well-known among the F1 fraternity as DC – is Albon's neighbour, the 13-time race winner helping the 24-year-old move in over the winter and get settled – as well as giving him some invaluable tips.
"I'm going to get a cleaner and ask them to buy some food to put in my fridge on a Sunday night after a race," says Albon, as we speak in Red Bull's hospitality unit. "It's something DC taught me as he did it when he was racing."
Albon has already learned some of the pitfalls of living alone and travelling so much. "I need to remember to empty my fridge before I leave," says Albon. "I keep forgetting. I left some fruit in there and it went so mouldy! Let's say that's lesson learned."
What about laundry? Has he got on top of working the washing machine? "When I do the simulator [at Red Bull's base in Milton Keynes], I bring my dirty washing back home. Monaco is expensive if you want someone to do your laundry for you!"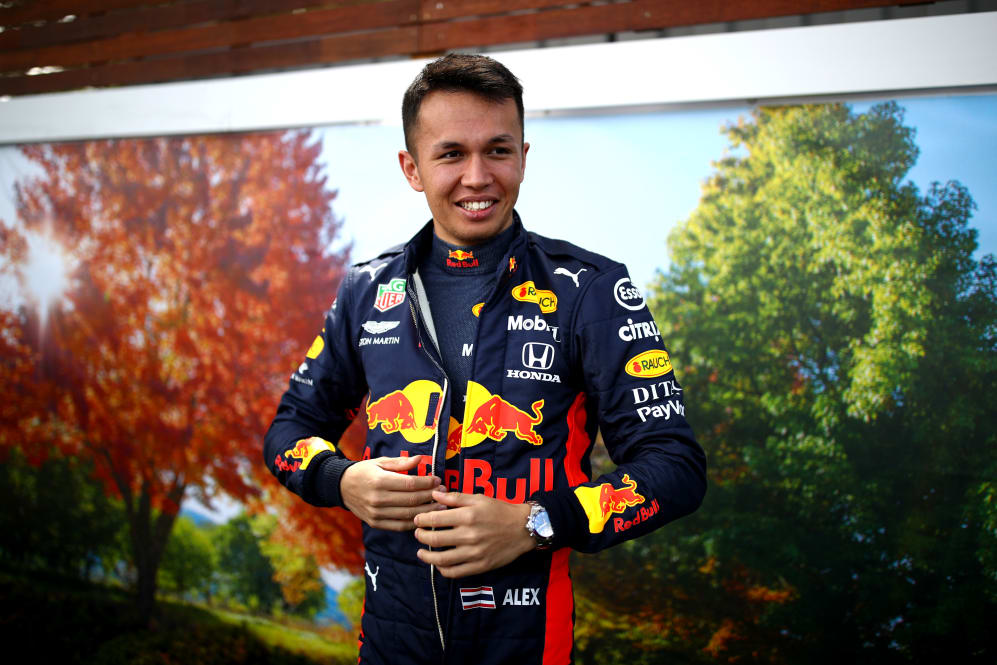 Toy cars and Scalextric
Considering Albon's rollercoaster career so far, it's hard to believe he's still only 24 and this season – when it gets started – is set to be only his second full campaign in F1, with a seat alongside Max Verstappen.
With father Nigel a keen racer, Albon was immersed in motor racing from an early age. He'd spend hours at race tracks watching his father. At home, he'd play with his "hundreds of Hot Wheels cars". "One of my first words was "Rari" for Ferrari," he says. "I love exhausts, I called them smokes. I was obsessed."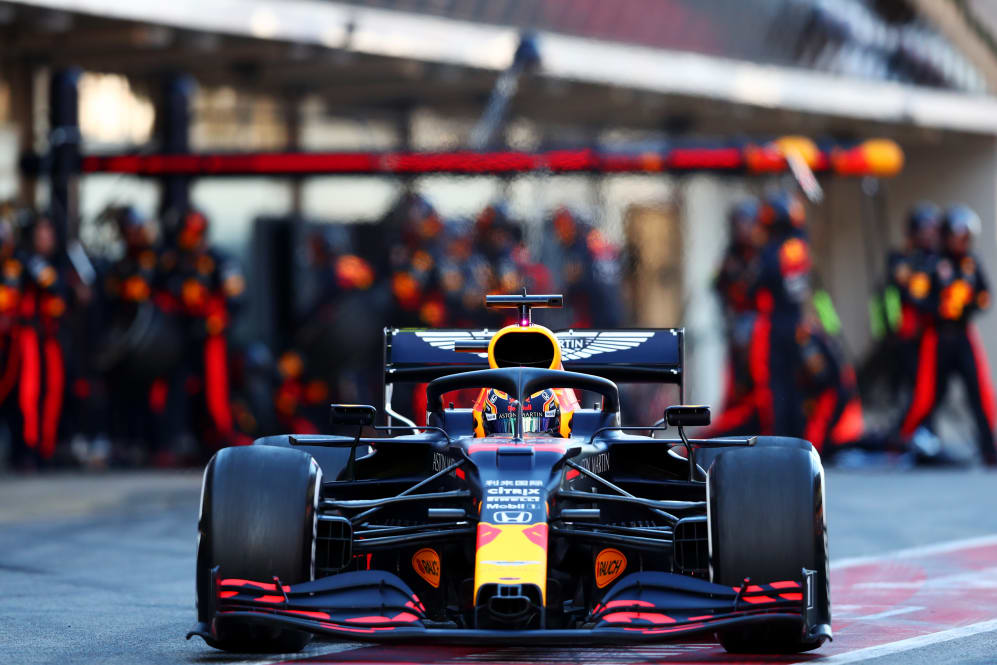 Would he race his toy cars with his brother and sisters? "Not really," he says. "I would still call myself pretty shy and introverted so I would be by myself in my bedroom. I had a rug with a racetrack and roads marked out. I spent all my free time pretending to be a racing driver. Moved from Hot Wheels to Scalextric and then I got my first go-kart."
Both his parents were super supportive of his racing dream – but they made sure he didn't slack when it came to education. "My parents, especially my mum, were big on my school," he said. "I had to take a lot of days off for go-karting, but they were always making sure I caught up on what I missed. Schooling was very serious.
"My mum was always worried when I went racing. She hated crashes. She still is worried! I think it is fair to stay, doesn't know much about racing. That's my Dad's job. She came to a lot of races in my first year to experience it, she'll take a step back this year.
"My sisters and brother come to races, too. In racing, all eyes are on you, so to have you family there. It feels like you're home, it takes away the feeling you're in a F1 paddock."
Building an inner steel
Having been so supportive throughout, it's no wonder there was a huge sense of pride when Albon got the call from Red Bull to make his F1 debut with Toro Rosso, seven years after he was dropped by the energy drinks company because of a lack of performance in a moment he described as "one of my darkest moments of my days".
It made those intermediate years, where he and his family fought to get enough cash to keep him racing and keep his dream alive, all worth it. The experience has added a steeliness to Albon. As he says, he's more introverted than extroverted, but he's developed an inner belief and self-confidence that is crucial for success in elite sport.
"[Those experiences] gave me a feeling that I've been through the worst and I'm always able to come out the other side," he says. "There's a sense that I don't feel too much pressure, because I feel I survived that, I can survive other things.
"I carry that with me, with a lot of things that I go to. Even the call up from Toro Rosso to Red Bull, there's a sense of, if it doesn't work out, so what? There are no regrets. You've done it before, you've pulled it through so why can't you do it again? It's made me a lot stronger."
Oops! Error retrieving Twitter post
ANALYSIS: Why Red Bull have put their faith in Albon for 2020
Albon impressed enough to earn a full season at Red Bull this year. This not only allowed him to relax into his racing in the remaining races of last season, but also use the practice sessions to try some new directions and get ready for the following season, rather than feeling like he needed to "treat every session as if you need to prove yourself".
That work, combined with a strong winter and good time spent with his engineers has put him in good shape for this year, as he looks to close the gap on Verstappen in both qualifying and race pace.
"My side of the garage is relatively new," he says. "It's a relationship which needs building. It's only been six or seven months we've been together, so it's still learning, it's still new.
"We sat together and developed areas I need to work on, established where we want to be in our goals, and that makes it clear for all of us. It feels really good. I know what I need to work on, but also, there's knowing it, but then there is understanding what to do and how to get the most out of the situation. We have some ideas of what we need to target to get the car and myself in a better window."
Living the dream
When the rescheduled season gets underway, Albon is determined to make the most of his opportunity, if anything to reward the support from his family. "It's the dream for all of us because of the sacrifices you have to make to get there. It's a big commitment not just for you but your whole family, including my brother and sisters. Mine is a great story, but a lot of people don't make it so I'm very lucky. It means a lot."
And Albon continues to love Formula 1 as much as he did when he was a kid. He recalls heading to Silverstone in 2002 to complete his ARDs test to renew his racing licence. As he crossed the bridge over the track, he remembers hearing the throaty sound of a V10 engine, in the back of a Sauber, thunder round.
LONG READ: Alex Albon - Seizing his second chance
"I remember thinking, I could never do that, that's just crazy," he says with refreshing honesty. "All these F1 cars, they are on a different planet. I remember the noise. It made me nervous. I couldn't imagine driving it [a V10-powered F1 car]. The memory is so strong in my head because I felt butterflies in my stomach at that moment. And then in my head I said to myself 'that's what I'm aiming for, I want to be doing that!'
"It's a really cool feeling to wake up and realise this is my job. My dad and mum always have to remind me what has been happening. I'll speak to them and say this and this is happening, and my dad will say: 'Do you realise what you've done and where you are? Don't be so hard on yourself and relax a bit!'"
MUST-SEE: Highlights and best bits as Albon and Leclerc stage epic battle for Virtual GP win