Feature
ANALYSIS: Why F1's most successful combination ever is continuing for two more years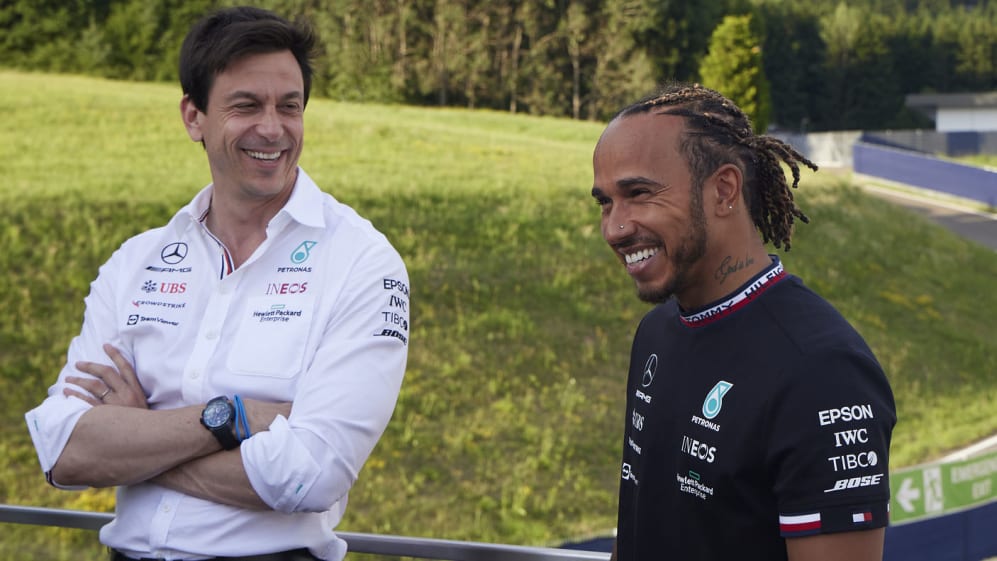 "If it ain't broke, don't fix it". Lewis Hamilton was talking about his Mercedes W12 after an improved showing in Friday practice at the Red Bull Ring – but it also aptly applies to his future in F1 with the news he and the Silver Arrows have extended their partnership until at least the end of 2023. Let's look at the key questions surrounding the reigning world champion's latest deal...
Why was a contract agreed so much earlier this time?
Quite simply, Hamilton and Mercedes didn't want to find themselves in the same pickle as they did this year, when a deal was agreed just weeks before the start of the season.
A new contract was delayed for a range of reasons, including because Hamilton tested positive for Covid-19 around the time they hoped to accelerate discussions and thus they didn't begin negotiating properly until January of this year.
This time around, Mercedes boss Toto Wolff and Hamilton started chatting about an extension much earlier. That eased the pressure and it is believed the process was positive throughout and significantly smoother.
It has also been much easier to meet up face to face to discuss terms, with restrictions around Covid-19 easing.
And while it may feel like this deal was done quicker, the timeframe of formal negotiations is believed to be around the same as the last deal – measured in weeks rather than several months.
Why did Hamilton and Mercedes agree to two years?
Neither Hamilton nor Wolff wanted the last contract to only be one year, but circumstances forced them into it. They refused to have a repeat. Both sides wanted a two-year deal for stability. It was then just a case of hammering out the finer details.
For Mercedes, they have F1's most successful driver for another two years, who can guide them into the new era of F1 that'll see a revolutionary new car introduced next season as part of sweeping changes to the Technical Regulations.
For Hamilton, who has maintained all year he wanted to race on, having looked freshly motivated by his intense title battle with Red Bull's Max Verstappen, he remains at a team that is a known quantity and with which he has enjoyed so much success. Staying put was a no brainer.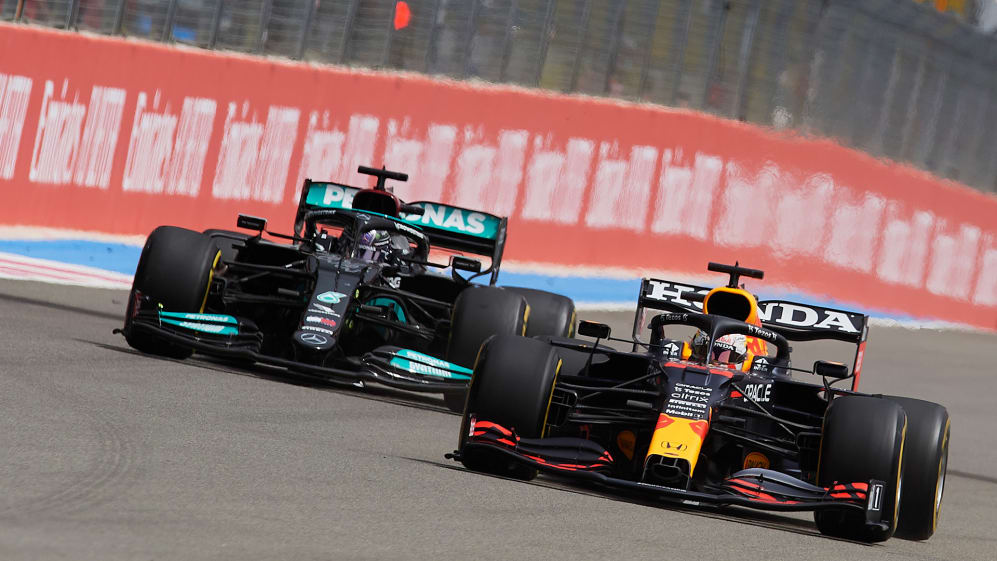 An early agreement means both avoid the relentless questions about his future for the foreseeable future while a two-year driver deal brings Hamilton in line with Wolff's Team Principal and CEO contract - with both expiring at the end of 2023.
It should be noted that Wolff - who increased his shareholding last December to become an equal partner with Ineos and Daimler - can transition to a new executive function within the organisation when he decides it is the right time to do so.
Hamilton, though, will be pleased that things are staying as they are for the duration of his next contract. He has a strong relationship with Wolff and they work well together in their current roles. Should Wolff opt to move up the pecking order at the end of 2023, Hamilton won't be locked in at that point and would be a free agent.
As an aside, Hamilton's title rival Verstappen's deal with Red Bull also expires at the end of 2023.
Is this his final contract?
Hamilton will be 38 years old – and within a week of turning 39 – when his new deal expires.
That isn't old in modern F1 times. Alfa Romeo's Kimi Raikkonen will be 42 at the end of this season, while double world champion Fernando Alonso turns 40 later this month.
Hamilton is fitter than he's ever been and driving at an incredibly high level so there's no reason to think he couldn't sign yet another deal that would potentially keep him in F1 into his 40s.
Much could depend on how much success he has achieved at that point. He's already got the most wins and poles in history, and by then he could be a 10-time world champion, which might be enough for him to call it quits and focus on one of his many interests outside of F1, such as fashion, music and his diversity commission.
Either way, Hamilton remains in control of his own destiny.
How close did Lewis come to moving to another team or retiring?
Wolff has said to Hamilton that if he is hungry to drive for Mercedes – the team with which he has won six of his seven world titles – there would always be a seat for him.
For Hamilton, he need not look anywhere else. Mercedes is the team for him. After signing the one-year deal for this season, he always maintained that he had no intention of hanging his helmet up just yet so it was more a case of when, not if, he would put pen to paper to extend his stay with Mercedes.
Hamilton may not be in his familiar position of leading the world championship, but that hasn't dampened his enthusiasm for the sport. If anything, the challenge Verstappen is presenting him has only served to motivate and rejuvenate him.
The cars will be radically different next year, how likely is it that Hamilton and Mercedes will remain a winning combination?
If only Hamilton and Mercedes knew the answer to this question, eh?
The truth is, no one knows, but the team does have a track record of responding brilliantly to rule changes, such as in 2014 and 2017, and continuing its impressive dominance.
There has been upheaval at Mercedes in the last year or so with Mercedes engine chief Andy Cowell leaving, several senior personnel leaving for Red Bull's new power train division, and James Allison stepping out of his role as Technical Director.
All this change could have worried Hamilton, but it is believed the Briton retains full faith in the company's ability to react to change and evolve – and has full trust in the leadership team and the direction they are taking.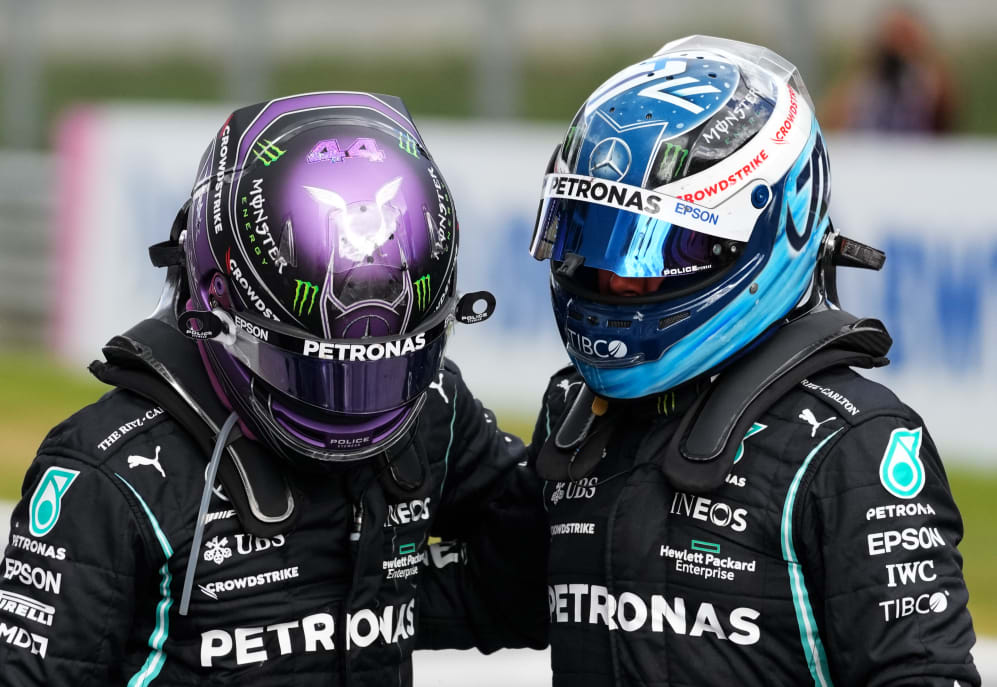 If he didn't think they could contend for the world championship over the next couple of years, he wouldn't have signed on again.
Who will be Lewis' team mate?
That has yet to be decided, but it's a straight shoot-out between incumbent Valtteri Bottas and Mercedes junior and current Williams driver George Russell.
It's no secret Russell really wants a move to the Silver Arrows, after almost winning when he stood-in for Hamilton Bahrain last year, and Mercedes are known to rate him very highly.
READ MORE: Stick or twist? David Tremayne on Mercedes' big decision – and where Bottas could go if he does leave
Equally, Bottas has been a fine team mate for Hamilton. The duo have a harmonious relationship and he has played a key role in securing the last four constructors' championship. However, his form this year has been patchy.
With the Hamilton deal done, Mercedes can now switch their attention to the second seat and spend the coming days and weeks mulling things over.