Podcast
Bottas and Albon have the two hardest jobs in F1, says Horner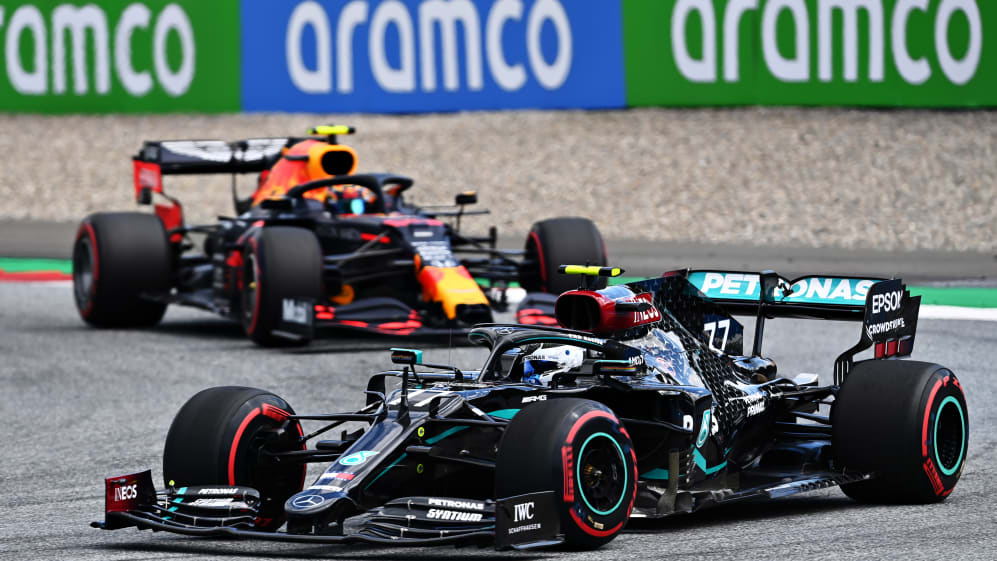 F1 fans have loved watching Red Bull's Max Verstappen and Mercedes' Lewis Hamilton pitting their wits against each other this year. But as Red Bull Team Principal Christian Horner explains on this week's episode of F1 Nation, with those drivers operating at such a high level, life can be very uncomfortable for their team mates…
Hamilton has now won four out of six Grands Prix in 2020, while Verstappen has dragged a "tricky" (in Horner's words) Red Bull RB16 to the podium in every race he's finished this year, including taking an unexpected win at the 70th Anniversary Grand Prix.
READ MORE: Hamilton? Schumacher? Senna? Machine learning reveals the fastest F1 driver of the past 40 years
And asked by F1 Nation host Tom Clarkson who out of Alex Albon and Valtteri Bottas he thought had the hardest seat in F1 currently, Horner replied: "Both are in enviable seats.
"Valtteri has a lot more experience than Alex. I mean going up against Max, arguably the most in-form driver in Formula 1 at the moment, would be tough for any driver, but Alex is still very young, and young in experience. He's only five races into his second season so we see the potential in him.
"We're seeing on Sundays, his racecraft is very strong, and I think it's only a matter of time before it all comes together for him. But I think they're probably two of the hardest seats in Formula 1, to be either the team mate to Max or indeed to Lewis."
READ MORE: Verstappen 'happy' to split Mercedes drivers in Spain as he explains angry team radio messages
Horner went on to praise Verstappen's performances in 2020, arguing that the Dutchman had slipped naturally into the "team leader" role at Red Bull, despite still being just 22 years old.
"The way he's driven this year at every single Grand Prix, he's just delivering at an incredibly high level," said Horner. "His consistency is right there and I think how controlled he is in the races, you can hear how relaxed he is in the car, how much capacity he has, it's been truly impressive.
"The performance in Austria in the wet, Hungary, to come back after the one blot on his copybook this year on the parade lap, the Silverstone first race, the second race – he's been on fire this year... and he now has five years' worth of Formula 1 experience behind him, so he is very much our team leader."
WATCH: Albon says he 'doesn't know' how to stop Red Bull tyre issues in Spain
Verstappen's successes have thrown the relative struggles of Albon into sharp relief. But Horner once again took the opportunity to back the Thai driver, as he has done throughout 2020, having been impressed in particular by Albon's racecraft.
"I think he's impressed the whole team with his racecraft," said Horner. "He has raced incredibly well throughout this season, and I think we just need to get him qualifying [better].
"Our car is a little tricky to drive at the moment over a single lap, and I think it is a little bit insecure in certain areas, and whereas Max has got the confidence to drive through that, Alex needs the car to be a little bit more settled, and I think that will come as we improve the car and hopefully, therefore, we'll see Alex's Saturday performances continue to improve.
"He's a very deep-thinking driver rather than a seat of the pants driver, so he's trying to understand the car. He's very sensitive to what the car is doing, whereas Max is far more robust in that respect.
"The DRS stuck open on [Max's] quali lap in Hungary on the way into Turn 1, and he had a big snap of oversteer and he had to look on the replay to see why and it was, 'Oh, the DRS is open.'
"For other drivers, that would have been probably a monumental spin. So I think with Alex, it's time in the seat and it's just getting him comfortable, which is important for him... You can overthink in this game and he just needs experience, and I think with time, that will come."
Check out the latest episode of F1 Nation in the player above – or tune into the episode on Spotify, Apple Podcasts, or your favourite podcasting platform.