Feature
DATA DEEP DIVE: Was Toto Wolff right? Could Hamilton have won in Hungary without his DRS problem?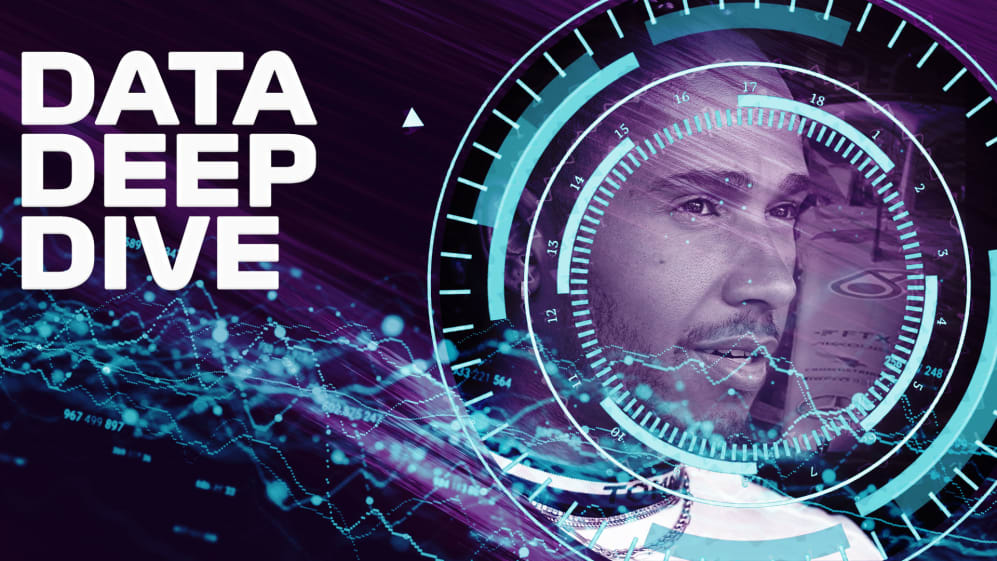 It wasn't just Max Verstappen who pulled off a shock recovery in Hungary. Lewis Hamilton finished second behind the championship leader at the Hungaroring, having qualified seventh. Here's how the Mercedes driver pulled it off – and how he might have won his first race of 2022…
POWER RANKINGS: Who bossed it in Budapest at the Hungarian Grand Prix?
DRS woes
A DRS issue cost Hamilton in qualifying and saw him start Sunday's Grand Prix in seventh place, while team mate George Russell qualified on pole position for the first time in his Formula 1 career. The graph below shows how closely-matched the Mercedes pair were in their first runs of Q3 – which saw Russell go a provisional second and Hamilton a provisional fourth, the two then split by 0.174s.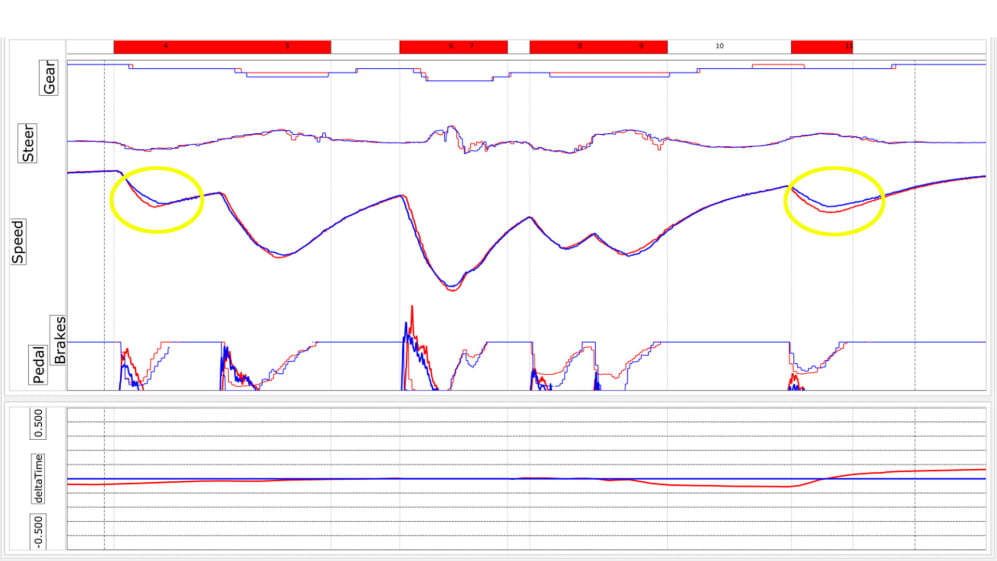 How did Hamilton beat Russell to second?
The below chart compares Russell and Hamilton's race pace, correcting for fuel, and displays their differing strategies – Hamilton having ended the race on softs; Russell having begun on softs.
In the initial laps, Hamilton was stuck behind Lando Norris but, once Norris pitted on Lap 11, Hamilton began to match his soft-shod team mate – Russell's tyres beginning to wear – on pace.
F1 NATION: The podcast crew chew over the Hungarian GP – plus the weekend's big news on Vettel and Alonso
In the second stint, Hamilton began to out-pace Russell, especially as Russell lost time battling with Charles Leclerc until Lap 31. Russell's pace increased as Leclerc pulled away but Hamilton was still slightly quicker.
Hamilton extended his second stint while Russell had to stop to try and block Verstappen's undercut. Hamilton therefore managed to swap for softs for his final stint and lap over one-second faster than his team mate, allowing him to catch both Russell and Carlos Sainz by the end.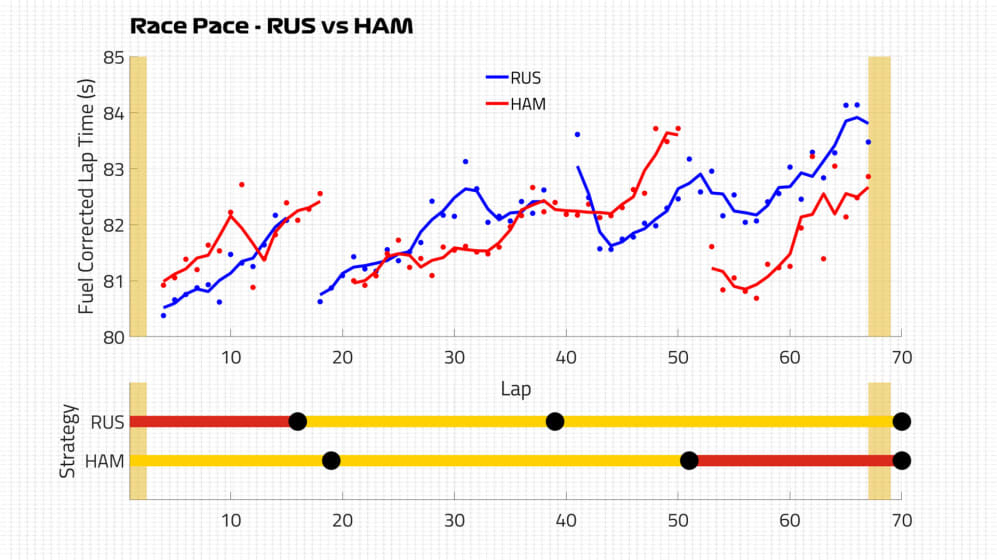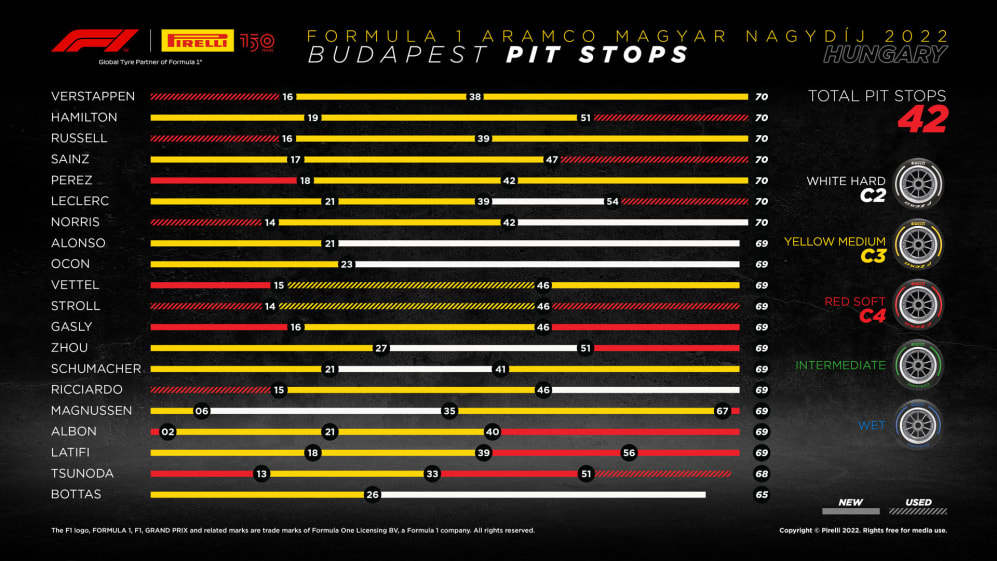 Initially, all the top-six drivers were lapping within 0.5s of each other, and when Leclerc and Russell lost lap time battling from around Lap 26 to Lap 31, Hamilton became the fastest driver on track – as shown by the race pace chart below.
READ MORE: Could this 2022 F1 design trend explain those strange spins for Leclerc and Verstappen?
Perez was in the mix until Lap 37, when his tyres began to drop off and his pace sharply dropped away.
Sainz managed to extend his stint until pitting for softs on Lap 47; Hamilton extending until Lap 51. Crucially, Hamilton was now able to push on the soft tyres throughout his final stint while other drivers had to manage their tyres, and the Mercedes driver was able to make it to P2.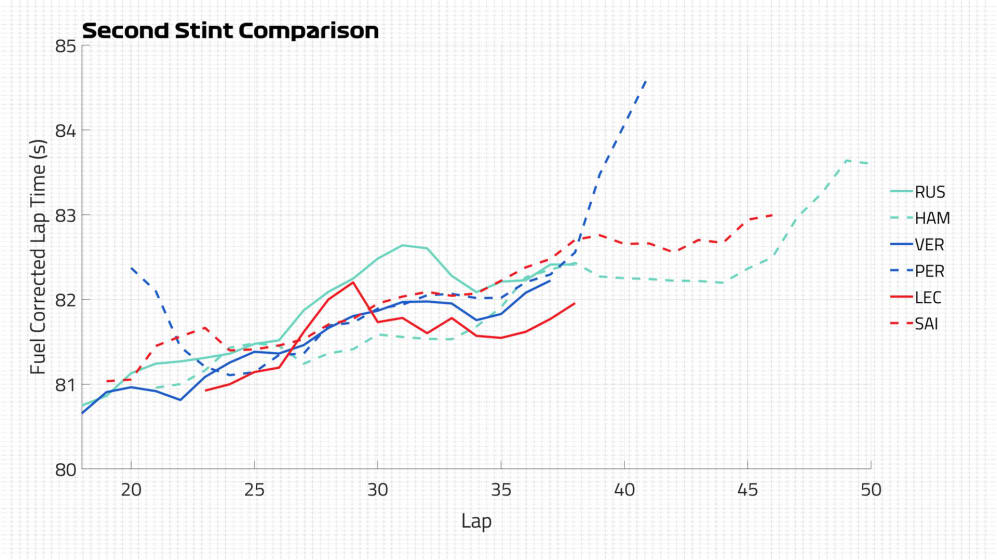 Could Hamilton have won?
Mercedes Team Principal Toto Wolff said "we would have had a fun fight at the front for the victory" had Hamilton not had a DRS issue in qualifying. So, what would have happened had Hamilton taken pole on Saturday?
The chart below plots the race pace of the top six and simulates Hamilton's race pace, using Russell's lap times from pole until Lap 11 (when Hamilton passed Norris).
Assuming Hamilton would have taken his first stop on Lap 19 as he did in the race, he would have emerged third behind Russell and Leclerc and ended up catching them and battling around the Lap 25-30 mark, which would have cost him lap time. Furthermore, our simulation says that it would have been likely that Leclerc would have passed Hamilton soon after that battle.
READ MORE: 6 Winners and 5 Losers from the Hungarian Grand Prix – Who finished the first half of the season on a high?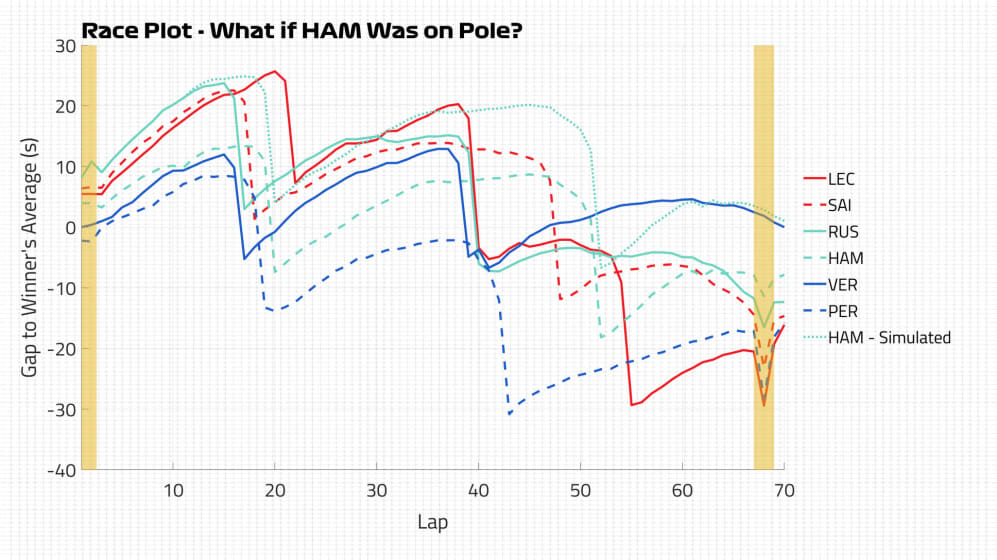 An extended middle stint, as he executed on Sunday, would have seen Hamilton exit in front of Sainz – Leclerc pitting again for softs for Hamilton to inherit another place – for Hamilton to pass Russell by the Lap 55 mark.
With a tyre advantage over Verstappen, Hamilton might have been able to pass Verstappen and hold on thanks to the late Virtual Safety Car – but Hamilton's tyres would then drop off relative to Verstappen's mediums and he might have lost out.
But either way, had Hamilton taken pole it most likely would – as Wolff said – have set up a scintillating late-race battle for the win.