DRIVER MARKET: 'I'm with my dream team' – Hamilton shoots down Ferrari move rumours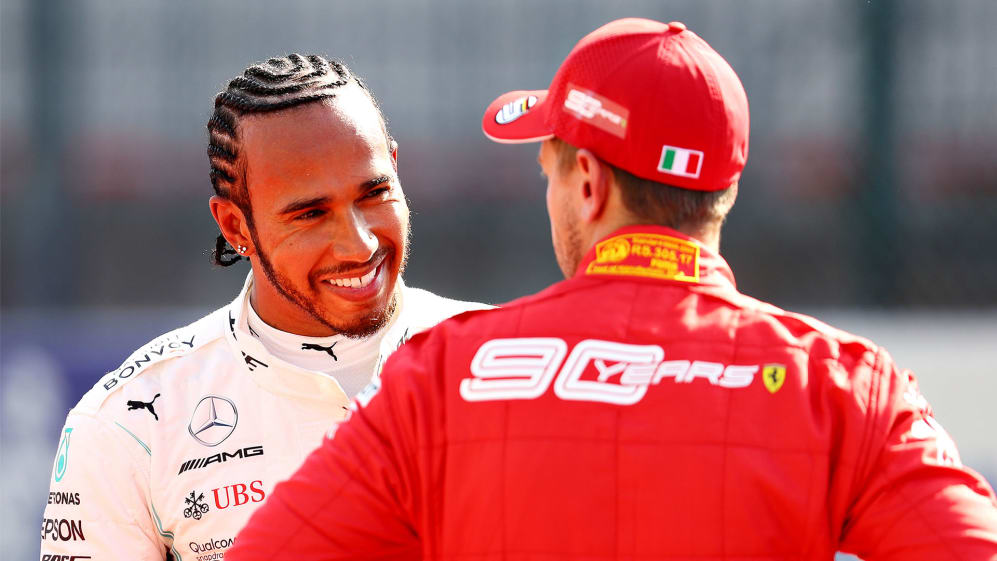 Lewis Hamilton has firmly batted away talk of a switch to Ferrari in the immediate future, with the six-time champion insisting that he's "not trying to move" away from his current Mercedes squad, with whom he's taken five of those titles.
British newspaper The Sun published an article last Friday in which it suggested that Hamilton's hopes of a move to Ferrari had been hampered by the increasingly positive noises coming from the Scuderia about Sebastian Vettel being retained.
READ MORE: Sebastian Vettel discusses his F1 future with Ferrari, temporary pay cuts and his lockdown lifestyle
But responding to the article on Instagram – and quoting The Sun's headline: 'STALLED BY SEB Lewis Hamilton's dreams of mega-money Ferrari move dashed as Sebastian Vettel reveals plans to stay' – Hamilton wrote: "First off, there is no dream of a dash to another team. I am with my dream team.
"Second, theres [sic] not a thing in my way as I'm not trying to move. I'm with the people who have cared from day 1. We are the best team! @mercedesamgf1."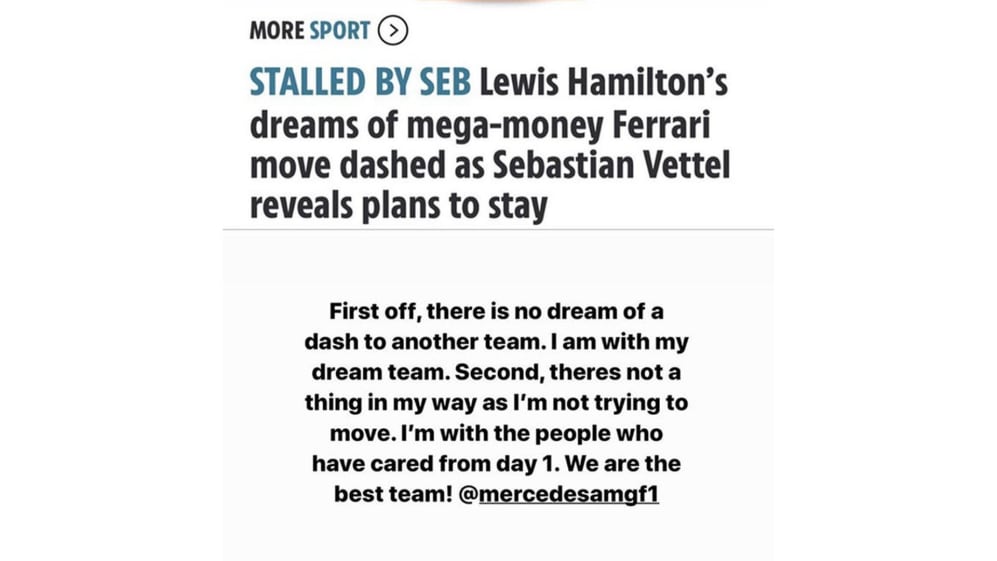 Speculation about the possibility of Hamilton moving to Ferrari ramped up around the time of the 2019 Abu Dhabi Grand Prix, when reports of a meeting between Hamilton and Ferrari chairman John Elkann began to circulate.
And while Ferrari conceded the pair had met, the company's CEO Louis Camilleri said the media had read too much into the rendezvous. "It was a social event, which has sort of been blown somewhat out of proportion," Camilleri told journalists at a Christmas media lunch at Ferrari last year. "They have some common friends."
READ MORE: Hamilton-Ferrari meeting 'blown out of proportion' – Camilleri
The Sun, meanwhile, were responding to quotes from Vettel in which the four-time champion appeared to suggest that a new contract with Ferrari was in the offing, albeit with question marks surrounding the length of that contract.
"Whatever the deal will be like, it will be whatever I and the team will be comfortable with," Vettel told the media in a conference call last week. "In terms of duration, I don't know. Normally the contracts I've had in the past were all three-year deals. I know I'm one of the more experienced drivers in Formula 1, but I'm not the oldest and I don't think there's an age limit in this regard."
READ MORE: What now for Hamilton, Vettel and co? How delaying 2021 rules will impact the driver market