Feature
DT's 10 Hot Takes from Azerbaijan - On Bottas 2.0, Red Bull pace & more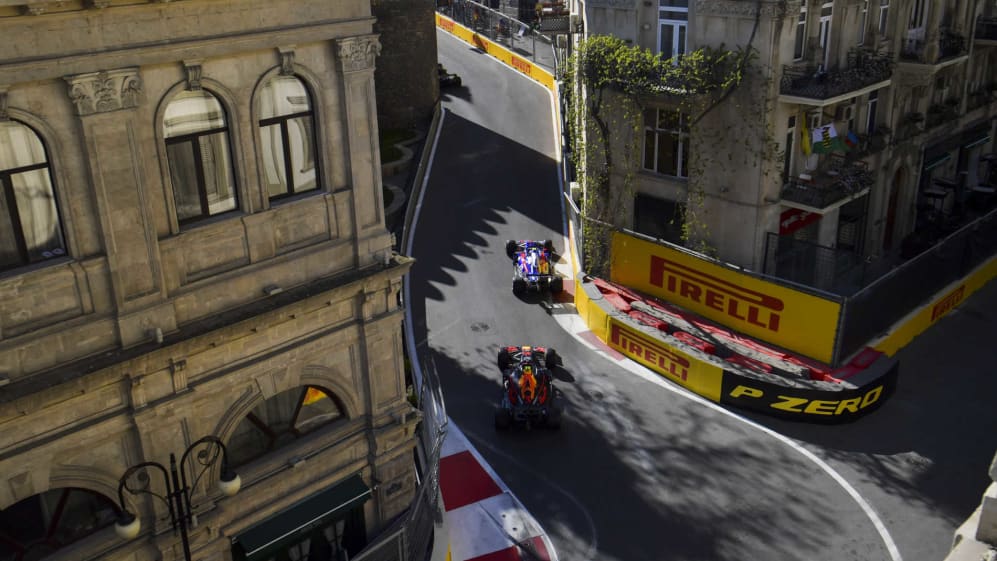 A celebrated Formula 1 journalist with more than 500 (consecutive!) Grands Prix' experience, David Tremayne is one of those familiar paddock figures who has seen it all, met them all, and written about it all, over almost five decades of F1 racing. Here, he shares his hot takes after round 4 of the 2019 season in Azerbaijan…
'New and improved' Bottas is the real deal
Sometimes when a driver keeps telling you that this year he is harder and stronger it wears a bit thin. Sort of a reverse 'methinks he doth protest too much' thing. But having told us that in Melbourne, Valtteri Bottas has continued to prove it in Baku.
He won Down Under, then lost out to Lewis Hamilton in both Bahrain and China, mainly because of the starts.
Here, he did a great second qualifying run in Q3 to ace pole, and his side-by-side stuff round Turns 1 and 2 at the start with his illustrious team mate, before he got it done by Turn 3, was a highlight of Sunday's race. It was perfect, on-the-limit, yet gentlemanly and respectful stuff.
Thereafter he never made a mistake, and if you can say that having had Lewis Hamilton in your mirrors for 51 high-speed, high-pressure laps, you can feel entitled to pat yourself on the back. There aren't a lot of drivers in history who could have matched the feat.
Bravo to a decent fellow!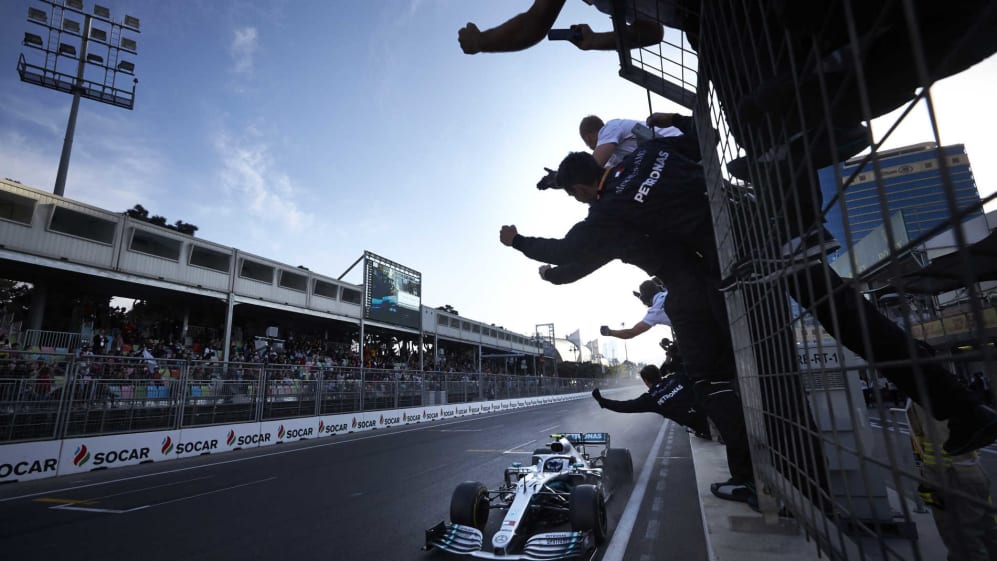 Hamilton a warrior in the Gilles Villeneuve mould
I really like the way in which Lewis smiles these days whether he's won or not, because it shows just how much he is enjoying the fight.
I mentioned that to him after the race, and how much he seemed to be relishing it all. I can think of drivers who just want to win whichever way it comes, but he's like that great immediate post-war French star Raymond 'Coeur de Lion' Sommer, or Gilles Villeneuve, a driver to whom the manner in which you win was so much more important than merely finishing ahead of everybody else.
He smiled and said that you want it to be the toughest battle, that you want to climb the highest mountain, because then when you achieve your goals it's even more satisfying.
People wonder how he keeps himself so motivated, but there it is in a nutshell. He continually challenges himself.
It made me smile, too, when he added, with a mock grimace, that when you don't achieve those goals, you go away with a certain feeling that just keeps you hungry to do better next time.
There are drivers, and there are racers. We all know which he is.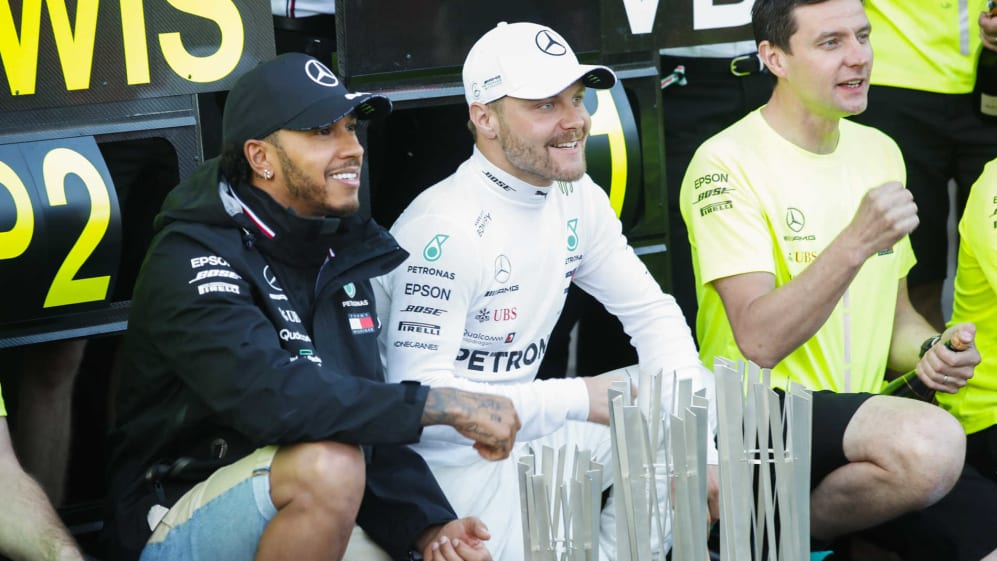 Ferrari's use of mediums in Q2 probably cost them victory
Was it really the smartest thing for Ferrari to do, in retrospect, trying to run Charles Leclerc and Sebastian Vettel on the medium Pirellis in Q2? It worked in China, but here it transpired that the softs could go around 12 to 13 laps in the race, so the medium option was a little redundant.
But hindsight, as they say, is 20/20 vision.
However, Leclerc's accident, caused partly because the tyres weren't grippy enough in the lower temperatures – they dropped from 36.7 degrees Celsius to 26.3 in the lull after Robert Kubica's shunt – took the Monegasque out of contention for a race I firmly believe he would have walked.
I wouldn't quite say I'm in love again with Ferrari, but I respect them again in a way I haven't since Stefano Domenicali's days in charge.
I like the way Mattia Binotto goes about things. They don't always get it right, but they are taking that on the chin and are open about their problems. And they are still learning how to cope with a rival Mercedes whose strength in adversity is awesome.
That makes for a fascinating title fight.
Vettel needs to find confidence if he wants to be part of this title fight
It was very interesting to see the lap times for Mercedes, Ferrari and Red Bull during the race.
Take Lap 43, for instance.
Hamilton 1m 45.032s
Leclerc 1m 45.465s
Vettel 1m 45.598s
Verstappen 1m 45.706s
Bottas 1m 45.846s
Lap 44 was better still.
Bottas 1m 44.488s
Hamilton 1m 44.584s
Vettel 1m 44.834s
What made the crucial difference was that Mercedes managed to get their soft tyres into their optimal operating window. That window is very narrow on the 2019 Pirellis, and varies from compound to compound and circuit to circuit, so what works in one place doesn't necessarily do so elsewhere. Mercedes were thus fast right from the start, whereas Ferrari and Red Bull felt better in their second stints when they had switched from the grippier softs to the more durable mediums.
Seb said his first stint was horrible and that as a result he lacked ultimate confidence in the SF90. But on his set of mediums he was on the pace. By then, the damage had been done in terms of really being able to challenge the Mercs, but you can see how the fight is turning on the small details.
There's not much wrong in fundamental terms with the Ferrari, and you can bet that Mercedes know their opposition is going to get tougher with every race once they get those little nuances sorted.
Red Bull will be fighting for wins soon
Looking at the Hot Take above, and then the fastest laps that Max Verstappen had been busy setting between Laps 20 and 23, and again on 31, 33 and 38, you'd have to say that, once it gets in the zone, there isn't much wrong with the Red Bull RB15, either.
Max was, of course, pushing as hard as he could, and as he pointed out, he was keeping the Mercedes and Vettel's Ferrari in sight.
READ MORE: Our race pace better than Ferrari's in Baku, say Red Bull
Meanwhile, Pierre Gasly was doing alright hauling his RB15 through to sixth from the pit lane in his best run thus far in 2019. It was only when the Frenchman broke a driveshaft – was there a little brush with a wall that we didn't see? – that the team decided they might need to rein in their Dutch star a little just in case.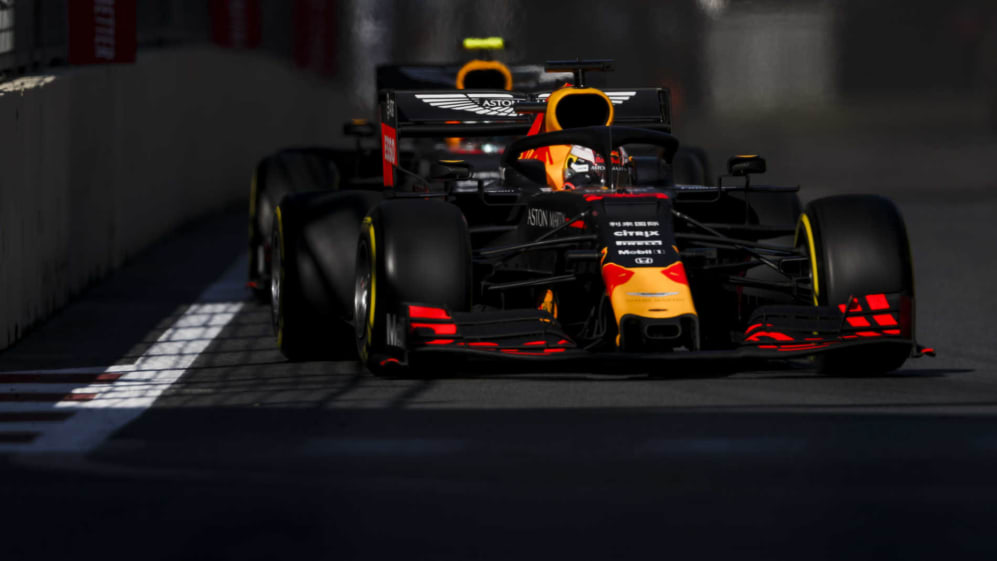 Slipstreaming is now a key factor on Saturdays
Old School F1 drivers might smile when listening to Max when he was talking after qualifying about the importance of slipstreaming in F1, with the 2019-style cars.
So many people decry DRS, without realising that, in the age of cars which deliberately generate wakes which make life hard for those following, DRS is merely an artificial means of creating the situation of old where, in the Sixties and Seventies – maybe even the Eighties and Nineties to an extent – a following car could ride in the bubble of air behind another and get sucked along to the point where they could then dart out and overtake.
Remember the race at Monza in the movie Grand Prix?
Lewis pointed out that by selling Ferrari a dummy and parking up at the end of the pit lane to let the red car and others go ahead of them on their final runs in Q3, Mercedes engineered a situation where the German had to run without a tow. With one said to be worth between three to five-tenths depending on who you ask, he believed the Ferrari would have been on pole.
So on tracks such as Shanghai and Baku, the slipstream is key again.
I like that.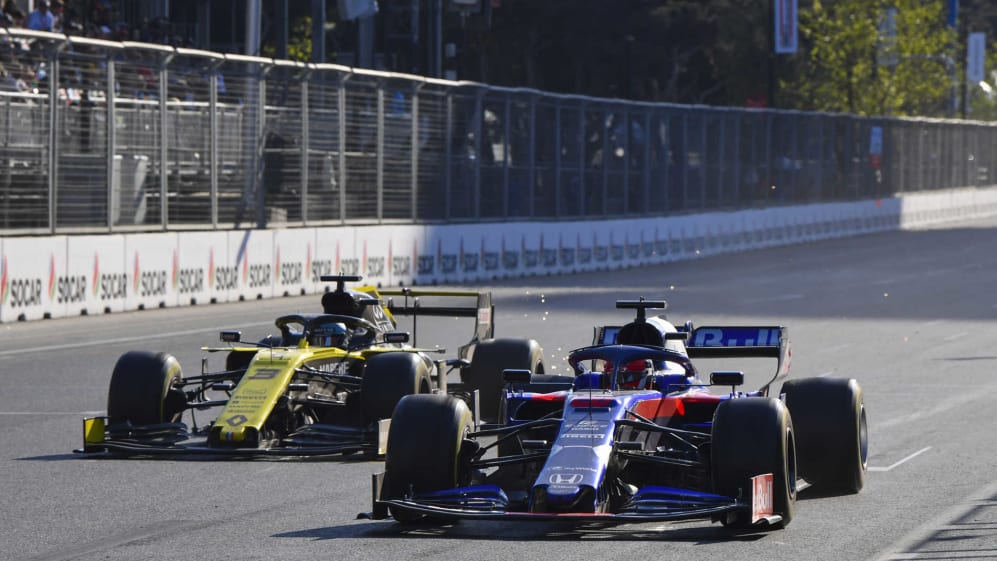 Renault dangerously close to a crisis
Their colours might be an attractive blend of yellow and black, but right now the hue within Renault must be red. As in Red Alert.
This is the year in which they are meant to be annexing fourth overall and closing the gap to the top three. Instead, they left Baku having tumbled from joint fourth to seventh after another disaster.
Nico Hulkenberg said he didn't feel "the love and the harmony" with the R.S.19 in practice and qualifying this weekend, and like Seb in his first stint of the race, he lacked the confidence in his machinery that you need to really push it hard.
In the race, he did the best he could, as he always does, but said that he had no response or anything to offer. As for Danny Ric, the less said about reversing into Daniil Kvyat's Toro Rosso, the better.
I hesitate to use the word crisis, because as we know these things all turn on the small things, but Renault need to get a grip, figuratively and literally. Rapidement.
Russell is doing one of the best jobs in the field
Poor old George Russell was left feeling drained in Baku on Friday. He was already under the weather with some sort of viral infection when he ran over the drain cover that had been dislodged by the passage of Sebastian Vettel's Ferrari, and received an unwelcome 4g kick up the backside.
But the increasingly impressive rookie put all that behind him, recovering from a serious lack of running time and confidence – as his completely rebuilt Williams FW42 slipped and slid its way around a track on which you really need to be able to trust your steed – and delivering strongly for the rest of the weekend.
Don't let it be obscured by the fact that he is having to run at the back right now – there's a lot of talent in the cockpit of car 63.
Kubica needs to get on top of things quickly
I'm sure I'm not alone in seeing the poignant side of Robert Kubica's very personal battle to return to F1.
I've always been a big BobKub fan, and haven't forgotten that back in 2008 both Lewis Hamilton and Fernando Alonso admitted that the man they rated most after each other was the Pole. That year, he did a fabulous job for BMW Sauber, and it's one of racing's tragedies that his rally accident in 2011 –like Patrick Depailler's hang-gliding crash in 1979 – came because he just loves competition and the thrill of doing exciting things even when he's not at a Grand Prix. Ultimately, too, it prevented us from seeing what he would have done at Ferrari as Fernando's team mate as he revealed to F1's official podcast last year.
READ MORE: Kubica says Williams need to make car more driveable
F1 can be an unsentimental place and it upsets me to hear so many people decry his efforts, especially after his shunt in Turn 8 in qualifying. 'He should stop, he has no strength in his right arm' is a frequent claim from the naysayers.
Maybe that's true, but they didn't suggest such things when Charles Leclerc did the same thing once the wall there had been rebuilt.
My romantic streak has already cost me 20 Australian dollars and 20 euros in lost bets in Melbourne and Baku that Charles would win, but to me, the human side of racing is as important as anything else. More so, actually. I admire his refusal to give up, and hope things improve for him.
Baku is now one of the street circuit greats
I really like the track at Baku. Some bits aren't super challenging, but even the 90-degree stuff is wide enough to enable people to race one another – witness the edge-of-seat side-by-side fun Valtteri and Lewis had after the start in Turns 1 and 2. And the super-narrow Turn 8, which seemed daft on first sight, is a key part of the lap. Then you have all those fast sweeps which lead to that excellent final straight and set up the excitements in Turn 1.
Some street circuits plain don't work, but this one does, because it lets the cars flow rather than demanding stop-start braking and acceleration.
I read somewhere that 75 percent of it is full throttle, and I have yet to speak with a driver who doesn't like – and respect – it.