Feature
F1 Fantasy: What were the best and worst teams for the Canadian Grand Prix?
Talking points after the Canadian Grand Prix were plentiful – but when it comes to F1 Fantasy, all we care about is cold, hard data. With that in mind, here's a look at the best and worst teams from Montreal.
Twenty-one F1 Fantasy players picked the optimum team out of a possible 15,782,118 valid combinations, shrugging off the mere 0.00000633629% chance they had of doing that.
Here's who, with 20/20 hindsight and all that, you should have gone for – and who you should have avoided like an errant groundhog.
Best team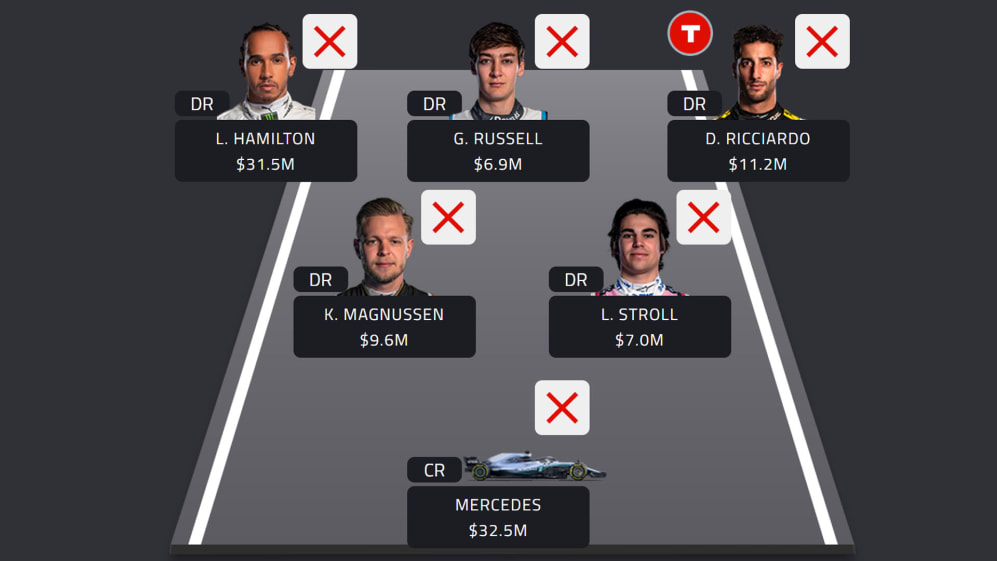 Total points: 191
Budget: $99.2 million
Lewis Hamilton: 45 points
George Russell: 11 points
Daniel Ricciardo: 40 points (Turbo Driver)
Kevin Magnussen: 13 points
Lance Stroll: 17 points
Constructor: Mercedes – 65 points
They might be at either ends of the grid, but both Lewis Hamilton and George Russell maintain a streak of 'Best team' appearances, Hamilton having been in since his victory in Spain, while Russell got the call up after Monaco, and continues to provide handy points for his price.
'How can that be, when Russell's always finishing so low down the order?' we hear you cry. Well, those points are mainly derived from his consistent finishing record, his strong showing against Robert Kubica in both qualifying and the races, and the fact that he's one of the few drivers who tends to gain a position every time anyone retires, given the fact that he's running towards the back of the field. So don't dismiss him just because he's in a Williams...
READ MORE: The 2018 F1 Fantasy winner shares his 5 key tips for success
Elsewhere, and after a super duper weekend that saw him qualify fourth and finish sixth, Daniel Ricciardo was the big points-payer in the midfield, taking 40 for those who turbo'd him. Kevin Magnussen's Q2 crash, meanwhile, was actually good news for F1 Fantasy players, given that he got points for progressing to Q3 – having set a time good enough to do that when he crashed – and then gained points for his climb from his resultant pit-lane start… even if he only finished 17th.
Lance Stroll didn't make it out of Q1, but took a fine score nonetheless, largely thanks to finishing ahead of team mate Sergio Perez and the fact that he made his way from 17th on the grid to ninth at the flag.
Mercedes, meanwhile, maintained their seven-race, whole-of-2019 streak of being the constructor to have – but a stronger weekend for rivals Ferrari meant that it was a lower scoring performance for the Silver Arrows than we've seen recently.
Worst team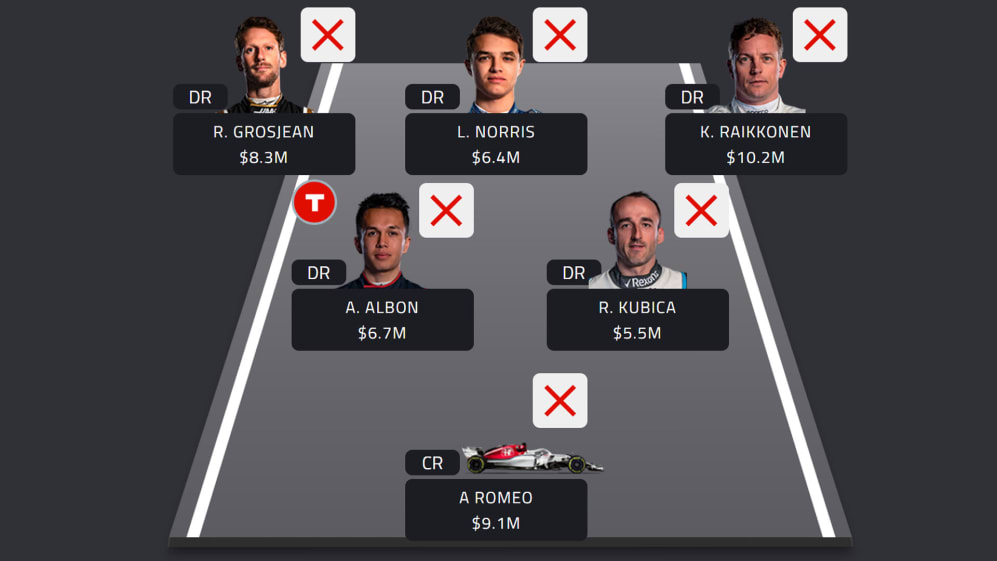 Total points: -13
Budget: $45.4 million
Romain Grosjean: 6 points
Lando Norris: -7 points
Kimi Raikkonen: 4 points
Alex Albon: -26 points (Turbo Driver)
Robert Kubica: 4 points
Constructor: Alfa Romeo – 6 points
And so to the squad to avoid in Canada, where alas, Romain Grosjean found himself for the fifth time in seven races so far this season, with the worst record of any driver currently.
Joining him were Lando Norris, who would have been set to score a decent haul of points if he'd finished roughly where he'd started. Unfortunately, though, his McLaren MCL34 decided to flash-fry itself on Lap 9 – and with drivers losing 15 points for a DNF, the damage was done.
Another disappointing weekend for Alfa Romeo sadly means that Kimi Raikkonen makes his first appearance in the 'Worst team' this year, while Alfa were the constructor to steer clear of for the second race weekend in a row.
Turboing Alex Albon would have cost you a gut-punching -26 points, meanwhile, largely from Toro Rosso's decision to withdraw his damaged car, while a tough weekend for Robert Kubica at a track he won at in 2008 sees him round out the 'Worst team' for this week.
READ MORE: 5 of the best F1 Fantasy leagues you should get involved with