Feature
F1 INBOX: Your questions on Ferrari tactics, McLaren-Mercedes and more answered after Sochi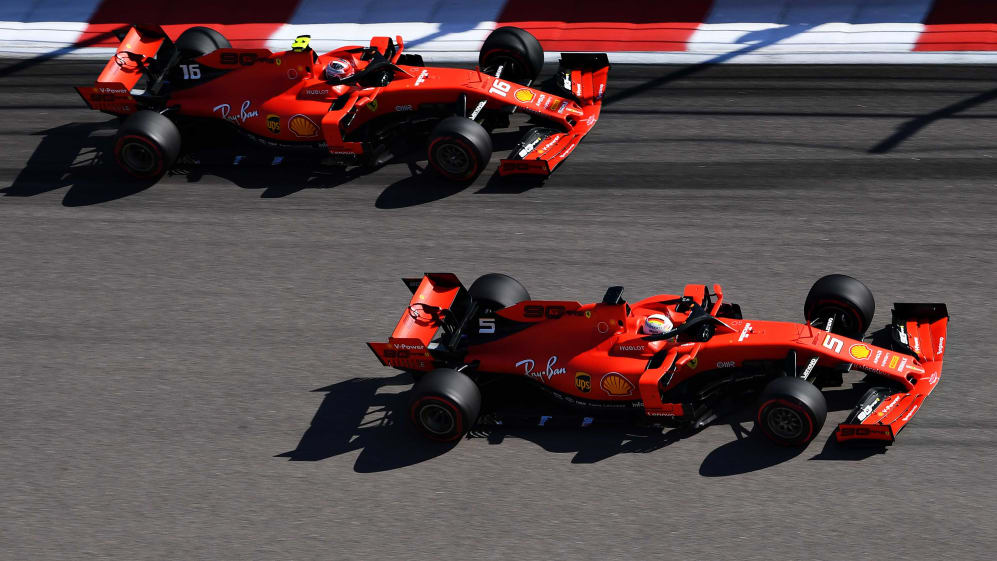 Following on from an intriguing Russian Grand Prix at the Sochi Autodrom, we asked you to submit your burning post-race questions – then had them answered by paddock insiders Mark Hughes, Will Buxton and Lawrence Barretto.
Team orders on trial
Oops! Error retrieving Twitter post
MARK HUGHES SAYS…
It made sense to have some arrangement in place so as to protect against Hamilton on this unique layout where the guy on pole is very vulnerable. But getting an arrangement that's both fair and has no room for ambiguity is easier said than done. Also, doing the swap early was, as you say, not an ideal way of doing it.
It's difficult to call if Seb was really faster. Basically, with these aero and tyres, with two identical cars, whoever is in front will tend to be faster. Maybe it was asking too much to arrange to give Vettel the lead rather than just benefitting from Leclerc's slipstream (like Bottas-Hamilton last year).
READ MORE: 'The trust is unchanged' says Leclerc of Vettel
Harsh on MAG?
Oops! Error retrieving Twitter post
LAWRENCE BARRETTO SAYS…
Hi Jack, yes it was necessary as he did not adhere to the rules. Before the race weekend, the FIA stipulated if a driver left the track at Turn 2, they must pass to the left of both bollards. Kevin Magnussen did not follow that instruction when he ran wide in defending from Sergio Perez. That he lost the position in doing so is irrelevant. Ultimately, he did not follow procedure and therefore the stewards applied a penalty to ensure consistency.
Is Vettel/Leclerc the new Hamilton/Rosberg?
Oops! Error retrieving Twitter post
WILL BUXTON SAYS…
Hey Salman. That's a tricky one, as every relationship is so unique that it's tough to compare. I think if you really want to compare, however, the better might be Lewis Hamilton and Fernando Alonso at McLaren back in 2007. In that situation, you had a young buck keen to make an impression and skirting the edges of acceptability, and an older champion whose standing demanded respect and who would and should have expected to be given it.
You also have an apparent breakdown in communication – and that is where things differ to Mercedes. Hamilton and Rosberg had clear rules establishing what was and was not acceptable, and when they broke them there was hell to pay. At Ferrari, by trying to keep both drivers happy, it appears that neither are, and so the team risks fracturing and suffering. Mattia Binotto has the same conundrum that Ron Dennis had in '07. You don't want to dampen the fire of your youngster, but you don't want to deny the greatness of the champ. Not an easy one at all.
WATCH: Rosberg vs Hamilton - their most dramatic moments to date
McLaren's Merc switch
Oops! Error retrieving Twitter post
LAWRENCE BARRETTO SAYS…
Hi Koganai, McLaren felt Mercedes – a power unit supplier they enjoyed a 20-year relationship with before joining Honda – will be a better proposition than the Renault engine they currently have in the back of the car in terms of pure performance and reliability. They also disagreed with Renault with regards to how the deal would evolve. Renault wanted a closer partnership, that would include sharing parts. McLaren were more interested in a straightforward customer supply deal.
READ MORE: 'A lost opportunity' – Why Renault wanted a stronger partnership with McLaren
Vettel re-finding his form on Sundays?
Oops! Error retrieving Twitter post
MARK HUGHES SAYS…
He's not usually had bad race pace. It's more that he's been making small errors in qualifying and starting behind makes it difficult to show your true race pace. He's certainly been driving well on Sunday in the last couple of races, but in qualifying seems to be struggling to make his aggressive steering style work with the car and consequently is making small errors that are costing him grid places. With the tyres less grippy in the race, the car seems a little less nervous and more tolerant of his style.
Got a question for our experts? Tweet us using the hashtag #F1Inbox and we'll try and answer it for you!