Feature
F1 INBOX: Your questions on Vettel's penalty, Kvyat's Red Bull chances and Renault's upturn in form answered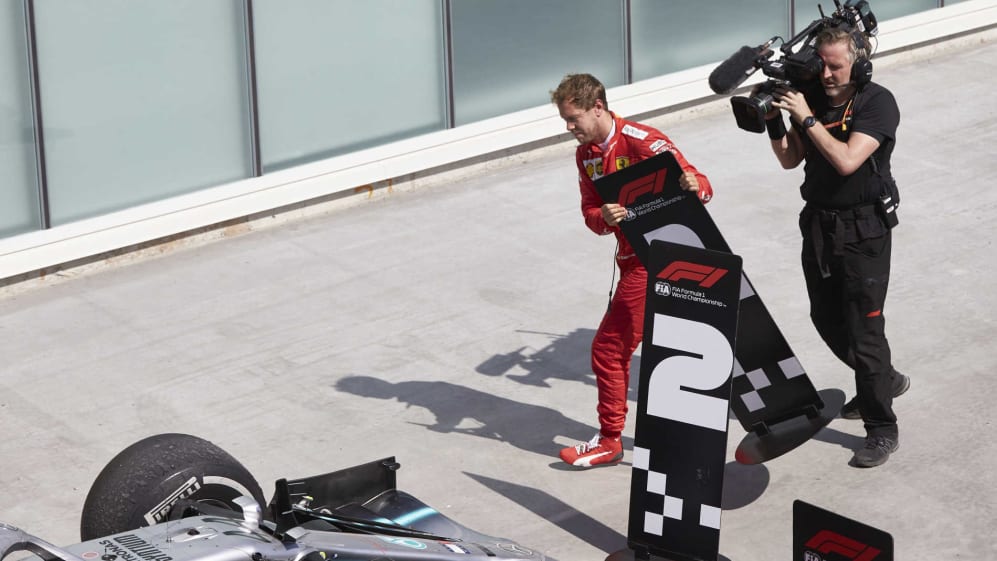 One topic dominated the post-Canadian Grand Prix chatter – and unless you've been stuck under a rock, you'll know that it was the controversial awarding of a five-second penalty to Sebastian Vettel. Naturally, you had questions about that decision, as well as other talking points from the weekend – so we've recruited paddock insiders Will Buxton, Mark Hughes and Lawrence Barretto to answer them for you.
First things first…
Oops! Error retrieving Twitter post
LAWRENCE BARRETTO SAYS…
Hi Avska, Sebastian Vettel was penalised because the stewards decided that, after assessing all of the material available to them, which includes video angles that won't have been screened in the TV broadcast, they felt the Ferrari driver had contravened Article 38.1 of the Sporting Regulations when he re-joined the track "in an unsafe manner and forced car 44 (Hamilton) off track". They added Hamilton "had to take evasive action to avoid a collision". As a result, they felt Vettel deserved a five-second time penalty – which is the most lenient of the penalties stewards can enforce during the Grand Prix.
READ MORE: Vettel's Canada penalty - The Stewards' decision in full
Should common sense overrule regulations?
Oops! Error retrieving Twitter post
LAWRENCE BARRETTO SAYS…
Hi Lorenzo, you're not the only one to be asking this question. Ultimately, the rules exist for a reason – to attempt to make it as fair as possible. By the letter of the law, the stewards made the right decision regarding Vettel. And in doing so, they are attempting to be consistent. It wouldn't be acceptable for the stewards to do anything other than apply the rules, because that would open up a can of worms going forward. Should the rule exist in the first place, though? Well, that's a different discussion.
Ferrari's right to reply
Oops! Error retrieving Twitter post
LAWRENCE BARRETTO SAYS…
Hi Tatiana, Ferrari did notify the FIA of their intention to appeal against the decision, but then opted not to push forward with it when the deadline elapsed. It's not over yet, though, as they are now evaluating whether they wish to exercise their right to review the penalty, via the International Sporting Code. To do this, they must provide evidence of any "significant and relevant new element" that has come to light that was not available at the time of the race. They have until just before the start of the French Grand Prix to do this.
READ MORE: Ferrari evaluating right to review Vettel-Hamilton incident
Kvyat back to Red Bull?
Oops! Error retrieving Twitter post
WILL BUXTON SAYS…
I don't even think you need to compare Dany's performance with Pierre's to come to the conclusion that he deserves to be in a seat capable of fighting for podiums and wins. The Russian has been one of the most impressive performers of the season to date, and his return to Formula 1 has brought with it a level from Dany that I don't think we've ever seen before.
I don't believe it is healthy to keep switching drivers in-season, but Red Bull does have form when it comes to this particular type of situation. It's been the topic of paddock discussion for a few races now, but few believe Red Bull would consider a move before the summer break, if at all this year. Personally I hope Pierre is given a fair crack of the whip, but if they ultimately opt to move Dany back to the main team, it'll be thoroughly merited on his part.
Renault's power surge
Oops! Error retrieving Twitter post
MARK HUGHES SAYS…
The Renault power unit was improved for Canada, in terms of how aggressively it could be used. But it's only step-changes that haven't yet got it back to where it was, for example, earlier in the season in China. Ricciardo was able to hold off Bottas through some very defensive driving and through Bottas having to carefully control his brake temperatures. Renault's recent development has been with the power unit, but for the next race there should also be accompanying aero updates that hopefully will begin to see the team make meaningful progress in closing the gap to the big three teams.
READ MORE: Renault 'have momentum now' says Ricciardo after team's best result of 2019
Can Verstappen become world champion with Red Bull?
Oops! Error retrieving Twitter post
WILL BUXTON SAYS…
He shouldn't. Honda is coming good, Red Bull is hungry for success and has quickly overcome the aerodynamic issues that affected its early races. All in all, things are pointing in the right direction. He's not going to go to Ferrari as he's long stated his belief that one goes to the Scuderia to finish one's careers, and I don't believe there's space for him at Mercedes. Regardless of whether there was, I think it'll create a more rounded driver if he has to work with a team to create a championship-winning operation than to simply step into one. The most important thing for Max will be to keep his focus on what his team is doing and the path it is taking on its own. That will be the surest route towards a title challenge.
READ MORE: Which frontrunner is making his first F1 Power Rankings appearance post-Canada?
Light at the end of the tunnel for Haas?
Oops! Error retrieving Twitter post
MARK HUGHES SAYS…
Yes, unfortunately Haas still appear to be struggling to understand their tyre problems. At any circuits where the layout doesn't put much energy into the tyres, they cannot keep the rubber in the right temperature window. Guenther Steiner admitted in Canada that they still haven't got to the bottom of understanding this. Other teams – notably Ferrari – also struggle with it, but to a much lesser extent. This year's thinner gauge tyres allow your pace not to be limited by blistering, but seem more difficult to get working.