Ferrari drivers coy over chance of taking P3 in Jeddah as McLaren duo exude confidence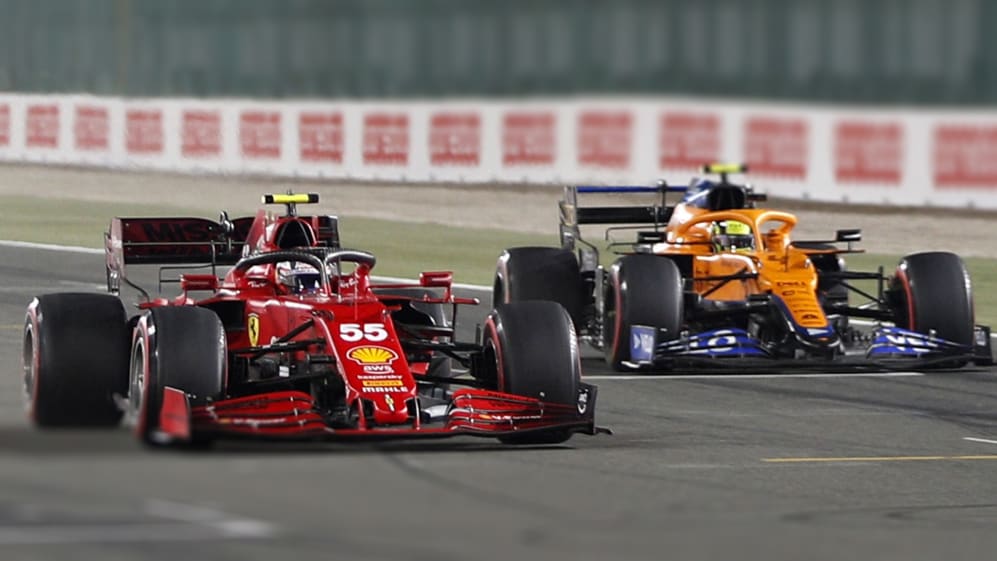 Ferrari can take P3 in the constructors' championship this weekend if they outscore McLaren in Saudi Arabia. But neither Carlos Sainz nor Charles Leclerc have shown confidence over their chances – while McLaren's Daniel Ricciardo and Lando Norris seemed raring to go for the race at Jeddah...
Sainz has scored points in all but two weekends this season, and those performances have helped Ferrari go 39.5 points ahead of McLaren in the battle for P3. This weekend, the Scuderia need to outscore their rivals by five points in order to clinch third – but Sainz said it wouldn't be easy.
FORM GUIDE: Who's fancied to go well at the all-new Saudi Arabian Grand Prix?
"We need to outscore them by four or five points, I think, this weekend, which, looking at recent results might seem like a likely scenario. But we need to remind ourselves that McLaren have been in the fight in every race that we've outscored them.
"It's not like we were on an easy route to outscore them before their trouble in the last three races, so it's been really tight still; we've just managed to make less mistakes, put everything together with both cars and outscore them. But I feel like here they might have the faster car and they will bring the fight down to Abu Dhabi, probably."
Team mate Leclerc agreed while assessing the characteristics of the super-fast, all-new Jeddah Corniche Circuit, saying: "On paper it looks like it's not going to be one of our best tracks because obviously very long straights and a very high-speed track, but on the other hand it's a city track so anything can happen.
"Hopefully as drivers we can make the difference and yes, I am just really looking forward to tomorrow to try this track for the first time," said Leclerc.
As for rival Norris, who is just one point ahead of Leclerc in the drivers' championship, he said McLaren enter Saudi Arabia with optimism – even if the odds of taking P3 are against them.
READ MORE: Norris feeling ready to win races in 2022 as he says McLaren have performed better than Ferrari this season
"Yes, I would say so, I think we have to be [confident]," said Norris. "I don't think there's any point coming here and thinking we're going to have an awful weekend; even if we do, we can't think it! I think it's better we come in positive and confident, because we've got some ground to make up and I think it's good to have a good end to this season anyway no matter where we finish...
"I'm confident," he added. "I think I'm confident personally as well that it's a track that will suit me and a bit of my driving style, so I'm looking forward to it."
Team mate Ricciardo failed to score in the triple header of races that preceded Saudi Arabia, however, and is looking for redemption in Jeddah – especially as he hasn't fared so well on street circuits (P9 in Azerbaijan and P12 in Monaco) this season.
READ MORE: 'I lost faith that it was ever going to happen' – Ricciardo happy as former Renault boss Abiteboul completes tattoo bet
"I think this year, I mean I definitely had challenges, and I think the street circuits were probably uncharacteristically not strong for me this year so it's nice to have another chance.
"I got pretty excited today on the track ride and I did a bit of sim as well during the week. So looking forward to the first few laps," concluded the Australian.