Ferrari pit equipment 'needs an overhaul' says Vettel as slow stops contribute to 'painful' Sakhir GP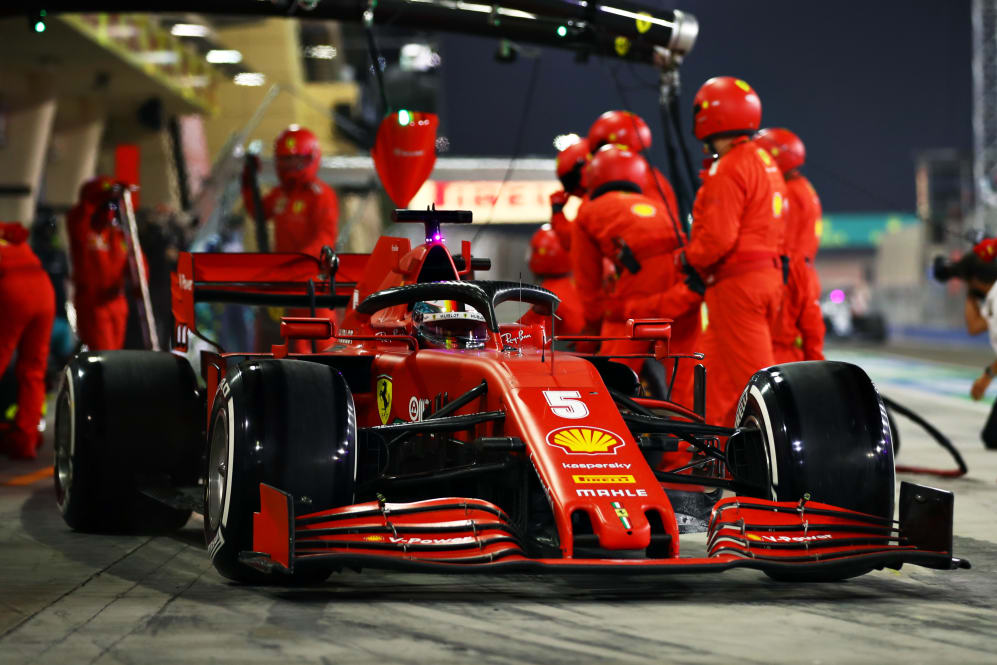 Slow pit stops have been one factor that has contributed to a difficult final season for Sebastian Vettel at Ferrari. And after his race was blighted with two more of them at the Sakhir Grand Prix, he said it was time for the team to have an overhaul of their pit equipment.
With Vettel having been on the receiving end of some notably slow stops in 2020 – including his infamous 13.1s one at Imola – neither of his two pit stops in the Sakhir Grand Prix took less than four seconds, with his first on Lap 31 seeing him stationary for 4.5 seconds, while his second on Lap 54 took 6.5 seconds.
And with Vettel left to finish Vettel outside the points in P12, the German said it was an issue that needed looking at. "It's tough enough for the guys, so I feel sorry for them," said Vettel of his mechanics. "[The equipment] probably needs an overhaul on the design because it's not the guys' fault."
READ MORE: Sergio Perez takes sensational maiden win in Sakhir GP as tyre issues ruin Russell's charge
Even without the issue, though, Vettel said his race had been "really difficult", suspecting that the replacement engine installed in his SF1000 after Free Practice 3 had left him down on power against his rivals, as he was left to come home 12th after a change to softs under the Safety Car failed to yield results – although Vettel's mood was lightened slightly by seeing the Racing Point team that he'll join for 2021 take a win and a third place.
READ MORE: Leclerc handed three-place grid drop for Abu Dhabi for causing opening lap crash
"My race was a bit irrelevant," Vettel chuckled. "We were quite slow from the start. I couldn't go with the people ahead and be in the mix, I was not really gaining anything on the straights, even with the tow and DRS… I felt like I was a bit down on power, I don't know if the engine change yesterday had an impact on that… So I was just on the defence the whole race and couldn't benefit with the soft tyres at the end. So obviously the pit stops didn't make a huge difference.
"For sure [Racing Point are] strong, and I'm looking forward to it," Vettel added of his future team's performance, as Sergio Perez claimed his maiden victory. "But for now, I'm willing to finish this chapter, even if it seems quite painful. But I tried what I could today and it was really difficult."