FIRST LOOK: Alfa Romeo show off 2023 C43 F1 car with striking new livery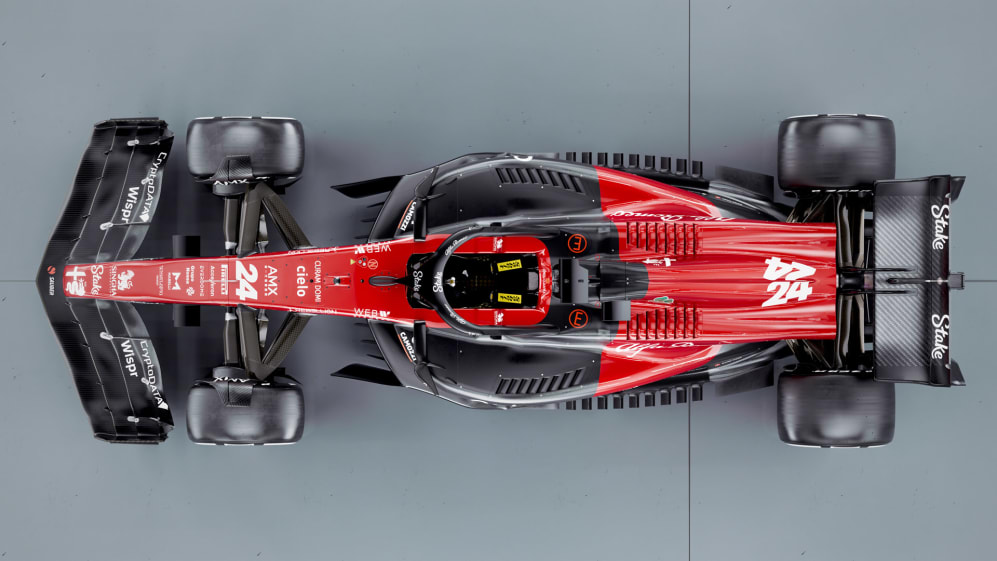 Alfa Romeo have presented their new car for the upcoming F1 season, the C43, with a bold red and black livery taking over from the red and white colour scheme used during recent campaigns.
Described as "aggressive on and below the skin", the car was unveiled to the world in a joint presentation in Zurich and at the outfit's headquarters in Hinwil, Switzerland by continuing team mates Valtteri Bottas and Zhou Guanyu, who combined to secure P6 in last year's constructors' standings.
READ MORE: Alfa Romeo reveal 'major change' on new C43 as they target 'next level of performance' in 2023
At the same time, a series of CGI images and videos released on Alfa Romeo's social media channels showed the C43 coming together piece by piece, while Augmented Reality enabled fans to bring the launch experience into their own homes.
New title sponsor Stake take centre stage on the livery, which will be the last to feature Alfa Romeo branding, as the company prepare to end their sponsorship deal ahead of Audi joining forces with the Sauber-run operation.
Meanwhile, a winter managerial shake-up saw former team boss Frederic Vasseur depart for Ferrari and Andreas Seidl arrive from McLaren to take up the overarching role of CEO, before Sauber Group Managing Director Alessandro Alunni Bravi became the squad's new 'Team Representative'.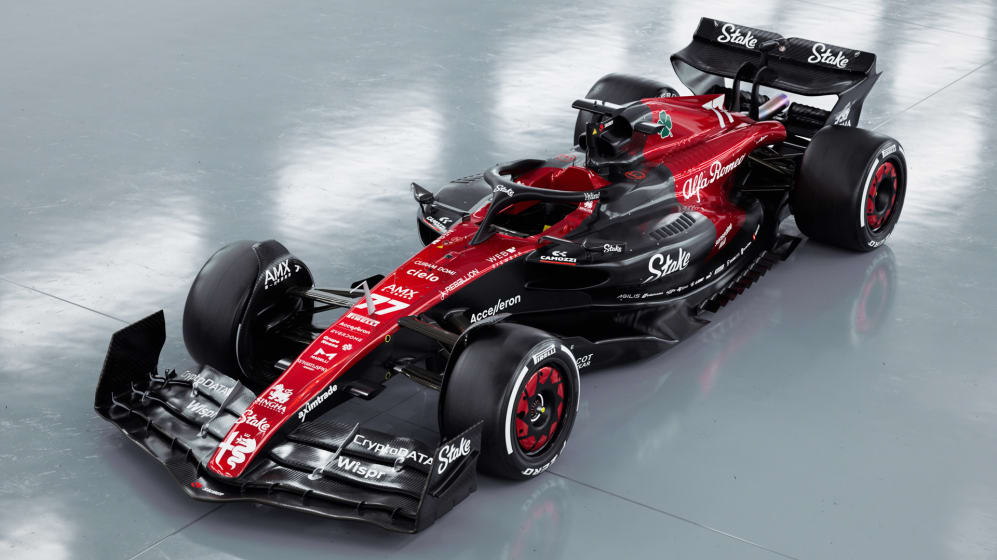 Speaking of the launch of the C43, Alunni Bravi commented: "Bringing a car to life is a long process which touches every department of a racing team, therefore it's a moment of great pride to see it unveiled today.
"We chose to do it in front of our fans, close to our home, because the launch of a new car is not only a moment to state your objectives for the season ahead; it's also a time to give back to the people who have supported you, be it in the grandstands, in front of the TV or back at the factory, and express our gratitude for their passion and their belief in our project.
GALLERY: Take a closer look at Alfa Romeo's new car and new livery for the 2023 season
"Our new car is the result of months of work, but today is just the beginning of a journey. We need to keep working hard, with humility and dedication, to bring performance to the track. Everyone in the team is committed to this target and I am confident we will reap the rewards of our work."
Designed by Technical Director Jan Monchaux and his team, the C43 is an "evolution" of its predecessor, the C42, but regulation changes for 2023 mean there are still "several updates and complete new parts", while the car's development path promises "a steep improvement curve".
Monchaux explained: "I am very proud of what we have achieved over these last months, because creating a new car is always a massive effort from the team.
Oops! Error retrieving Twitter post
"This car is an evolution of last year, reflecting the new regulations and introducing major changes in the areas where we found improvements to be needed.
"I hope it's going to be quicker than the successful car we had last year, that's what matters most, and more reliable as well. We have put a lot of effort in this direction.
READ MORE: 'Better consistency, more points, better results' – Bottas lays out 2023 goals with Alfa Romeo after 'mental reset'
"Now, it's time to get to the track and see how this car performs. I'm happy to get back to racing and I'm confident there will be much more to come from us soon."
Alfa Romeo's new car is set to hit the track for a shakedown session in Barcelona this week, before heading to Bahrain for pre-season testing from February 23-25, followed by the 2023 opener at the Sakhir venue a week later.