Feature
FORM GUIDE: Who will come out on top as Formula 1 returns to Imola?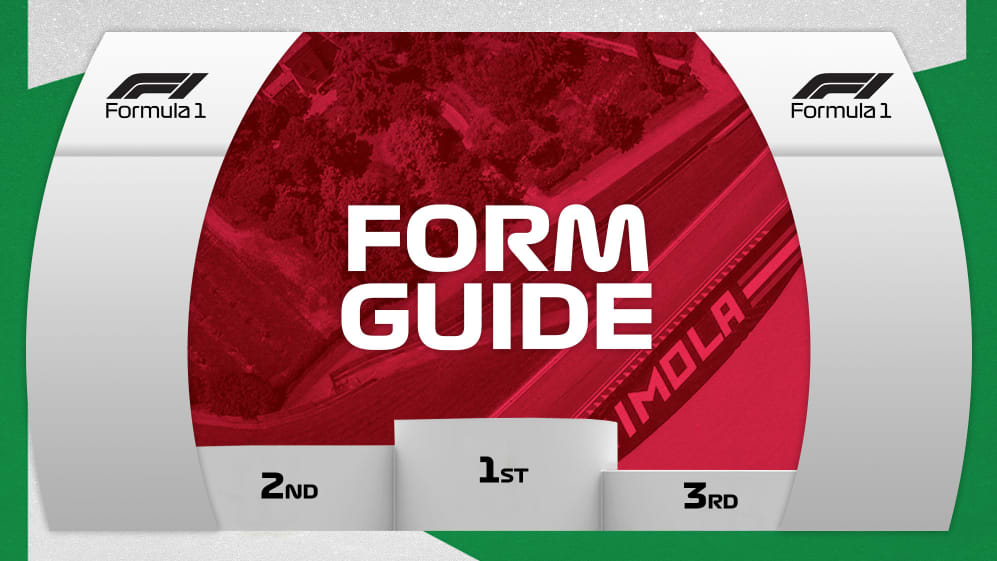 Formula 1 returns this weekend to the storied Autodromo Enzo e Dino Ferrari – better known in racing circles as Imola – for the first time since 2006. So, ahead of the Emilia Romagna Grand Prix, let's look at who's likely to be in the running for pole, victory, podiums and points at the Italian track.
Vying for pole
Max Verstappen qualifying 0.293s off the polesitting Mercedes at the Eifel Grand Prix two races ago gave F1 fans hope that, if he and Red Bull had more time to dial in his RB16 car's upgrade, Verstappen could be a serious contender for pole positions on Saturday for the remainder of the season. But although the gap to pole did diminish at the Portuguese Grand Prix, the shrinkage was only from 0.344% down to 0.329%.
TRENDING TOPICS: Perez and Albon's futures and more talking points ahead of Imola's F1 return
It therefore won't come as a surprise that Mercedes are once again the favourites to take pole position at Imola. But with Valtteri Bottas having decisively beaten Lewis Hamilton to pole at the Nurburgring – a race weekend held in frigid conditions and featuring just one practice session, exactly as we're going to get at Imola – the Finn could be in a good position to rebuild some morale this Saturday, six days on from his grinding defeat at Portimao.
An important caveat, though, is that with just that one 90-minute practice session on Saturday morning for teams to get up to speed with an Imola track where F1 hasn't raced since 2006, any set-up missteps or losses in track time – a red flag, say, as some drivers experience this circuit for the very first time – could be punished severely. Can Red Bull – whose sister team AlphaTauri ran their 2020 car at the track in June this year – or one of their rivals use that factor to smite a blow to the Silver Arrows?
FAN VIEW: We'd like to tell you different, but it is a familiar story with F1 Play gamers expecting the magnificent Mercedes to lock out the front row once again. Reigning world champion Lewis Hamilton dominates selections, with team mate Valtteri Bottas a distant second at present.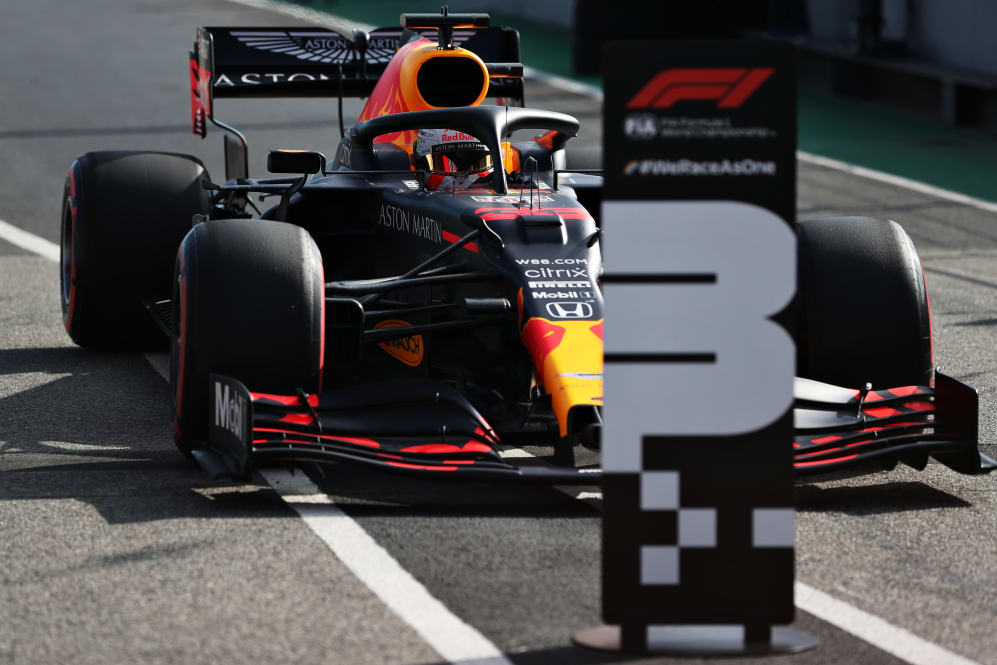 In the mix for victory
Pierre Gasly's triumph for AlphaTauri at Monza seems like a long time ago, doesn't it? Since then, Mercedes have comfortably won every race, triumphing on three new or returning circuits – in Mugello, Nurburgring and Portimao – to boot. It's auguring well for them again, then, while it's worth noting that Hamilton won at all three of those new-or-returning tracks. Gulp.
There's more bad news for Mercedes' rivals, too. Imola offers the full smorgasbord of corner types – i.e. low, medium and high-speed, albeit predominantly low and medium-speed – allowing the Mercedes W11 to play to its all-rounder strengths – while with the finicky final Variante Bassa chicane now removed, the unbridled blast from the second Rivazza all the way down to the chicane at Tamburello will give the Mercs a chance to stretch their legs.
READ MORE: How will the two-day format for the Emilia Romagna GP at Imola be different to normal race weekends?
Once again, the best chance for Mercedes' rivals – and yes, we chiefly mean Max Verstappen here – is to destabilise the Silver Arrows by maximising their learnings from the practice session and trying to catch Mercedes on the hop. Failure to do so will almost certainly result in Mercedes wrapping up their seventh straight constructors' crown this weekend.
FAN VIEW: Hamilton is on the crest of a wave - yet another one - after overtaking Michael Schumacher in the all-time list with a 92nd victory last weekend. And he is hot favourite with F1 Play gamers to win again at Imola. Bottas and Max Verstappen are expected at present to complete the podium line-up once again.
Podium outsiders
There's no doubt that the shortened format at Imola presents an opportunity for the likes of Racing Point, McLaren and Renault to get on the podium this weekend. We've already seen how 'new' tracks – especially ones lined with gravel traps, as Imola is – can create upsets in the order, and a Safety Car or red flag this Sunday could turn the Emilia Romagna Grand Prix on its head.
Apart from those three teams, we should also mention the two Italian squads on the grid, as they prepare for their third home Grand Prix this year. As previously mentioned, AlphaTauri are the only team to have run their 2020 car here – and with Pierre Gasly having finished a fighting fifth in Portimao, that head start at Imola should make AlphaTauri ones to watch this weekend.
READ MORE: AlphaTauri confirm Pierre Gasly is to remain with the team for 2021
Charles Leclerc, meanwhile, delivered Ferrari their best finish since the 70th Anniversary Grand Prix with his P4 in Portugal. The SF1000 looks to have come on a step, with Ferrari seemingly starting to claw back their reputation as a top-three team once again. Don't be surprised to see them on the podium once more before 2020's out.
FAN VIEW: This would have come as a surprise a few short weeks ago, but the man most fancied by F1 Play gamers to break the Mercedes/Red Bull podium dominance is Ferrari's Charles Leclerc. He continues to outperform team-mate Sebastian Vettel in a big way and has his backers after that excellent fourth place in Portugal.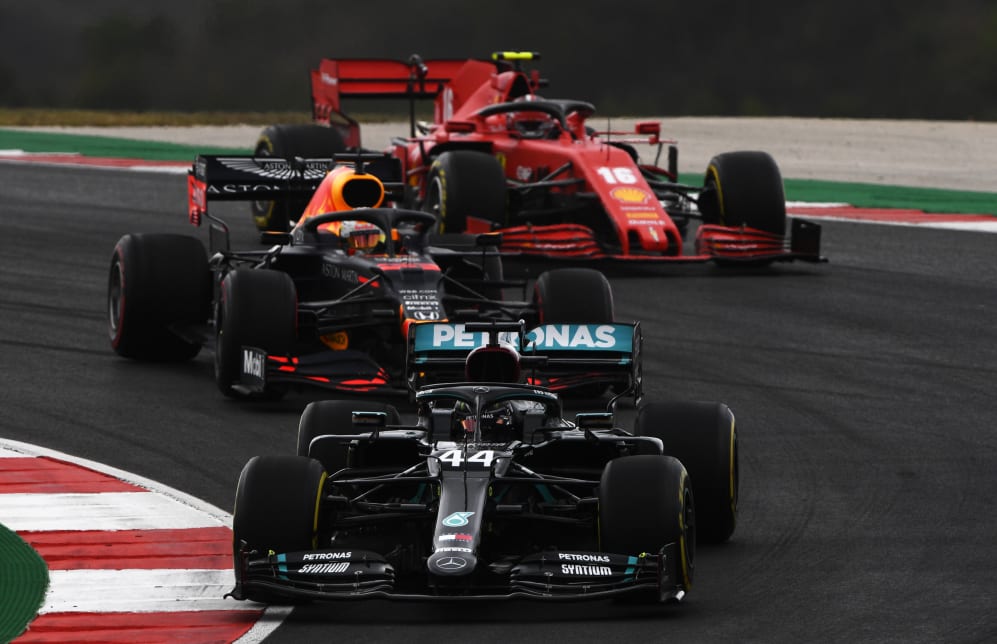 Points potential
The teams at the lower end of the grid – chiefly Alfa Romeo, Haas and Williams – will also be hoping that a lack of knowledge and data on Imola will provide them with an opportunity to score some crucial points this weekend. The anti-clockwise track is an infamously difficult one to overtake on – but with that long run from Rivazza down to Tamburello, the DRS effect should be powerful this weekend, meaning we could see teams going experimental with downforce levels to try and help them benefit from that, or else prevent them from being gobbled up.
READ MORE: What tyres will the teams and drivers have for the 2020 Emilia Romagna Grand Prix at Imola?
One thing working in Alfa Romeo's favour is that fact that they have an Imola polesitter in their ranks, with Kimi Raikkonen having taken pole for McLaren here in 2005, while the Finn is the only driver on the grid to have raced here in F1 before. With Raikkonen having finished 11th last time out in Portimao after his stunning race start, perhaps his experience of racing here could see the Finn go at least one better this weekend, and score points for just the second time this year.
Haas, meanwhile, have been one team this year who've used uncertainty to their advantage – think of their switch to slick tyres after the formation lap at the Hungarian Grand Prix, or Romain Grosjean's one-stop strategy at the Nurburgring that netted him P9. That 'nothing to lose' attitude could pay dividends if they can find an opening this weekend, with the American team having scored just three points so far this year... at Hungary and the Nurburgring.
FAN VIEW: Carlos Sainz is again fancied by F1 Play gamers to go well for McLaren after that superb cameo in the early stages in Portugal. Renault ace Daniel Ricciardo and Racing Point's Sergio Perez are also strongly supported. McLaren's Lando Norris and Racing Point's Lance Stroll are comparatively friendless meanwhile.