Feature
FORM GUIDE: With Hamilton out, who will come out on top in the wide-open Sakhir GP?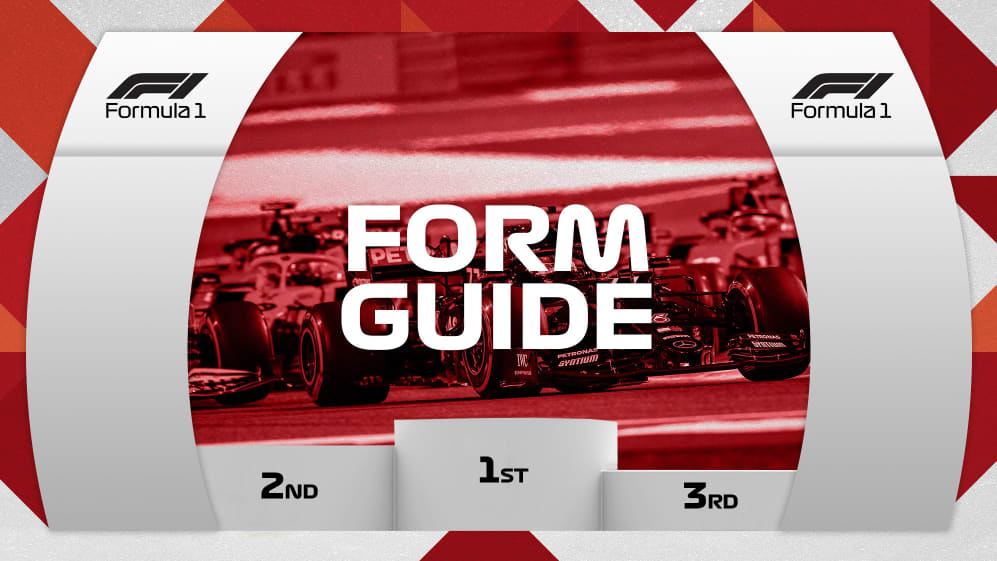 The Sakhir Grand Prix looks set to be a one of the most unpredictable races in F1 history, with Lewis Hamilton not on the grid for the first time since 2006, George Russell stepping up from Williams to take his place at Mercedes and two F1 rookies in the field – to say nothing of the sub-minute lap times expected at a never-raced-at Bahrain Outer Track. With all that in mind, here's who's looking good for pole, victory, podiums and points.
Vying for pole
Okay, well usually this is the part of the feature where we try and come up with compelling reasons why it won't be Lewis Hamilton on pole. But this time, no need. Hamilton is out with Covid – from which we wish him a speedy recovery – meaning that pretty much for the first time in seven years, Hamilton is not the favourite, or near-favourite, for pole position.
Who will fill the vacuum? Logic points to it still being a Mercedes, as even on the less power-sensitive Grand Prix track in Bahrain last weekend, Hamilton's pole lap was 0.474% quicker than Red Bull's Max Verstappen. That percentage figure will likely increase at the corner-light 3.5km Outer Track – with lap times set to be well under a minute – where Red Bull's high-rake, downforce-focused philosophy will likely be a drawback.
Russell to Mercedes: Why this is a potentially career-defining chance for the young Briton
Which Mercedes though? Well that is a fascinating question, with George 'Mr Saturday' Russell now promoted to Hamilton's seat at the Silver Arrows for the opportunity of a lifetime. Russell has famously never been beaten in qualifying by a team mate in his two seasons of F1 – but how will he fare against a Valtteri Bottas who's been there or thereabouts with F1's most successful qualifier many times this season, and has four poles under his belt already this year? And in a car that Russell has never driven before?
We can't wait to find out – while with such a short lap, getting a clean run or not could have big ramifications on the outcome of qualifying on Saturday, including the potential for some shock Q1 and Q2 exits.
FAN VIEW: The news that world champion Lewis Hamilton had tested positive for Covid-19 and would miss the Sahkir Grand Prix this weekend caused a huge shake-up in the F1 Play voting. The big swing has not been to his team mate Valtteri Bottas though, but to Red Bull star Max Verstappen...
In the mix for victory
Looked at rationally, with Hamilton sidelined for this one, the Sakhir Grand Prix is an open goal for Valtteri Bottas. Hamilton demonstrated Mercedes' superior pace against Verstappen's Red Bull last weekend, with the characteristics of the Outer Track – effectively three long straights, joined up by a series of sweepers when the circuit peels off to the left at the exit of Turn 4 – likely to amplify their car's strengths, namely a banging a power unit and supreme aerodynamic efficiency.
Yes, Bottas had a dodgy Bahrain Grand Prix – but that was largely down to a puncture picked up at the Lap 3 restart which dropped him down to 16th. Assuming some sort of 'normality' prevails for the Finn this weekend, on paper you'd expect Bottas to be able to use his knowledge of the W11's tricks and idiosyncrasies to out-race Russell – who last drove a Mercedes, the W10, at Abu Dhabi last year – and the rest of the field to win.
READ MORE: 'I'm devastated I won't be racing this weekend' says Hamilton after positive Covid-19 test
And yet… Verstappen has shown at several points this season that, even on days when he can't quite match Hamilton's pace, he can occasionally find a way to puncture Bottas' armour and get ahead of the Finn. Is Hamilton's absence as much an opening for Verstappen as it is for Bottas?
Then there's the question of Russell himself, who'll be hungry to prove to Mercedes that he's where their future lies – and surely keen, too, to show that he should have been put in the car this year instead of Bottas. Will that lead to a headline performance? Or will the pressure prove too much?
FAN VIEW: Again, the story here is the huge support for Verstappen, while the faltering Bottas is virtually friendless. Three times as many F1 Play gamers have plumped for Max over Valtteri. Hamilton's replacement this weekend – George Russell – is coming in for plenty of support and is quickly catching Bottas.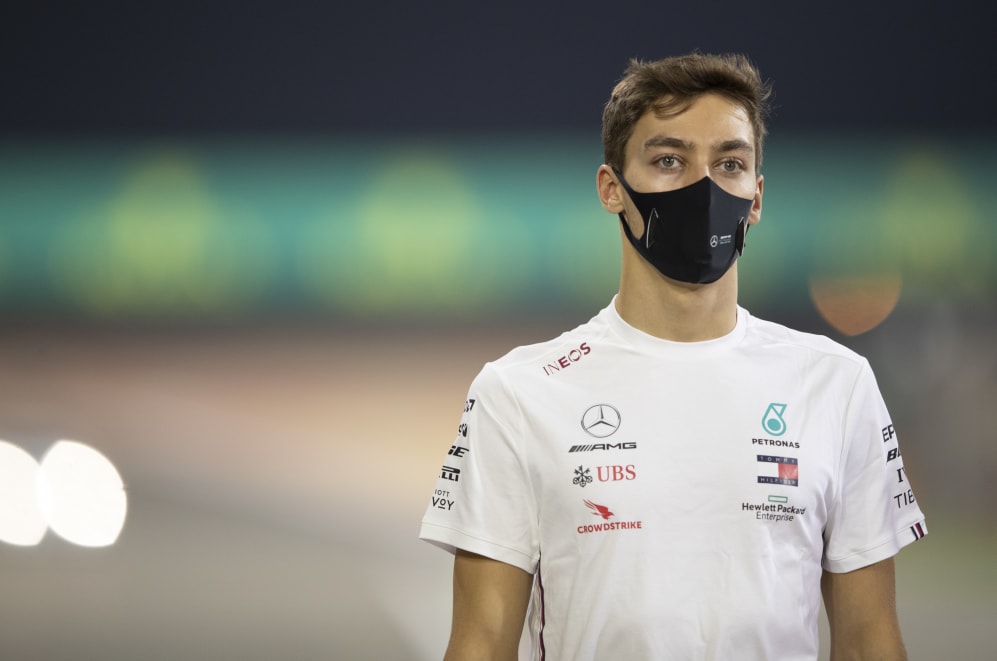 Podium outsiders
Mad to think of it, but Russell is still point-less in his career of 36 starts to date – and yet despite that, he will know that anything less than a podium this weekend, with the machinery at his disposal, will be a slight underperformance.
Racing Point's Sergio Perez should have had a second consecutive podium appearance last time out at the Bahrain Grand Prix, meanwhile, having shown sufficient pace to keep Alex Albon's Red Bull at bay right up until his MGU-K gave up on him and handed the podium to Albon. The Racing Point should also suit the different track layout this weekend, so if Perez can have a clean weekend he could well be mixing it with the top three again.
READ MORE: Horner says Perez 'remains under consideration' for 2021 Red Bull drive, but team want Albon to succeed
Meanwhile, McLaren showed an excellent turn of pace at the Bahrain Grand Prix, pace which left rivals Renault reeling in fact. It was enough to put Lando Norris and Carlos Sainz P4 and P5 at the flag after Perez had retired.
Though with Renault having made big strides with their low downforce set up over the course of the season, expect Daniel Ricciardo and Esteban Ocon to be perhaps more competitive than they were last weekend, as they look to hit back in the battle for P3 in the constructors'.
FAN VIEW: Racing Point's Sergio Perez came agonisingly close to a podium in Bahrain on Sunday, and F1 Play gamers have latched onto that excellent performance from the Mexican. They will be hoping the power unit issue which scuppered his hopes on Sunday do not repeat for the second of back-to-back races in Bahrain.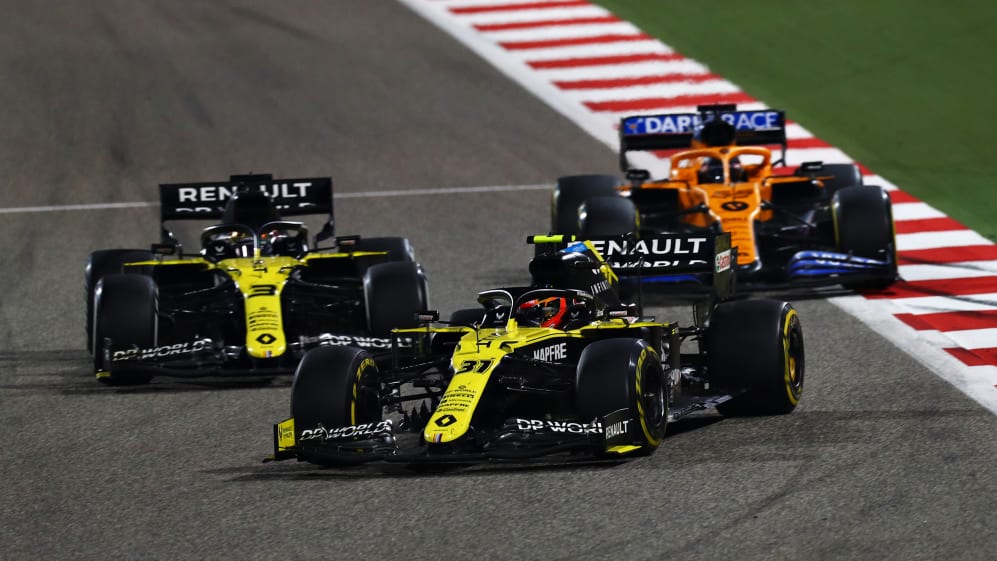 Points potential
The Bahrain Grand Prix was a slog for all three Ferrari-powered teams – Ferrari, Haas and Alfa Romeo – with Charles Leclerc representing that group's best finish with P10. Ferrari admittedly suffered tyre overheating issues, which with 20-30% less energy predicted to be going through the rubber at the Outer Track, should be less of an issue.
Nonetheless, with grunt most definitely at a premium at a Sakhir Grand Prix circuit that has more in common with classic old-school power tracks like the pre-chicane Monza or Reims, it could be hard going once again for the Scuderia and their customers.
READ MORE: The key change Ferrari made between Friday and Saturday to claw back some speed in Bahrain
That factor could actually play into the hands of a Williams team desperate to try and get themselves ahead of Haas for P9 in the constructors' standings. Both teams will field an F1 newbie this weekend – Jack Aitken in for Russell at Williams, while Pietro Fittipaldi replaces the injured, but recovering, Romain Grosjean at Haas. But the Williams FW43 should theoretically be competitive, kitted out as it is with the powerful Mercedes power unit. That should be an intriguing contest there.
Renault, meanwhile are the team currently on the second-best points streak (behind the 48-race streak of Mercedes), with nine continuous finishes. And having been underwhelmed by their performance at the Bahrain Grand Prix, they'll be looking to get back in the fight for P3 in the constructors' with McLaren and Racing Point – who took their first no-score of the season last time out – this weekend.
FAN VIEW: Renault's Daniel Ricciardo (P7 on Sunday) is expected to go well among F1 Play gamers this weekend while the McLaren pair of Lando Norris and Carlos Sainz (P4 and P5 respectively last Sunday) are fancied to repeat that strong showing.
2020
The fight for P3 ahead of the Sakhir GP
POSITION
POINTS

3

McLaren

171

4

Racing Point

154

5

Renault

144

6

Ferrari

131