Feature
Friday Pace Analysis: Why a disrupted day means we could be in for a thriller in Portugal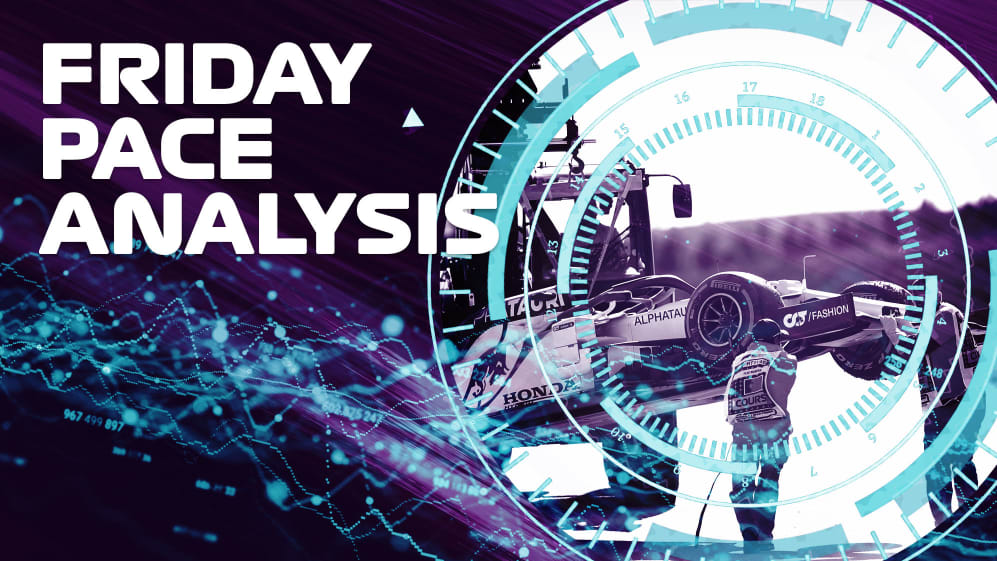 A dogfight – that's what Lewis Hamilton is expecting in qualifying as the Formula 1 field experienced slippery, windy and generally tricky conditions as they got to grips with the Algarve International Circuit in Friday practice. Mercedes set the pace through Valtteri Bottas but a lack of data for all the teams – and a difficult track surface – means we could be in for a thriller this weekend. Let's dive into the data...
One-lap pace
Carlos Sainz likened the conditions at the Portimao track in Portugal to a "Tokyo Drift", so slippery was the 4.6km circuit. The drivers were united in the fact there was little grip on what was a very green track at the start of Free Practice 1, as not only has the venue been resurfaced - as it was so bumpy - but it's been barely used since by other series so hasn't been rubbered in.
FP2: Bottas quickest again as Verstappen and Stroll collide in Portimao
Interestingly, the grip didn't seem to come as the sessions went on, leaving Daniel Ricciardo to suggest that drivers could be struggling with sliding through qualifying and into the race.
Pirelli brought their hardest compounds to Portugal as they lacked historical data, which could have allowed them to be more aggressive with their selection. But harder rubber, combined with a circuit that lacked grip, led to a lot of errors, lock-ups and four-wheel sliding.
It also means getting the tyres into the right window for a single lap hasn't been easy, but if the track improves into final practice and qualifying, that might ease.
READ MORE: Hamilton expecting 'dogfight' for clear air in qualifying at Portimao
FP2 was disjointed, first because teams focused on testing Pirelli prototype 2021 tyres which did not give them any useful data for this weekend, and then there were two red flags, caused first by Pierre Gasly's fiery power unit then by Lance Stroll and Max Verstappen's odd first-corner collision.
Combined, that not only stopping many drivers from completing soft tyre runs but also no team was able to complete any representative long runs.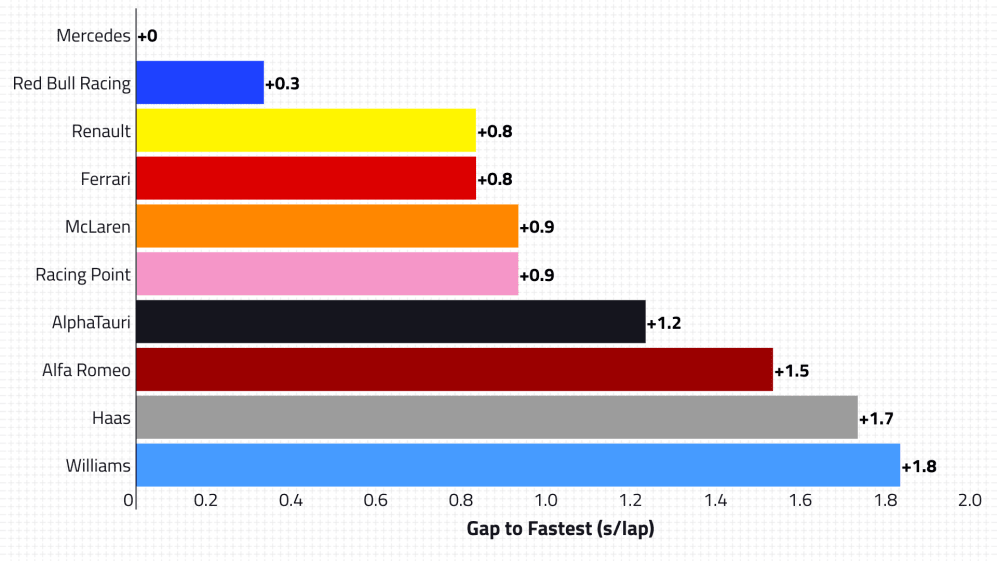 Valtteri Bottas was one driver who had a clean run on soft tyres, which comfortably put him fastest of all, but his Mercedes team mate and championship leader Lewis Hamilton couldn't extract the same grip on his low fuel run and ended up P8.
While it's difficult to draw too many conclusions from the soft tyre runs, it is clear that Mercedes – who have been the dominant team this year – are the ones to beat, with Bottas at least very happy with the balance and not too far away from having the rear end of the W11 where he wants it.
MUST-SEE: Stroll and Verstappen crash at Turn 1 in Portuguese GP practice
Red Bull are their closest challengers, 0.3s adrift but their true pace is unclear given Verstappen failed to complete a representative lap courtesy of his collision. Behind them, it's incredibly close between Renault, Ferrari, McLaren and Racing Point, the quartet separated by just 0.1s, albeit half a second off the leading two teams.
Ferrari in particular were surprisingly quick in one-lap trim, the SF1000 featuring upgrades to the diffuser area this weekend, with Charles Leclerc looking like the quickest of the two red cars. Leclerc admitted he's not sure where they are in the pecking order, but he is optimistic and said qualifying will be down to who does the best job in very challenging circumstances.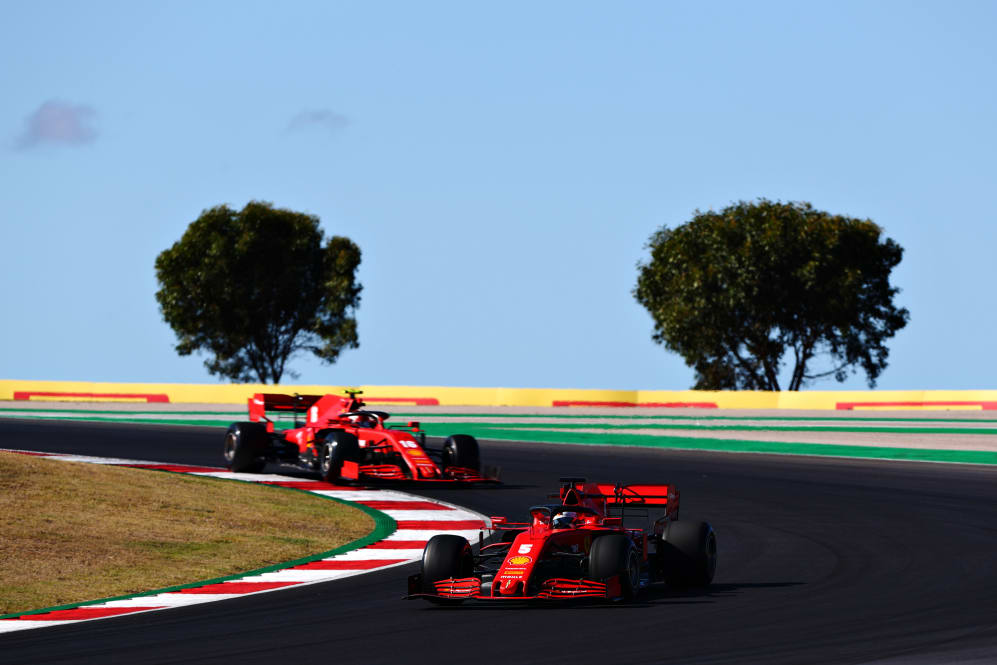 Ideal lap
An F1 track is broken into three sectors for timing purposes. However, those sectors are also split into smaller 'loops' or mini-sectors. In our ideal lap calculation, we add together a driver's quickest individual loop times from a session, regardless of which lap they were set on. This gives us a theoretical best lap for each driver i.e. what their fastest lap time would look like if they set their best times in each loop on the same lap.
READ MORE: Gasly says he had no warning before dramatic car fire that ended his FP2 session
The metric is skewed somewhat today, as not every driver managed to do a low fuel run on soft tyres. However, it does back up Hamilton's suggestion that he didn't get the best out of the car on Friday, his best lap one second off what he could have done if he put all of his best mini-sectors together. Only Lance Stroll, Antonio Giovinazzi and Daniil Kvyat had bigger amounts to gain, the latter potentially leaving a massive 1.7s on the table.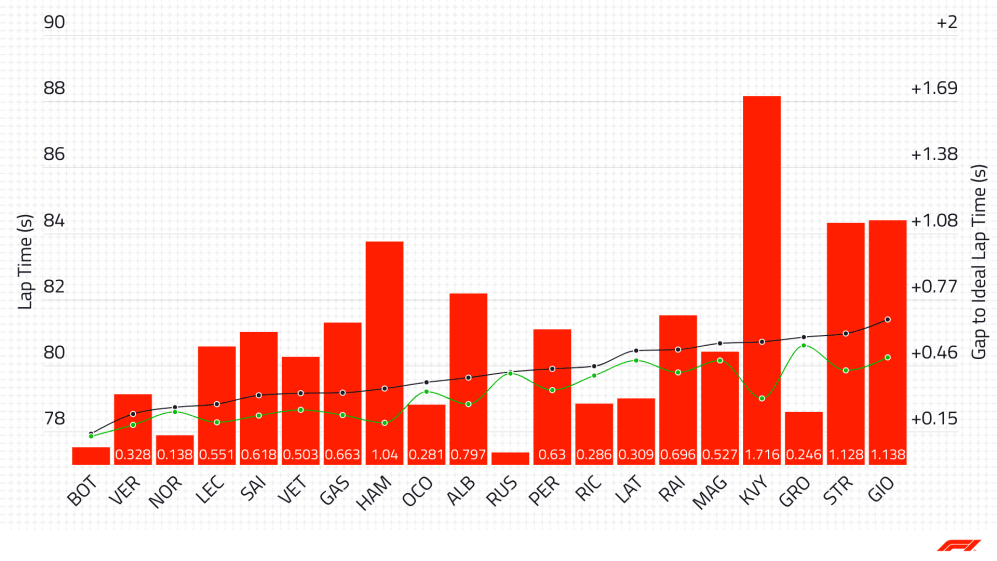 Long run pace
Unfortunately, not enough representative stints were completed to generate accurate long run data, so the teams will have a lot of work to do tonight with the numbers they do have before fitting in a packed programme for final practice, which runs for just an hour on Saturday morning ahead of qualifying.
Interestingly, from the data Mercedes could pull on long runs, their Trackside Engineering Director Andrew Shovlin believes "the midfield cars are a bit closer than normal, which suggests we're not quite in the right window yet". He added: "Normally we have a car that is easy to balance and we're not in that position right now, but we'll work hard to try and get on top of a few of those issues before tomorrow."
READ MORE: How simulators took drivers to Portimao before the Portuguese Grand Prix
Verdict
Formula 1 is racing in Portugal for the first time in 24 years, at a beautiful hillside circuit that represents the second successive new-for-2020 venue for Formula 1.
All the drivers enjoyed getting to grips with the Ricardo Pena-designed circuit, which features a series of sweeping undulations, a wide variety of corners and a straight that is almost 1km long.
The lack of representative running means teams are heading into the weekend with less data than usual, on a track they don't have past knowledge to fall back on.
That opens the door for an exciting weekend ahead, as the drivers tackle very windy conditions and a slippery surface.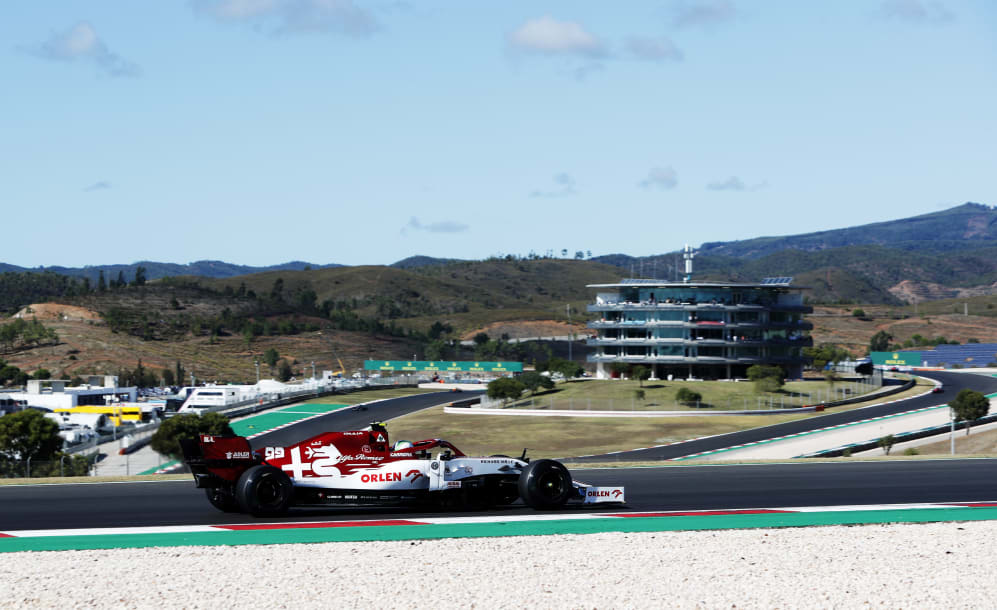 Mistakes will be made, track limits breached – as we saw consistently on Friday – and that will heap the pressure on, and mean many will need more than one lap to get their best time out of the car. That'll make qualifying very busy, particularly in Q1.
And then there are the unknowns of race day. Will the softer tyres grain? How many pit stops will be required? How tricky will the track surface prove to be?
DRIVER MARKET: Williams? Haas? Red Bull? Where's Perez's likely landing spot in 2021?
Plus, as we saw on Friday with the two red flags, it takes quite some time for the marshals to clear the circuit, given the nature of the venue, which would lead to long Safety Car periods, where drivers may struggle to keep heat in their tyres ahead of a restart.
Some of the best Grands Prix we've had of late have been the result of tricky Fridays on unknown circuits. Plenty of reason, then, to be hopeful we're in for a treat this weekend.