Feature
Friday Pace Analysis: Will warm weather and soft tyres thwart Mercedes?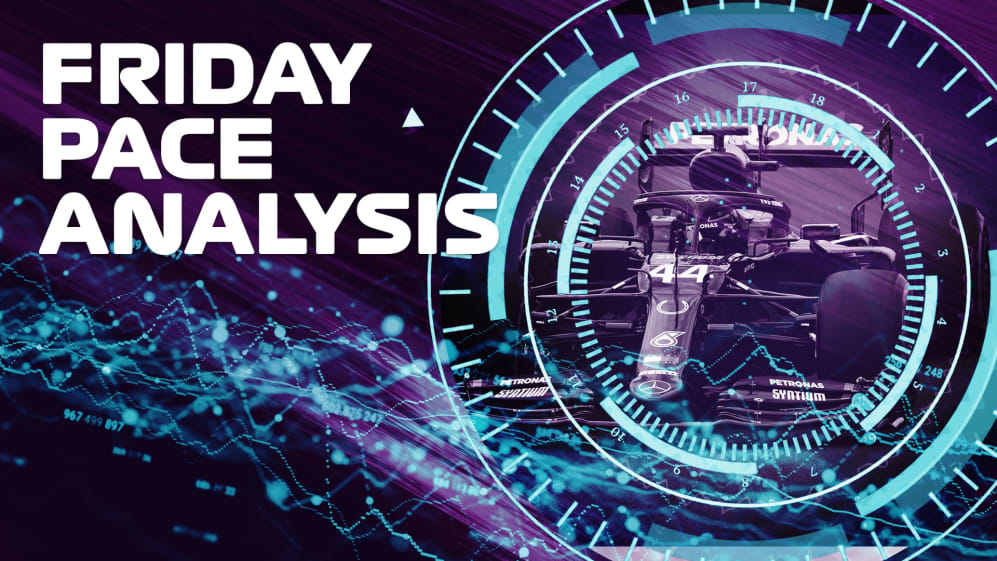 Utterly dominant. That's the best way to describe Mercedes' performance at Silverstone after Friday practice for the 70th Anniversary Grand Prix. The Silver Arrows were an impressive 0.8s clear of the field, setting the scene for another private battle between Lewis Hamilton and Valtteri Bottas. But is it really all over already? Or could warmer temperatures and softer compounds mix things up? Time to crunch the data…
READ MORE: FP2: Hamilton leads Mercedes 1-2 ahead of Ricciardo as Vettel suffers engine failure
One-lap pace
Things seem to be going so well for Mercedes right now that Team Principal Toto Wolff and Technical Director James Allison decided to take some time out during second practice to hop on a couple of scooters and head trackside to watch some of the action, under cloudy skies but in very warm and muggy conditions.
Both Hamilton and Bottas looked very comfortable out there, the duo saying the car felt better than it did last weekend, sending an ominous message to their rivals. The timesheets showed a 0.8s advantage, but our data – when adjusted for fuel loads – suggests it's as much as 0.9s over Red Bull.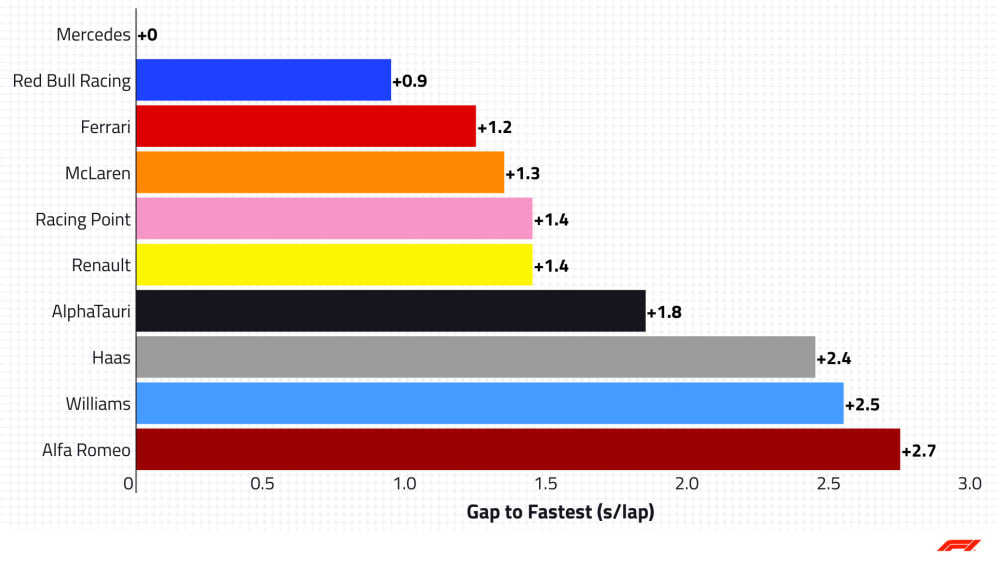 Interestingly, Bottas said "I don't think there's really that much in terms of lap time between" the soft and medium compounds over a single lap, which suggests the teams that are comfortable with their performance, namely Mercedes, Red Bull – at least with Max Verstappen – and potentially the Racing Points, will try to get through Q2 on the medium compound so they can start on the race and use that and the hard, thus avoiding the requirement to use the soft, which was overheating for many.
Max Verstappen said it's looking quite close in qualifying trim between Red Bull and those behind, but it seems that if he gets everything out of the car, he should have around three tenths of a second over the rest of the field.
WATCH: Vettel had 'no warning' before FP2 engine failure as Ferrari pace worries continue
Behind them, it's a very close battle between Ferrari, McLaren, Racing Point and Renault, with just 0.2s per lap splitting that quartet. However, it's worth noting Ferrari's Charles Leclerc was at a loss to explain why they are struggling on the medium compound tyre, but not so bad on the soft. They need to make progress in this area overnight and into final practice if they want to have any chance of fighting for a spot in the upper part of the top 10.
In contrast, Renault – and particularly Daniel Ricciardo – were very happy with how the car felt across both short and long runs. He put together a magic lap that surprised many to go third fastest. Lance Stroll wasn't that impressed, saying it's only Friday practice, but there's real confidence inside Renault, so don't be surprised if the Australian beat the Racing Points – who looked more competitive than last time out at Silverstone in qualifying tomorrow.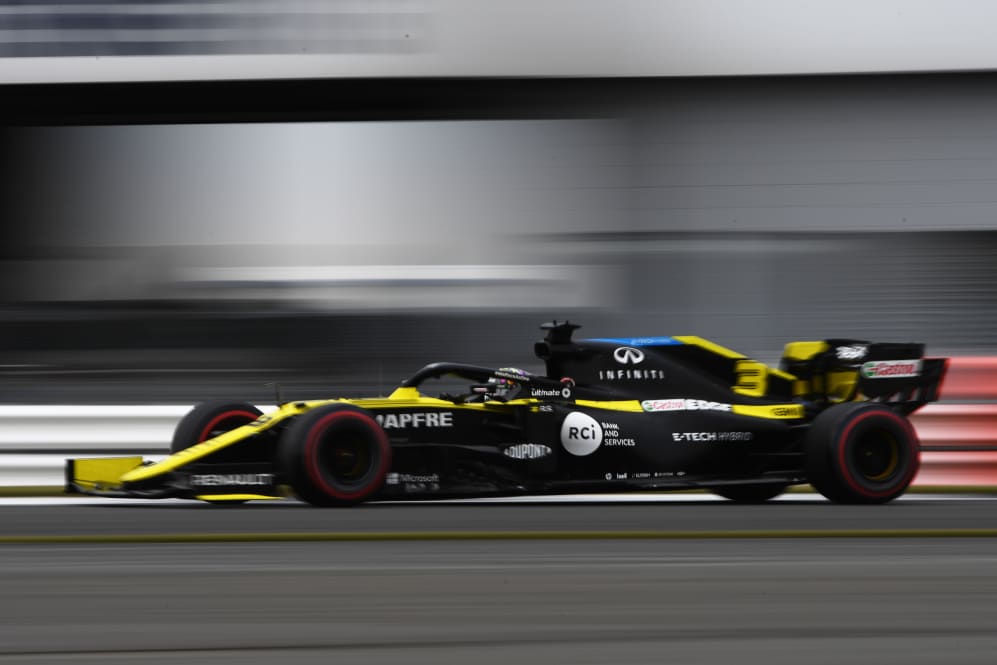 Race pace
The race is where things are going to get interesting, because all the drivers found it tricky to make the softest of the three compounds last. Lando Norris told me he only did five laps on the soft before pitting in FP2.
It's why every team will be aiming to start the race on the medium tyre, perhaps even if that sacrifices grid position, because if you start on the soft, an early stop will be needed and you could lose significant track position – unless, of course, there's an early Safety Car.
READ MORE: Racing Point deducted 15 points and fined heavily as Renault protest into car legality upheld
Mercedes look the most comfortable when they're putting laps on compounds, the Silver Arrows an impressive 0.7s/lap quicker than Red Bull, who themselves have a similar gap to Racing Point. It's why Verstappen was suggesting after FP2 that his team could be in a bit of a lonely race, if it goes to form, for the final podium spot.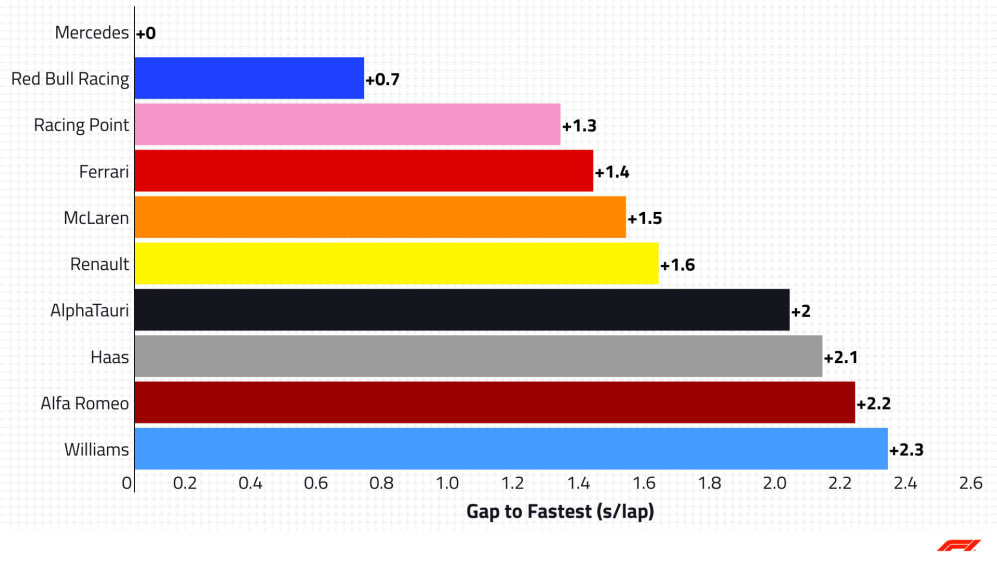 It's very close between Racing Point, Ferrari, McLaren and Renault thereafter, the pink cars rising to the top of this battle with the quartet separated by 0.3s/lap.
In the high-speed stuff, of which is there is a lot at Silverstone, Mercedes lead the way comfortably, but as the graph shows below, Renault and Racing Point are next best. It's why both those teams could well be in for a strong set of results come Sunday afternoon.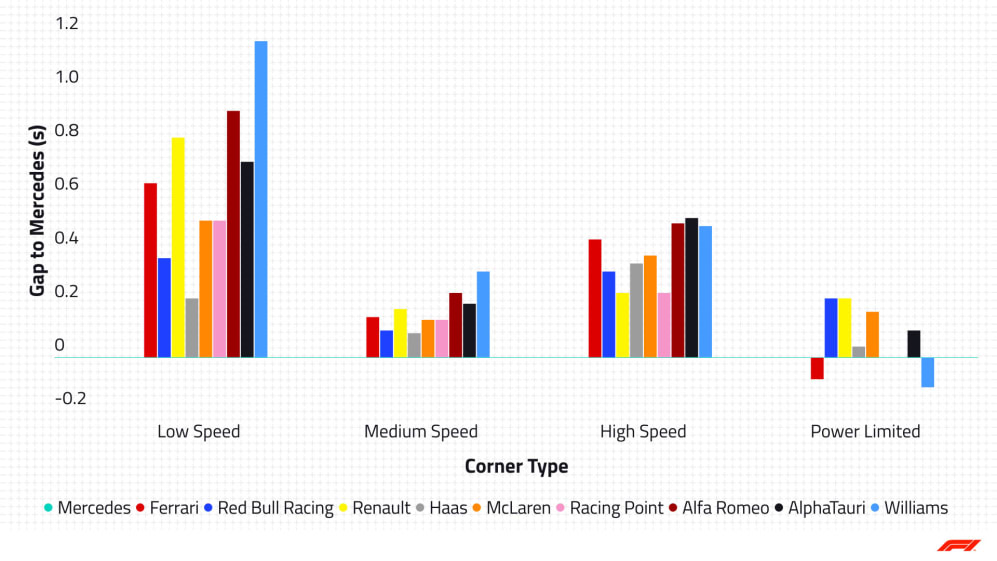 Verdict
As Pirelli's tyre chief Mario Isola said after second practice: "There's no doubt the soft won't be the favoured race tyre", which means teams have, as Carlos Sainz described it, a "headache" when it comes to picking their compound for qualifying on Saturday, thus determining their race tyre.
There's no doubt that Mercedes hold all the cards right now, and their advantage is such that they won't have to push the tyres to the limit, thus reducing the chances of high wear and suffering issues like they did last weekend.
READ MORE: Formula 1 say they are 'moving forward' with Concorde Agreement despite Mercedes reluctance
But the weather wasn't as hot as anticipated on Friday, but the forecast has changed slightly in that Sunday is set to be warmer – at 30 degrees Celsius – with clear skies. That could make stretching tyre life across each stint even trickier.
It's almost certainly a two-stop strategy – one more than last week – as it will be incredibly difficult to make a one-stop work, but you may see some teams who have less to lose roll the dice and try just a single stop in a bid to reap the rewards and overachieve.