Feature
From Mansell's MP4/10 to the Spice Girls – five memorable McLaren launches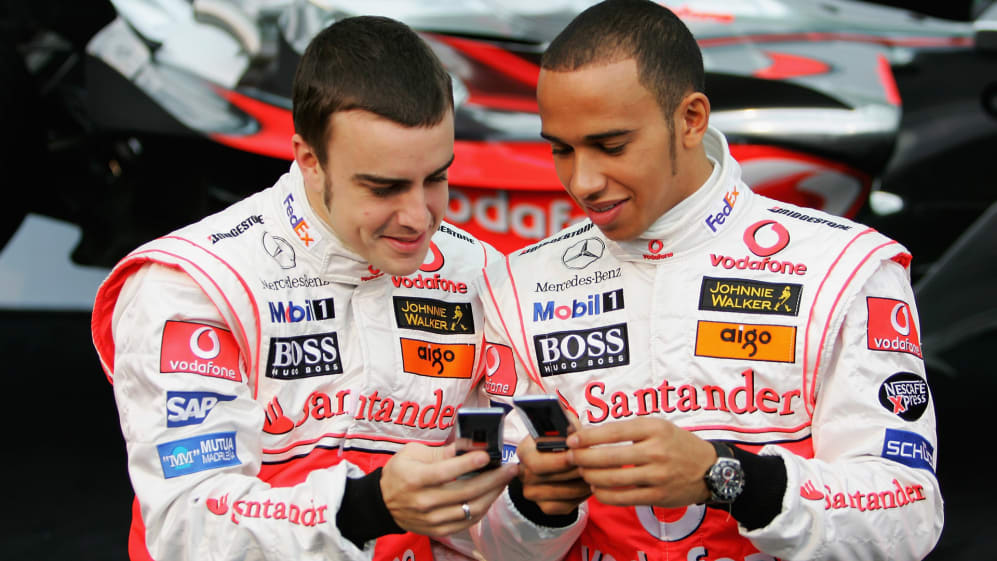 With McLaren poised to launch their 2021 MCL35M on Monday evening, we've taken a look back at five memorable Formula 1 launches from the Woking team over the years, including a Valencia festival headlined by Lewis Hamilton and Fernando Alonso, and the return of orange in 2017...
QUIZ: Who – or what – is missing from these F1 car launches?
1995 – The MP4/10 shocks at the Science Museum
After a disappointing 1994 season in which McLaren finished fourth in the constructors' championship, they replaced Peugeot power with Mercedes/Ilmor and exhibited their 1995 MP4/10 challenger at London's Science Museum, on February 17.
This outlandish and incongruous design stunned onlookers with its pointed nose and cumbersome frame, seemingly huge engine cover and small wing attached on top.
READ MORE: Friends reunited – Do you remember these key moments from the last McLaren-Mercedes partnership?
While new recruit Nigel Mansell was there at the launch, he couldn't actually fit into the car, regardless of how sizeable the machine seemed.
Mark Blundell stood in for the 1992 champion until the cockpit was resized later in the year, though Mansell only ever ran two races for the team before that ill-fated partnership was brought to an end.
It might have been a false start for McLaren and Mansell, but it was the start of a new era with Mercedes, which blossomed into the double-championship yielding 1998 season.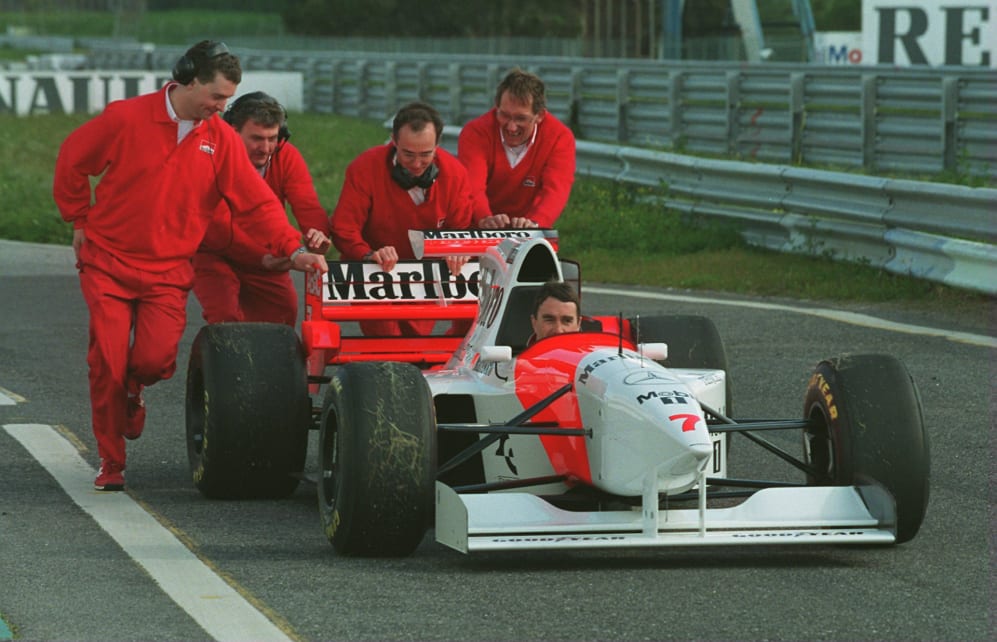 2007 – Hamilton and Alonso start the party in Valencia
On January 15, 2007, downtown Valencia welcomed an exciting new McLaren line-up, with two-time reigning World Champion Fernando Alonso joining the team to race alongside highly-rated F1 rookie Lewis Hamilton.
With the surrounding streets shut down, Hamilton and Alonso headlined an F1 festival launch event that boasted a 250,000-strong crowd.
READ MORE: McLaren's Hamilton-Alonso line-up 'strongest there's ever been' says Pedro de la Rosa
The drivers entered in a pair of Mercedes SL55 road cars, demonstrated the previous year's MP4/21 F1 cars and made sure to take multiple photographs on their new smartphones to please new title sponsors Vodafone.
There was a great reception from the crowd, but the relationship between the two drivers would breakdown mid-season - leading to Alonso's exit after just one year - Ferrari's Kimi Raikkonen would win the drivers' championship by one point over Hamilton, and the 'Spygate' saga would see McLaren end up with zero constructors' championship points.
1997 – McLaren spice things up with the MP4/12
McLaren said goodbye to their iconic red and white Marlboro livery in 1997 and ushered in a new era of West sponsorship, along with a new silver and black colour scheme, at a lavish event at Alexandra Palace on February 13.
Five-thousand people including VIPs, media and the public, would witness this glamorous and unforgettable launch of the MP4-12 with the Spice Girls and Jamiroquai lighting up the stage.
READ MORE: McLaren on the challenges of building their 2021 car – 'If you're not encountering problems, you're not being aggressive enough'
The Britpop girl band even engaged in a cringe-inducing Q&A session with a slightly baffled David Coulthard and Mika Hakkinen.
In 1998, McLaren would reach the top of the charts with Hakkinen taking the title and McLaren their eighth and last constructors' championship to date.
2011 – Hamilton and Button build up the anticipation in Berlin
McLaren had a capital idea in 2011 as they wheeled out their new MP4-26 on to Berlin's Potsdamer Platz on February 4. But the car was only half-built.
So the team had competition winners, McLaren staff and mechanics assemble the car piece by piece. Those lucky people would carry parts such as the new L-shaped sidepods or the high nosecone to finish the puzzle, while Hamilton and team mate Jenson Button finished the build by attaching the headrest and steering wheel.
READ MORE: Hamilton vs Verstappen, and 6 more rivalries set to dominate F1 in 2021
However, McLaren had begun that season on the back foot; their MP4-26 was unveiled after the first pre-season testing session at Valencia, where Hamilton and Button had to test the MP4-25 instead. Still, the car was good enough to seal second place in the constructors' championship behind the dominant Red Bull team.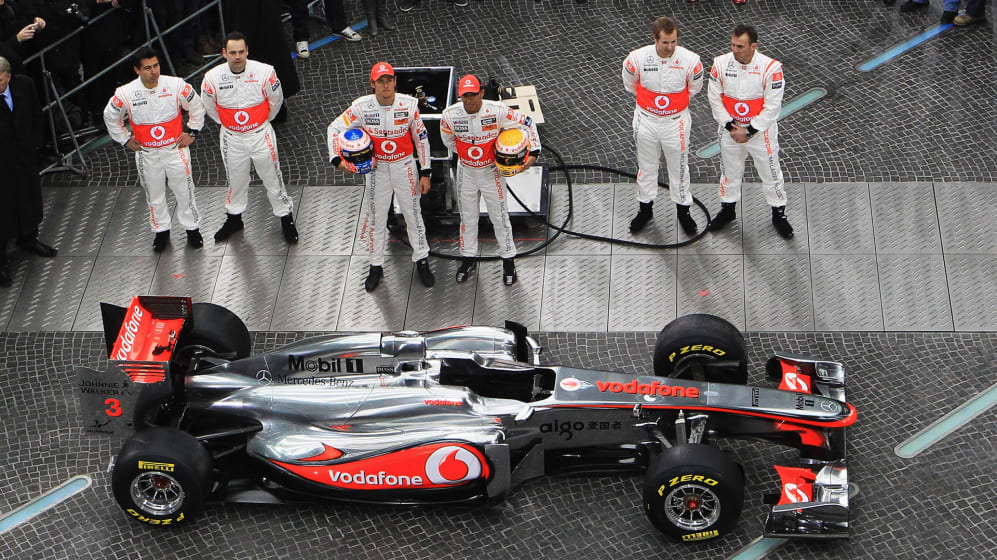 2017 – McLaren go back to their roots (sort of) with the MCL32
On February 24, 2017, McLaren unveiled their third Honda-powered F1 car of the hybrid era and it seemed they were keen to usher in a new era given their middling 2016 season.
At the 'thought leadership centre' of their Woking Headquarters – and on their social media channels – flashes of orange were to be seen everywhere ahead of the launch, stoking anticipation that they would return to their roots – the colour that adorned their early Can-Am and F1 cars when founder Bruce McLaren started the team in the 1960s.
GALLERY: How orange fits into McLaren's history
And orange it would be – with a lot of black on the bottom of the car. Zak Brown called the MCL32 a "a beautiful piece of art" but the performance just wasn't there and McLaren finished ninth in the championship that season.
For the following year the colour was tweaked to the more traditional McLaren 'papaya' shade of orange, which the team have used ever since.
McLaren launch their 2021 MCL35M at 1900GMT on February 15. Stay tuned to F1.com for news, reaction and much more.