Feature
Friends reunited: Do you remember these key moments from the last McLaren-Mercedes partnership?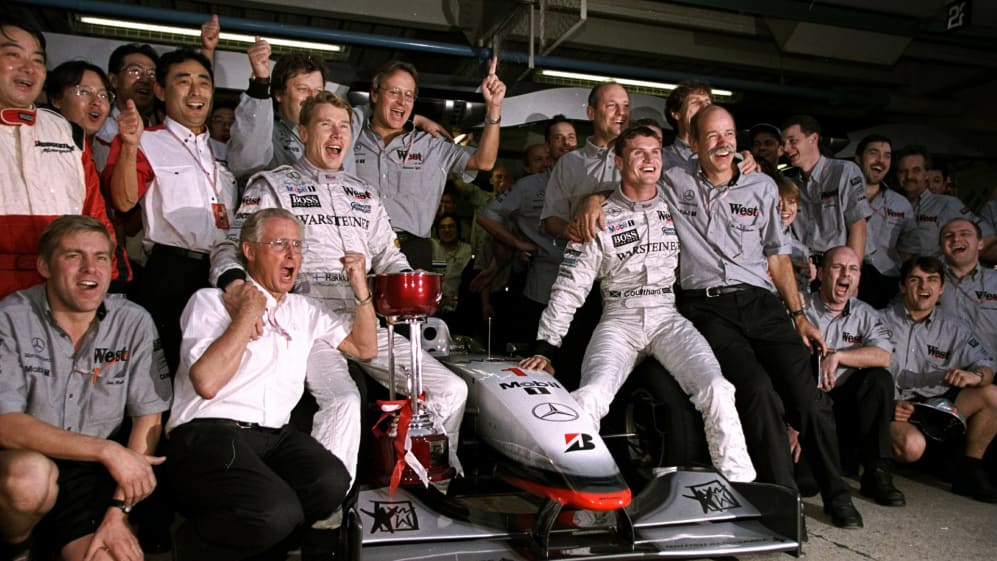 McLaren and Mercedes formed a hugely successful partnership in Formula 1 from 1995 to 2014, and now that they are reuniting for 2021, we decided to take a look at the history of the pair in the sport, from their first race to their first championship with Mika Hakkinen, all the way to their final title with Lewis Hamilton, and their last win as a team/engine supplier combo.
First race
1995 Brazilian Grand Prix
Mika Hakkinen's second full season racing for McLaren would see him compete alongside 1992 champion Nigel Mansell, who returned to F1 from Indycar in 1994.
McLaren rung in the changes for 1995, choosing Mercedes and Ilmor to supply their engines after toying with the idea of using Lamborghini/Chrysler, and struggling with Peugeot power in '94.
READ MORE: Surprise! Seven of the biggest shocks from F1 car launches
But the first year of the McLaren-Mercedes partnership didn't get off to the most promising start: star driver Mansell couldn't fit into the petite MP4/10.
So for the 1995 season opener, ex-Tyrrell and Ligier racer Mark Blundell would step in alongside Hakkinen instead. He finished a brilliant P6 and Hakkinen P4 in Brazil, and it finally seemed like McLaren had the competitive engine they sought.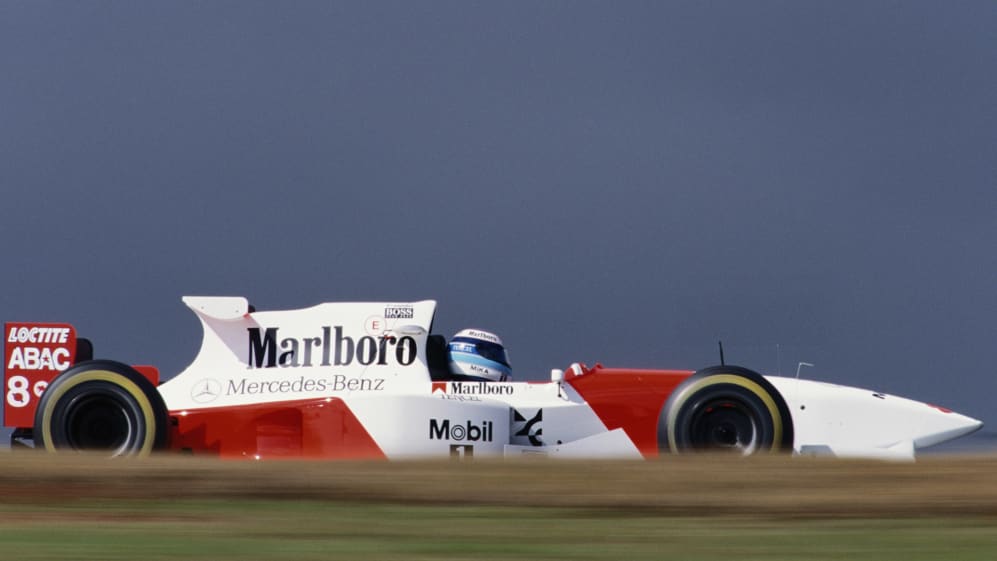 First podium
1995 Italian Grand Prix
McLaren were reeling from near misses in 1995, such as in Germany, where Hakkinen retired from podium contention, and Belgium where he spun off from P3 on Lap 1.
In Italy (round 12) Hakkinen qualified P7 and the podium seemed unlikely until pole-sitter David Coulthard spun his Williams on the formation lap and retired later. Then, sparring for the lead, Damon Hill and Michael Schumacher collided trying to lap Taki Inoue.
ALTERNATIVE HISTORIES: What if Johnny Herbert hadn't arrived in F1 injured?
Fortune went McLaren's way once again as Ferrari were then denied a 1-2 with the TV camera flying off Jean Alesi's car and destroying team mate Gerhard Berger's suspension. Alesi then retired in the pits with his car on fire.
That gave Benetton's Johnny Herbert a second career victory and Hakkinen an overdue podium finish with P2 – McLaren-Mercedes' first – in the unlikeliest manner.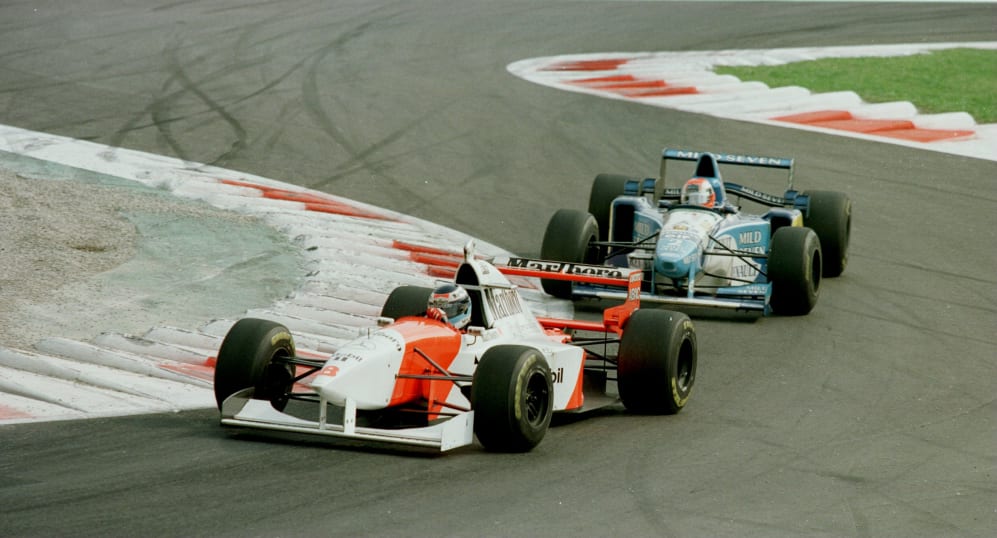 First win
1997 Australian Grand Prix
McLaren were on a three-year run without a win - their last having come at at the 1993 Australian Grand Prix at Adelaide, thanks to Ayrton Senna - when David Coulthard put his MP4/12 fourth on the grid for the second time in five races in Melbourne for the 1997 season opener.
Coulthard's former team Williams qualified 1-2 with Jacques Villeneuve on pole ahead of Heinz-Harald Frentzen, Ferrari's Michael Schumacher third on the grid.
PODCAST: Mika Hakkinen on Schumacher, Senna and recovery from injury
Turn 1 carnage followed, with Eddie Irvine taking out both Villeneuve and Johnny Herbert. That left Frentzen out front, but he was on a two-stopper while chasers Coulthard and Schumacher were on one-stop strategies. Frentzen's second stop, hampered by the right-rear tyre, cost him the lead, and now Coulthard was out front, Schumacher prowling behind.
The Scot absorbed the pressure to make history: McLaren's first win since Senna's 1993 triumph and a first Mercedes-powered F1 win since 1955. To ice the cake even further, Hakkinen made it a double podium with third place.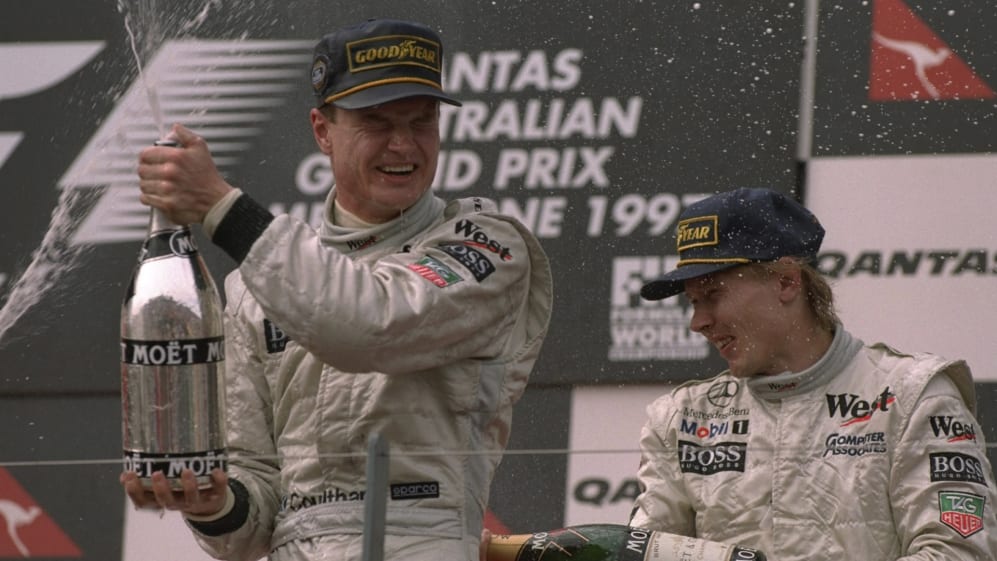 First pole position
1997 Luxembourg Grand Prix
Losing out to Jacques Villeneuve for pole in Austria, Hakkinen was determined to bounce back for the next race, the 1997 Luxembourg Grand Prix at the Nurburgring.
The Finnish driver managed a time of 1m16.602s and Villeneuve was just 0.089s off the pace in a nail-biting session.
"The best thing is that Michael [Schumacher] is behind," said Villeneuve of his title rival, seemingly content with a Hakkinen pole. Debut Hakkinen pole in the bag (and first for Mercedes since 1955), but McLaren's day ended in tears as David Coulthard's engine blew on Lap 42.
One lap later, so did Hakkinen's. Not an ideal way to celebrate your 29th birthday.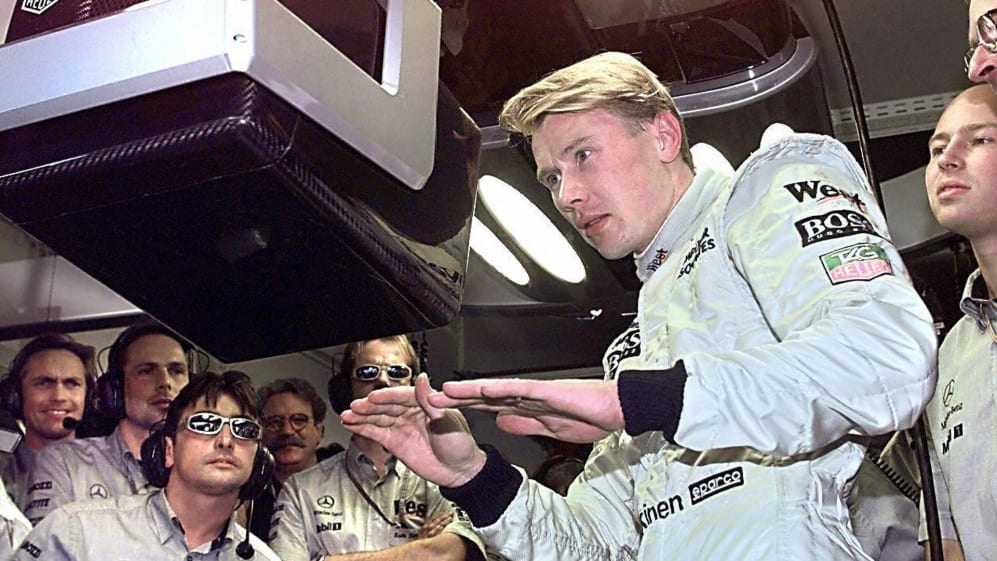 First championship success
1998 Formula 1 World Drivers' & Constructors' Championships
McLaren hit the ground running in 1998, with Hakkinen and Coulthard lapping the field in the season opener in Australia, and finishing over a minute ahead at the next race at Interlagos, where their controversial second brake pedal was lost thanks to protests from rivals.
Schumacher hit back in round three for Ferrari, brushing off contact with an incensed Coulthard to win in Argentina. But Coulthard came back in the next race, and Hakkinen ended a mini-drought in Spain (round five).
READ MORE: From Mario Andretti to Lewis Hamilton – 5 dynasty-ending championship wins
Things turned in Canada, where Schumacher won an absolute thriller as McLaren suffered double retirement. That was the start of a Ferrari counter-attack, Schumacher leading a 1-2 in France and winning in Britain.
It would go to the final race of the season (Japan), with Hakkinen and McLaren holding the advantage after the Finn won in the penultimate round. Any hopes of a championship thriller, however, were dashed when pole-sitter Schumacher was relegated to the back of the grid having stalled on the second attempt to start the race.
Though he recovered to P5, a puncture stopped him on Lap 31 and winner Hakkinen had his first world championship – and the first and only constructors' championship for the McLaren-Mercedes partnership.
Last championship
2008 Formula 1 World Drivers' Championship
Lewis Hamilton would take McLaren-Mercedes' final championship in 2008, having agonisingly missed out in his debut season to Ferrari's Kimi Raikkonen. In 2007, McLaren also lost their constructors' championship points thanks to the 'spygate' saga.
With Alonso moving back to Renault for 2008, Heikki Kovalainen was McLaren's answer as a replacement but he could not match Hamilton's pace, ending up seventh in the championship, and the constructors' title was out of the question.
READ MORE: 'He's got special sensors in his a***!' – Kovalainen on why he struggled to match ex-team mate Hamilton
Hamilton on the other hand would put up a spirited fight against Ferrari's Raikkonen and Felipe Massa, and this drivers' title showdown would go to the finale in Brazil.
It was there, famously, that Massa's title hopes were dashed on the final lap as Hamilton passed Timo Glock for the crucial position to win his first championship – by a single point. It would be the third drivers' championship for McLaren-Mercedes after Hakkinen's 1998 and '99 successes.
Last pole and last win
2012 Brazilian Grand Prix
Seven different drivers had won the first seven races of 2012 and, with Sebastian Vettel, Alonso, Schumacher, Hamilton, Raikkonen and Jenson Button all racing, there were six World Champions on the grid too.
By the season finale in Brazil, McLaren were out of championship contention as Red Bull and Ferrari had pulled ahead, but Hamilton managed a brilliant pole position for McLaren to set up a spectacular race.
WATCH: Brazil 2012 – Vettel's fight through the field
Relentless action came thanks to spatters of light rain and an incredible battle for the title between Ferrari's Alonso and Red Bull's Vettel. Amidst it all, Hamilton was on course to win.
That was until Force India's Nico Hulkenberg, hoping for a first race win, collided with him late on. That let team mate Button through and he hung on to win over Alonso who, in turn, lost out on the championship to sixth-place Vettel.
Best remembered for the title battle, Brazil 2012 also marks McLaren's final win to date, as well as Button's final win - and the last victory for the McLaren-Mercedes double act.
Last podium
2014 Australian Grand Prix
A new era of F1 dawned in 2014 and nobody quite knew what was in store at Albert Park.
Home hero Daniel Ricciardo split the Mercedes to deny them a 1-2, and McLaren had young Kevin Magnussen out-qualify Ferrari's Fernando Alonso for P4 on his F1 debut.
As Hamilton retired with an engine problem and Ricciardo was disqualified from the race for a fuel consumption rules breach, Magnussen ended up P2.
READ MORE: Why Ricciardo has gambled his future on McLaren – rather than staying at Renault
This would be a double-podium for McLaren, however, as Jenson Button capitalised on a Lap 11 Safety Car and jumped ahead of Alonso in the final stops to finish a brilliant P3. It was his 50th and final podium, though he had to wait for Ricciardo's disqualification for the good news.
A lot happened between McLaren's final podium with Mercedes, and their first with Renault in 2019...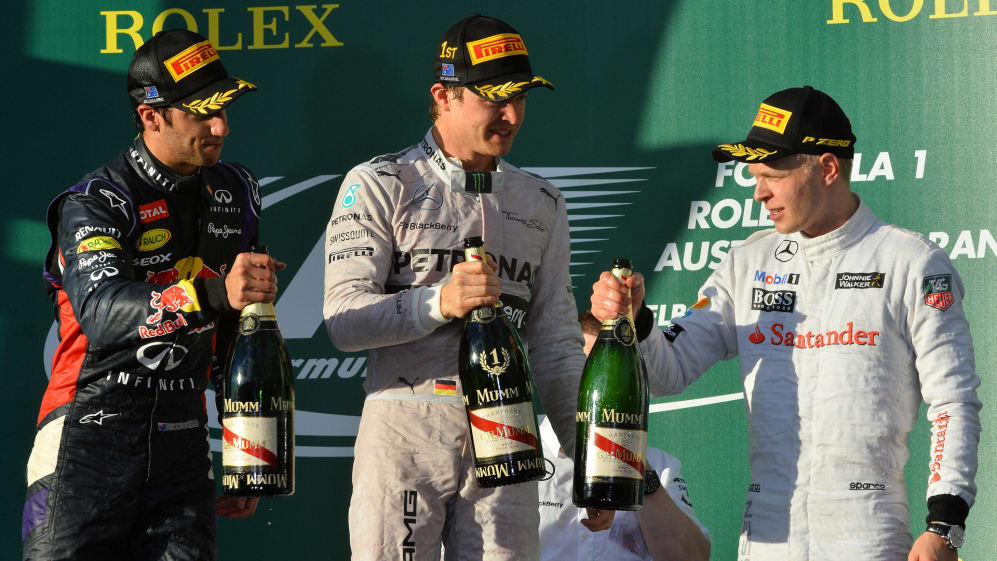 Last race
2014 Abu Dhabi Grand Prix
McLaren would reunite with a familiar engine supplier for 2015 as Honda announced their return to the sport, more than 20 years after their previous spell with the Woking team. That meant the 2014 Abu Dhabi GP would be the last for the McLaren-Mercedes pairing, with Jenson Button finishing fifth from sixth on the grid and Kevin Magnussen 11th from ninth in a fruitful finale.
The next few years would be a struggle, and the McLaren-Honda partnership officially ended at the end of 2017 after they failed to recapture the magic of their late 1980s/early 1990s pairing. Renault power brought better results, with Carlos Sainz's Brazil 2019 podium showing just how far they had come.
READ MORE: Why McLaren and Mercedes have joined forces again for 2021
Further success came in 2020 as Lando Norris finished third in Austria and Sainz second in Italy.
Now, more than six years after McLaren's final race with Mercedes, the two forces are back together. What can they achieve in 2021 and beyond?