Opinion
From Montreal to Monaco: Ranking Daniel Ricciardo's 7 F1 victories so far
There's no wider smile in the world than Daniel Ricciardo's when he's standing on the top step of a Formula 1 podium – a sight we first got to see back in 2014 in Canada. His last victory came two years ago this week, and so – with a move to McLaren for 2021 in the offing – we thought it was a good time to look back and rank the Aussie's seven F1 wins. So, in reverse order, here they are. And remember to have your say in our poll at the end...
READ MORE: F1's next team mate bromance? Here's Norris and Ricciardo – the story so far…
7. 2017 Azerbaijan Grand Prix
Where to start with this one? Baku seems to breed chaos, and victory could be anyone's on the right day in Azerbaijan, but it was Ricciardo who waded through the drama to take the flag first on this occasion.
Despite qualifying a lowly 10th on the grid, the odds on him pulling off an unlikely win soon shortened when leaders Lewis Hamilton and Sebastian Vettel clashed under the Lap 17 Safety Car (a whole story in itself).
With Hamilton subsequently having to pit with a loose headrest, Vettel's stop/go penalty for the Safety Car fracas, and Force India's farcical intra-team crash, Ricciardo was rolling sixes all over the board, and all he had to do was cash in – and so he did, picking off drivers with ease as he worked his way into the lead.
By the closing stages Lance Stroll was behind him in second, but the Williams' rookie was more worried about the looming presence of Valtteri Bottas in his mirrors, leaving Ricciardo free to cruise to victory.
6. 2014 Belgian Grand Prix
Starting down in fifth this time, Ricciardo made up for his poor qualifying session with a lightening start, as he gained two places on the first lap and swept past Ferrari's Fernando Alonso for second soon after.
READ MORE: Alonso? Vettel? Who is really on Renault's driver shopping list for 2021?
Then, as both Mercedes' collided at Les Combes, the ball was in Red Bull's court. But only when his team mate Sebastian Vettel lost control at the double left-hander, with Ricciardo in prime viewing position, did it seem like the Australian might be in contention for victory.
After getting ahead he started to build up a lead, only to have to defend hard from a fast Rosberg on fresh tyres as the chequered flag neared. But defend he did, to take a second successive win in a hugely composed display in his breakthrough season.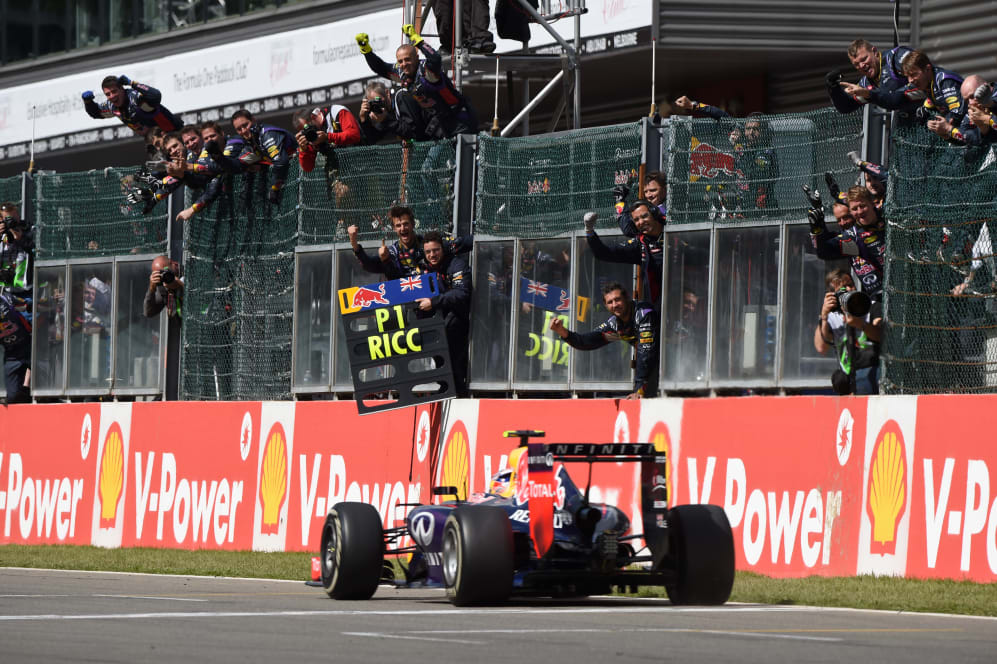 5. 2014 Canadian Grand Prix
Where it all started for Ricciardo: his debut win. This race was Mercedes' to lose – as was customary in 2014 – with Hamilton and Nico Rosberg starting 1-2 on the grid. But reliability issues hit them hard: Hamilton's brakes failed and Rosberg struggled on for P2 with the same issue.
But Ricciardo's brilliance should not be undermined by Mercedes' problems. The Australian, starting from P6, kept tabs on Rosberg throughout, and made light work of Ferrari's Fernando Alonso in the process as he clawed his way up the order with the help of a brilliant strategy from the Red Bull pitwall.
READ MORE: How a single lap delivered victory for Ricciardo in Canada, 2014 – Strategic Masterstrokes
Force India's Sergio Perez stood between Ricciardo and victory, and he took the Mexican with a brilliant move at Turn 1 in the closing stages of the race.
And with three laps remaining he was out in front as Perez and Williams' Felipa Massa fought a battle behind him that would end in a spectacular crash which brought out the safety car and sealed Ricciardo's first ever victory. After an absolute thriller, the former Toro Rosso man had arrived in the winners' circle.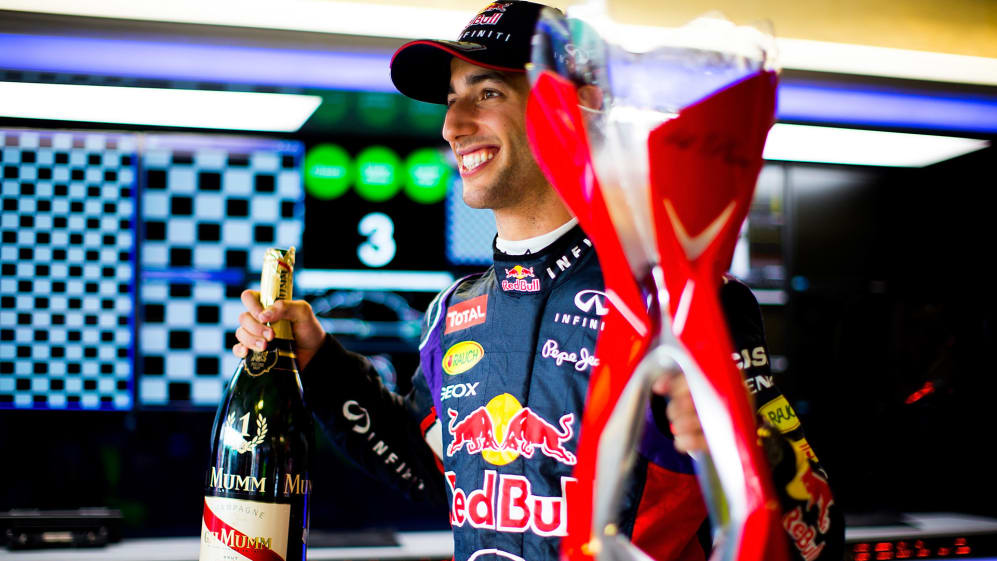 4. 2016 Malaysian Grand Prix
There are few drivers in F1 harder to fend off than Max Verstappen, and the fact that Ricciardo managed to do just that in the 2016 Malaysian GP shows just how hard-won this victory was.
After Mercedes capitulated with a spin for Rosberg and an engine failure for Hamilton, Red Bull suddenly had a 1-2 in their sights, but Ricciardo would have to endure constant pressure from his team mate Verstappen, and come out on top in a scintillating wheel-to-wheel battle to earn the victory.
The Aussie was on slightly newer tyres than the Dutchman, but he had to hold off an attack that saw the two Red Bulls side by side through Turns 4-8 and, in the end he took the flag just two seconds ahead of his young team mate.
In the heat, Ricciardo had come out on top to take what would be his only victory of the year, with the heartbreak of losing the Monaco GP to a botched pitstop earlier that season no doubt still fresh in his mind.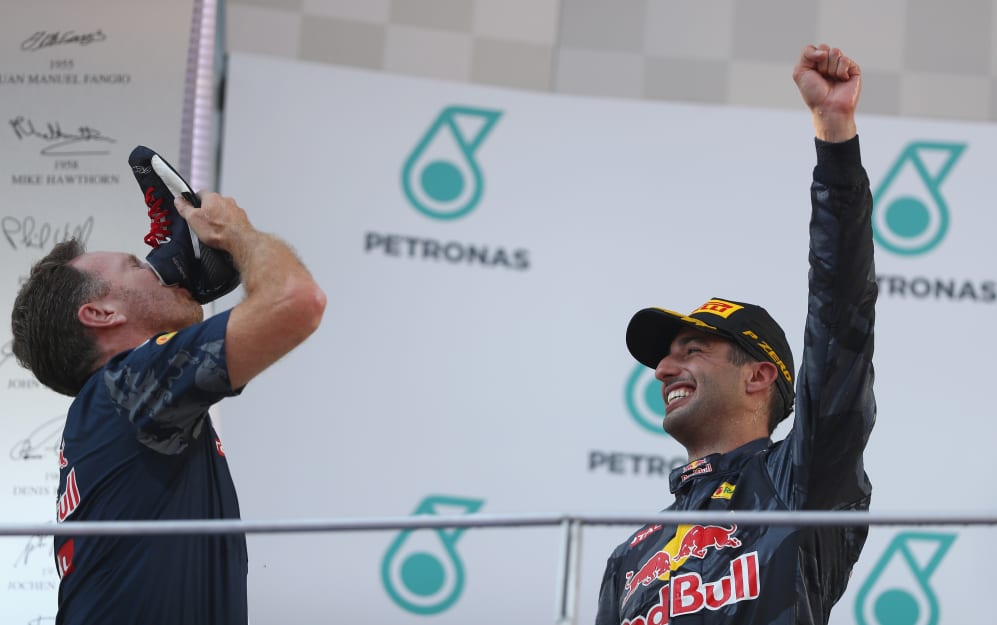 3. 2014 Hungarian Grand Prix
In uncertain conditions on a Hungaroring surface that was unusually wet, Ricciardo's confidence that day in Budapest was palpable.
The field started on intermediate tyres and there were spins galore, including a heavy crash for Sergio Perez on the start-finish line. Under the ensuing Safety Car, Ricciardo switched to dry tyres and he kept his calm – as team mate Vettel spun – to pull off a two-stop strategy on his way to victory.
READ MORE: Ricciardo's McLaren move a 'win-win situation' for Norris, says Williams' George Russell
A three-car express train consisting of Fernando Alonso, Lewis Hamilton and Ricciardo made for some awesome action as Ricciardo passed Hamilton in the Hungaroring's twisty second-sector, and then made light work of snatching the lead off the under-pressure Alonso.
If Ricciardo's win at the following race in Belgium was a smash-and-grab, this was much more sophisticated: a calculated heist thriller.
2. 2018 Chinese Grand Prix
"I never seem to win boring races," was Ricciardo's summation after this stunning performance.
A double-stack stop by Red Bull's pit crew had Verstappen and Ricciardo emerge close together and on fresh rubber, and both cut through the pack until Lewis Hamilton was in their sights, but Verstappen gambled with a pass on the Mercedes that saw him end up on the grass.
READ MORE: McLaren boss reveals Ricciardo was courted for 'years' ahead of 2021 deal
But the Honey Badger watched, waited, and picked his moment: pulling off an extremely late braking move on Hamilton at Turn 14, the hairpin. He then set off after Vettel – whose place was also captured at the hairpin.
Finally, Bottas fell into Ricciardo's late-braking trap and this time it was an even more stunning move that sealed the lead for Ricciardo. It was an incredible performance and a sensational victory, but was it his best? Not quite...
1. 2018 Monaco Grand Prix
The only win of Ricciardo's to come from pole position. Straightforward? Anything but – but then 'straightforward' is not exactly his modus operandi…
Track position is king in the Principality, and you could tell what it meant to Ricciardo as he exclaimed, "It's my ******* time," on the radio after qualifying, clearly illustrating how the demons of the 2016 Monaco Grand Prix and the botched pit stop that ruined his weekend were still haunting him.
READ MORE: 'Monaco 2016 haunted me for two years' admits Ricciardo – 'It was just pure rage'
So with pole in the bag, all the Australian had to do was control the race in a Red Bull car perfectly suited to Monaco's twists and turns. Simple.
But then on Lap 28, his power unit's MGU-K failed, causing him to lose a quarter of the engine's horsepower and a couple of gears. Soon his brakes started overheating too.
With Vettel's Ferrari breathing down his neck, Ricciardo not only had to manage his ailing car and navigate the narrow streets of Monaco, but also shrug off the doubts and disappointments of the 2016 race. This wasn't just a test of physical strength and racecraft, it was an exercise in mental fortitude, and the fact that he pulled it off against all the odds, makes it Ricciardo's greatest victory so far.
Do you agree with our list? Was Monaco 2018 his best win? Have your say in the poll below...