Feature
From Ricciardo's Monaco redemption to Verstappen's first – our writers pick their favourite of Red Bull's 100 wins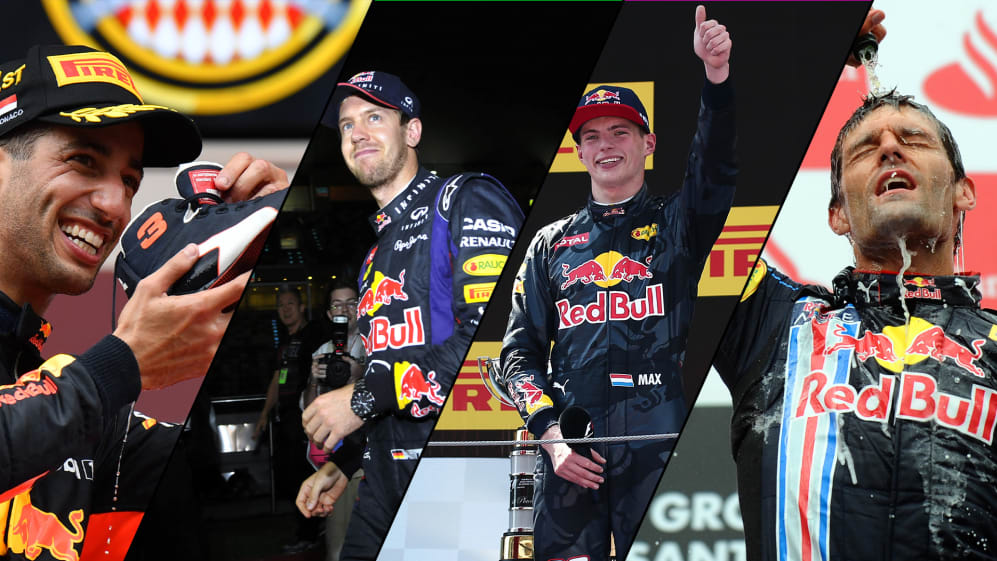 Max Verstappen's victory in Canada saw Red Bull become just the fifth team in Formula 1 history to reach the 100-win landmark. So, we asked some of our writers to pick their favourites from those 100 victories, with some classic races to look back on.
David Tremayne, Hall of Fame F1 Journalist – 2009 German Grand Prix
I like underdogs and fighters, and the validation of a driver's first big win. Mark Webber's came at the Nürburgring in the 2009 German GP.
IN NUMBERS: The amazing stats behind Red Bull's century of F1 wins
A faithful team player since the Jaguar days, he'd taken pole but a brush with Rubens Barrichello's Brawn earned him a drive-through penalty which dropped him to eighth. But by lap 33 he was in the lead, after a gripping fight back.
I remember most his post-race expression, how he savoured the deep satisfaction. "It really matters that it wasn't handed to me. I had to fight for it," he said. "Now I know how Seb [Vettel] felt at Silverstone, being able to control a Grand Prix."
He thanked all his supporters back home, and said hello "to those who doubted me…". Nothing in life is more satisfying than proving your point, especially to yourself.
Lawrence Barretto, F1 Correspondent and Presenter – 2019 German Grand Prix
The rain-hit 2019 German Grand Prix at Hockenheim was a humdinger. Max Verstappen had a messy start, too much wheelspin seeing him sucked back into the pack.
The Red Bull racer gambled by switching to mediums first, but struggled to get them working and survived a dramatic 360-degree spin before rejoining and retreating to the pits.
READ MORE: Verstappen hails 'incredible' milestone as he helps Red Bull hit a century of F1 wins
He stopped five times in total, but generally made the right calls at the right time – as many of the big-hitters including Lewis Hamilton and Valtteri Bottas had multiple offs – to find his way to the front of the field.
And it was made all the sweeter, given the triumph came at rivals Mercedes' home race on a weekend where they celebrated their 200th race.
Chris Medland, Special Contributor – 2014 Canadian Grand Prix
I was too slow to get to pick the tension of Silverstone in 2010, but another big win that stands out is for another Australian.
I remember there being a bit of pressure on Daniel Ricciardo to go up against Sebastian Vettel in the same team in 2014 – after a solid but not sensational time at Toro Rosso – but he was instantly quick.
READ MORE: How one key lap allowed Daniel Ricciardo to snatch his first win at the 2014 Canadian GP
Even so early in his time with a front-running team, Ricciardo showed he belonged by taking the first opportunity he had to win, and in some style in Montreal. His late move on Sergio Perez at Turn 1 was crucial – even ending up on the grass at one stage – and allowed him to hunt down and pass the ailing Nico Rosberg with two laps remaining.
It was a hugely impressive and popular victory that cemented the feeling of a changing of the guard at Red Bull.
Greg Stuart, Senior Editor, Written – 2018 Monaco Grand Prix
My first weekend working for Formula 1 was, sadly, not spent in the Principality, but did afford me the opportunity to witness one of the gutsiest drives I've ever seen play out in real time.
READ MORE: Verstappen sets punchy new target after Red Bull hit 100 F1 wins
Daniel Ricciardo's chagrin from his failure to win the 2016 Monaco Grand Prix looked set to be effaced by a dominant weekend in Monte Carlo. That was until his MGU-K died on Lap 28 of 78, robbing him of 160bhp and forcing him to fend off the advance of Ferrari's Sebastian Vettel lap after lap – with one hand tied behind his back.
As gripping as Apollo 13, I could only agree with engineer Simon Rennie's sentiment after Ricciardo crossed the line to secure victory: "I don't know how you did that, Daniel." Redemption indeed.
Becky Hart, Web Content Editor – 2010 British Grand Prix
Silverstone is so often the venue for absolute classic races, and in 2010 it threw up a corker. There was controversy in the build up with Red Bull taking the new spec front wing off Mark Webber's car and bolting it to Sebastian Vettel's, with those two fighting for the championship.
EXCLUSIVE: 'It was obviously pretty tense' – Webber looks back on his rivalry with ex-team mate Vettel
That fired up Webber and he rocketed off the line to muscle his way into the lead past his team mate, who ran wide and dropped down the order.
The Australian held off the charge of Lewis Hamilton and Nico Rosberg to win for Red Bull – with the now iconic "not bad for a number two driver" drawled over the radio after he took the chequered flag.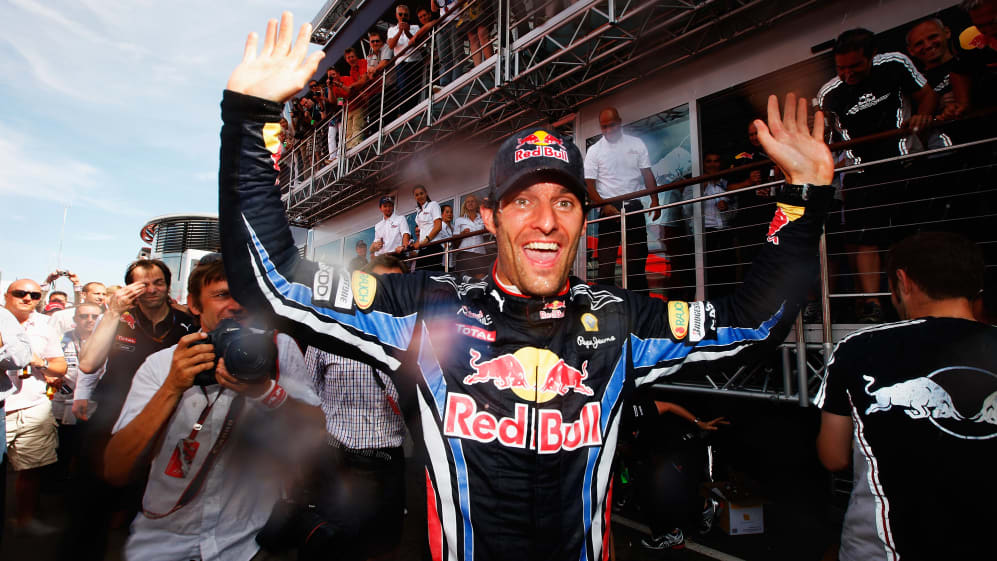 Michael Seymour, Staff Writer – 2016 Spanish Grand Prix
Firstly, it's a testament to Red Bull's efforts since their debut in 2005 that we are already talking about 100 race wins. That's a return of one in every three-and-a-half races.
While there are – quite literally – so many victories to choose from, the race that sticks out above the rest for me is Verstappen's breakthrough triumph on his Red Bull debut at the 2016 Spanish Grand Prix.
READ MORE: 'Quite an iconic top three' – Verstappen, Alonso, and Hamilton reflect on sharing the podium together in Montreal
I was writing for the English edition of a Dutch F1 news outlet at the time and my colleagues could hardly contain themselves. Some were even moved to tears by what they had seen unfold at the track that day.
It also seemed fitting that, 40 race wins later, it was Verstappen – now a two-time champion and with the world at his feet – who landed the squad's biggest milestone to date. Hats off to both parties.
Alasdair Hooper, Duty Editor – 2021 Azerbaijan Grand Prix
If any race proved the old sporting adage of 'it ain't over till it's over' then the 2021 Azerbaijan Grand Prix must be a contender as Sergio Perez saved the day for Red Bull.
In what was his first victory for the team, it was Max Verstappen who had looked set to take the win after leading the race for so long. But then came that late tyre blowout on Lap 47, which saw Verstappen crash out on the main straight in Baku.
READ MORE: Our writers on Verstappen's best 2022 drives, his 'F1 great' credentials – and how he can get even better in 2023
The late red flag that soon followed meant there would be a standing start with two laps to go – Perez leading Hamilton and Sebastian Vettel off the line. With the pressure ramped up it was the Mexican who kept his cool as Hamilton locked-up violently, sending his Mercedes into the Turn 1 run-off.
Considering how close this championship proved to be, a win for Red Bull was crucial. It also showed just how valuable Perez was – and is – to his team.
Nadim Bart-Williams, Junior Staff Writer – 2013 Indian Grand Prix
When we talk about the most iconic images the sport has ever seen, they do not get more memorable than Sebastian Vettel down on his knees lauding his incredible RB9 at the end of the 2013 Indian Grand Prix.
The German had just sealed his fourth drivers' championship and had done so in such commanding style. Starting from pole once again he just drove away from everybody, as he usually seemed to do with ease in those days.
F1 ICONS: Rally legend Sebastien Ogier on four-time F1 champ Sebastian Vettel
He did pit early on Lap 2, but once he came back out, he simply made his way past everyone like he was playing a game on the easiest setting. Looking back on it now, as a teenager, I maybe did not appreciate it as much as I should have.
It was simply a wonderful driver with a wonderful car, and that race at the Buddh International Circuit was the perfect representation of Vettel's dominance at Red Bull.