'Frustrated' Alonso relieved to finish Belgian GP strongly, as Ocon praises 'flying' car for recovery from P16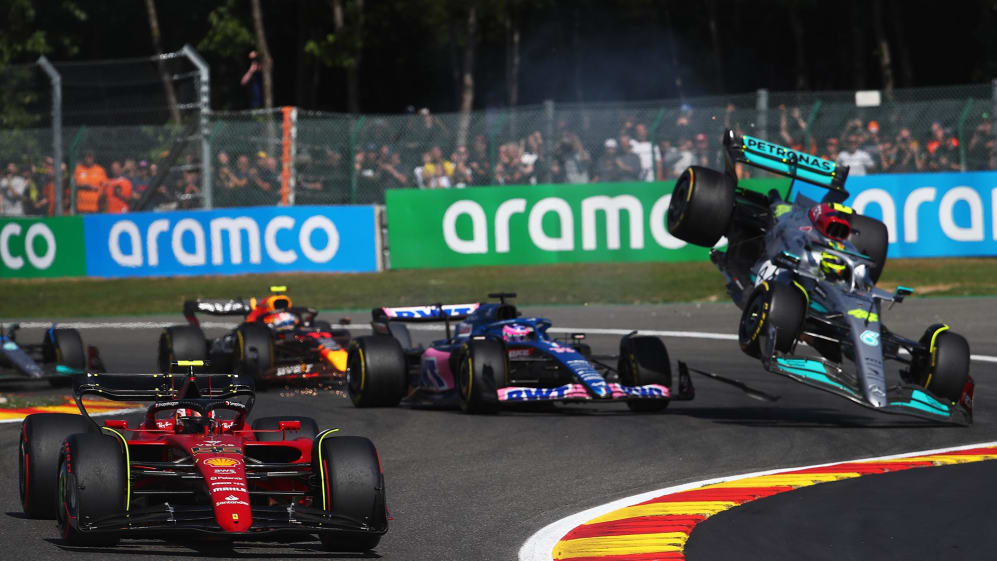 With one driver starting from P16 and the other involved in dramatic contact on the first lap, it could have been a tough race in Belgium for Alpine. But in the end, it delivered a significant haul of points for the team to strengthen their grip on fourth in the constructors'.
Fernando Alonso was third on the grid and overtook Sergio Perez for second at the start, but then had contact with Lewis Hamilton at Les Combes that saw the Mercedes launched into the air. Alonso criticised Hamilton over team radio for a collision he felt could have hurt his own race chances, but recovered to finish fifth after a late penalty for Charles Leclerc.
"I was surprised and for sure he now saw the incident and he takes responsibility, which is obviously very nice from him," Alonso said. "It was a Lap 1 incident, nothing really more to say there or [from] the stewards. They didn't say anything because these things happen, especially in that corner. It happened in the past, also, I remember with Lewis and [Nico] Rosberg, the same thing.
READ MORE: 'It was my fault' – Hamilton takes blame for Lap 1 clash with Alonso, as Spaniard clears up 'idiot' comments
"So it's a tricky corner. I was frustrated in that moment for sure. Every time we start in the first or second row and we are fighting for top two or top three, there is something going on. I was frustrated but luckily my car was very strong and nothing happened, I could continue. Lewis did not have that luck and had to retire the car.
"I don't think there is damage. We need to check properly when the car goes back to the garage, but I felt the car was okay for the rest of the race."
Leclerc's penalty came when Ferrari chose to make an extra pit stop to try and set the fastest lap, allowing Alonso to get ahead on the penultimate lap. While Leclerc did re-pass him, Alonso finished within five seconds and then was promoted after the Monegasque driver was handed a time penalty for speeding in the pit lane.
READ MORE: Leclerc demoted to P6 at Spa after pit lane speeding penalty – and admits title chances 'start to look very difficult'
"Yeah I was surprised," Alonso added of the late pit stop. "But Ferrari always does some strange strategy, so that was one of those!"
Alpine have found themselves at the centre of off-track storylines after Alonso's shock switch to Aston Martin was announced, but they showed it isn't impacting their on-track performance, as Esteban Ocon helped give a tow to his team mate in qualifying and then recovered from a power unit penalty that left him 16th on the grid to finish seventh.
"It was flying, the car!" Ocon said. "I think we can be proud of ourselves for the job we did the whole weekend; starting further up the road probably would have been quite something in the race.
FACTS AND STATS: Verstappen becomes only second driver to win successive races from outside top 9
"I was feeling very confident, the car was feeling mega and we can be proud. It's a very satisfying one in terms of points, in terms of qualifying etc. So we go to Zandvoort in a couple of days feeling very confident.
"Definitely I think it's been a very important weekend [against McLaren]," he added. "Obviously we could have finished a couple of places ahead in the race but we will take that from P16 where we started, so it's been quite a solid one."